In a span of less than one month, Hot Toys has revealed or put up for sale three of the four most fervently-demanded Marvel Cinematic Universe characters that previously had not been produced in the Movie Masterpiece Series: Maria Hill, Pepper Potts and Quicksilver. At this point, there's only one major character that fans have been crying out for whose fate has been up in the air–but now it appears that a Guardians of the Galaxy Hot Toys Drax figure is finally on the way (again) as well!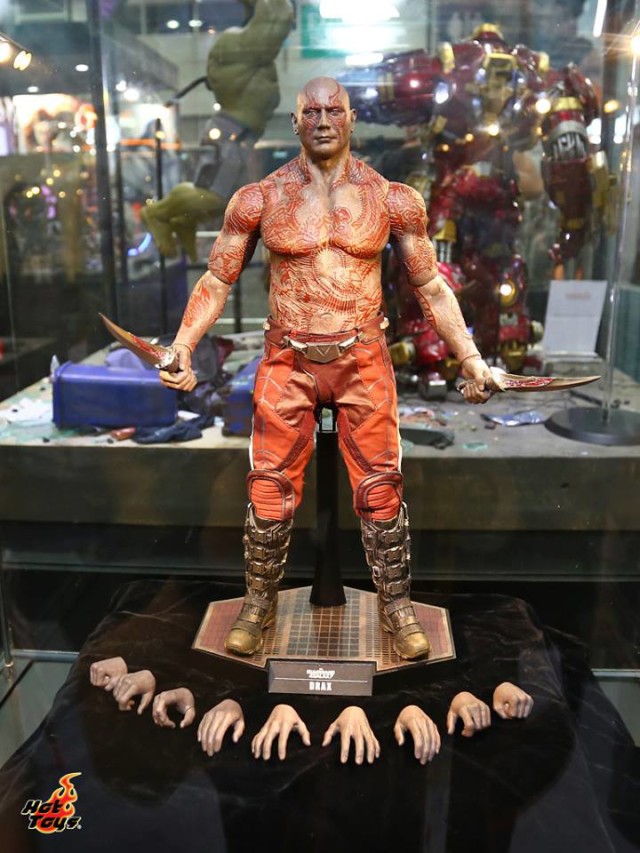 I've been trying to hold back a bit on talking about the enormous amount of Hot Toys news that come out this month (as I don't wanna have to rename this site "Hot Toys Marvel Toy News"), but it's really difficult when they're not just revealing new products constantly this month–they're revealing one future blockbuster after another.
And the latest figure shown off is one that's been over a year in the making, and is almost unquestionably the most-demanded MCU character left unproduced: Drax the Destroyer!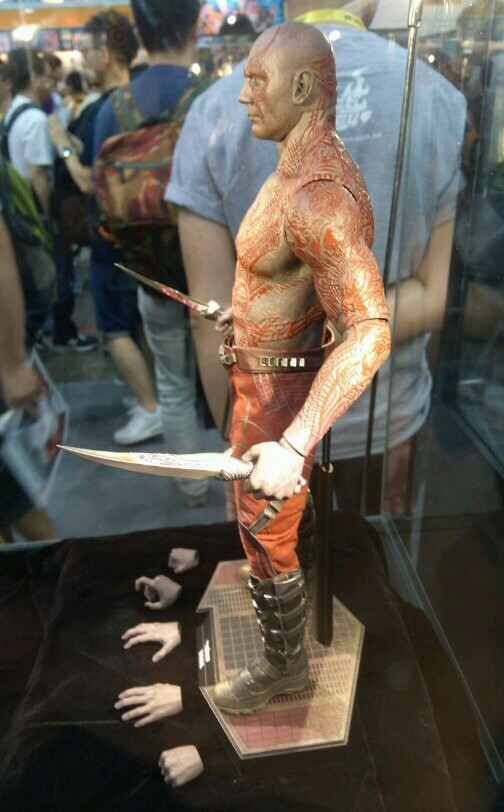 Truth be told, this is actually the second time a Drax Hot Toys figure has debuted. A much rougher prototype of Drax was shown at SDCC 2014, but that figure ultimately was not produced and was taken off the convention circuit.
But Drax is simply too important of a character to skip as the final member necessary to complete the 1/6 Guardians of the Galaxy, and it appears he'll finally be getting his due in 2016.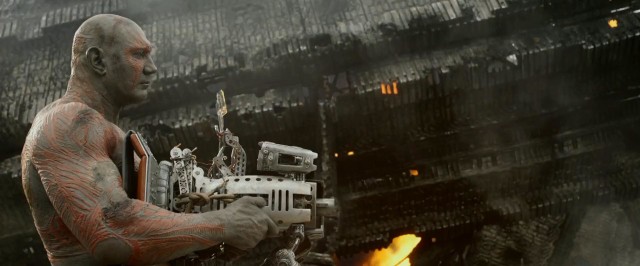 Based off the prototype Hot Toys Drax the Destroyer shown off last week, it appears that Drax will include eleven interchangeable hands. That's a huge number, even by Hot Toys standards!
Two of the hands are obviously for holding Drax's signature knives, but some of the remaining hands look perfect for holding a bazooka (or Hadron Enforcer!), don't they? While there was no bazooka shown for Drax this year, he was shown with one at San Diego Comic-Con 2014, so hopefully it's still on the table (or in the factory, as the case may be).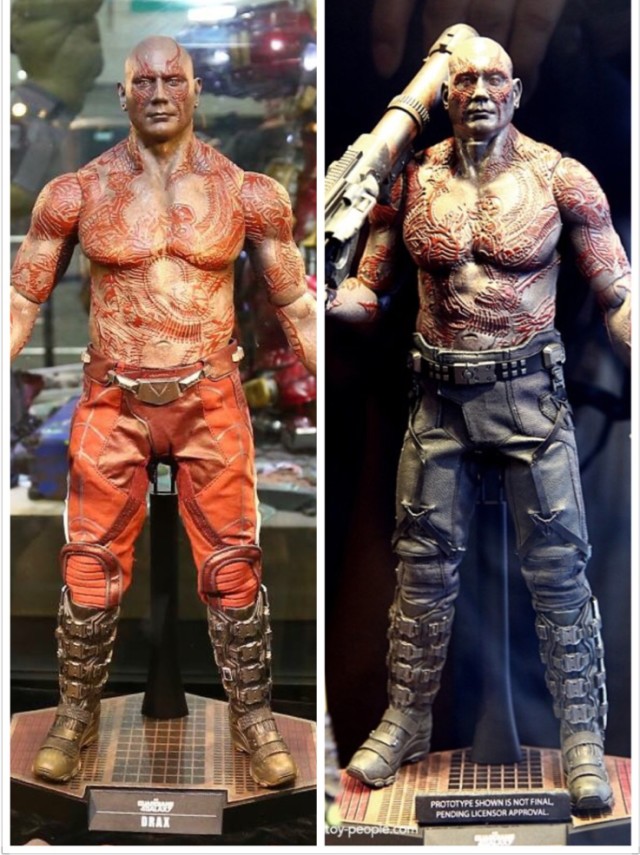 When you compare the SDCC 2014 Drax prototype and the one from ACGHK 2015, there are several obvious differences, but the most obvious one is that the new Drax pronto is wearing his red Ravagers pants!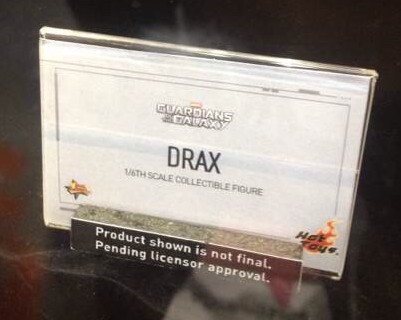 Response to Drax being displayed in his red pants has definitely been mixed. As cool as the red Ravagers Drax costume is,
none
of the other Guardians of the Galaxy MMS figures have been released in their Ravagers costumes, so it would be rather jarring to have the sole 12″ Drax figure be totally mismatched from the rest of his team.
I'd like to think that Hot Toys is planning to be a real sweetheart and give us the Drax MMS with both red and blue pants to complete both costumes at once, but I wouldn't hold my breath for that eventuality, seeing as how Rocket just needed some tiny jumpsuits to complete his alternate looks and didn't get them either.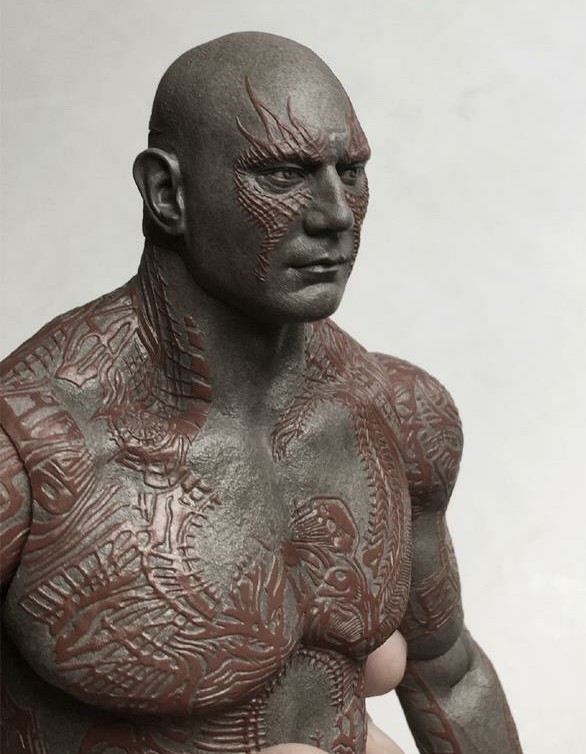 As of last week, the Drax sixth scale figure was still pending licensor approval and had no estimated shipping date or set retail price. That may have changed since then, but I think it's more likely we'll have to wait a few weeks (or months) for more news on this 1:6 figure. I'll post an update once the Drax Movie Masterpiece Series figure finally goes up for order (provided that he does actually go up for order this time).
What do you think of the revised prototype of Drax, Marvel collectors? Will you still complete your Hot Toys Guardians of the Galaxy even if Drax is only released in his "Cherrybomb" costume, or is it standard clothes Drax or nothing for you?