It's been a pretty slow Marvel toy news week (you know things are bad when I have to make posts about figures being on sale), but we did get at least one bite of appetitizing news–from across the world at the Tokyo Game Show 2016 (TGS), no less! When we last saw the Square-Enix Play Arts Kai Marvel line at SDCC 2016, there were two new unpainted figures on display. And this week in Tokyo, we got to see one of them painted: Play Arts Kai Wolverine!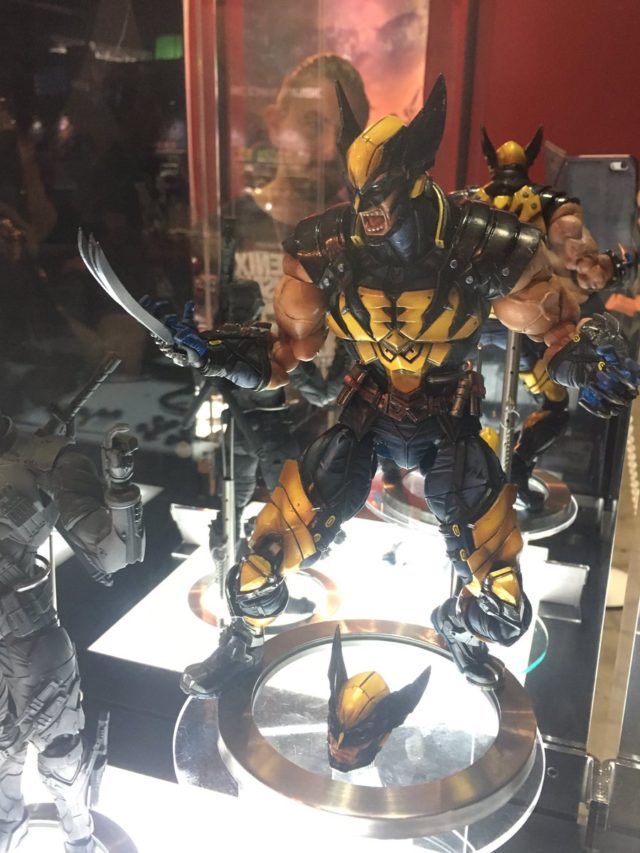 As soon as Square-Enix premiered the unpainted Wolverine Play Arts Kai figure at San Diego Comic-Con 2016 in July, the little gears in my mind started cranking away trying to guess if Square-Enix would go for a classic Brown Costume Wolverine look or the ever-popular yellow and blue Jim Lee Wolverine costume.
As it turns out, they sort of went for both looks, as the Square-Enix Wolverine costume is a sort of amalgam of the two designs. And as weird as it may sound, I feel like this choice really, really works!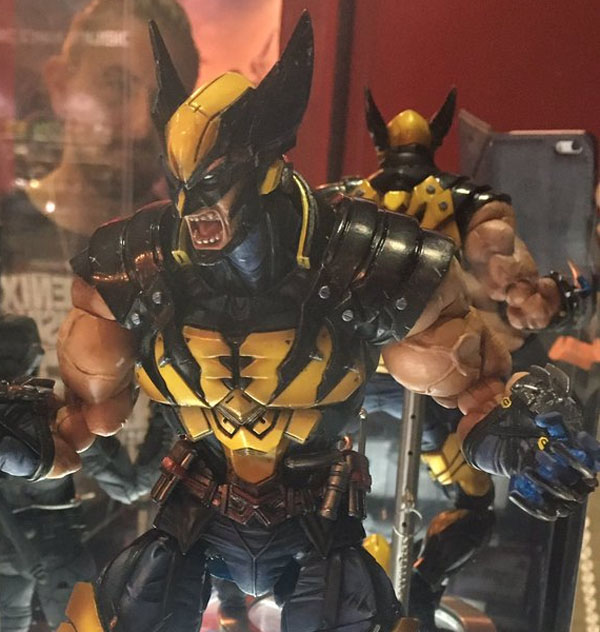 Square-Enix opted for blue and yellow for the vast majority of Logan's costume, but with brown shoulder pads (with straps that go down to make "tiger stripes") and a brown and yellow mask. The costume is both reminiscent of and yet totally unlike any Wolverine costume from the comics. In short–I love it.
The Play Arts Kai Variant Wolverine includes two interchangeable heads: an angry-looking serious face and a berserker, mouth-opened face. Ordinarily I prefer my figures with their mouths nice and shut, but this may be an exception–the berserker Wolverine head looks great!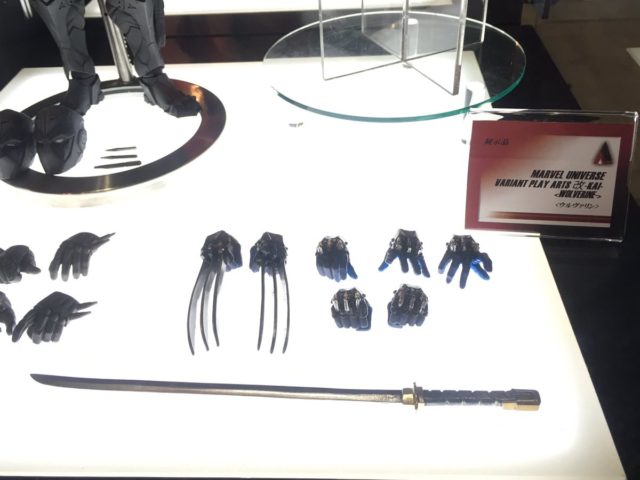 We also got our first look at the painted accessories for the PAK Wolverine, which include a katana sword and nine interchangeable hands total.
No Wolverine of mine needs to wield a sword, but those claws look super-sharp and impressive. Other than a cigar, I don't know what else we could have really asked for with this figure.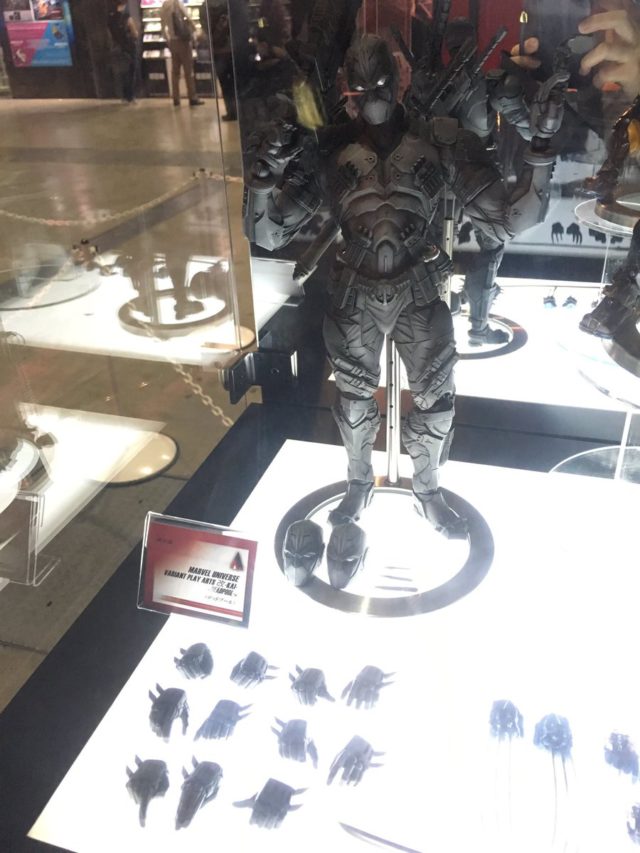 Play Arts Kai Deadpool also made an encore appearance at the 2016 Tokyo Game Show, and although he's still in unpainted form, he's looking immensely impressive. The way that he's posed at TGS 2016 makes the figure look a lot more "fun" than he did at SDCC 2016, and I really dig it. I'm calling it now–Deadpool PAK
will
be Square-Enix's best-selling Marvel figure by a landslide.
The three upcoming repaint figures ("Carnage", "War Machine" and Black Costume Spider-Man) were also on display, and I love that Red Venom figure more every time I see it.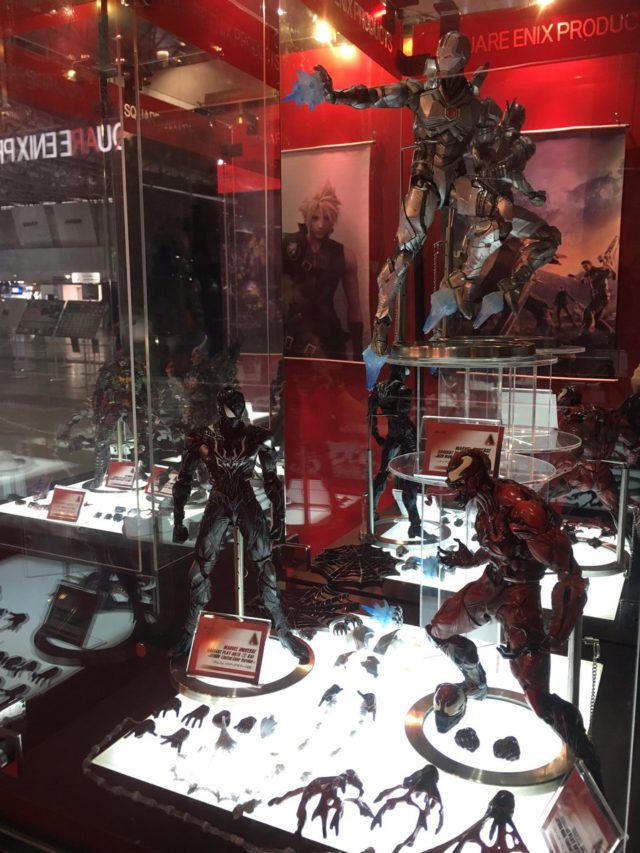 The Marvel Play Arts Kai Limited Repaints are now available for order online, and Wolverine should be up for order within the next month or so as well. I'd expect Wolverine to actually ship out to retailers in early 2017.
No word on when PAK Deadpool will be ready to go up for sale, but my intuition says winter. It'd be nice if he and Wolverine went up for sale at the same time, though, as we're really starved for new Marvel Play Arts Kai molds!
Having seen it painted, are you in for the first-ever Play Arts Kai X-Men figure, Marvel collectors? Is Square-Enix's interpretation of Wolverine visionary, or is this original costume just not up your alley?