Up until now, Kaiyodo has delivered hit after hit in their Marvel Revoltech Ame-Comics line of 6" figures, with triumphs ranging from Venom to Magneto to Spider-Gwen. But every family has a black sheep, and the Revoltech Marvel series just may have found theirs. The Kaiyodo Revoltech Captain America figure is now up for order, although this Cap figure is drawing some criticism from collectors for being more beefcake than any Cap figure before him…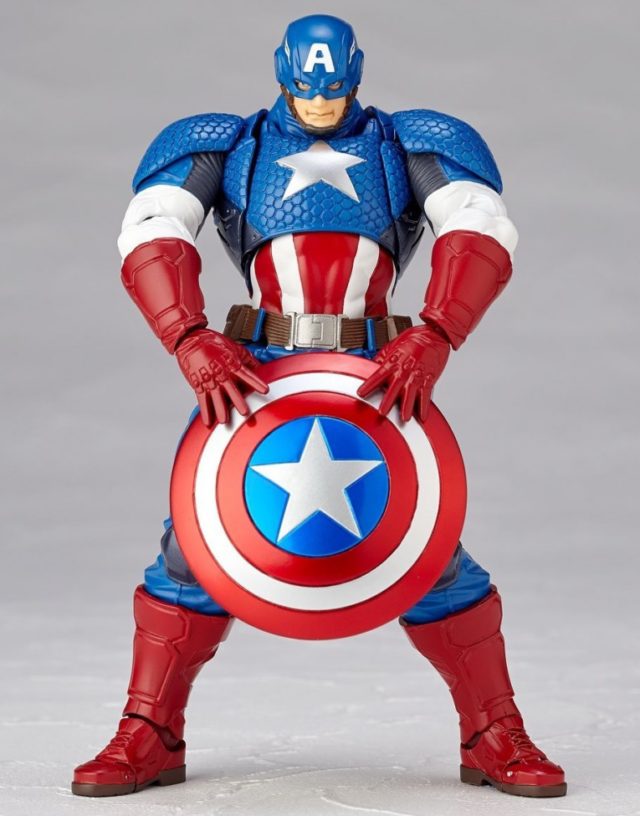 When the Revoltech Magneto and Captain America figures debuted at an Asian toy show earlier this year, many collectors were blown away by how awesome the Magneto figure was… and just thought that the Captain America Revoltech kind of blew.
But since Kaiyodo has delivered big-time with every single comics-based Marvel figure that they've been released to date, the benefit of a doubt was given. Now that Revoltech Captain America has been solicited with official photos, has the outlook changed for Steve Rogers?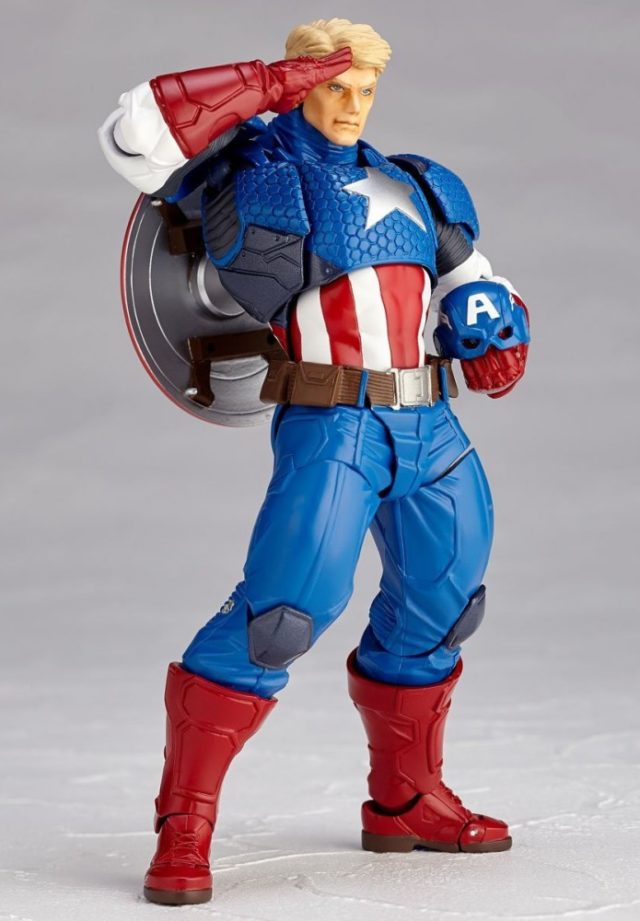 Well, personally, I'd have to say… no. Kaiyodo Captain America still looks like a linebacker with his thighs of thunder, and his super-thick proportions remind me of that universally-panned Rob Liefeld drawing of Heroes Reborn Captain America that's been making the rounds for years (you know the one). This style for Captain America is just not going to appeal to everyone.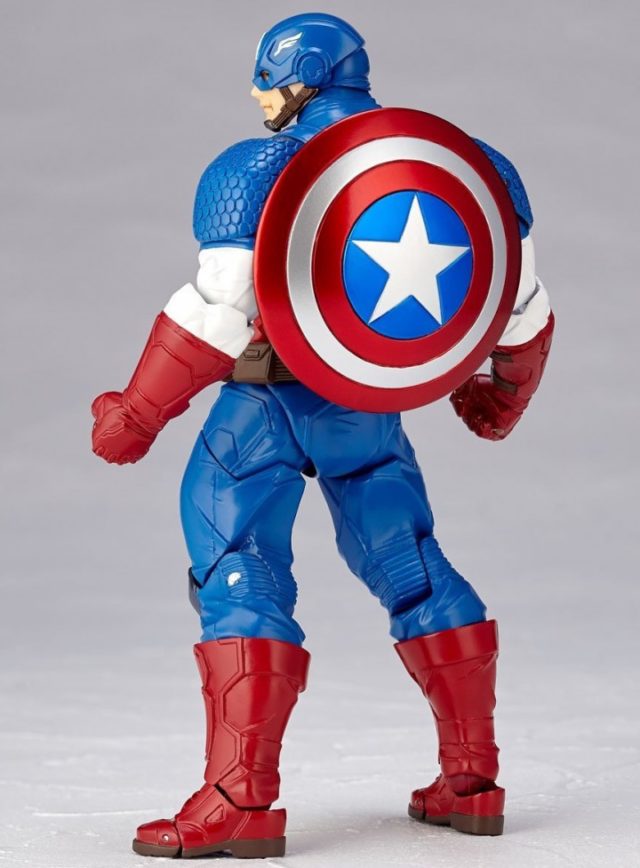 That said, I also don't think that this particular Captain America won't appeal to anyone (note the double-negative)—even if the aesthetic violates many fans' sensibilities, there's a lot that this action figure does right.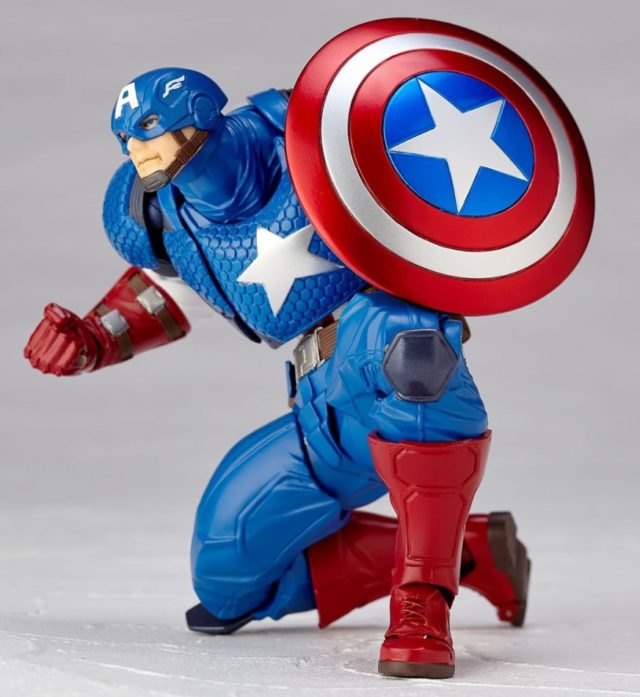 Even Hasbro Marvel Legends fans are likely to be impressed with the 38 points of articulation built into this 6.4" Cap figure, an amount that I'm not sure any Hasbro Captain America has topped to date. Simply put, some of the crouches and charging poses you can get out of this figure look really good.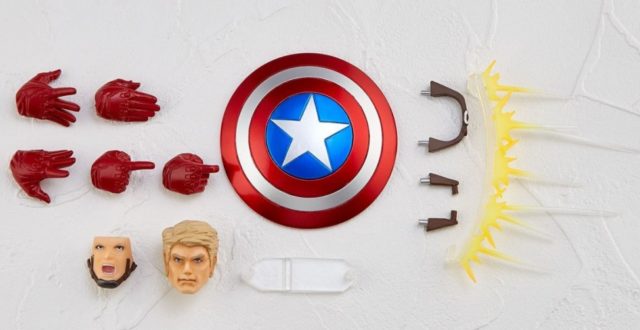 And the accessories that Revoltech Captain America comes loaded with…? They're no slouch either. Along with his ultra-glossy shield (which is arm- and back- mountable), you get a removable mask/helmet, interchangeable portraits, a figure stand with posing pole, alternate hands and even a bullet ricochet effects piece for the shield.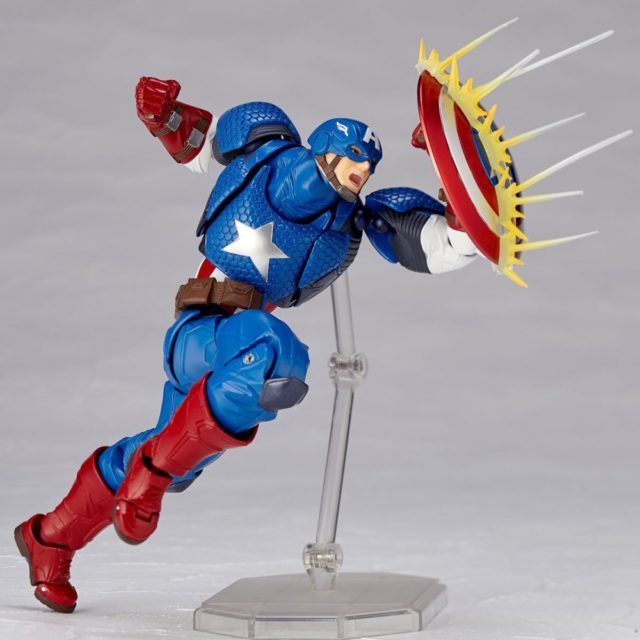 I
love
that ricochet effects piece that this figure comes with, and hope that Hasbro and other manufacturers appropriate this idea themselves sooner than later—it's too fun and creative of an idea to not make its way into other toy lines.
Alternatively, I'm not sure that anyone loves the unmasked Captain America portraits that come with this figure. These look more like Chip Hazard from Small Soldiers than any interpretation of Steve Rogers that I've seen before. I definitely wouldn't display this figure without his mask, personally.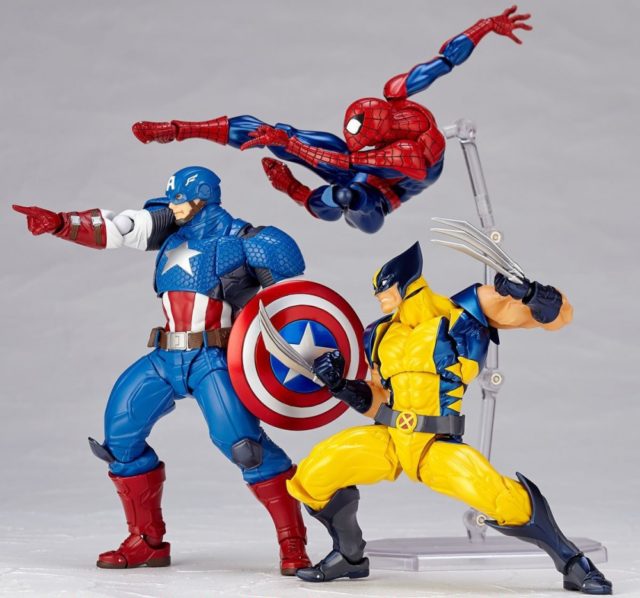 The Kaiyodo Revoltech Captain America figure is now up for order, and is scheduled to be released in April 2018. Kaiyodo does not have a license to sell Marvel Comics figures in North America, so you'll have to order him from an import store like BBTS or import directly if you want one. Either way, he'll be a bit pricy since he's shipping from an overseas distributor.
What do you think of the latest addition to the Revoltech Ame-comics lineup, Marvel collectors? Which side are you on concerning the style and quality of this Captain America Revoltech, and are you considering adding him to your shelf?