Last Halloween, Sideshow Collectibles hit us up with a totally unannounced addition to their 1/4 Spider-Man series: a brand new Premium Format Black Cat statue in her modern attire. For whatever reason–maybe due to not being shown and built up for months prior to the pre-order, maybe due to being a character who's never appeared in movies, or maybe due to being the modern incarnation of the character–that Black Cat pre-order didn't generate a whole lot of hype. But now that it's been released 10 months later, and the exclusive Black Cat Premium Format Figure is still available in low-stock, let's take a look and see how Felicia turned out…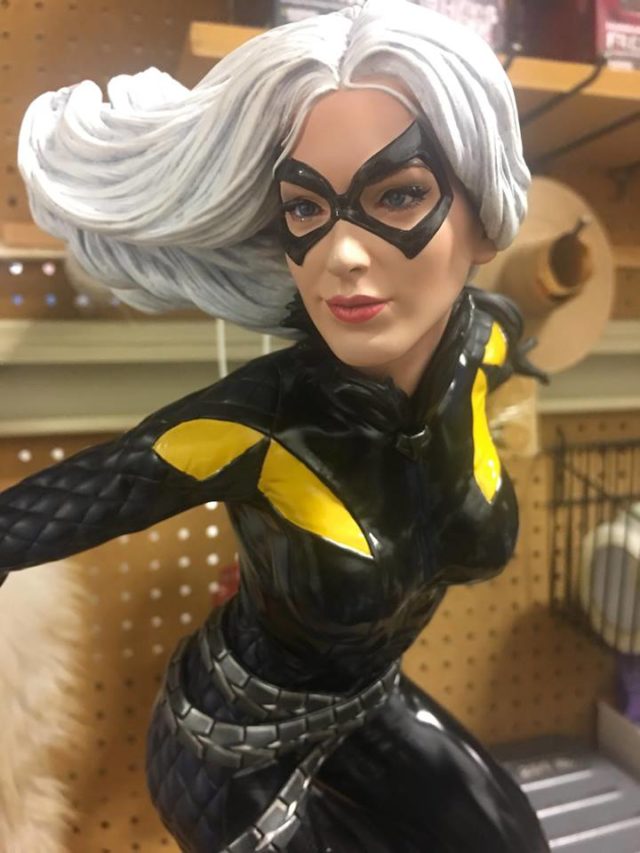 Sometimes it feels like the wait is endless for a new Sideshow Collectibles Marvel statue to arrive, with teaser photos posted months before pre-orders, a year for production, and then a few months of delays common.
And sometimes… not so much! This is the second "sometimes", as not only did Sideshow reveal their new 1/4 Black Cat PF figure with the pre-order, but they actually ended up completing production and shipping it out early!  And so, almost 10 months to the day of its announcement, collectors are receiving their new Black Cat Premium Format Figure…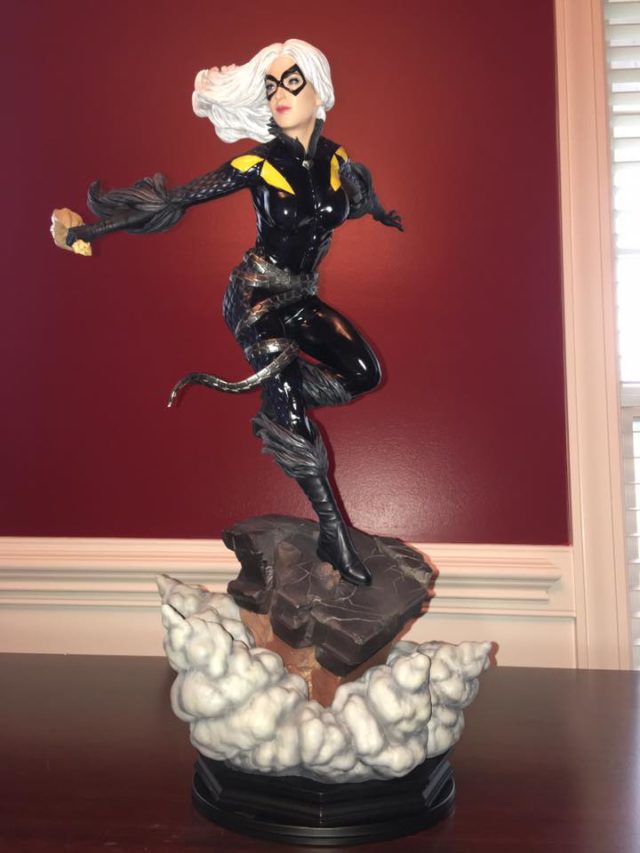 As I'm approaching critical mass with the amount of statues that my home can contain (sad, but true), I've had to make some hard choices on what to buy and what to pass on, and this Black Cat polystone statue unfortunately didn't make the cut.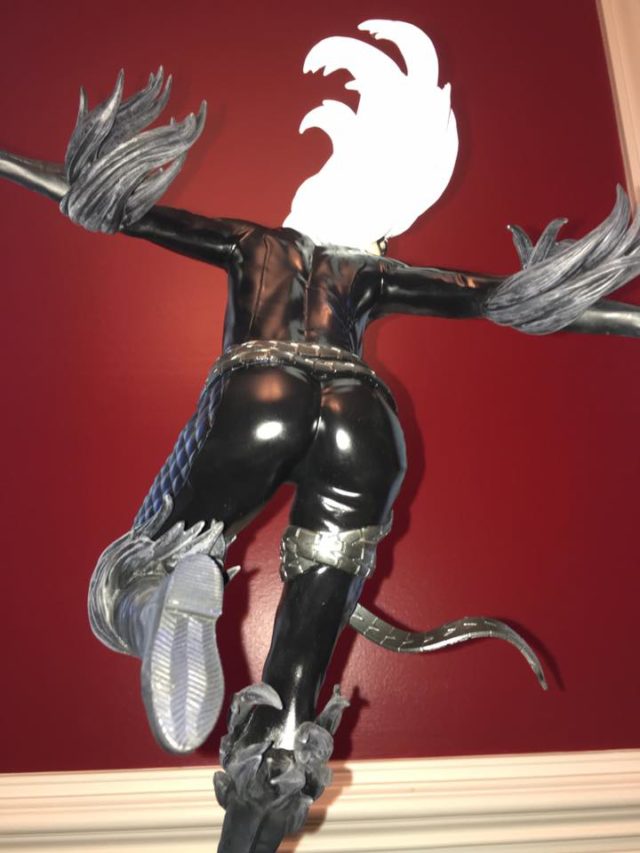 Thankfully, I'm able to live variously through other collectors. Huge thanks to Paul Thomas, Bobby Lovelace, and Michael Lee Shaw for sending in their photos and impressions of the Black Cat statue so I could talk about her here!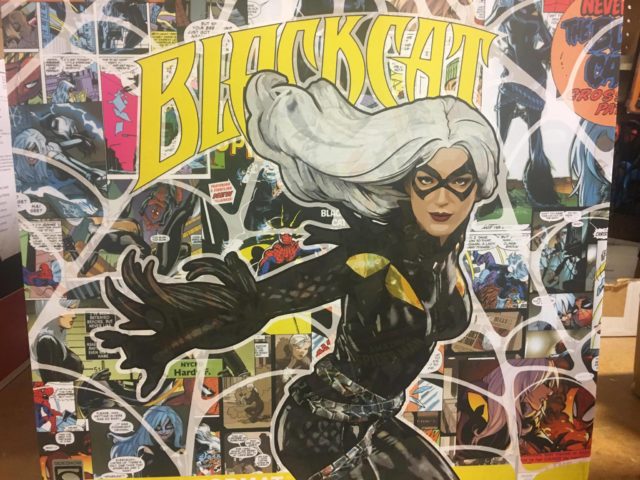 First off, let's take a look at the box art. Simply put? It's gorgeous. This is a comics-based statue and it shows. I love the comic book montage style boxes that Sideshow Collectibles has been using for this series with a passion. Glorious stuff!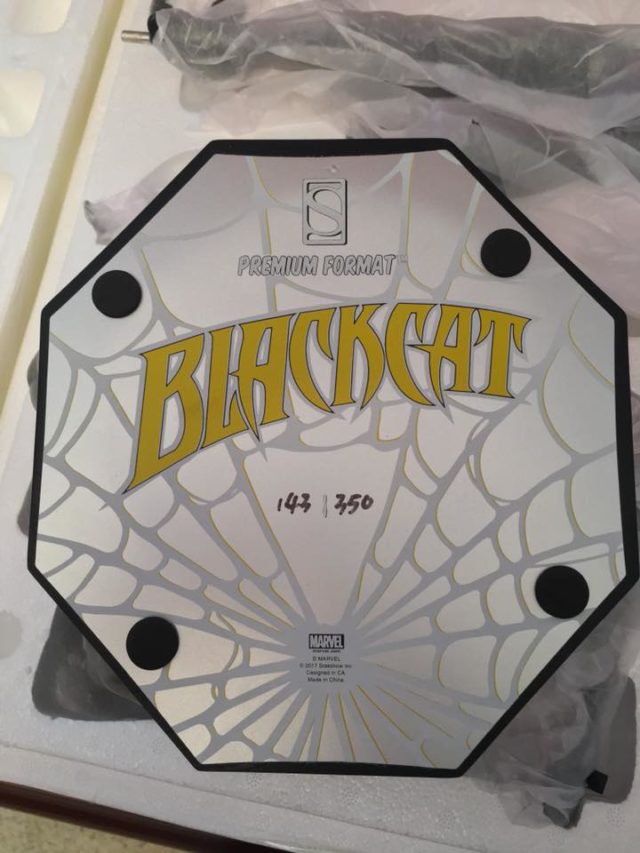 What's also pretty groovy is the super-low edition size of the exclusive version of the Black Cat Premium Format Figure–just 350 pieces produced! Collectors are always asking for smaller edition sizes and more exclusivity on high-end pieces, and it doesn't get too much smaller than that!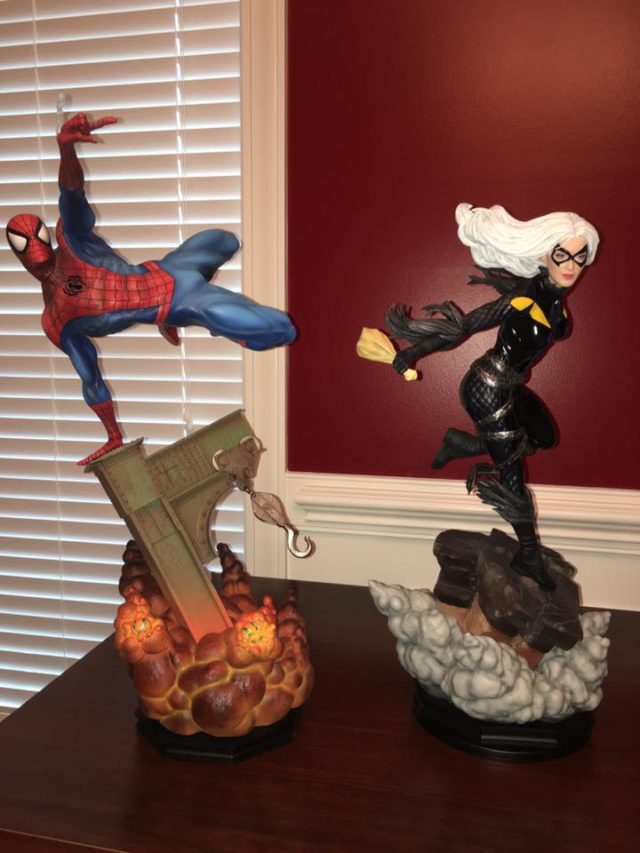 Although Felicia Hardy isn't in quite as dynamic a pose as last year's Spider-Man (but really, how many statues are?), I think she still looks very nice alongside Spidey. In a world where Gwen Stacy is dead, Black Cat is definitely my top pick to ship Peter Parker with!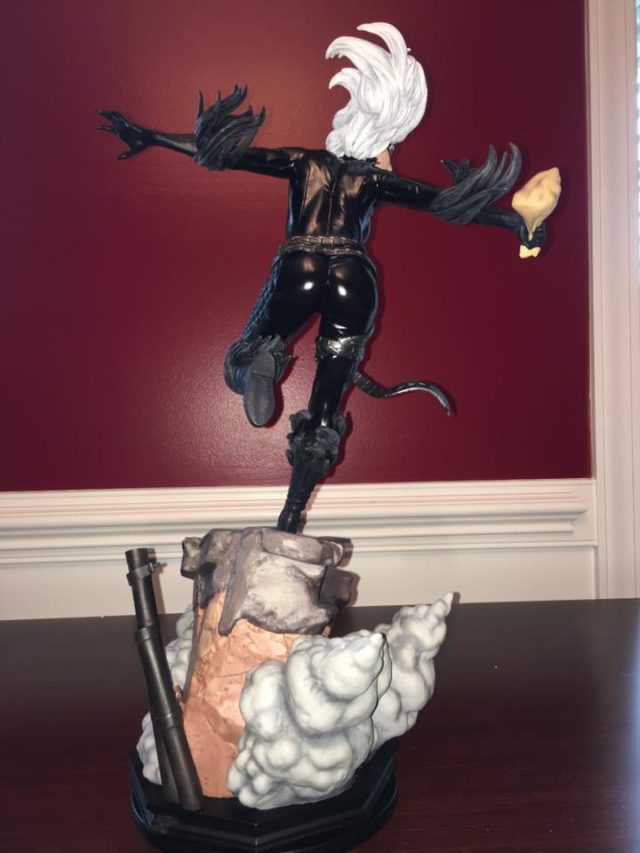 For anyone who was concerned about this statue having leaning issues (like poor P. Scott Campbell Gwen Stacy and many other poorly-executed statues over the years), don't be. The base for this statue is extremely heavy, whereas the figure itself is light, so there's no reason the statue should warp and lean.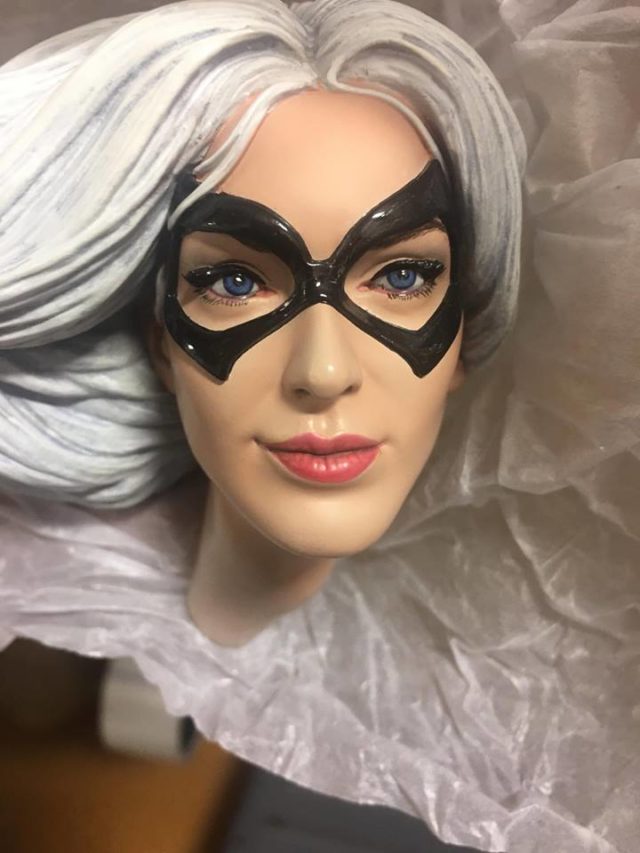 Also, while this particular Marvel NOW! Black Cat costume won't be to everyone's liking, I think most folks will agree that the softer and more feminine face on this Black Cat Premium Format statue is an improvement over the original PF's, and came out absolutely fantastic.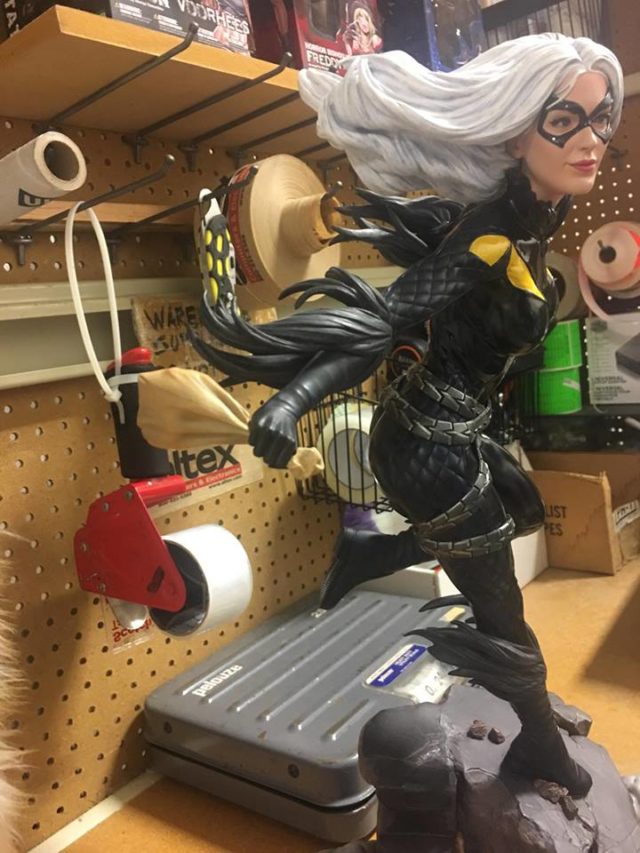 Speaking of Felicia's costume: it's definitely a divisive choice. Many collectors would have preferred if the yellow parts of the costume (the "cats eyes") and the fur on the arms and legs was white, as white would go nicely with Black Cat's hair and look more classic. I sort of hope Sideshow does a variant like that, although I'm not sure Marvel will allow a non-canon color scheme.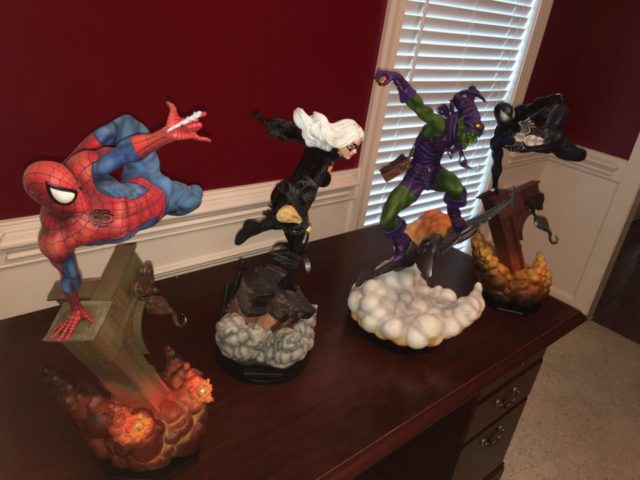 One truly perplexing aspect of this whole Sideshow Spider-Man series of Premium Format Figures is that the one unifying element across the whole series–the smoke on the bases–is differently colored across every single piece in the line. Weird!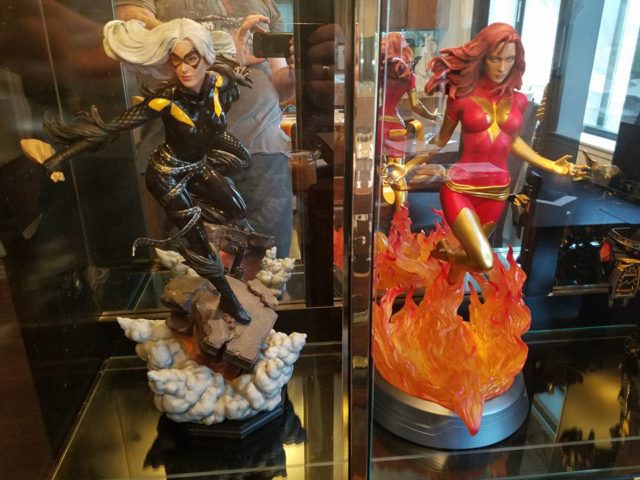 The one photo that I saw of this piece that
really
made me feel like I was missing out by not ordering this Premium Format Black Cat figure was this shot by Michael Lee Shaw of Black Cat next to the Sideshow Dark Phoenix figure.
Black Cat's mischievous, scheming grin and primarily black  costume just complements the power and malevolence of the red and gold Dark Phoenix statue beautifully. These two make an amazing pair together, and it's really making me question my decision not to snap Black Cat up already!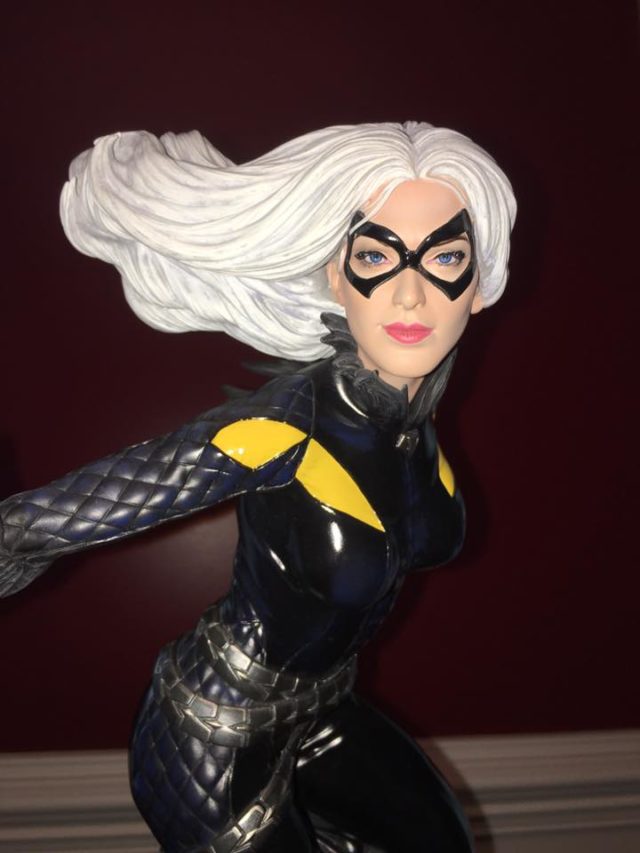 The Sideshow Exclusive Black Cat Premium Format Figure is still available on Sideshow as of writing, but she's currently in "low stock" with less than 30 pieces remaining. As more collectors see how terrific this statue turned out, I have a feeling "low stock" will become "no stock" in no time flat.
Now that we've seen in-hand photos of the finished product, what do you think of how the new Black Cat Sideshow statue turned out, Marvel collectors? If you ordered her, are you happy with the final piece? And if you didn't, are the in-hand photos making you wish you had ordered this beauty?