Before we prepare to see a plethora of never-before-seen Marvel toys and collectibles at New York Comic Con 2015 this week, how about a blast from the distant past…? In Summer 2014, Sideshow Collectibles announced that they had acquired the license to produce Marvel Comics sixth scale figures. They showed off Wolverine, Deadpool and the Punisher along with the announcement, but only Deadpool ever went up for sale… until now! The Sideshow Exclusive Punisher sixth scale figure is now up for order!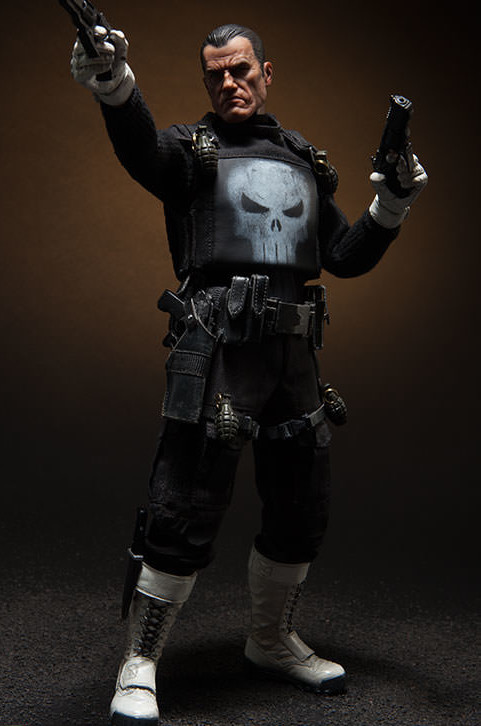 While sixth scale Marvel Cinematic Universe fans are being taken good care of by Hot Toys, Marvel Comics fans have had a rougher time, with virtually no manufacturers out there producing comics-based Marvel 1/6 figures and collectibles. Thus,
when Sideshow announced their acquisition of the Marvel Comics license
over a year ago, there was an extremely positive reaction overall.
The response to the Sideshow Deadpool sixth scale figure was also excellent, and all seemed to be right in the Sideshow 1/6th scale world. Unfortunately, that was in September 2014, and there's been hardly a single word spoken by Sideshow Collectibles about the future of this comic-based sixth scale line ever since.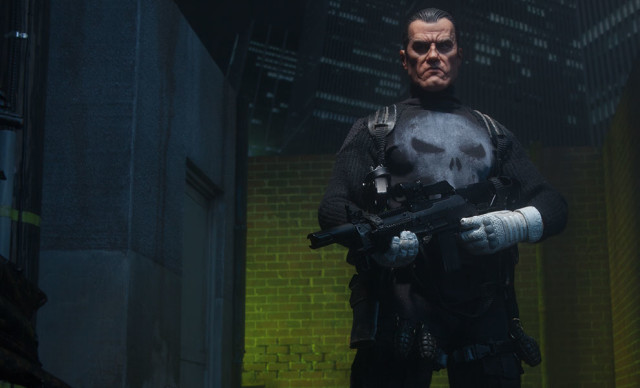 I was genuinely beginning to wonder if Sideshow had decided to quietly pull the plug on this poor line of figures that seemingly never got off the ground, but it looks like this line still has at least a spark of life left: Sideshow Collectibles announced last week that the long-awaited Punisher 1/6th figure would finally be going up for pre-order this week to coincide with the beginning of New York Comic-Con 2015!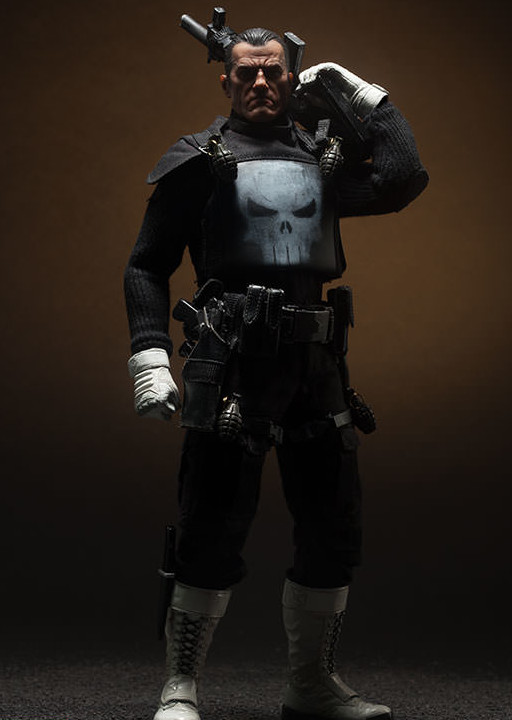 Now, the Punisher has never been one of my favorite guys. Don't get me wrong–I love those classic Punisher appearances as much as the next guy, but the character just does not hold a lot of intrigue for me.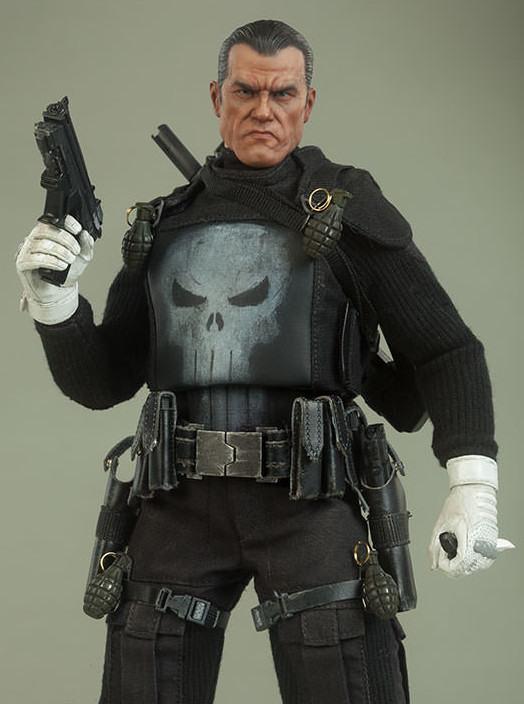 here are two things that really stand out for me as the best aspects of this 12″ Punisher figure. First up, it's the Frank Castle portrait. The Punisher is one mean and nasty SOB, and this head sculpt absolutely portrays that part of Frank Castle's personality perfectly.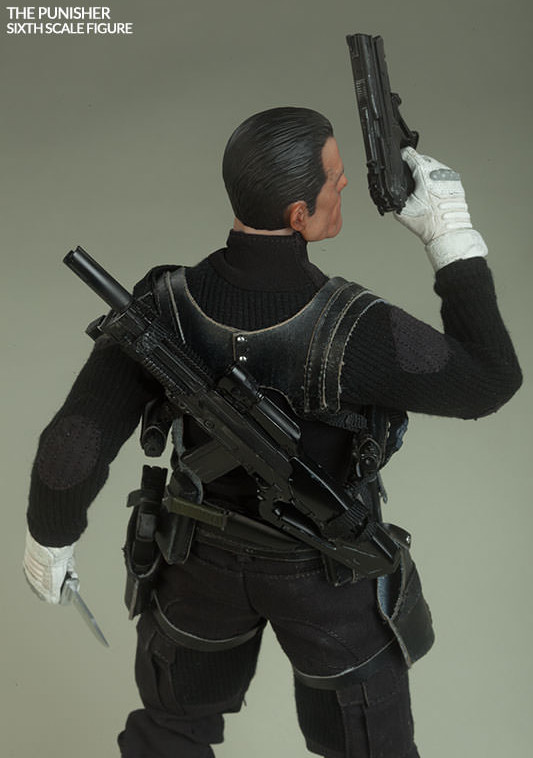 In addition, if there's one thing that the Punisher is about, it's weapons–and this Sideshow Punisher 12″ figures comes with plenty of them! I spy four different types of pistols with this figure, along with tons of ammo clips, two knives, four grenades and an assault rifle (not mention a bulletproof vest).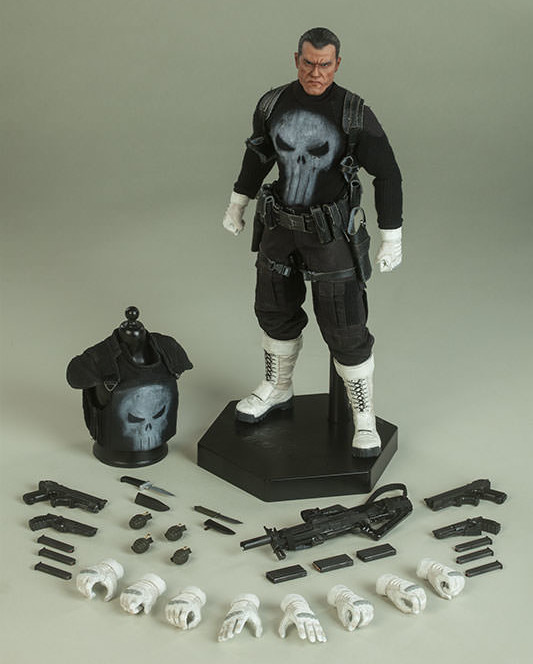 There's even ten interchangeable hands so that Frank Castle can handle each of his unique guns expertly! But if all those isn't enough of an arsenal of accessories for you, there's one more item available for early adopters…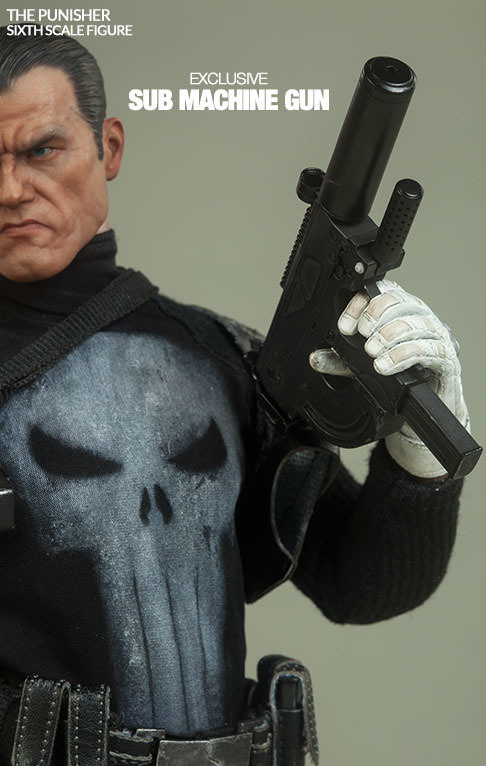 As usual, Sideshow Collectibles has lined up a Sideshow Exclusive The Punisher edition which will include one bonus accessory: a sub-machine gun. I don't know that I was dying for this particular gun, but it is nice to have a second option for a gun larger than a pistol to equip Frank with. And since it adds zero to the price, might as well get the exclusive version! But about that price…
Also as usual, there is some bad news here, and it's the price: this 1/6 Punisher Sideshow figure is set to retail for $239.99. Now, that's not a terrible price given the fact that this Punisher action figure comes with an insane arsenal of guns and weapons and such, but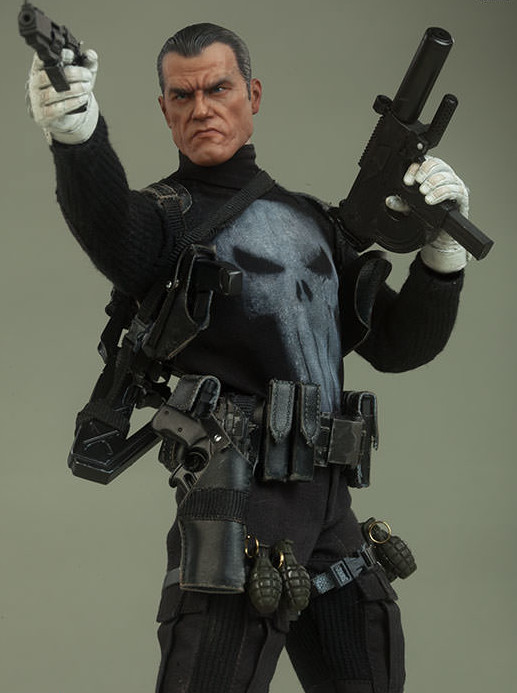 The Sideshow Exclusive Edition Punisher Sixth Scale Figure goes up for order Thursday afternoon exclusively on the Sideshow Collectibles website, and is scheduled to ship out in mid-2016. Sideshow has managed to highly impress me with the look of this figure, and with no Punisher movie coming up in the near future (which means no Hot Toys Punisher coming up in the near future), I'm going to go ahead and place a pre-order for the exclusive version of what's likely to be the best Punisher figure made for many, many years.
What are your thoughts on Sideshow's second Marvel Comics 1/6th scale figure, collectors? Do you think that the work that Sideshow Collectibles has done on Frank Castle warrants Hot Toys-like prices? Will this Punisher be taking vengeance on your collection next year?