Although the X-Men Marvel Legends Juggernaut Series only began shipping out a few weeks ago, it's time to start watching your E-Mail boxes and credit card bills once again, Hasbro fans! Third-party listings for the Spider-Man Marvel Legends Space Venom Series have now appeared on Amazon (complete with hi-res images!), and online retailers like EE and BBTS are expecting to receive their cases of the series within the next week!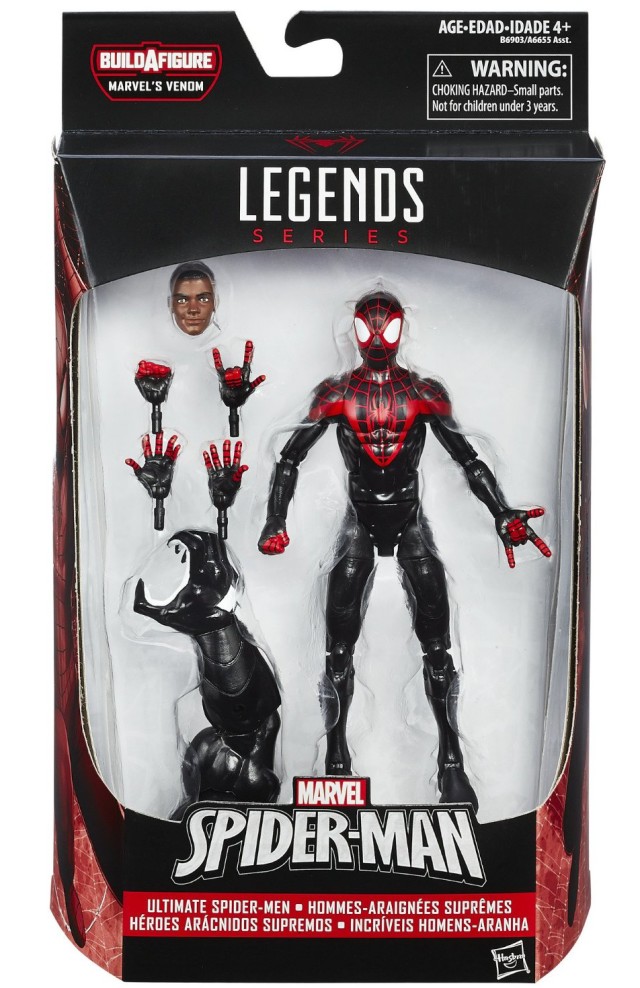 2016 continues to look like it's going to be the best year in Hasbro Marvel Legends history, as it's only July and the 5th wave of the year is about to come into stock for online retailers in the United States!
I heard a lot of folks talking smack about the Space Venom Build-A-Figure for this wave, but it turns out that Space Venom looks pretty fantastic. As for the rest of the wave, let's check out the hi-resolution photos…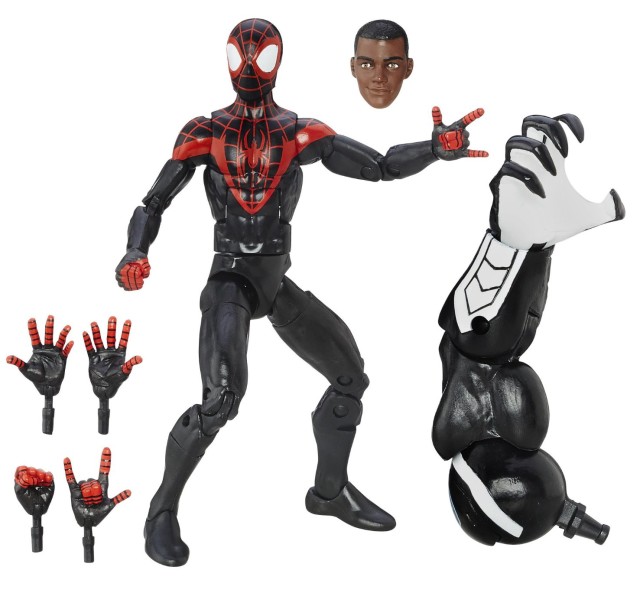 A comic-accurate, properly-scaled Marvel Legends Miles Morales Spider-Man has been at the top of many wish lists for a while, and this figure (with interchangeable unmasked head!) looks like it may be the masterpiece fans have been waiting for.
And wisely, Miles is packed at two-per-case, with the other two-per-case figure being…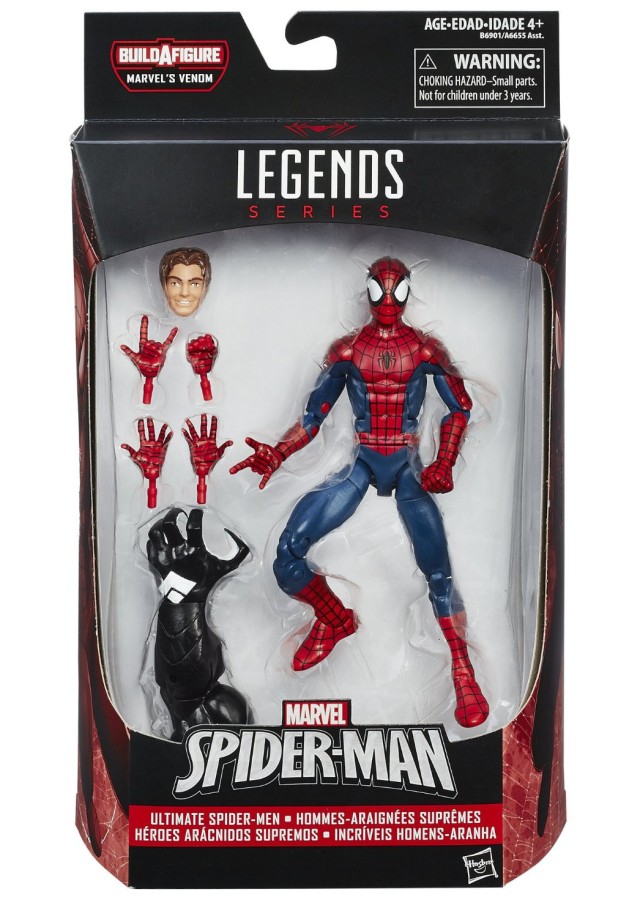 …teenaged Ultimate Spider-Man Peter Parker! I think that this may be the first time in Hasbro history that fans don't complain about four of the eight figures in a case being Spider-Man himself!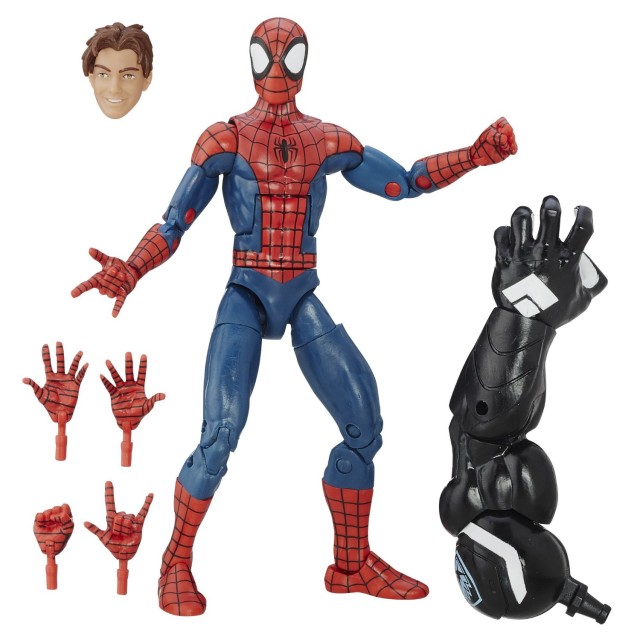 Ultimate Peter Parker will include six interchangeable hands and an unmasked Peter Parker head (plus the left arm of Space Venom).
And for those who loathe sculpted webs–the webbing on Marvel Legends Ultimate Spider-Man is painted-on instead of sculpted, just like the ever-popular Pizza Spidey from last year.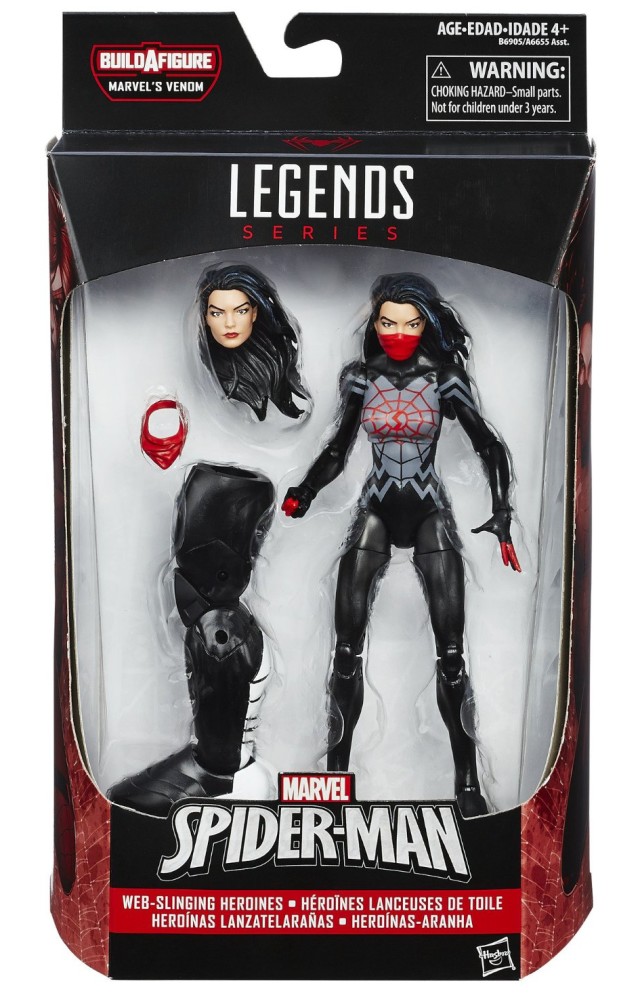 Moving on to the fairer gender, we get the first of the "Web-Slinging Heroines", Silk.
I thought that the Marvel Legends Silk figure looked absolutely gorgeous when I saw it in New York at Toy Fair in February, and I've been looking forward to owning it ever since.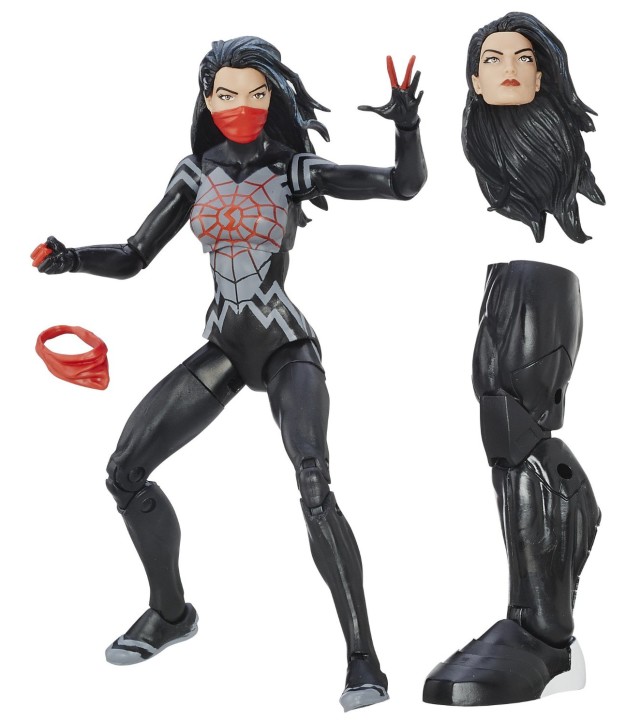 Based off of third-party seller prices, Silk appears to be the figure most likely to be scalped in this wave, with prices of $40-$45 for her.
That said, Cindy Moon is still a relatively new character, and I can see this figure easily being available for MSRP (or below) in a couple months.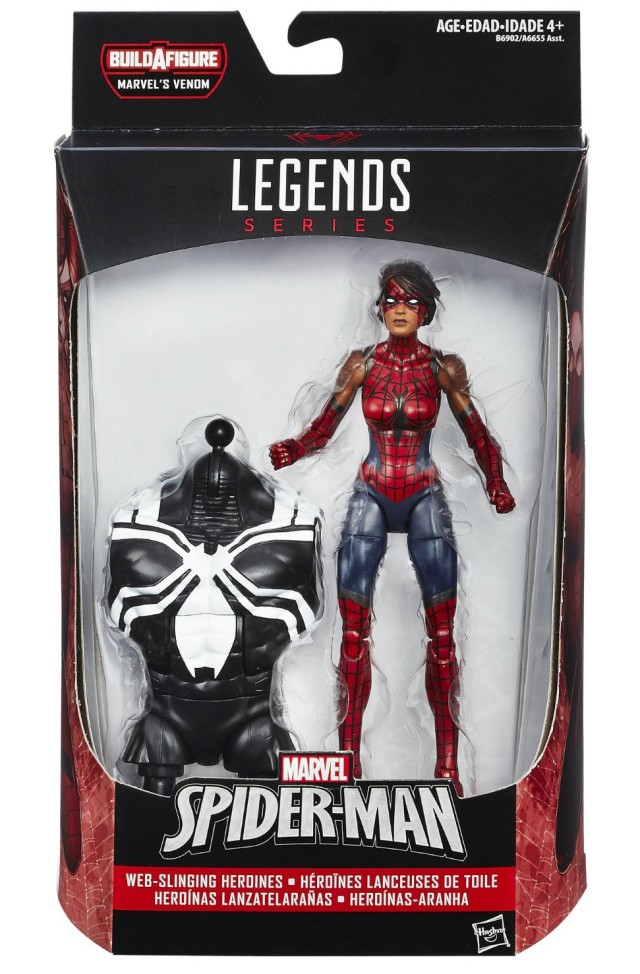 …And speaking of figures destined to sell for MSRP or below, next we've got Spider-B*tch herself, Ashley Barton.
Having basically only appeared in two stories ever (Spider-Verse and Old Man Logan), I just can't see there being a big demand for this alternate universe future Spider-Girl figure.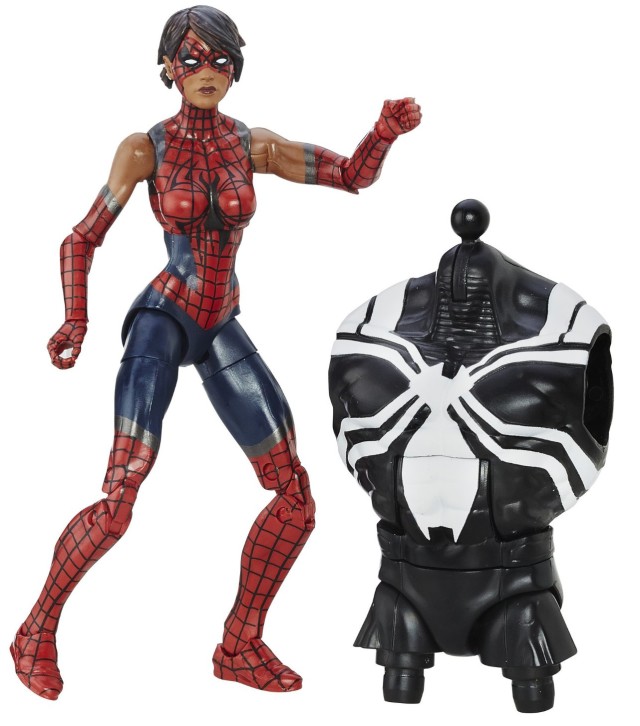 But while Ashley Barton isn't a well-known character and comes with zero accessories of her own, she does come with the essential torso to build the Space Venom figure, so she ought to sell "okay" nonetheless.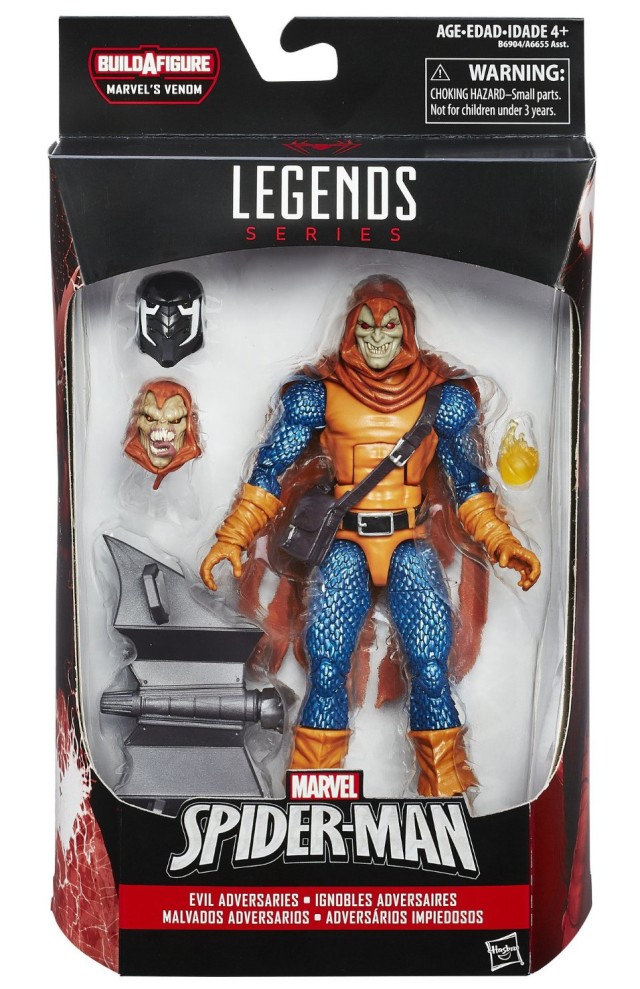 The set is rounded out with a pair of legendary Spidey villains (or "Evil Adversaries"), with the first being a new classic version of the Hobgoblin.
I actually loved last year's Phil Zurich Hobgoblin Build-A-Figure, but this is obviously the better-known iteration of the character.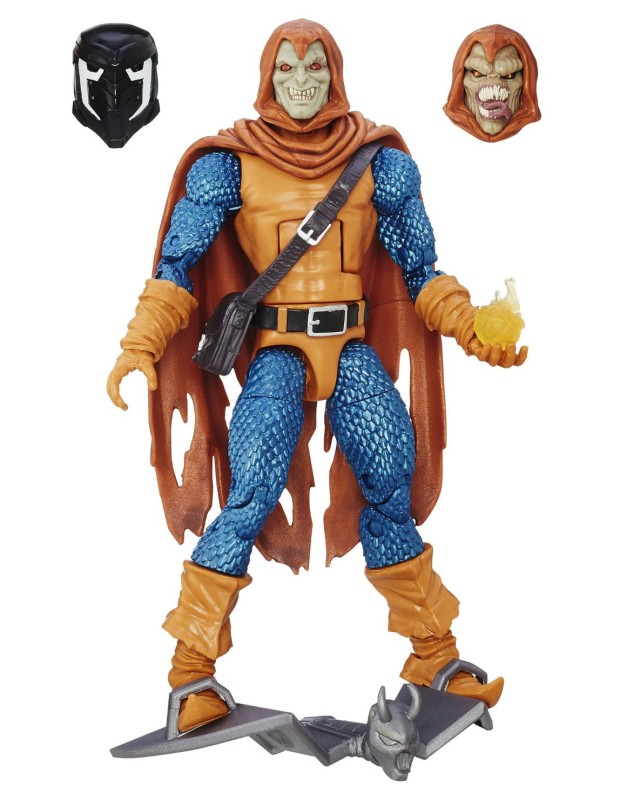 The Goblin Glider included this time around looks rather petite (and cheap), but I dig the tattered cape and default head. The interchangeable "licking" Hobgoblin head, however, looks all kinds of wrong to me.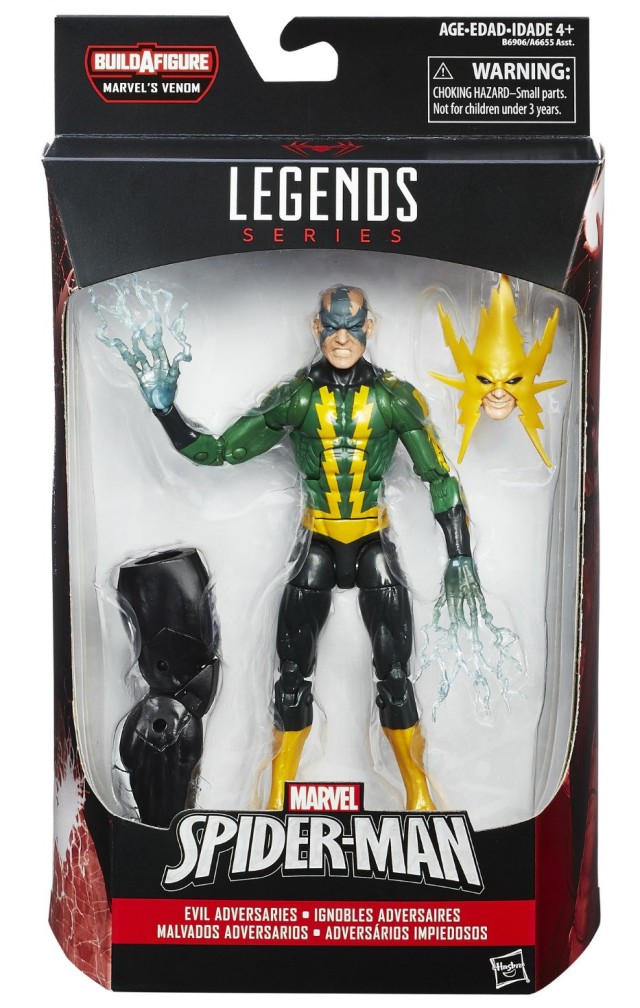 Finally, we've got the Marvel NOW Electro Marvel Legends six inch figure closing out the series. While the classic Electro costume is one of my absolute favorite villain costumes, I straight-up hate this look (though not as much as the ASM2 movie Electro).
The electric hands and classic head included are definitely fun, but the combination of ugly black pants and tattooed head, plus the lack of non-effect hands, definitely knocks the figure from my "most wanted" list.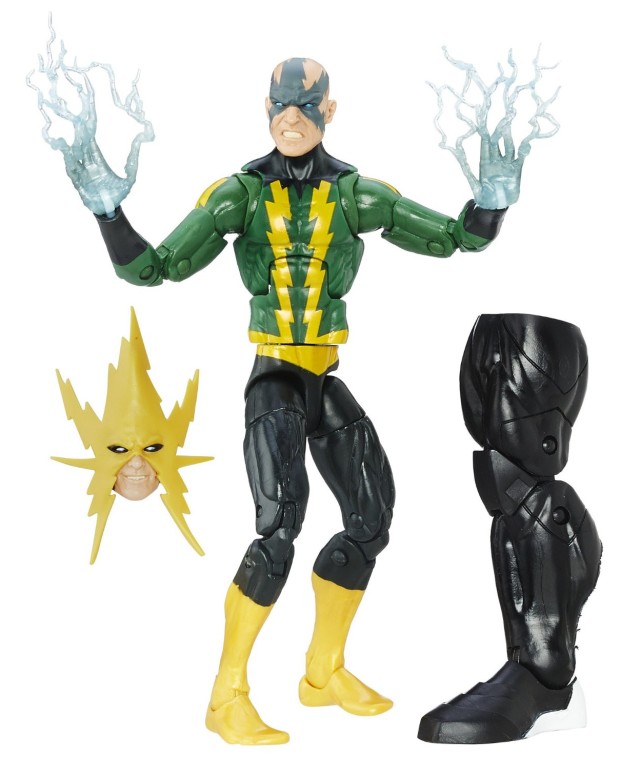 The Marvel Legends Spider-Man Space Venom Series is still available for order in sets and cases, and is expected to be arriving online within the next week. No word when Amazon will open their own individual figure pre-orders, but I'd expect them within the next two weeks.
Now that we've seen the best possible official images of this wave, are you excited for this year's second Spider-Man Legends wave, Hasbro collectors? Or does this wave of mostly modern character designs fail to resonate with you?