When I reached out to readers and asked which of the new X-Men Legends figures I should review first, I expected a cacophony of Deadpool requests–and predictably, there were. But to my surprise, an almost equal number of readers asked to hear about the new Marvel Legends Phoenix figure that's still available for order online! We've had several 6″ Jean Grey figures before–is it worth adding this latest version of the greatest psychic mutant ever in the Marvel Universe to your collections? Read on…
The Right:
Toybiz Marvel Legends Series 6 is famous for being the first truly
difficult
wave of figures to track down and complete at retail in the ML toy line, and this Marvel Legends X-Men Series seems like a spiritual successor to that legendary wave.
As such, there's no way that this wave would feel complete without a new version of one of the first Marvel Legends female figures ever: Jean Grey as the Phoenix! At the time it was released, I thought the Toybiz Phoenix figure was quite beautiful. Even so, looking at her now by modern standards, the old Toybiz Jean Grey is really, well… scary!
Thankfully, Hasbro has stepped up to the bat and now given us a truly ravishing Marvel Legends X-Men Phoenix figure to replace the old one in our collections!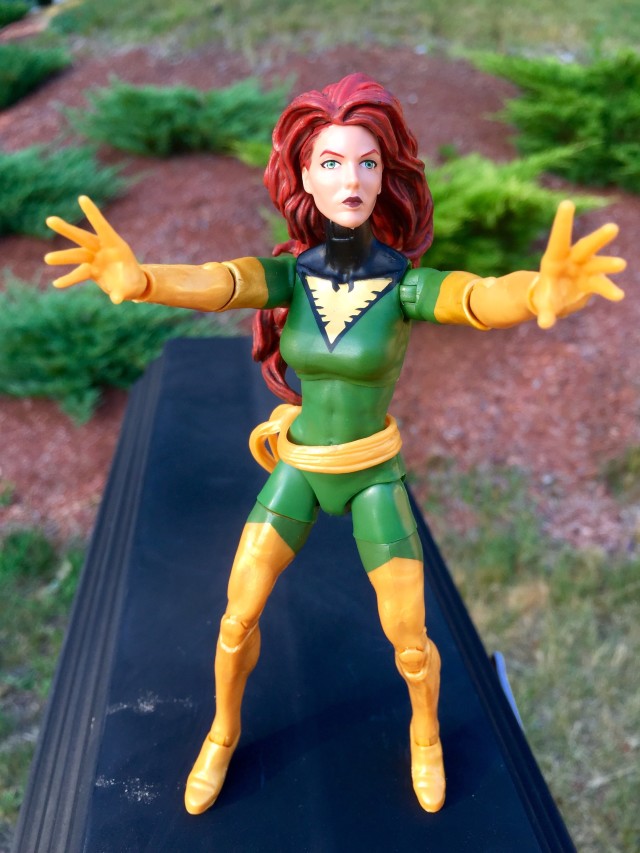 Rarely will I start out a review by raving about the gorgeous paintwork on an action figure, but this Phoenix Jean Grey figure is an exception. Simply put, the colors and paint deco on this figure are spectacular.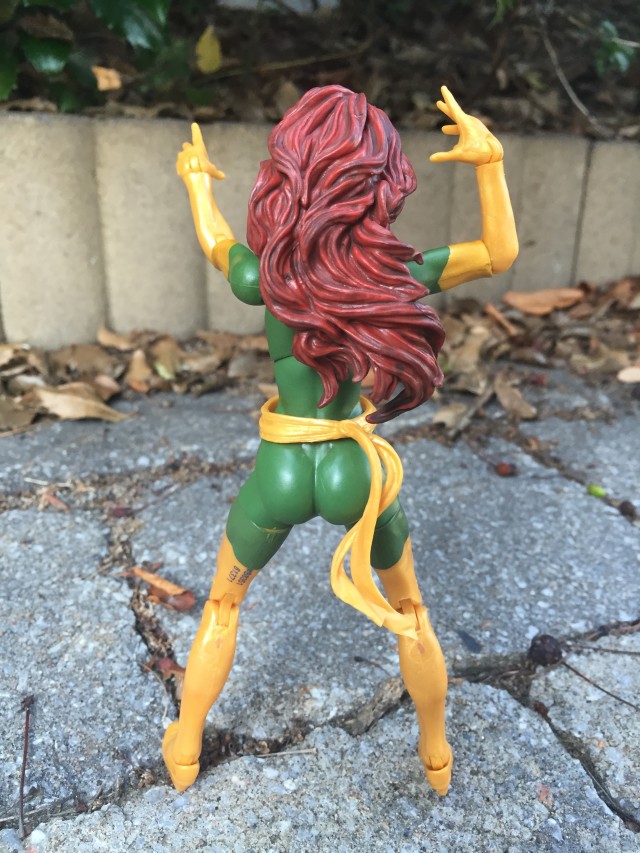 There's no paint wash to speak of on this Marvel Legends Phoenix six-inch figure–but for once, I actually don't want there to be. That's right–the Phoenix is a near-omnipotent cosmic force, and I'm A-OK with the colors on this figure looking bright and pristine, rather than shaded and "dirty".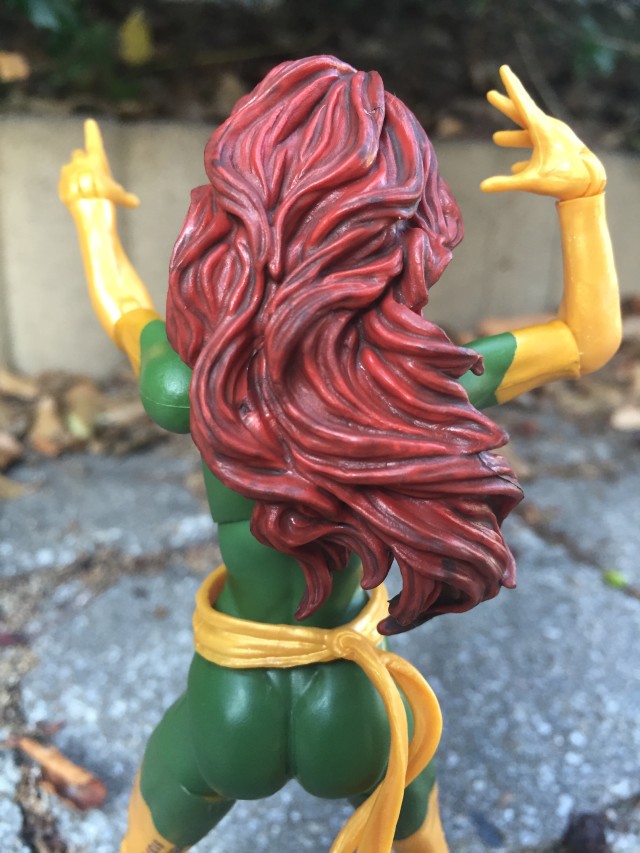 The combination of grass green, shiny gold and pure yellow on Phoenix's costume look amazing together, and are beautifully complemented by Jean Grey's red hair (which actually does have some shading on it to add depth).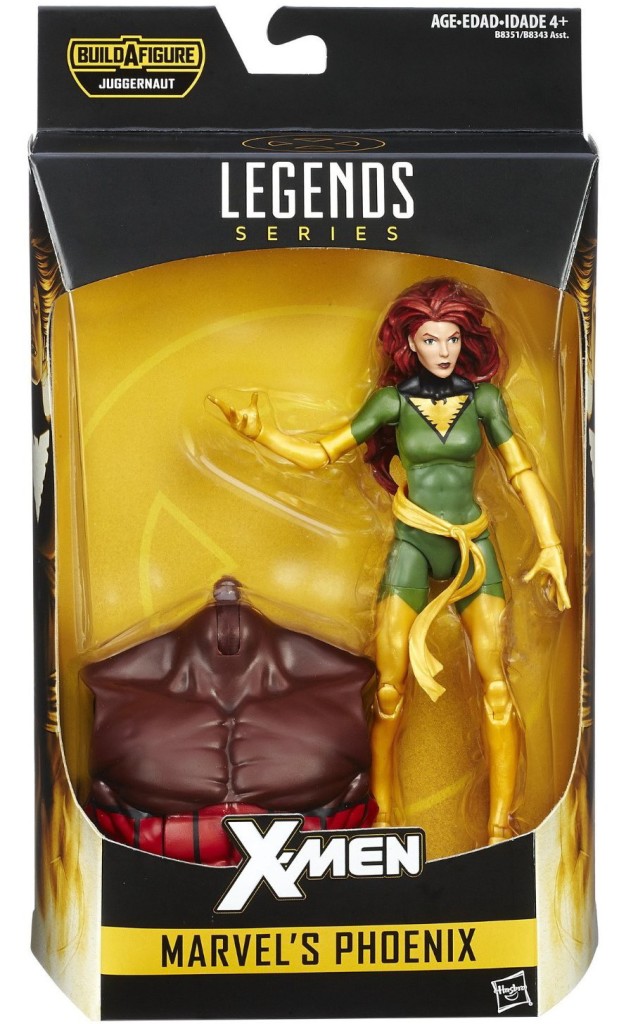 Solely from a visual aesthetic standpoint, this is easily my favorite figure of the entire X-Men Juggernaut Series.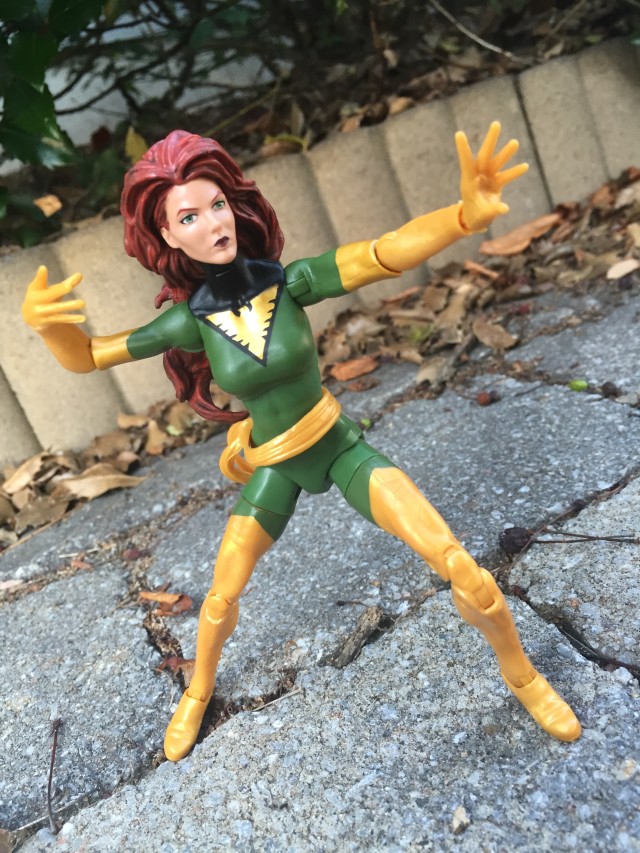 Even the face on this Jean Grey is a huge improvement–unlike the crazed harpy that the Toybiz iteration looks like, this 6″ Phoenix figure is fair, beautiful, and has everything under control.
And while her articulation has a few hiccups, the overall articulation scheme here is very good, including a ball-hinge head, ball-hinge shoulders and elbows, ball-jointed hips, double-jointed knees, swivel thighs, an upper torso ab crunch, and hinged feet with ankle rockers.
The Wrong:
With how I spent the first many paragraphs gushing about this toy, you might think that that the new Hasbro Phoenix is near-perfect. Sadly, that is not the case.
First off, let's address the glaringly absent elephant in the room: the fact that this $20-$22 action figure comes with a grand total of zero accessories besides her Juggernaut Build-A-Figure piece (the upper torso).
While the Toybiz Phoenix came with a super-cool huge Phoenix Force display piece to put with their figure, Hasbro's version gets bupkis. No Phoenix Force, no interchangeable translucent psychic hands, no recycled "flame" effects pieces… nothing.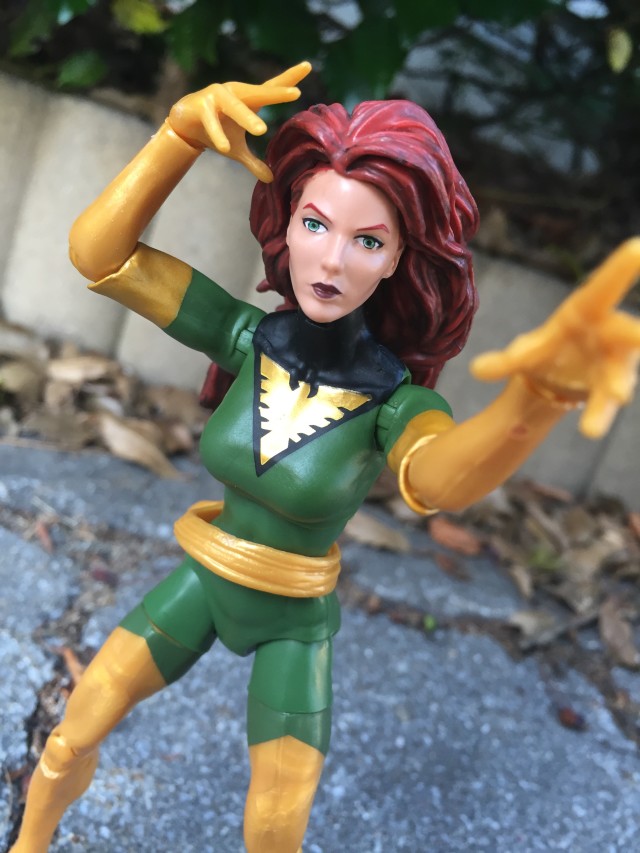 With no accessories at all, there's very little you can do with Jean to pose her in fun ways. She can basically just stick her arms out or put her hand to her head. It's really not all that inspiring.
Furthering the problem is the fact that Jean's head makes the figure extremely top-heavy, and the "high-heel boots" put the nail in the coffin. I'm pretty great at getting my Marvel Legends figures to stand up in pretty much any pose I want, but this Marvel Legends Phoenix figure is already falling over constantly in anything but the most basic poses.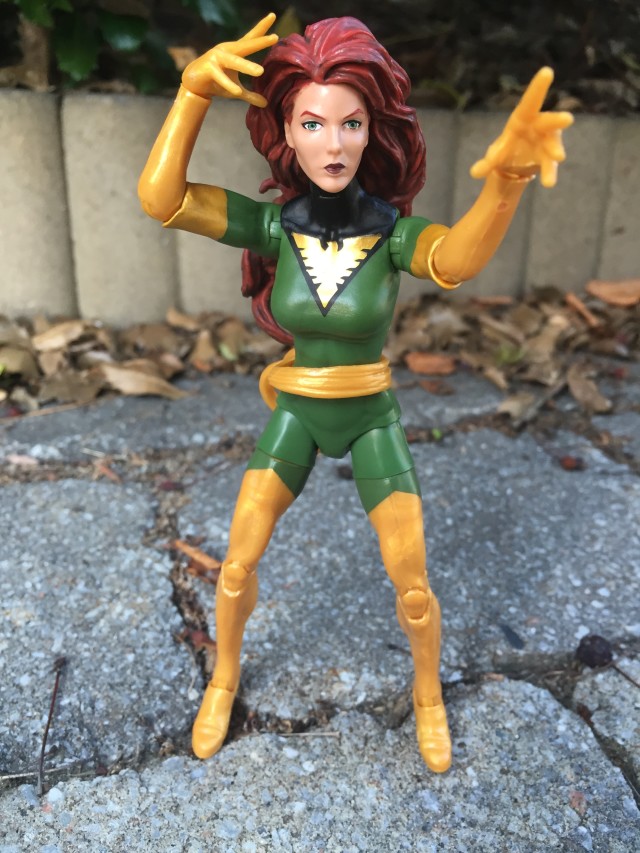 Finally, the bane of existence returns with this wave: loose sashes and belts. Accessories like this that are way too loose and flop around like nuts drive my OCD off the scales, and Phoenix's sash is a prime offender. I'm super-frustrated trying to get it to stay still and look right, as it just won't cooperate. Infuriating.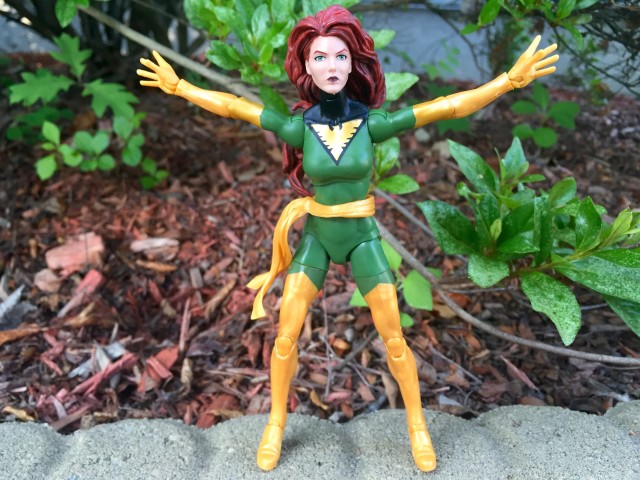 Overall: To me, this figure is the very definition of "mixed bag". The Phoenix Marvel Legends 2016 figure features outstanding paint and sculpting and a fairly impressive articulation scheme. Even so, her lack of any true accessories at all, ridiculously floppy belt, and unstable ability to stand up definitely hinder this figure's fun factor. This is almost certainly the best-looking Jean Grey action figure ever, but she's really not much fun to pose or play with at all.
GRADE: B-