San Diego Comic Con 2013 has come and gone now, and while I'm extremely pleased with most of what was shown for Marvel figures (for the most part), one line that I felt a little let down by was the usually awesome Diamond Select Toys Marvel Select display. That's not to say the 2013 SDCC Marvel Select display was a total loss, however. Though DST didn't show anything previously unannounced at SDCC 2013, they did debut the movie Thor 2 Marvel Select figures of Thor and Jane Foster from "Thor: The Dark World"!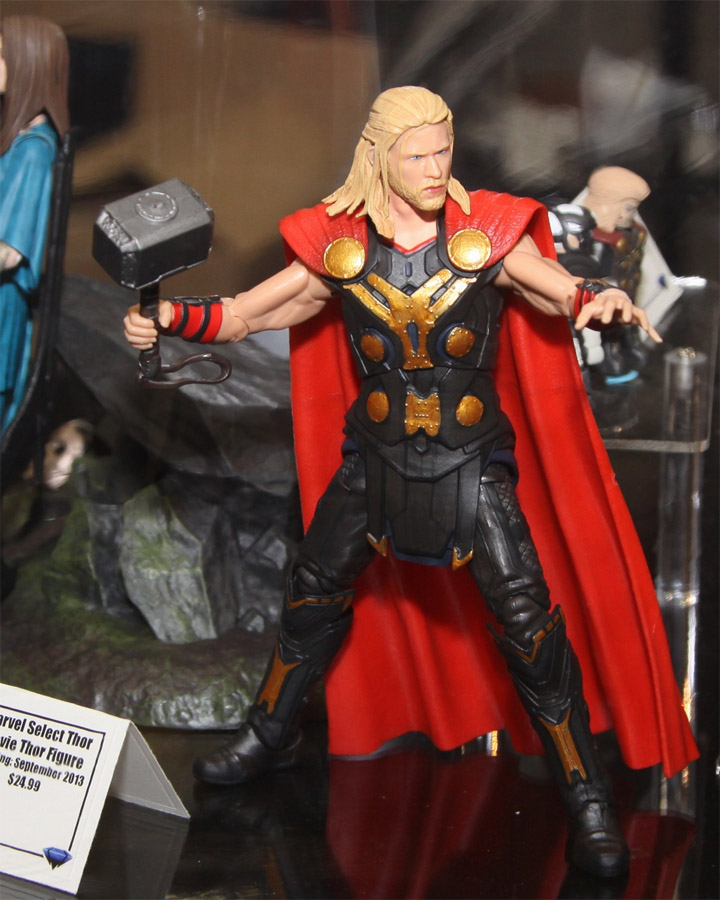 Hasbro confirmed at San Diego Comic Con 2013 this weekend that they won't be releasing any Thor Movie Marvel Legends figures this year, so if you want a 6″-7″ Thor 2 figure this year, the Marvel Select Thor: The Dark World figure will be your only option. Thor doesn't look perfect, mostly because the paint on his lips is far too dark. It almost looks like Thor is wearing lipstick ("I say thee NAY!").
I'm a little lukewarm on this Thor 2 Marvel Select Thor figure. He looks okay, but he doesn't really "wow" me. That said, I'll be buying him regardless when he comes out, because he comes with an interlocking base that combines with the base that comes with the (bought on sight!) Natalie Portman Jane Foster figure…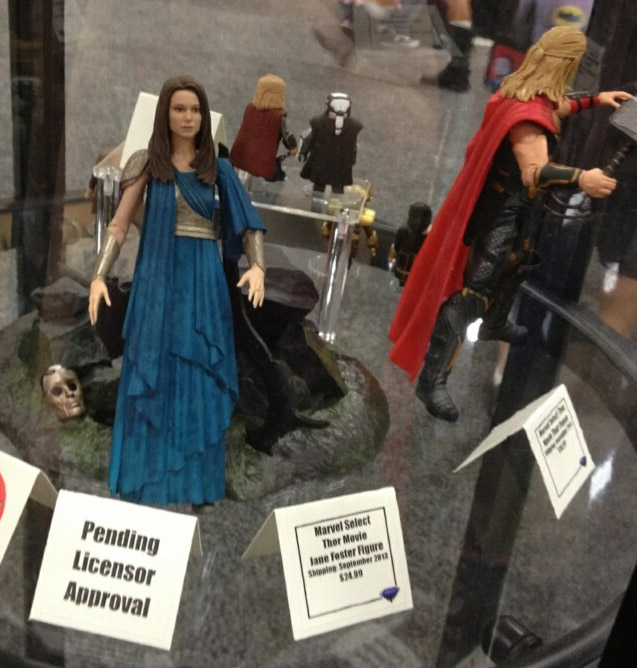 I don't think Diamond meant for the Jane Marvel Select figure to be photographed at SDCC, but people did anyway, and the cat's out of the bag now. I've heard some people criticize this Jane Foster Marvel Select figure as being "boring", but it looks gorgeous and honestly has a better chance of selling at retail than a Malekith figure. The relationship between Thor and Natalie Portman is the backbone of the Thor movies, and I think it's outstanding that Diamond Select Toys is giving us such an elaborate sculpt of a character that no other company will ever release an action figure of.
Notice the big "Pending Licensor Approval" card in front of the Thor: The Dark World Jane Foster Marvel Select figure? That would seem to imply that Diamond Select Toys didn't really want people photographing Jane at SDCC because Marvel and/or Natalie Portman hasn't signed off on the likeness yet. I really can't comprehend how these figures are supposedly going to be shipping in September 2013 if the licensor hasn't even approved the Marvel Select Jane Foster figure at all yet. I think it's more likely we'll see these figures in October/November 2013 than two months from now.
The "Thor: The Dark World" Marvel Select Thor and Jane Foster action figures are up for pre-order now for $21.99 (though they'll retail for $24.99 when they're actually released in stores). The pair should arrive in stores somewhere between September and November 2013. I'll update with glamor shots once Diamond Select Toys posts photos of the approved final prototypes.