Though the "Iron Man 3" movie wasn't quite the most well-loved Marvel Studios movie to date (except to me–I loved it more than any other Marvel movie, bar "Avengers), Hasbro is moving forward with a third series of Iron Man Marvel Legends in Fall 2013 regardless. This is going to be a rather controversial wave, however, as it contains an armor not seen in "Iron Man 3", a villain (of a sort) who's the subject of more hatred toward Marvel Studios than any other character ever from the movies, and a character who's not (exactly) in the movies at all…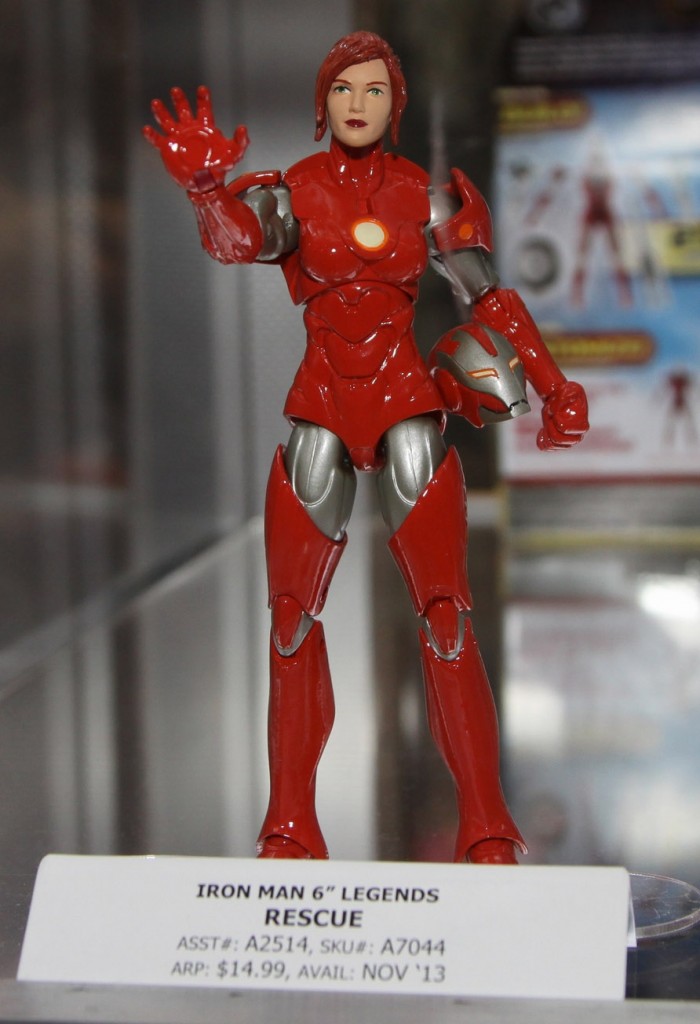 The headliner of this wave and undoubtedly the figure that people are buzzing about the most is Rescue–Pepper Potts' armored alter-ego. I've heard some criticism that the Pepper Potts head sculpt doesn't at all resemble Gwyneth Paltrow, which was astounding to me.
It's true this figure doesn't look like Paltrow at all–because it's not supposed to. This action figure is based on the comic books, in which Pepper wore her own Iron Man "Rescue" armor. Rescue also appears in the super-popular "Avengers Alliance" online video game, which has definitely given her a boost in both popularity and recognizability.
I imagine that you can remove the Pepper Potts head and attach the included Rescue helmet onto the torso of the Marvel Legends Rescue action figure, but that hasn't been shown yet at SDCC. Hopefully we'll get clarification on the figure's ability to wear the helmet at the Marvel panel on Saturday.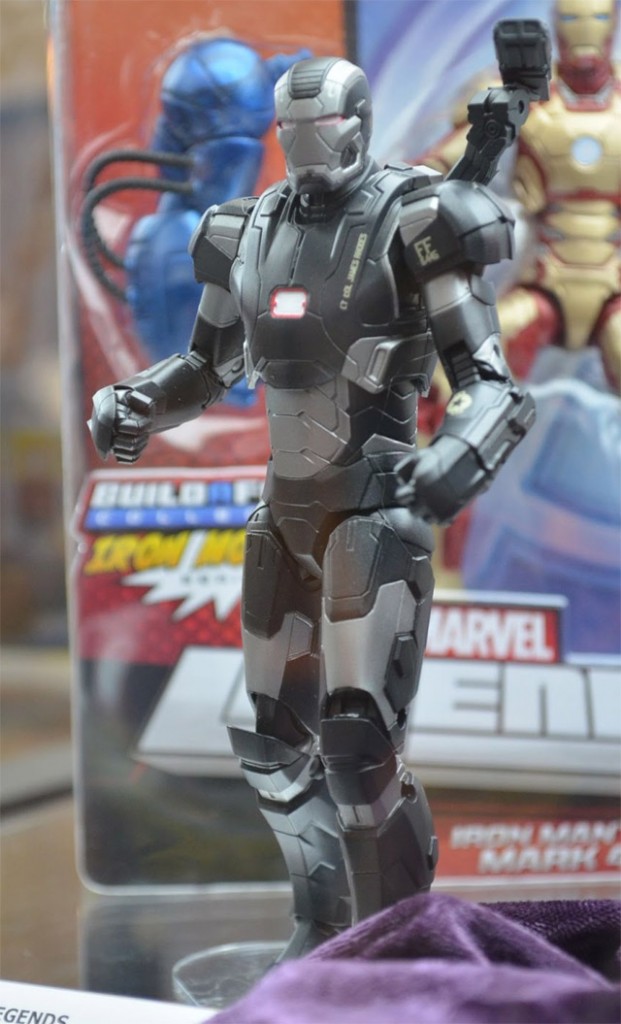 Next up we have the Iron Man Marvel Levends Wave 3 War Machine Mark 2 figure. Hasbro unceremoniously shoved the Marvel Legends War Machine 2.0 action figure in the corner next to the Movie Prop Replica Helmets in the display case, which limited the quality of photos that could be taken of the Mark 2 War Machine and the number of people who noticed ol' W.M. on display period. (Personally, I think Hasbro stashed War Machine where no one could see him because they didn't want to field a billion questions about why they're making an action figure of the War Machine 2.0 "that wasn't in the movie", but that's just me.)
The War Machine Mark 2 Marvel Legends figure is a nice-looking repaint of the Iron Patriot overall, though nowhere near as detailed or impressive as the Marvel Select War Machine Mark 2 figure released a few weeks back. It's worth noting that there's been at least one mold change to this Hasbro figure, as War Machine's fists are both closed, while the Iron Man 3 Iron Patriot movie Marvel Legends action figure has an open left hand.
Finally, we come to the Iron Man 3 Marvel Legends Mandarin action figure. As I said when I came close to ranting about it in my post about the Iron Man 3 Hot Toys Mandarin Movie Masterpiece Series figure, I'm no hater of the Benjamin Kingsley Mandarin. Someday I'll dive in and talk about the abject love that I have for the "Iron Man 3″ take on the Mandarin, but that day is also not today. What I will say is that I'm glad we're getting a 6" Marvel Legends action figure of one of the most unique and thought-provoking antagonists ever in a superhero movie.
Don't like how the Mandarin was portrayed in the "Iron Man 3" film? Buy the figure and recreate the movie in action figure form, pretending to zap the Marvel Legends Iron Man Mark 42 with the Marvel Legends Mandarin's plastic rings. Who knows–with any luck, being able to retell Iron Man 3 with the capability of making the story more to their liking will enable some of the Iron Man 3 cynics to let go of some of their hate for the year's best superhero film.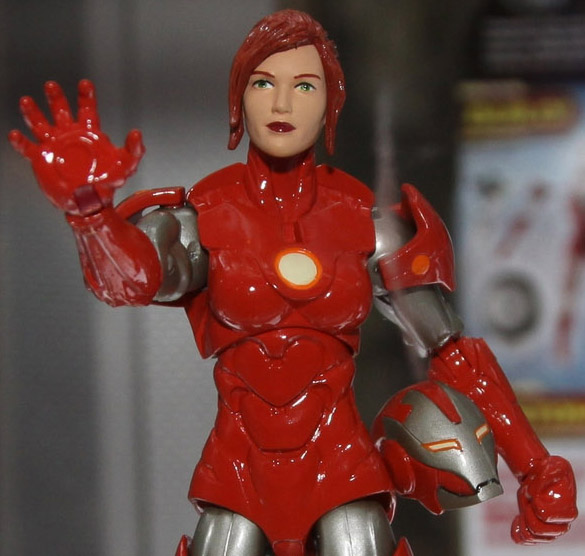 Iron Man 3 Marvel Legends Wave 3 is scheduled to be released in November 2013. At this time it is unknown if there will be an Iron Man Legends Series 4, or if Series 3 and/or 4 will contain any pieces for a new Marvel Legends Build-A-Figure. My instincts say that the figures will probably come without any BAF parts, but we'll find out for certain one way or the other at the Marvel Action Figures panel Saturday afternoon at San Diego Comic Con 2013. I'll update with more complete information based on the news released by Hasbro at the panel.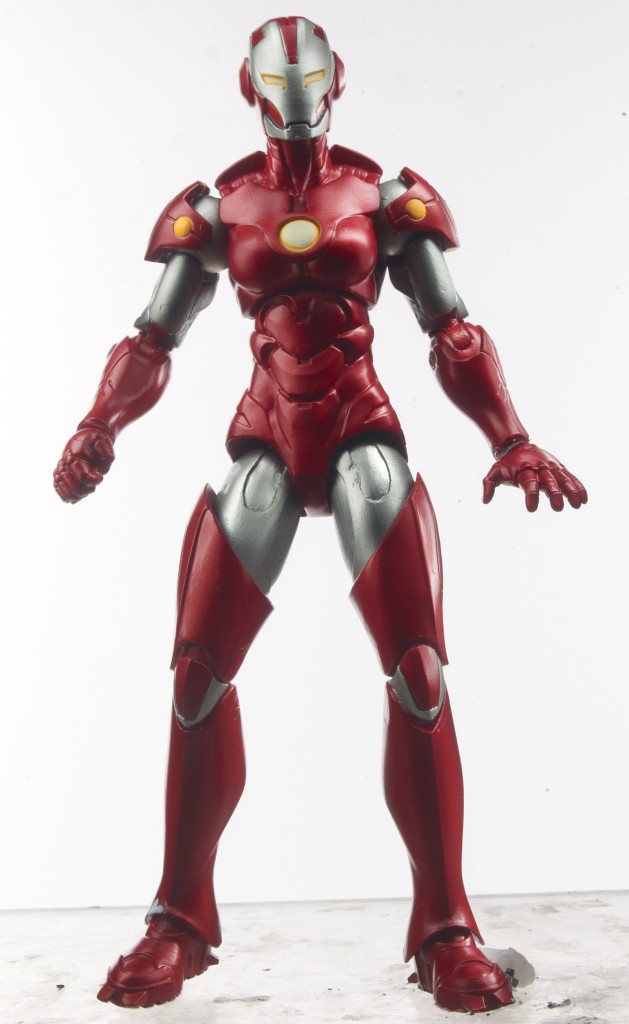 UPDATE: Hasbro has confirmed via photos that the Pepper Potts Rescue figure can wear her helmet. Photo added to the article–she looks great!