While all of the most prominent companies that make Marvel figures, statues and toys made their presence known at this week's San Diego Comic Con 2013, some of the smaller manufacturers–including Diamond Select Toys–brought their A-Game to the show as well! Art Asylum had been holding out on us for a while so that they'd have lots of new figures to debut at SDCC 2013, including the just-revealed and very awesome Marvel Minimates Wave 54 and Toys R Us Marvel Minimates Wave 18!  As usual, the upcoming Marvel Minimates Series 54 for comic book stores and specialty stores will share a pair of two packs with its complementary Toys R Us Marvel Minimates Series 18 set. The complete lineups for the two series are as follows…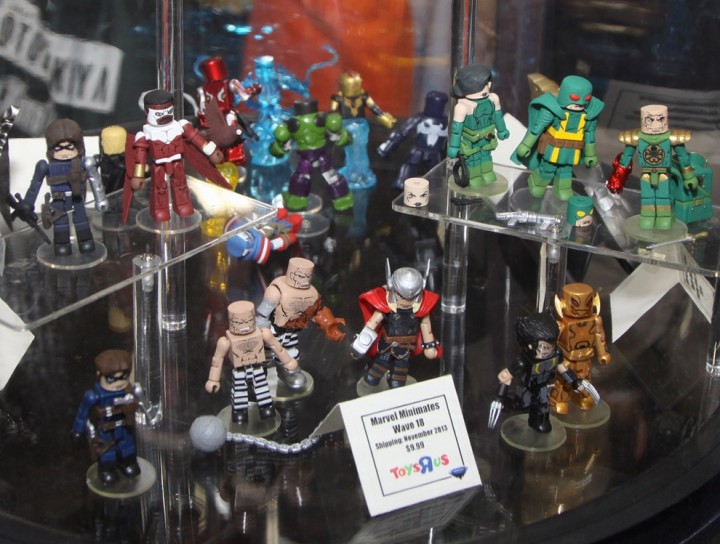 Marvel Minimates Wave 54 Figures:
Captain America & Red Skull/Arnim Zola
Falcon & Winter Soldier
Baron Strucker & Hydra Soldier
Madame Hydra & Hydra Soldier (Variant Set)
Marvel Minimates Toys R Us Wave 18 Figures:
Marvel NOW! Thor & Absorbing Man
Age of Ultron Wolverine & Gold Ultron
Captain America & Red Skull/Arnim Zola
Falcon & Winter Soldier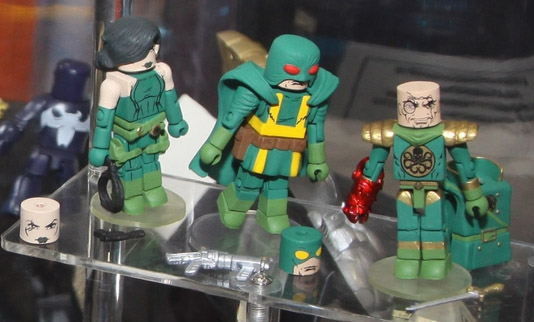 Overall, I think that both of these sets end up being very worthwhile, solid additions to the already expansive Diamond Select Toys Marvel Minimates range. A Baron Strucker Minimate figure was a huge omission from the line prior to this, and I'm excited we'll finally be seeing him in Marvel Minimates form in November 2013.
The Baron Strucker, Madame Hydra and Hydro Soldiers figures will only be available from comic book shops and online stores, so you won't find them at Toys R Us. This is probably a pretty good decision, as I don't know many kids shopping at Toys R Us dying to get their hands on ol' "Hail Hydra!!!" Baron Strucker.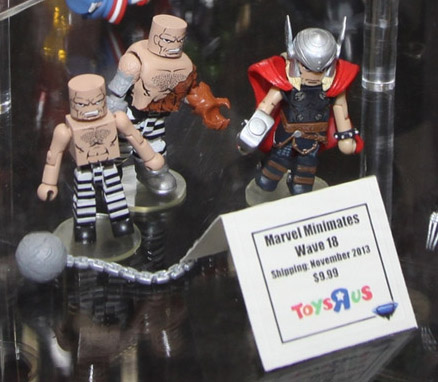 The two sets Toys R Us will have as Minimates Wave 18 Toys R Us exclusives are both worthwhile ideas. Marvel NOW! Thor God of the Thunder and the Absorbing Man make up the first pair. Thor is a nice headliner character to sell to casual buyers at Toys R Us, and I do enjoy his modern Marvel NOW Thor costume.
Absorbing Man will have an extra overlay torso with stone effects on it–a pretty clever concept! Much better than having to buy two different variant Absorbing Man figures to get him using and not using his powers (as Toybiz and Hasbro have enjoyed doing so much).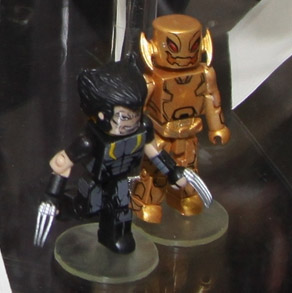 The other set is from "Age of Ultron". I'm not going to lie–I straight-up hated the Brian Michael Bendis "Age of Ultron" Marvel comics story arc this year. I thought it was one of the weakest, most poorly paced and contrived "event" stories that Marvel has ever done. That said, I do think that Ultron looks rockin' in gold, and I'm willing to plunk down eight bucks to add the Marvel Minimates Gold Ultron figure to my collection. The Wolverine, well… he can go in my big box of unloved Minimates figures in the closet.
Rounding out the series are two packs available at all Marvel Minimates retailers including The Falcon & the Winter Soldier and Captain America & the Red Skull Arnim Zola Minimates figures. The Arnim Zola/Red Skull Minimate is interesting, but I don't find this version of Captain America particularly appealing.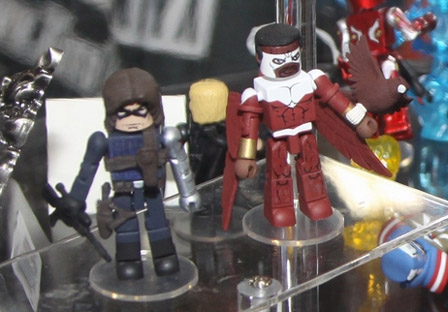 Minimates Falcon looks good, but the real star of these pairs is the Winter Solider Minimate. It appears that Diamond Select is going to give us a bit of a two-for-one with the Minimates Winter Soldier, giving us the extra parts necessary to make either a hero or villain Winter Soldier in the same pack. Very much looking forward to this figure–bravo, Diamond Select Toys.
I am a Minimates collector, and I will definitely be picking up some (okay, maybe all) of these Marvel Minimates Wave 54/18 figures for reviews and photography when they're released in November 2013. You can follow Marvel Toy News on Facebook if you want more updates, reviews and news sent straight to your Facebook Newsfeed.