It's been a long wait since last summer to get all of the details, but today ThreeA Toys finally let loose with our best images yet of their upcoming quartet of Iron Man sixth scale figures, as well as letting us know exactly when and where we'll be able to place pre-orders for the 3A Toys Classic Iron Man, Silver Centurion Iron Man, Prototype Iron Man and Stealth Iron Man figures!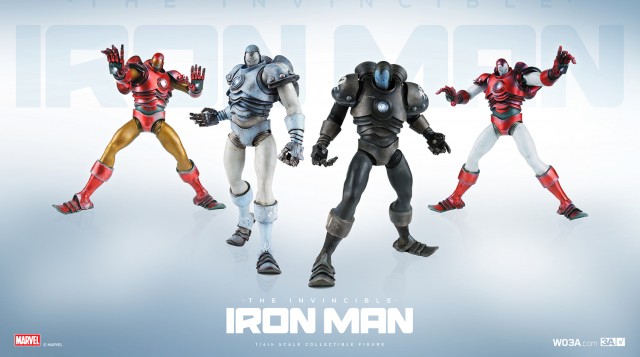 When I saw the first unpainted prototype of the 3A Toys Iron Man 1/6th scale figure around the time of San Diego Comic Con 2013, I was pretty dead set against the aesthetics of the figure. He just looked
wrong
to me. Fast-forward to half a year later, and I've softened quite a bit on that stance.
The more I look at this Three A Toys Iron Man figure sculpt, the more this wacky 3A stylized interpretation of Iron Man wins me over. Not necessarily enough to get my ~$200 per figure (I just can't deal with the jet boosters on the back of the armor), but at least enough to get my attention.

And now that ThreeA has my attention, they finally let slip with some of the release info for their Invincible Iron Man figures! As rumored, the Iron Man 3A Toys Sixth Scale figures will all go up for sale on Thursday, February 13th 2014–three days before the New York Toy Fair 2014 begins!

As previously reported, the Stark Industries Prototype Iron Man figure will be exclusive to 3AA Members who've jointed the 3A Toys collector's club. I sort of feel like that's too bad, as this legitimately may be the most visually compelling of the four Iron Man 1/6 figures that ThreeA Toys is putting out.

In addition, the 3A Stealth Iron Man will be exclusive to the 3A Toys Bambaland Store, so you won't be able to purchase it from the usual online retailers. The ThreeA Stealth Iron Man figure looks a bit funky now because the eyes aren't painted red, but 3A has said that will be corrected for production version of the figure.

The Classic Iron Man and Silver Centurion Iron Man ThreeA Toys figures will be available from all the usual suspects online where you usually set ThreeA Toys figures carried. I'll we're waiting to hear now is the price for these unique Iron Men, and I'll post an update to the Marvel Toy News Facebook Page once the pricing for these figures is announced.
I think these various ThreeA Toys Invincible Iron Man figures have a pretty interesting look to them, but still aren't something I would necessarily plunk down about $200 each for. What about you, Marvel collectors? Is anyone here planning to pick up any–or all–of these 3A Iron Man 1/6 figures once they go up for order next week?