2016 has been relentless as far as Marvel Legends collecting goes, with more series being released by Hasbro in one year than ever before. But at last, we have a respite for collectors to pick up figures they missed during the year and for me to fill in reviews for figures I skipped. And though today's subject was rare and expensive on the aftermarket for a few months, the X-Men Legends Wolverine figure is now available for way below retail price online! If you haven't nabbed this Brown Costume Wolverine Marvel Legends figure yet, you really should, because it's a great one…
The Right:
"Wow, a Wolverine action figure! Never saw that before, right? Haha!"
…I would forgive anyone who had that reaction when seeing this Marvel Legends X-Men Wolverine figure for the very first time, seeing as how Logan has had more action figures over the years than any other mutant character by an absolute landslide.
But while this is miles away from being the first Wolverine action figure, that doesn't mean it's not one of the best…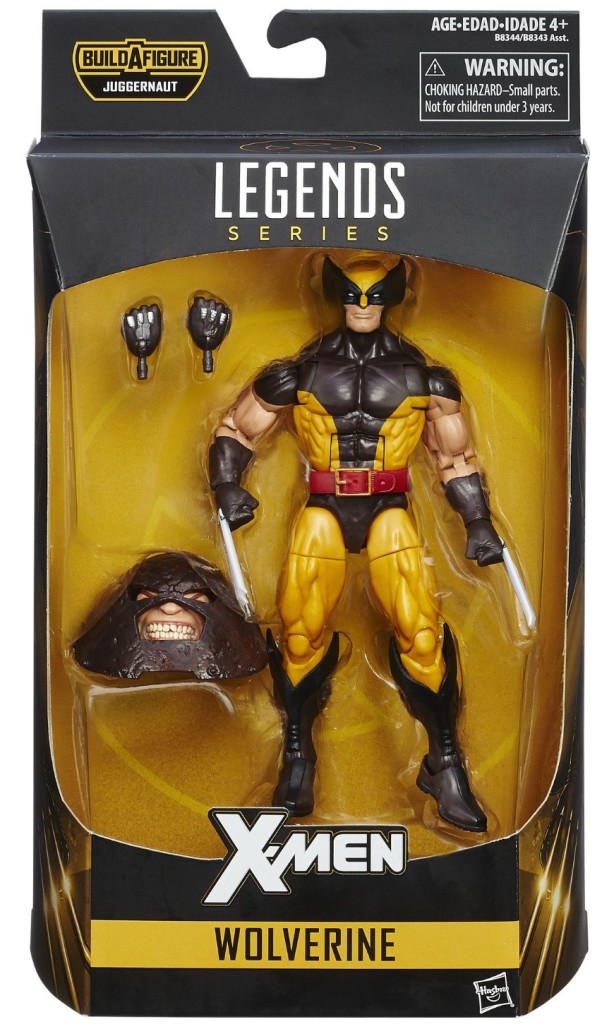 First off, kudos to Hasbro for the genius one-per-case ratios of this X-Men Marvel Legends Wave 1 series. When you release a ML set and Wolverine spends months as a hard-to-get figure rather than a perpetual pegwarmer, you know you've done something right.
One-per-case Wolvy and his classic brown costume rather than the yellow and blue costumes we've seen a million times…? Yes, please.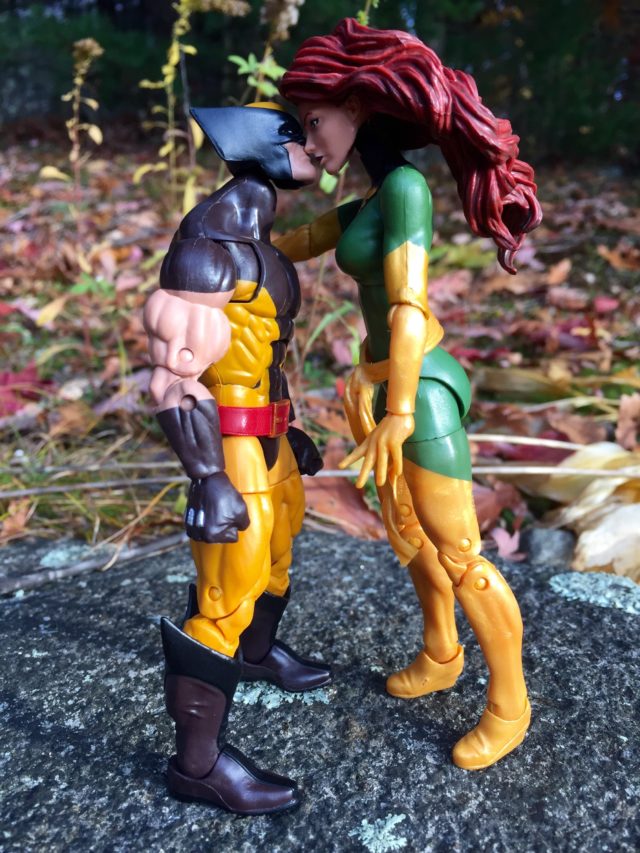 One of the things that makes Wolverine himself is that he's, well… kinda short. Too often we get toys where Logan is the same size as everyone else (or, God forbid, bigger), but that's not what happened this time out.
Hasbro totally nailed the scale of this X-Men Marvel Legends figure. Jean Grey towers over Wolverine when making out with him, just the way she should.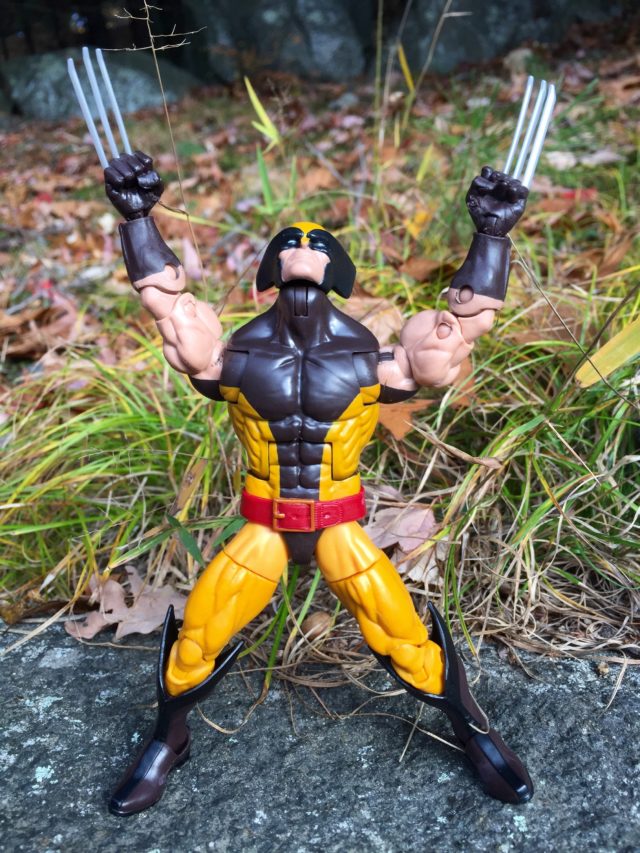 The other main defining characteristic of Wolverine visually is his claws. I was a bit dubious of the claws on this figure when I first opened it, as they seemed kind of cheap, but now I like them a lot.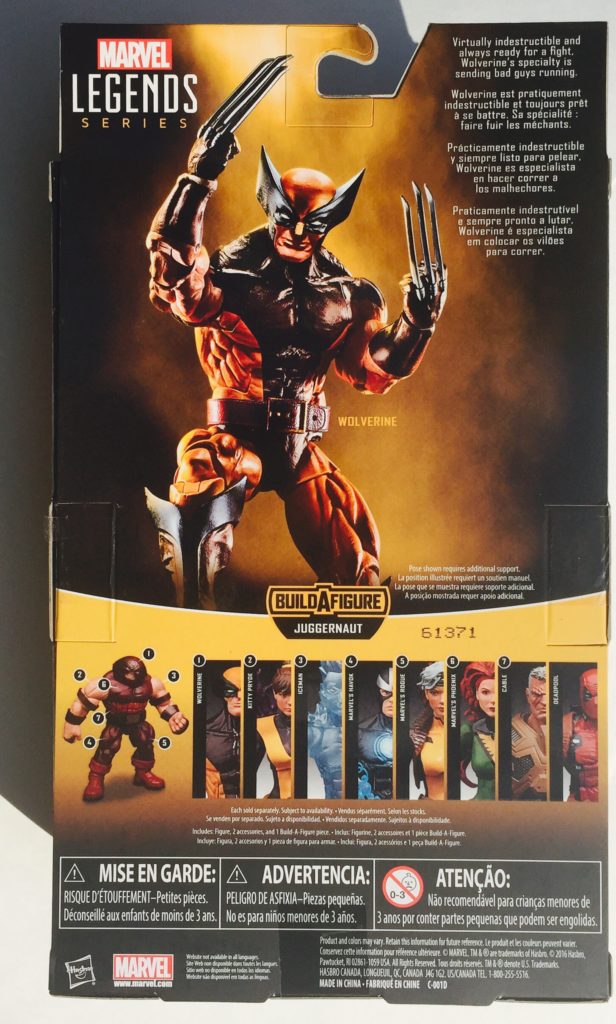 The claws have a bit of a rubbery feel to them, but that's to make sure that they don't snap in half or break. They may look warped in the packaging, but it's more likely that they're just out-of-place a bit and need to be realigned.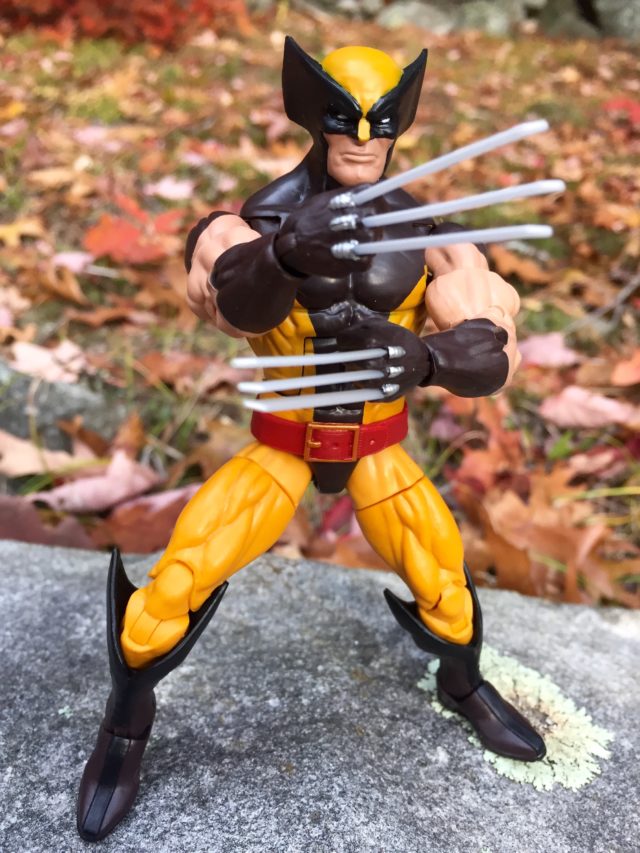 Each of the three claws on each hand are actually removable and can be inserted or pulled out at will, so Wolverine can be attacking with anywhere from zero to six claws at once. The claws snap into place tightly so you don't have to worry about losing them, though they can get rotated out of alignment if you're not careful.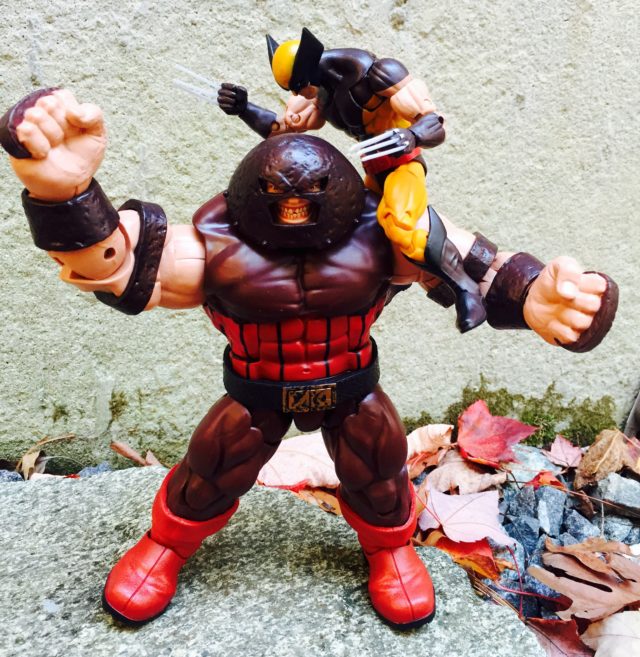 I was grumpy with this manner of claws until I got familiar with he setup, and now I love it. This is an ingenious way to recreate Logan with two claws popped around Sabertooth's head and threatening to pop the third.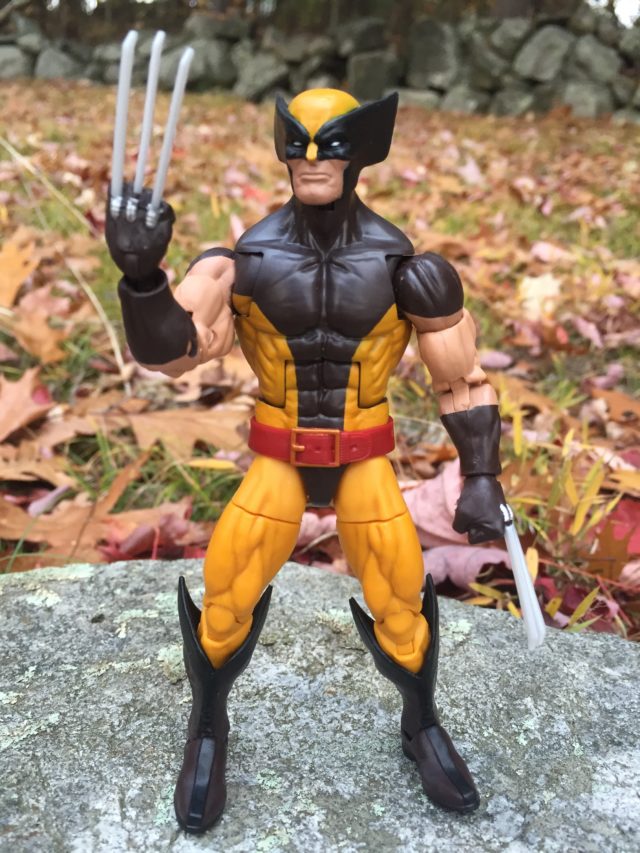 The Brown Costume Wolverine Marvel Legends figure features a fantastic articulation scheme, which includes every standard point we've come to expect from Marvel Legends–plus a little bit extra.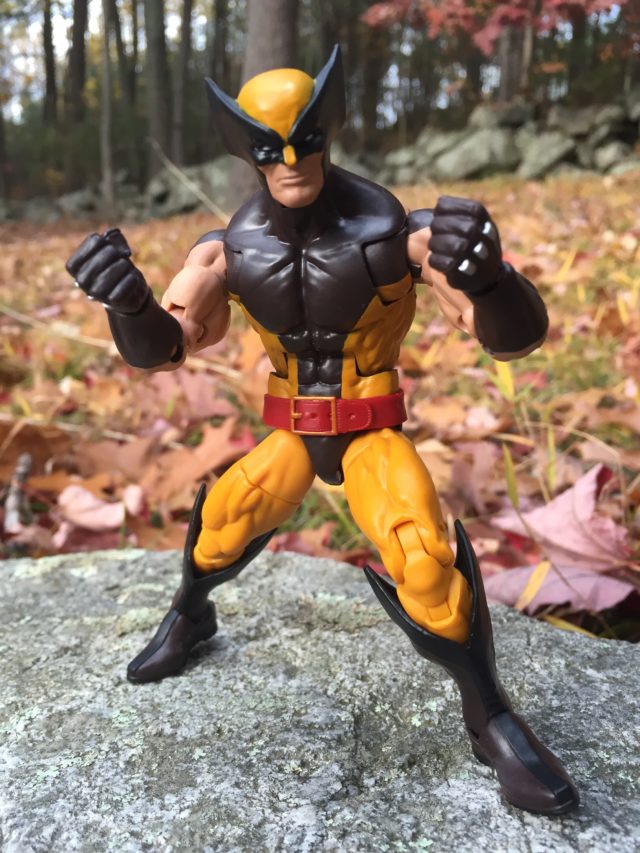 Here's the articulation rundown: ball-hinge head/shoulders/wrists; swivel biceps/waist/thighs/boots; hinged ankles with ankle rockers; double-hinge knees and elbows; an crunch and butterfly joint shoulders.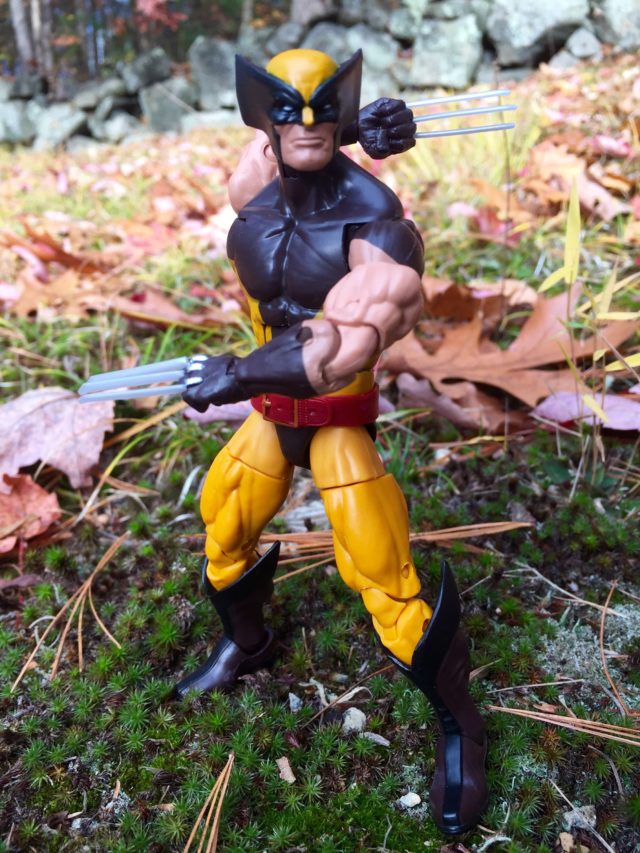 While I don't know that Electro needed butterfly shoulders, this added articulation works phenomenally for Wolverine. The joints give Logan a huge range of motion and tons of options for slicing ferociously with his claws. This articulation is top-notch.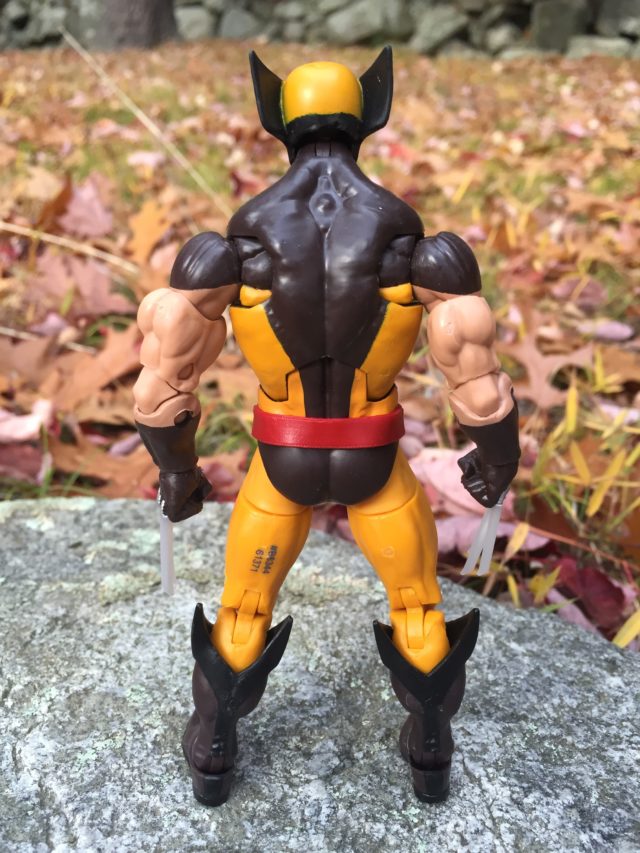 And thankfully, the quality of this figure is every bit as good as the design and flexibility. The paintwork is remarkable well-executed on this figure with no botched spots or lines at all on mine.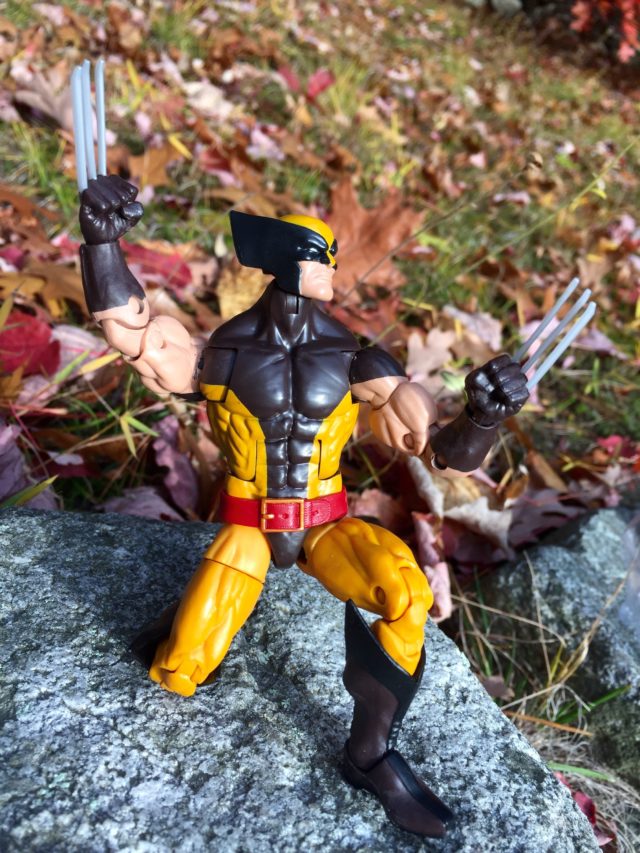 In fact, Wolverine's belt is even tightly glued into place so he doesn't suffer from the same floppy belt syndrome as Juggernaut, Phoenix and more figures from this wave. It sounds minor, but this detail increases my appreciation of this action figure quite a bit.
The Wrong:
While the X-Men Legends Wolverine 6″ figure itself is dang near perfect, the one area where this toy made me feel a little disappointed is the accessories department.
Wolverine comes with a pair of interchangeable hands with fully retracted claws, the Juggernaut Build-A-Figure head, and, well… that's it. Not exactly the most inspiring assortment of extras, huh? Hasbro could have packed in a katana sword for this era Wolverine, except it would have been meaningless without another pair of hands that could actually hold an accessory.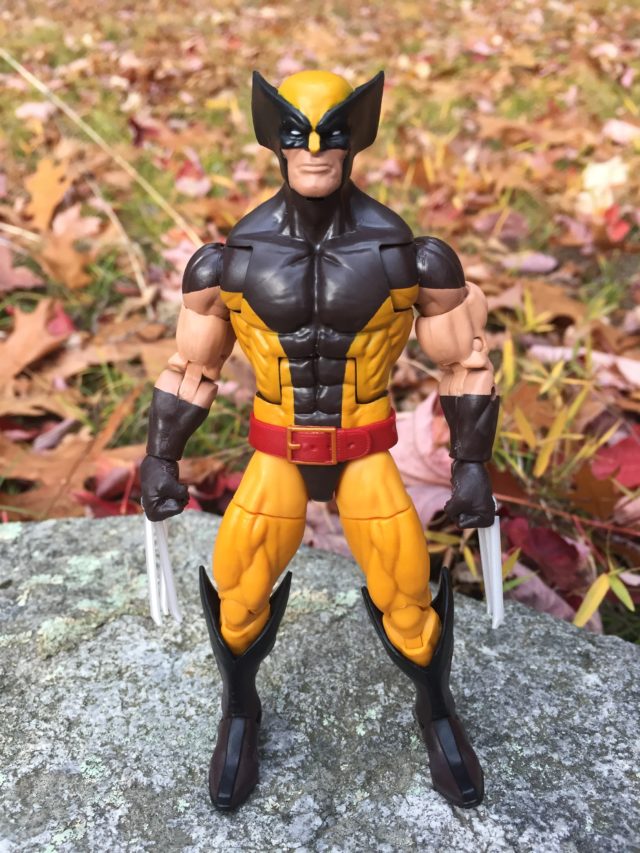 But what would have really put this figure over the top for me would have been an alternate head (or two): an enraged masked Wolverine or unmasked Logan head would have both been very welcome here. The neutral face on the only head sculpt is a bit, well… bland.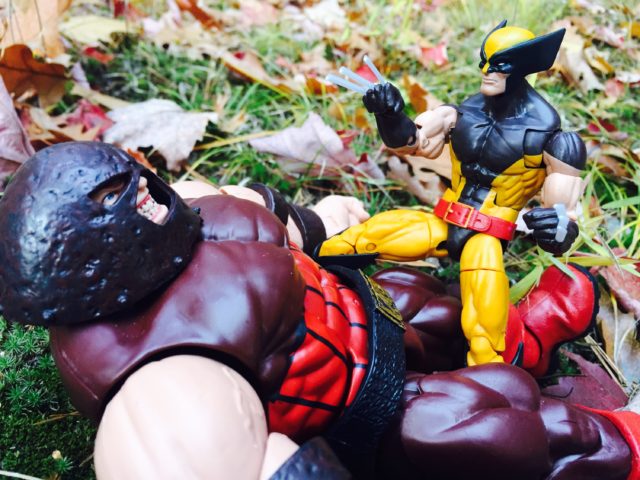 Overall: We've had a lot of Wolverine action figures released over the years, but I'm not exaggerating when I say this is one of my favorites. Great paint deco, perfect scale and outstanding articulation make this Marvel Legends Logan figure really stand out, even though his lackluster selection of accessories are disappointing. If you don't own a Marvel Legends Brown Costume Wolverine figure yet, you absolutely don't want to miss this one. Excellent.
GRADE: A-