What's that? You thought Funko was done with all of their Marvel vinyl figure announcements for 2016…? Yeah–so did I! But there was a certain berserker-raging Canuck who was conspicuous by his absence from all of those previous announcements–but he's sure not absent anymore! Coming our way this winter–three new Funko Wolverine POP Vinyls and three new Wolverine Dorbz are now up for order, including Logan, Weapon X, and even Hot Topic exclusive variants!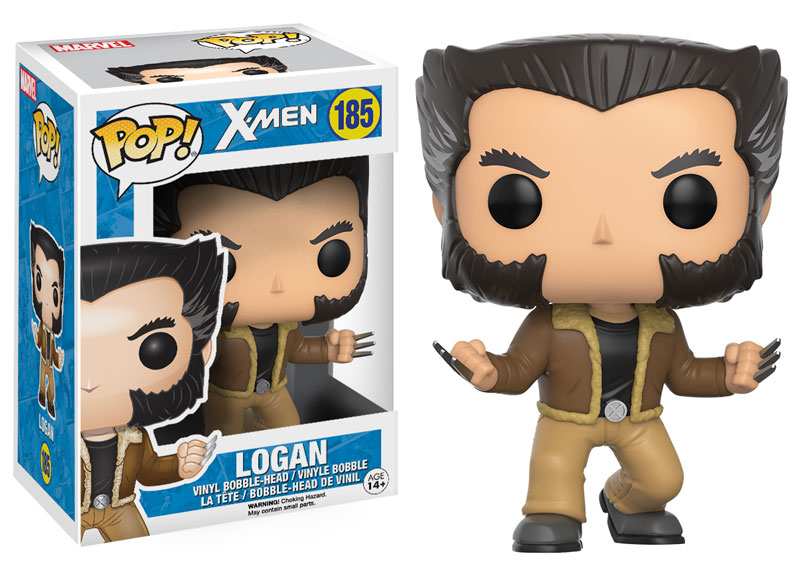 A listing for a new Logan POP Vinyl turned up in the Gamestop pre-order databases a couple months back, which left collectors a wee bit baffled when Funko X-Men POPs were revealed last month and Logan was not among the characters in the lineup. Many fans wondering if Logan was inexplicably cancelled, but the simplest answer was actually the correct one: he just hadn't been officially announced yet… until today!
It's been years since Funko released a new Wolverine POP! Vinyls figure, but the drought is over and the floodgates have been blown up. The first of the new Wolverine POPs features a very Days of Future Past/Old Man Logan-looking Wolverine, complete with grey streaks in his hair to show off that Logan's not as young as he used to be!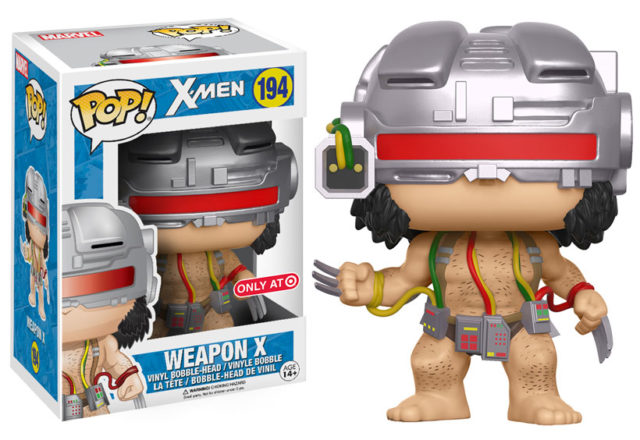 But whereas the POP Logan vinyl figure seems to represent an older Logan toward the end of his career, we're also getting a Target Exclusive Weapon X Funko POP that gives us Logan at the very beginning of his super-powered life! Weapon X toys traditionally sell pretty crummy due to being kind, of, well… gross… but I think that this one is stylized to the point where it's almost… almost... sweet. Can a Weapon X figure really be "cute"? More on that in a bit…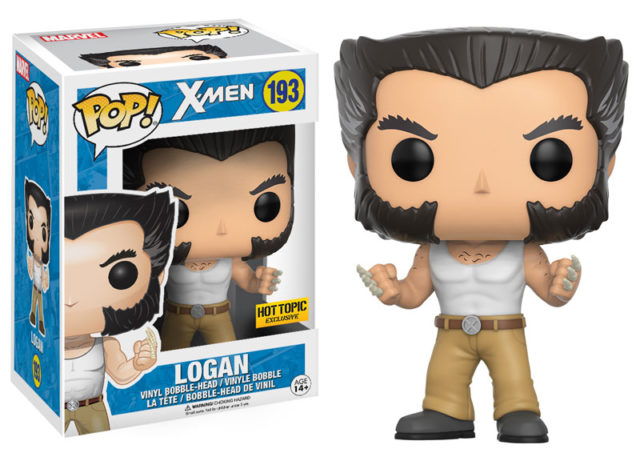 And hey, we can't have Target getting all the exclusive love, right…? And so, a Hot Topic Exclusive Logan POP Vinyls figure in white wife-beater tank top will be hitting Hot Topic stores this winter as well. This figure features a completely unique mold and also earns a unique numbering sequence designation of #193 in the lineup.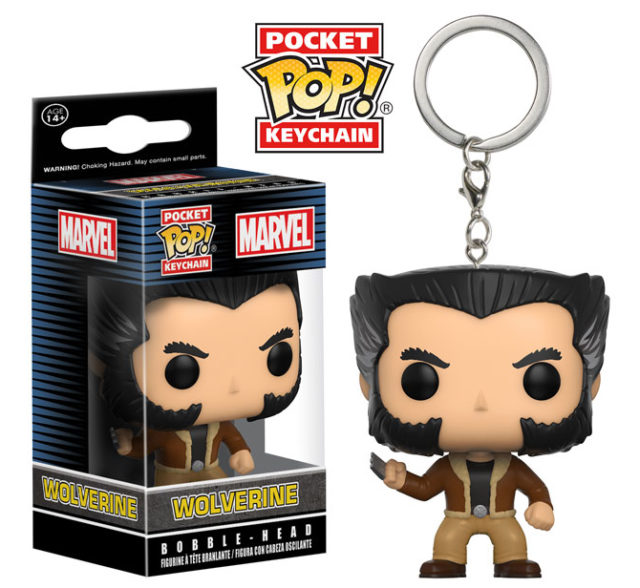 So as not to leave the legions of keychain lovers out there hanging (are there actually any keychain collectors out there–holler if you're reading!), there's also a Pocket POP! Logan Keychain releasing this winter. Interestingly enough, he's actually posed differently than the standard POP and has only his right hand's claws popped. Hunh.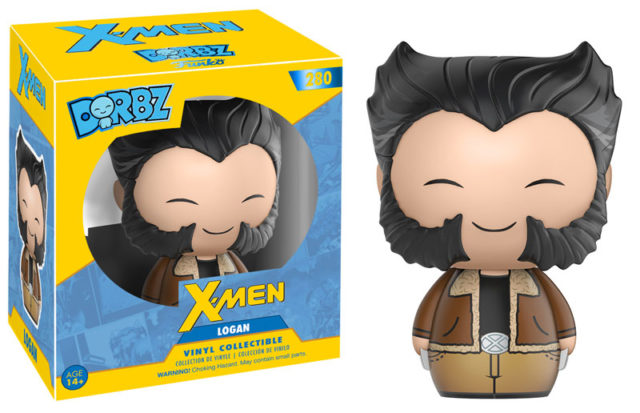 But of course, Funko's not about the neglect their up-and-coming hit line either–there's a trio of Logan Dorbz figures on the way as well! The standard mass-release Logan will feature the same "older" grey streaks in his hair and brown jacket as the POP Vinyl has. I don't think there's much question that this one is quite a bit more a-DORBZ-able, though.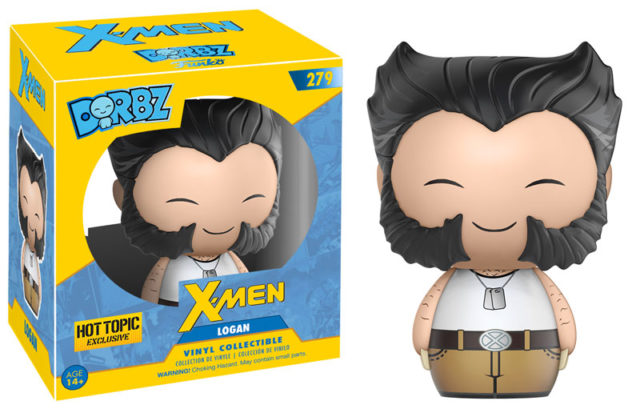 To prevent your Hot Topic tanktop Logan POP getting lonely on display, he's got a little brother coming to keep him company! That's right, Hot Topic will be getting an exclusive Logan Dorbz figure–the first Hot Topic exclusive Marvel Dorbz figure in a long, long time!
Rounding out the series is a mass-released Weapon X Dorbz figure. This might be the only time I've ever seen Weapon X looking cute, and I'm surprised to say that this one is a must-buy for me. It's worth noting that the Dorbz Weapon X figurine looks to share the number #279 in the Dorbz numbering sequence with the Hot Topic Logan figure, which is rather bizarre–I've never seen two Funkos with different molds share a number before.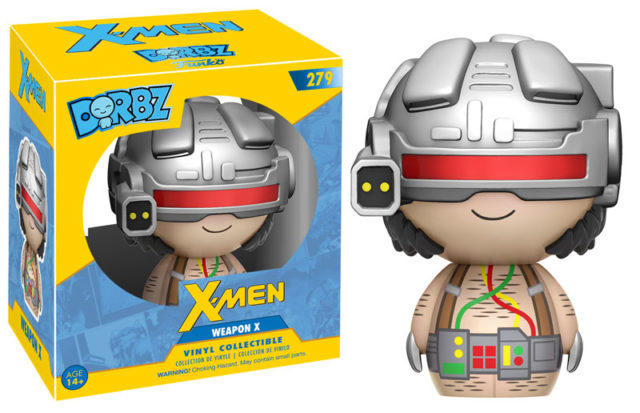 The non-exclusive Funko POP Vinyls and Dorbz Logan figures are now available for order, and are expected to be released in December 2016/January 2017, respectively. Not coincidentally, there's a movie called "Logan" hitting theaters later on in the winter right after all these Wolverine vinyls are released! Craziness, huh?
What do you think of the latest half-dozen Wolverine Funko figures to be revealed, Marvel collectors? Will you be picking up any of these figurines during the pre-"Logan" movie buildup, or are you satisfied with the many Wolverine vinyls that have been released before these?