Just when I thought I'd be taking a break from talking about any new Marvel POP Vinyls until the Funko X-Men Collector Corps box ships out next month, they go and blindside me with a triad of major new reveals! First up, there's a Walgreens Exclusive Funko Scarlet Spider POP Vinyl coming our way this winter! And speaking of exclusives: how about the exclusive Funko Emma Frost POP Vinyls figure and the Dorbz Cosmo the Space Dog that are now up for order?! *heart attack*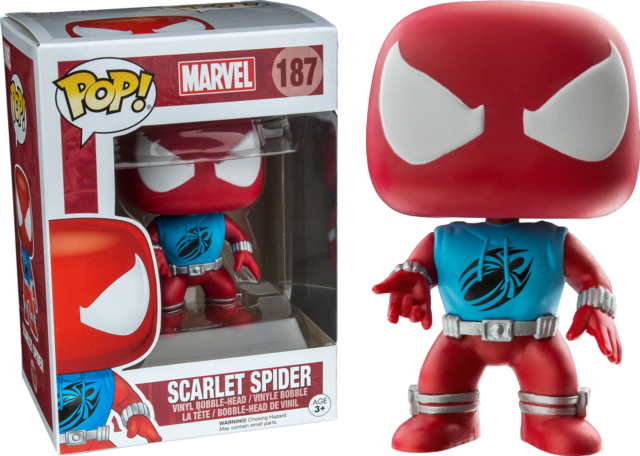 I was hoping to have some big news to share today for the Hasbro Marvel Legends fans out there, as that's the biggest reader base for the site by far, but alas–all's quiet on the Marvel Legends front, and I honestly expect it to stay that way until December 1st, which I reckon is the earliest possible day that the first Marvel Legends 2017 figures
might
go up for pre-order (although January 1st 2017 would be my second guess).
But while Marvel Legends is on a minor break right now, there's one company that never stops pumping out new products: Funko!
First up in the list of their newly-revealed Marvel POPs is the ever-popular original Scarlet Spider, Ben Reilly! Iron Spider, Black Costume Spider-Man and Spider-Man 2099 have all been insanely popular Walgreens exclusives, so it's no surprise that this POP Scarlet Spider figure (which has an all-new body mold, by the way), is exclusive to Walgreens this winter as well. (Ugh–I hate Walgreens.)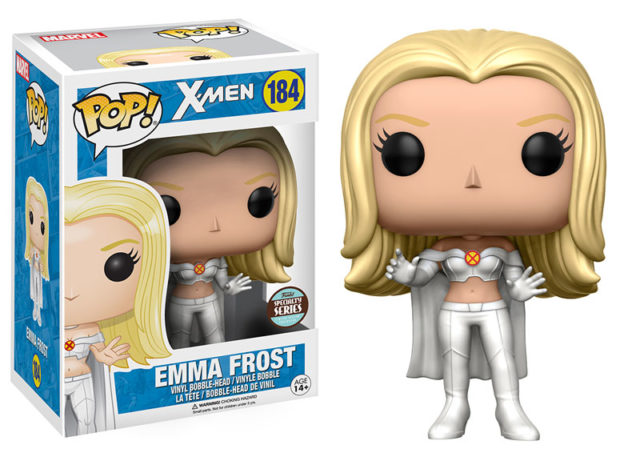 In addition, it looks like I lost my bet that Emma Frost would be the exclusive POP! in the Marvel Collector Corps X-Men box shipping next month, because she's coming as a different exclusive instead! Emma Frost will in fact be the second Specialty Series Marvel POP Vinyl figure, and will only be available via comic book stores, specialty shops and a few lucky websites.
The White Queen won't be traveling alone, though–the Dorbz version of the first Marvel Specialty Series POP is also coming out in January: Dorbz Cosmo the Space Dog! I have to say that this just may be the cutest Dorbz that Funko has ever devised. I am seriously in love with this pooch. (Not enough to get a real dog, mind you, but definitely enough to buy another plastic figure of one.)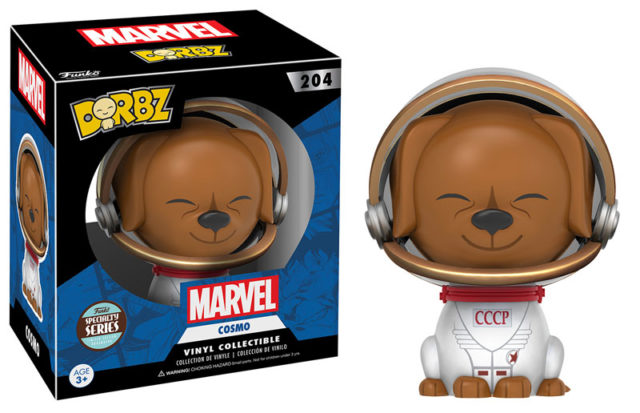 The Funko Emma Frost POP Vinyl and Comso the Space Dog Dorbz figures are now up for order (the link for Emma is in the first paragraph), and are scheduled to be released in January 2017. These will sell out very quickly online, so get your orders in as fast as possible if you don't want to have to ask for these at your local comic book shops and/or specialty stores. I've yet to find any of these specialty series figures in any physical store myself, but I hear that they are out there.
What do you think of the latest trio of Funko Marvel exclusives, Marvel collectors? Is the Cosmo Dorbz the cutest little Space Dog you've ever seen? And are you groaning over two A-List characters like Scarlet Spider and Emma Frost being released as inevitably difficult-to-find limited releases?