Who's green and fuzzy and responsible for the creation of all the most beloved clones in the history of Marvel Comics…? That's right–it's Professor Miles Warren himself, the Jackal! From Ben Reilly to Gwen Stacy to Kaine, the Jackal has cloned all the greats and functioned as the catalyst for the Spider-Man Clone Saga, Maximum Clonage, Dead No More and more! And now, its the Jackal's greatest achievement: the Marvel Legends Jackal figure is part of the first wave of 2017 Marvel Legends! Jackal has been in and out of stock online many times since last week–should you be on the alert for him?
The Right:
Some day Hasbro is going to run out of Spider-Man related characters and villains to fill these Spider-Man Legends series with… but it is not this day. And in fact, Hasbro has loaded the first Spider-Man Marvel Legends 2017 wave with two of the most important Spidey rogues ever: The Jackal and Green Goblin!
I'll be talking about the new version of the Green Goblin in the next few days, but I'm going to start my Marvel Legends 2017 reviews with a character near and dear to my heart: the Jackal!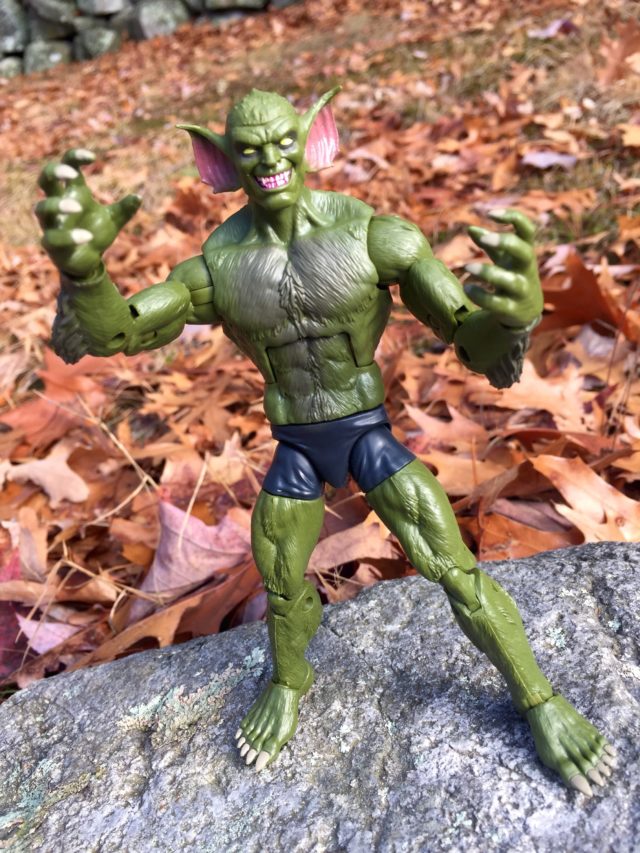 The main reason that we've never gotten a Hasbro Jackal figure before is very likely an obvious one: the tooling to do so simply did not exist. But it's a new year with a new tool budget, and all-new molds have been created just for Miles Warren!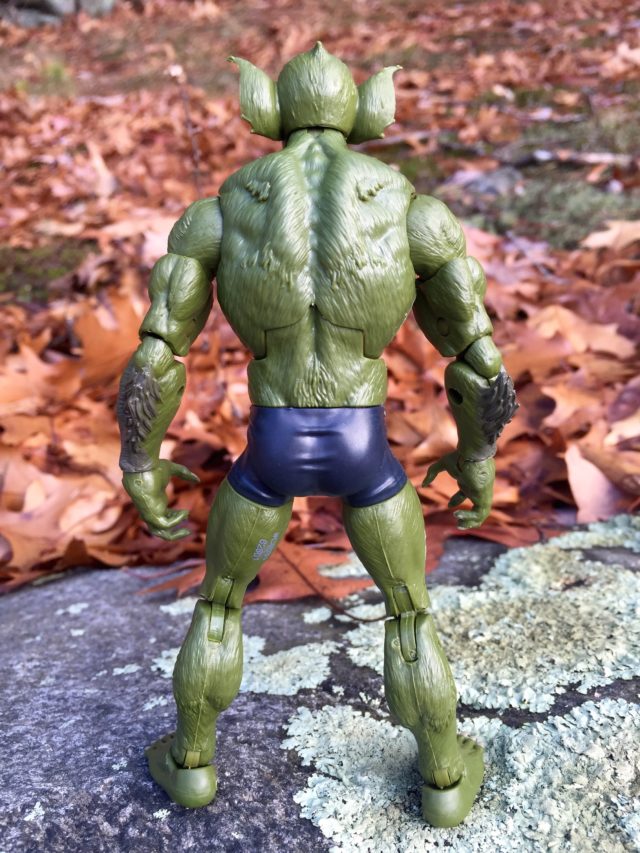 The giant evil Yoda lookalike has an all-around fantastic sculpt, with plenty of manly chest hair and little tufts on his forearms.
The biggest winner here is definitely that Marvel Legends Jackal head sculpt, though, which looks like it jumped right out of a 90's comic book. The sadistic, egotistical grin on this figure's face is just perfect. Love it.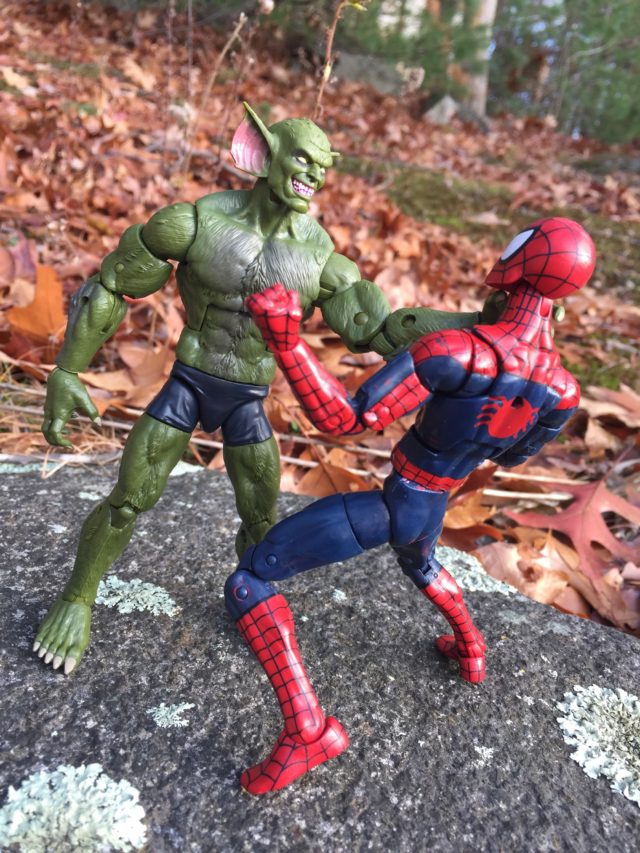 I am super impressed with the textures and details on the new parts on this Jackal. Some of these parts are hopefully going to be equally great when Hasbro recycles them for inevitable Beast, Puma, and Vermin figures, plus many others I can't think of (but I bet you can, dear readers, so feel free to chime in!).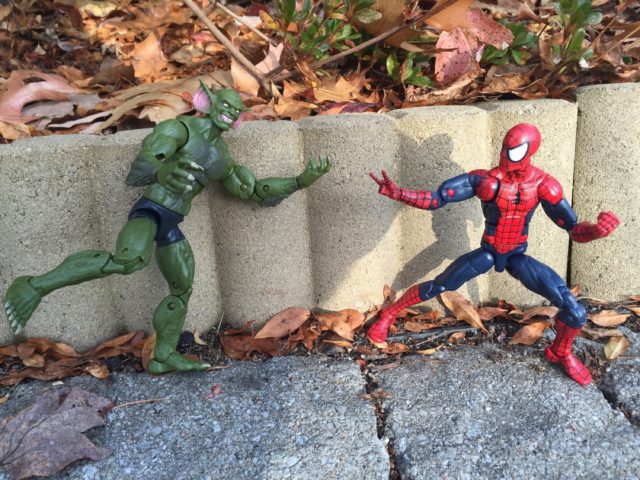 It may be a different year, but the 6″ Jackal figure features the same superb about of articulation we've come to know and love from Hasbro. Jackal features a swivel waist/thighs/biceps; ball-hinge head/shoulders/wrists/ankles (plus ankle rockers); double-hinge knees/elbows; ball-jointed hips and an ab crunch.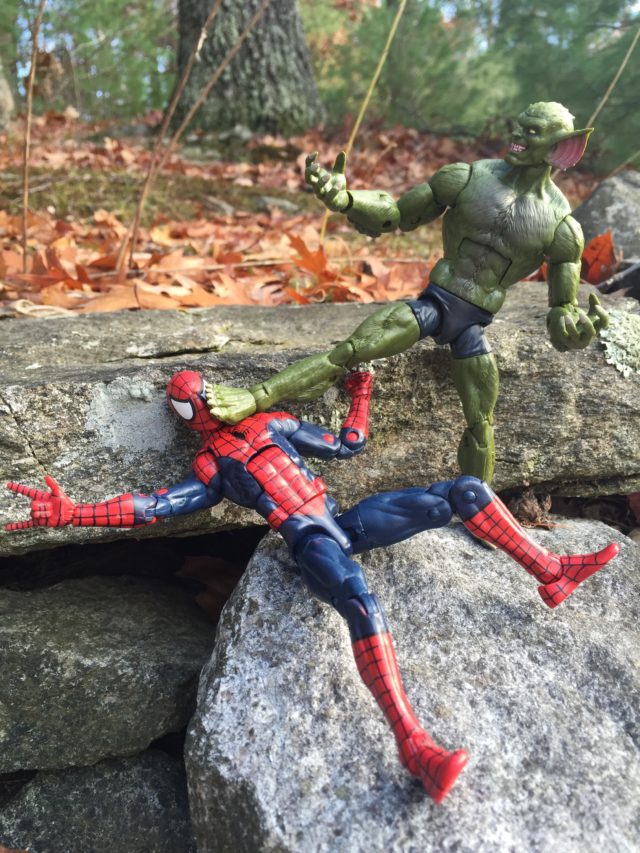 The hip articulation still doesn't have quite the extreme range of motion that I prefer–but Jackal doesn't necessarily need to be busting out ninja kicks, and every other point of articulation works fantastic.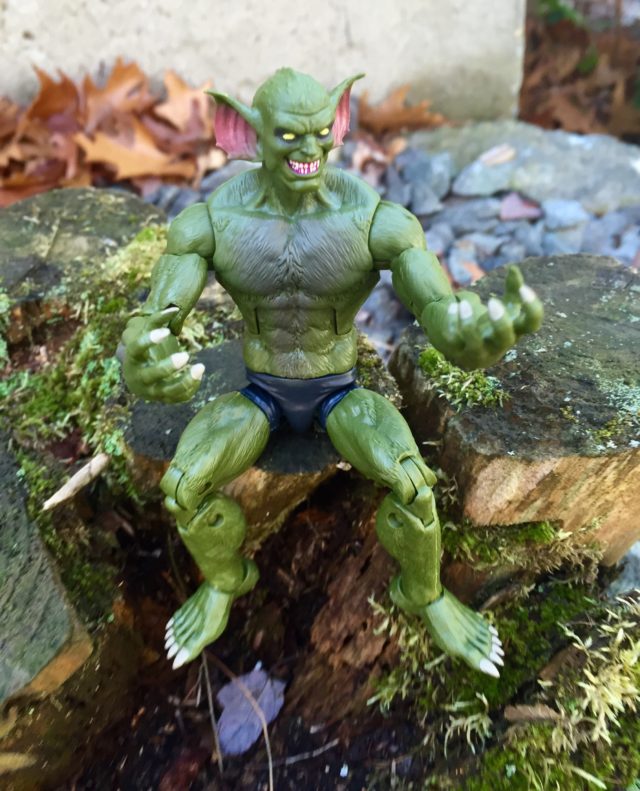 On the paint applications front, this figure is again a triumph. The Marvel Legends Spider-Man Jackal figure may look simple, but the subtle shading on his chest and the pristine paint deco on his ears and mouth really make this figure shine.
The Wrong:
Although Marvel's Jackal is unlikely to top anyone's list of 2017 Marvel Legends Spider-Man figures, Jackal is basically a near-perfect plastic representation of the character. As such, I come awfully close this time to having zippo complaints. But alas…
The one and only thing about this figure that muffs me is the lack of accessories beyond the repainted Absorbing Man/Sandman Build-A-Figure leg.
Jackal may not have any iconic weapons, but Hasbro could have given him glasses, a trench coat, a lab coat, a fedora, beakers, scientific vials… basically, anything relevant, just so that he'd have something. A 20 dollar figure with no accessories of his own is always a bummer, even if that figure is a good one.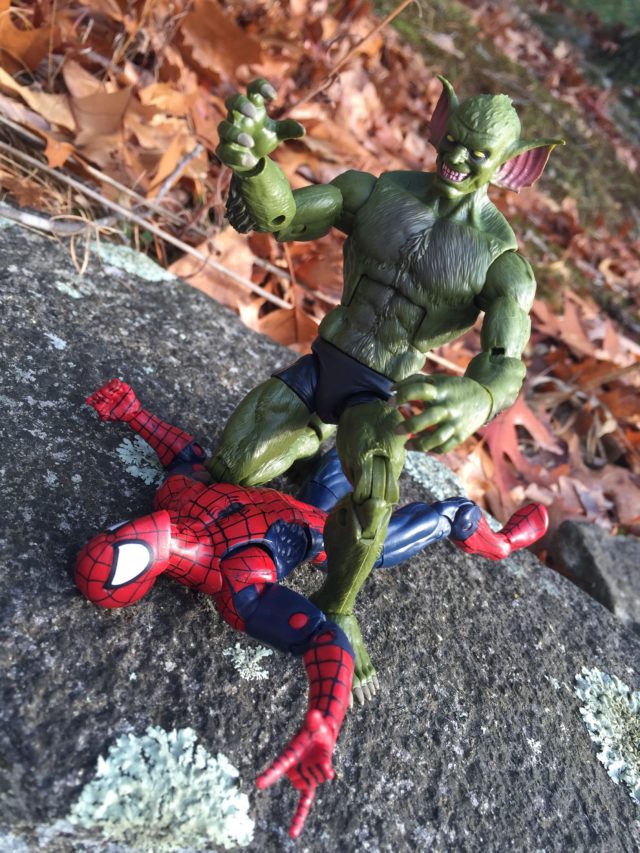 Overall: While intuition tells me that the Jackal Marvel Legends figure is destined to be warming pegs long into 2017–and he could certainly use at least one accessory–that doesn't mean that this isn't a fine action figure. With tons of new tooling–including a killer head sculpt, excellent articulation and perfect paint apps, this is the only figure of the Jackal that most collectors are ever going to feel the need to own. Outstanding.
GRADE: A