Ordinarily I wouldn't write up a whole article just because of a couple new low-resolution photos surfacing of a whole series of figures that we already know about, but since we're in a little bit of a Marvel Legends news drought right now–and these particular low-res photos reveal some details we weren't previously privy to–I think I need to make an exception! Start saving now–the Marvel Legends 2017 Spider-Man Wave 1 Sandman Series has now started to be found!
UPDATE: The Marvel Legends 2017 Sandman Series is now up for order online!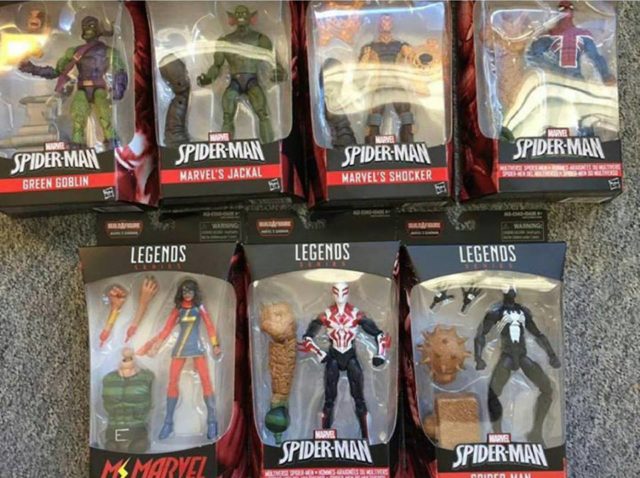 The 2017 Marvel Legends Spider-Man Wave 1 figures were the first wave of Hasbro 2017 6″ Marvel figures to debut at San Diego Comic-Con 2016 back in July, and I've always considered the series a lock to also be the first 2017 assortment to actually hit stores as well.
I've also been calling the series for a possible December 2016/early January 2017 release, and it looks like I overestimated, because the first final packaged photos of the series have now appeared–and they're coming from collectors who have found the figures early in the United States!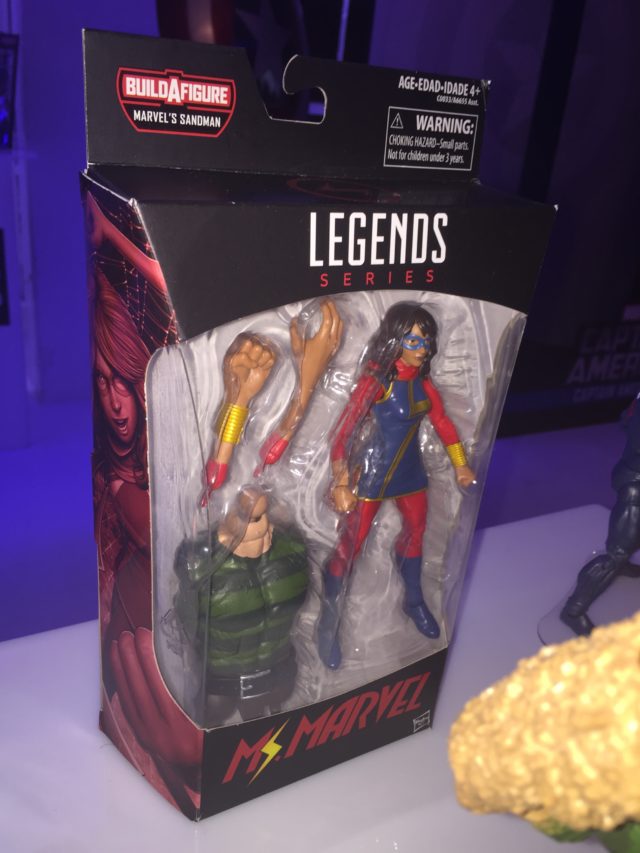 Packaged samples of the Marvel Legends Ms. Marvel Kamala Khan and Shocker figures were both on display at NYCC 2016 last month, so there's no surprises with those two figures or the overall packaging for the series, but this group shot of the entire set does confirm the accessories that will come with the figures and a few other informational nuggets about the wave…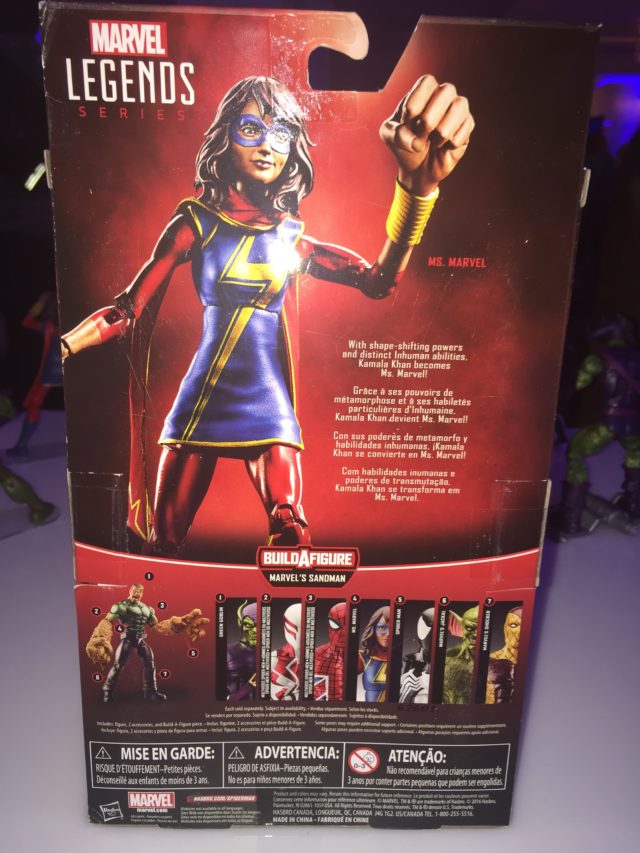 Ms. Marvel is the only figure in this wave that will have her own logo on the box and not the generic Spider-Man logo (in the same way as Iron Fist's logo was on his box in the Doctor Strange series). Kamala will have alternate Embiggened arms as well as regular arms.
Symbiote Spider-Man will contain fists and wall-crawling interchangeable hands, but no web-shooting hands.
Shocker will have Havok's effects pieces cast in pearlescent yellow plastic.
Jackal, All-New Spider-Man 2099 and Spider-UK will come with no accessories beyond their BAF parts.
The new Marvel Legends Green Goblin will come with a pumpkin bomb and his goblin glider along with Sandman's head–no unmasked Norman Osborn head this time.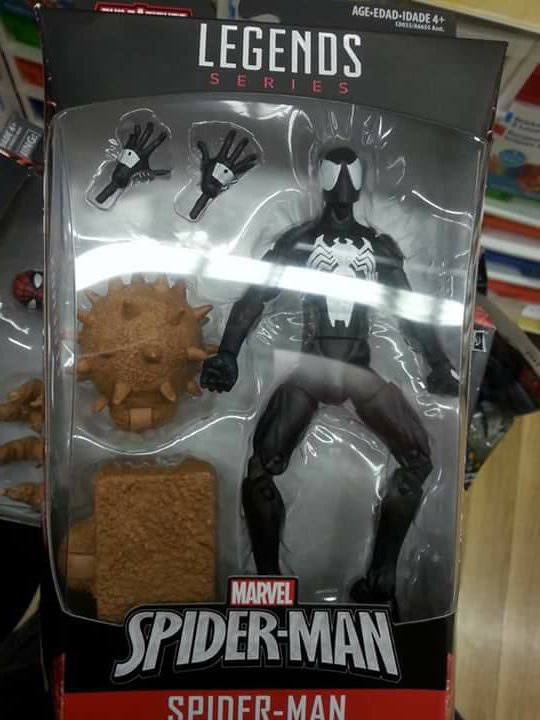 The parts breakdown for the Marvel Legends Sandman Build-A-Figure is as follows:
Ms. Marvel Kamala Khan with Sandman Torso
All-New Spider-Man 2099 with Sandman Right Arm
Spider-UK with Sandman Left Arm
Symbiote Spider-Man with Sandman Mace and Hammer Hands
Marvel's Jackal with Sandman Right Leg
Marvel's Shocker with Sandman Left Leg
Green Goblin with Sandman Head
It was rumored that there might be an alternate head for the Sandman figure coming, but if these packaged photos are any indication, that doesn't seem to be the case anymore. If it's in the package with Green Goblin at all, it's totally obscured by the glare–all I see in there is the pumpkin bomb, personally. Anyone wanting a less-crazed Sandman head may have to repaint
the SDCC 2016 Exclusive Sandman head.
UPDATE: A clear photo of the packaged Green Goblin Marvel Legends 2017 figure taken by Lorne C. in Florida confirms the existence of a regular Flint Marko Sandman head packed with the Green Goblin!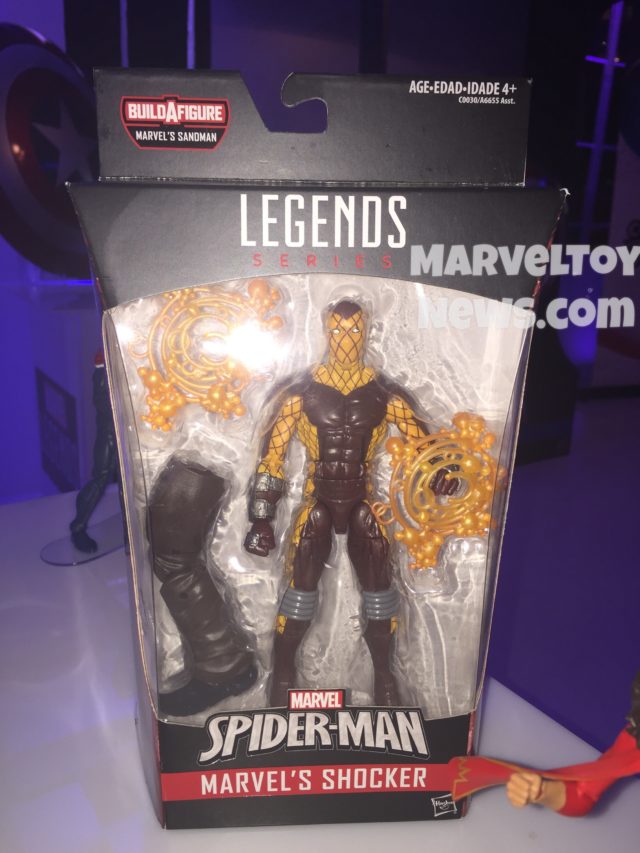 The Spider-Man Legends 2017 Wave 1 Series should be up for order online by December 2016, with an anticipated arrival date in the United States by sometime in December. As the wave has now been spotted in a local store in Florida, these are obviously due to start hitting all over the country any time now. Keep your eyes peeled, as I'll post updates here and to the Marvel Toy News Facebook Page and Twitter Feed once more release details are available.
Are you happy that this first wave of Marvel Legends 2017 Spider-Man six inch figures is arriving sooner than later, Marvel collectors, or were you (and your wallet) enjoying this brief respite after more Marvel 6″ figures were released in 2016 than ever before?