I was beginning to wonder if Hasbro was going to bother sending out high-res images of the upcoming 3.75″ Avengers Assemble Series 1 action figures, but it seems I started to doubt just a little bit too soon! Today, Hasbro sent out press images of five of the six figures scheduled for the first series of figures based on the new Avengers Assemble cartoon: Red Skull, Captain America, Black Widow, Hulk and even The Falcon!
As usual, a new Marvel cartoon brings with it new toys–and for a change, those cartoon-based Marvel figures are actually very nice this time out! There's so many reused mold pieces being used in these figures from various years that it's a bit tough to tell exactly what comes from where, but despite recycled part use, these figures all work great. The Avengers Assemble Hulk, for example, is worlds better than the Hulk figure released single-carded in The Avengers movie figure line.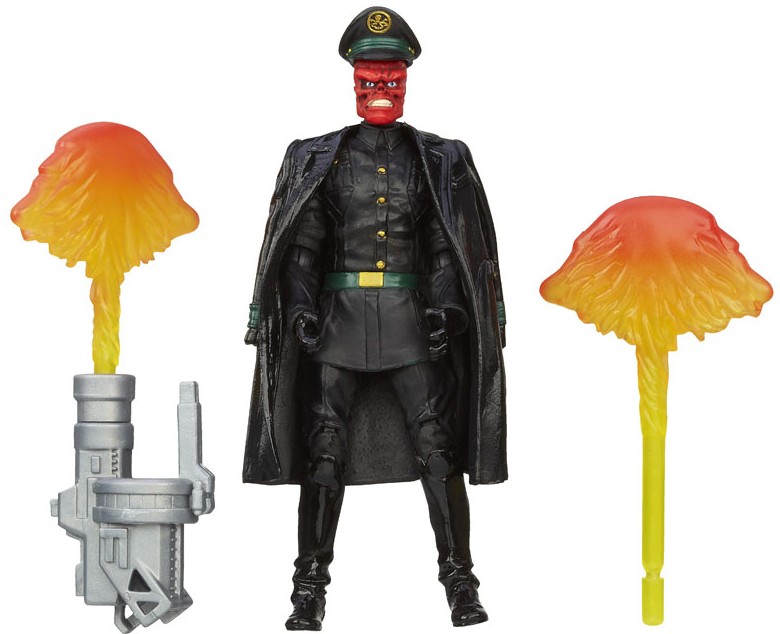 The sole villain in the first series of Avengers Assemble is the Red Skull. I think it's kind of funny that Toybiz had to release the Marvel Legends Red Skull as a super rare chase figure not even shown on the packaging a few years ago, and now Hasbro puts out mass release Red Skull action figures all the time. Red Skull's crazy "Cosmic Blast Cannon" is rather peculiar, but the Red Skull figure itself looks really well-executed all-around.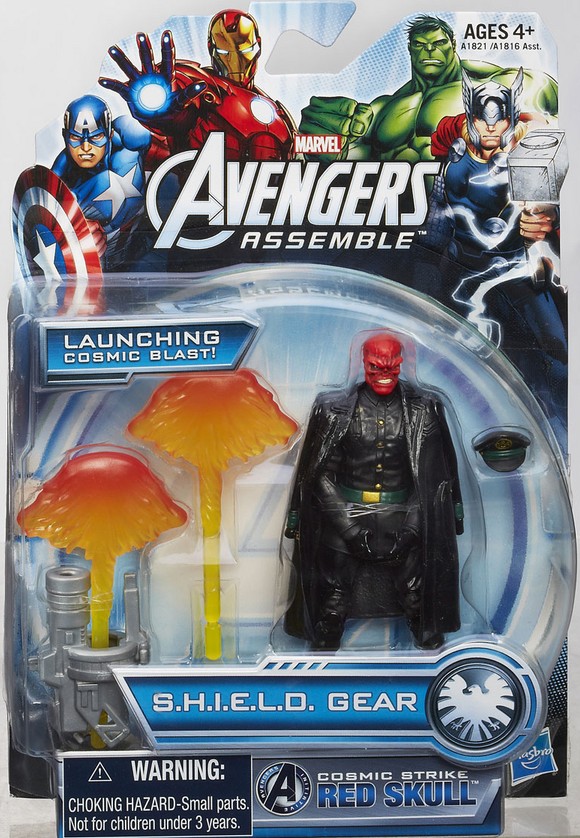 The Avengers Assemble Captain America is probably the closest figure to being a dud in Avengers Assemble Wave 1, as Captain America in the Avengers Assemble cartoon is clearly not wearing the chain-mail upper torso armor that Hasbro picked for the action figure. It's really unfortunate, as this Captain America figure is otherwise fairly accurate to the source material, but the upper torso mold is really going to need to be swapped out for something more authentic eventually.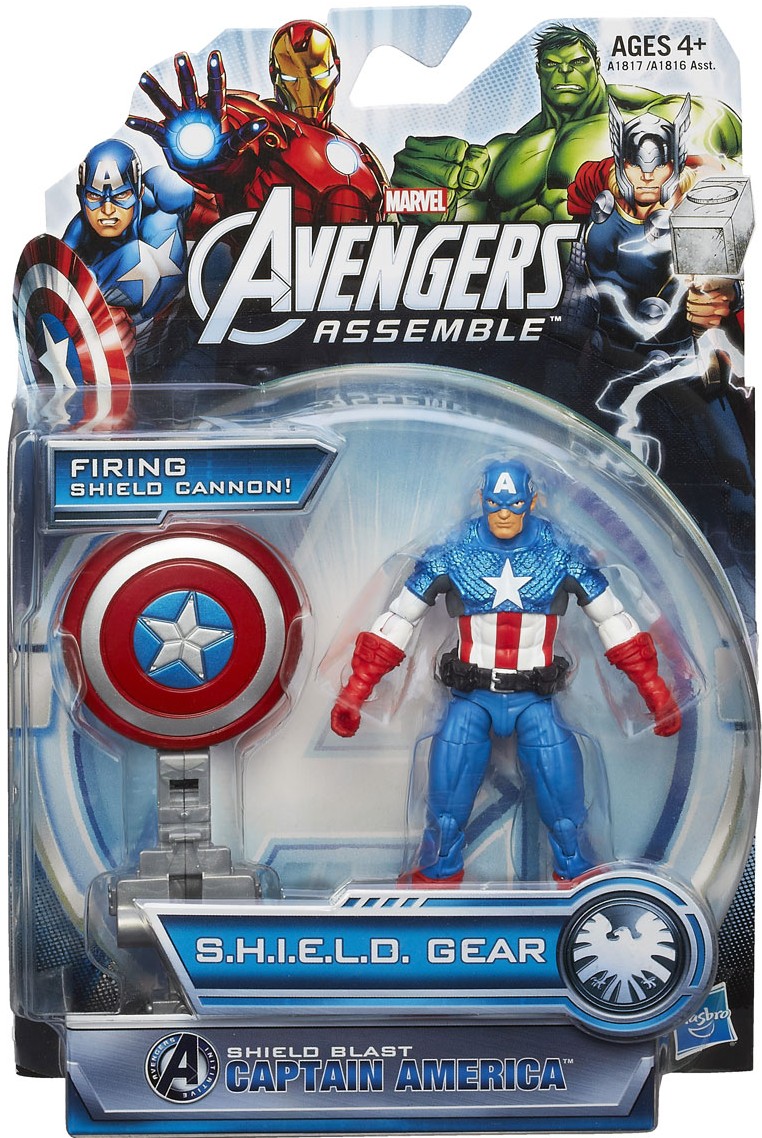 I don't know that I necessarily needed this to be an "Inferno Cannon" Black Widow, but it sure is refreshing to see Hasbro release the Black Widow at the onset of a new toy line! Though she borrows parts from past figures, this Avengers Assemble Black Widow figure is probably the most attractive take on the character that Hasbro has ever done.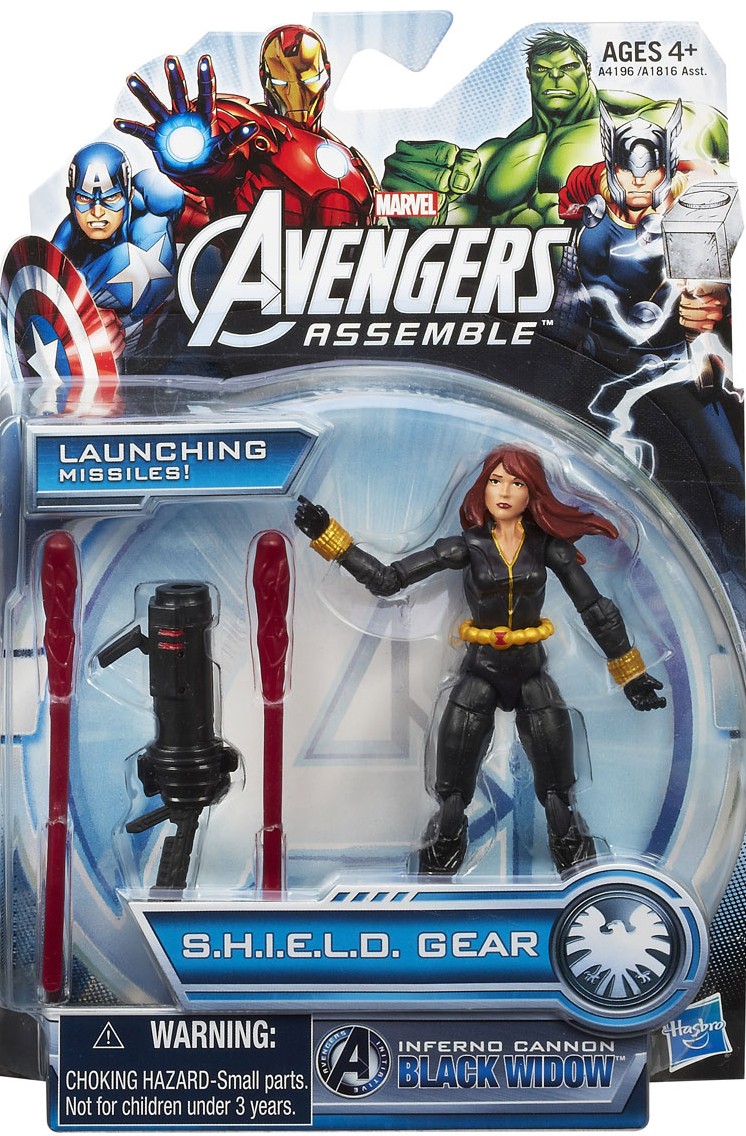 Finally, we have the one figure that hasn't appeared in any of the Hasbro 4″ movie figure lines yet: Falcon. I think it was a great idea to include Falcon in the Avengers Assemble cartoon, and props to Hasbro for putting him into the first series of Avengers Assemble toys. Even so, I hate the idea of Falcon coming with an arm-mounted rocket launcher, and the figure itself looks oddly proportioned–poor Falcon looks like he has a pin head on a super-muscular body. This is the figures I was most interested in from the first assortment, so I'll pick Falcon up regardless, but I'm hoping he'll look a little better in person than he does from the press photos.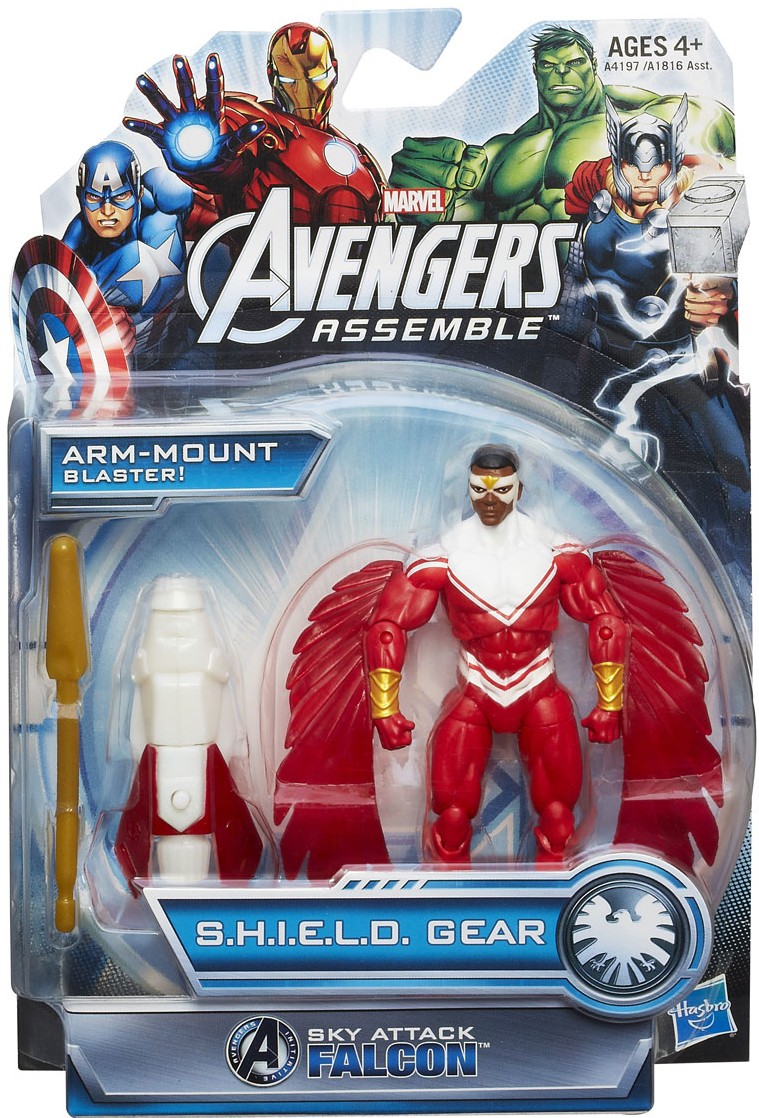 Conspicuous by its absence in these photos is the sixth figure scheduled to be released in Avengers Assemble Series 1: Iron Man. Is it possible Hasbro backed off on having Iron Man on this set, perhaps after realizing that there are enough Iron Man figures warming the pegs to compete with the number of leftover Cars 2 Finn McMissile diecast cars out there? Perhaps–but not terribly likely. I'd expect to see plenty of slow-selling Avengers Assemble Iron Man figures on the pegs once this first series hits. Prove me wrong, Hasbro!
The Hasbro Avengers Assemble 3.75″ action figures series 1 assortment is scheduled to be released in the United States in July 2013. If you want the whole set, BigBadToyStore has the set of 6 available for pre-order now, and they'll likely be the first to receive the series. I'll pick up a few of the Avengers Assemble figures to review once they're out in stores.