If you read my blogs regularly, you know that I'm majorly obsessive compulsive–especially when it comes to toys. It's for that reason that I don't buy a lot of Marvel Funko POP! Vinyls, even though I love vinyl figures and often love the designs that Funko comes up with. The quality control on the paint apps of Funko POP! Vinyls can be very hit or miss, so rather than make myself nuts, I'll often stay away from characters I can pass on. This Inverse Deadpool Exclusive, however, was not a figure I could easily skip. Does the Funko Deadpool Inverse Variant POP! vinyl pass the QC test?

The Right:

When the awesome Metallic Deadpool POP! Vinyl is released at San Diego Comic Con next month, it will be the 10th–yes, 10th–Funko Deadpool figure released. That's a lot of Deadpool! You'd think that with that many variants some of them would be real duds, but I actually think the Deadpool costumes and designs Funko has chosen thus far have been purely ingenious–perhaps none more so than this Funko POP! Inverse Deadpool exclusive vinyl bobble-head.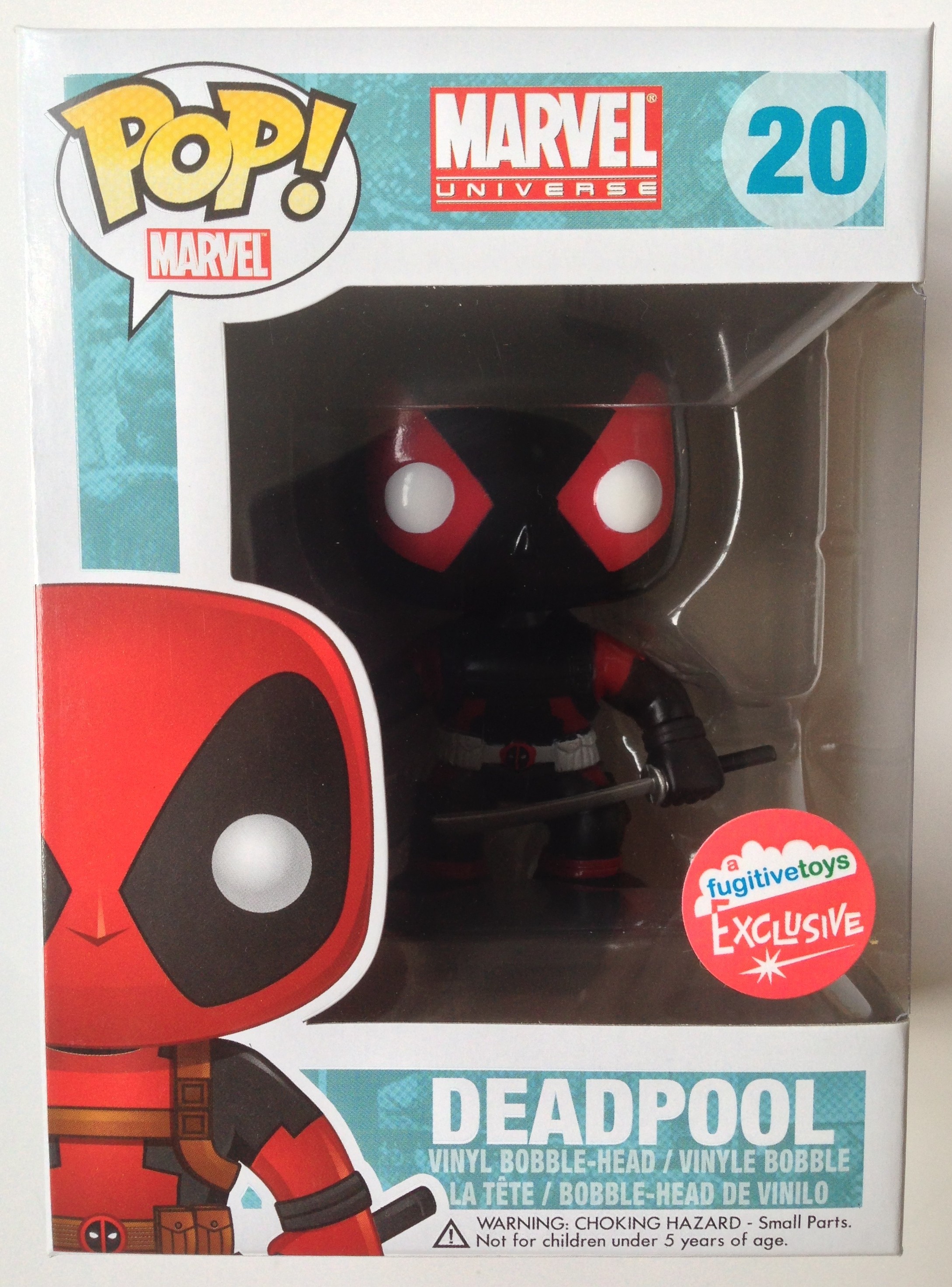 The limited exclusive Inverse Deadpool POP! has exactly the same adorable gun-toting, sword-wielding Deadpool figure sculpt as every other Funko Deadpool (though the Unmasked Deadpool variants are obviously the exception). That isn't a bad thing–this is easily takes the cake as the single cutest super-deformed Deadpool toy ever (though the cancelled Mighty Muggs Deadpool would have given Funko a run for their money).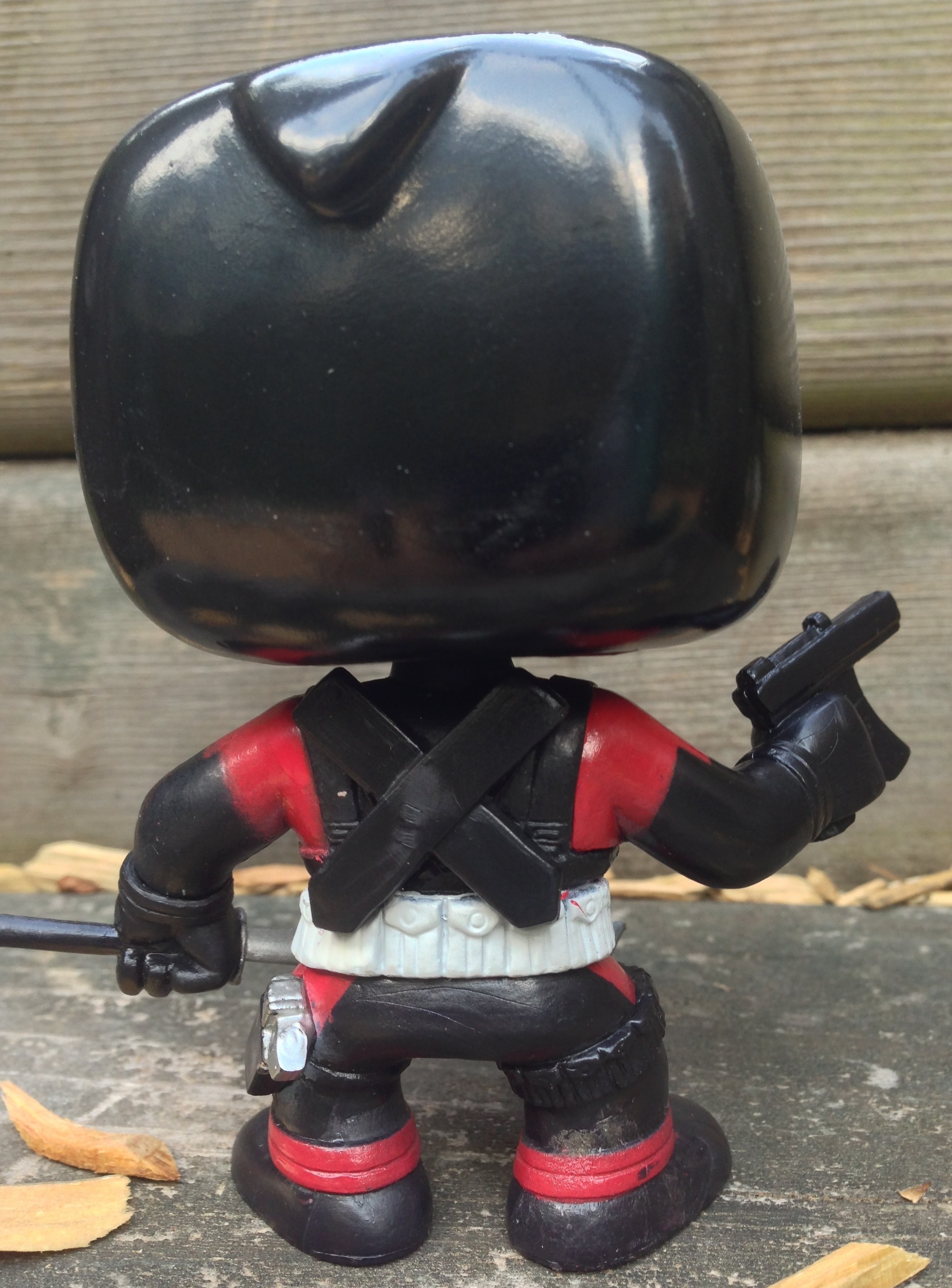 The idea with Inverse Deadpool's color scheme is self-explanatory–everywhere Deadpool is ordinarily red is now black, and vice versa. It sounds simple, but it's a highly effective palette swap. When I saw Inverse colors Deadpool for the first time, I was instantly in love. I would have zero problems with it if Marvel started having Deadpool wear the Inverse colors in the Marvel comic books, to be honest. The figure design and paint scheme by Funko is sheer brilliance.
The Wrong:
As I feared, the paint applications on Inverse Deadpool really do leave something to be desired. And by "something", I mean "a lot". Deadpool's head isn't too bad, although the red patch on his left side doesn't come to a perfect point and has a little line of black bleeding into the red. It's the rest of the figure where things go more obviously wrong.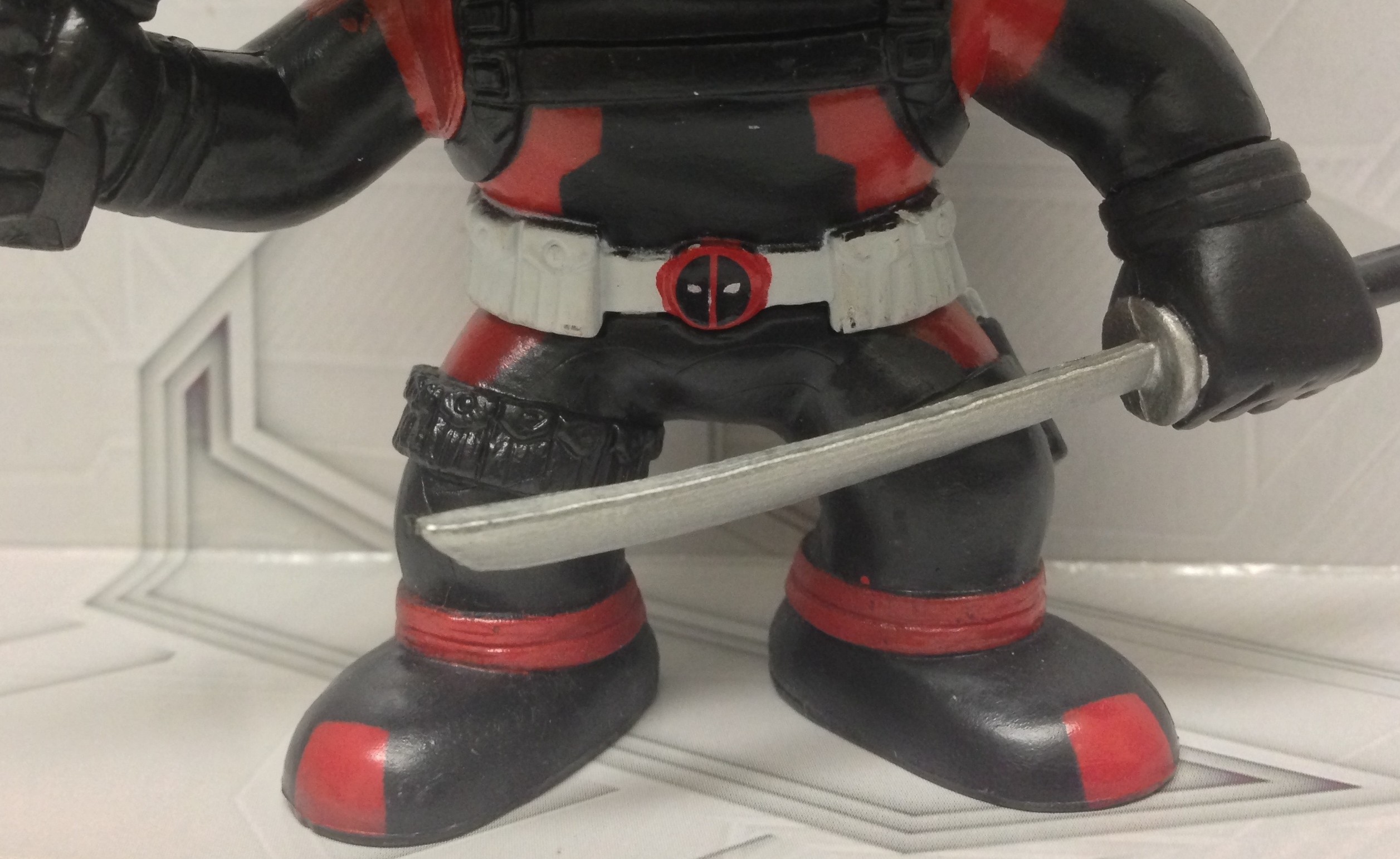 Deadpool's belt is a complete and utter mess. There's black and red paints bleeding onto white, and it ends up looking awful. Meanwhile, he has little droplets of black splotched onto red areas on his back, and even some flakes of white paint stuck onto black areas. Maybe this kind of QC is okay for Joe Bob casual collector, but it makes me absolutely neurotic.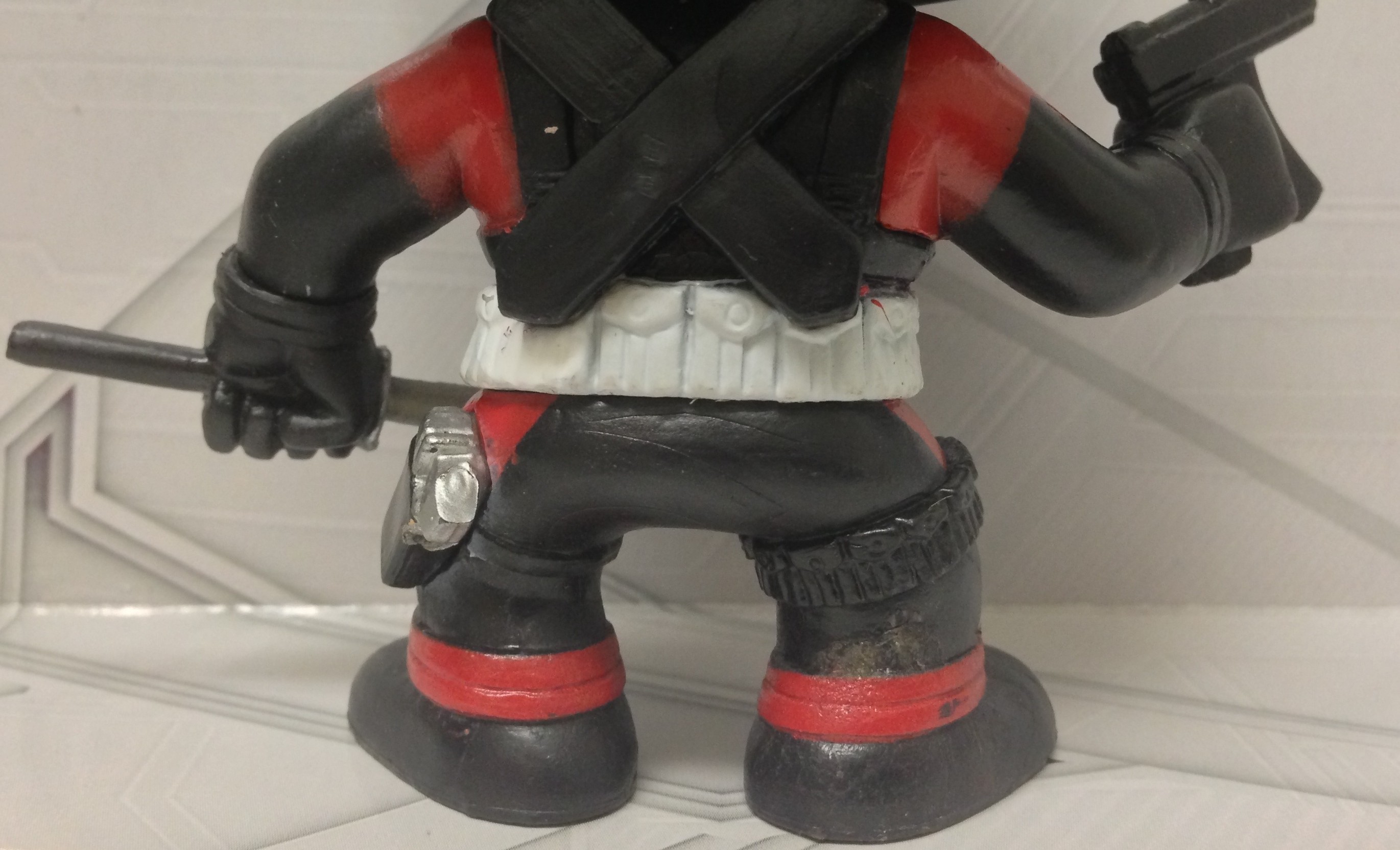 Also, I know that it's easier and cheaper logistically to just use the same box for all the variants of a POP! vinyl, but I really wish Funko would put some of the other exclusives on the back of the variant boxes to give collectors a chance to see what else is out there.
"Where Can I Buy It?!"
I got my Inverse Deadpool exclusive POP! Vinyl Bobble-head off of ebay, where he's been selling for $20-$30 lately. That's you're best bet for this figure, as it is a relatively limited Funko POP! figure and there aren't a lot out there. In fact, I'll be selling mine, as I can't cope with his minor paint apps issues, so if you're lucky, you can snag my Inverse Deadpool yourself!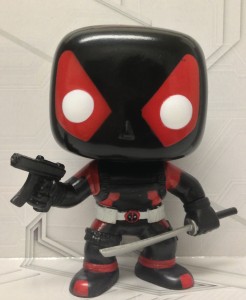 Overall: I applaud Funko on the depth and breadth of their POP! Vinyls line, and the sheer number of fun and relevant exclusives that they've produced. This Deadpool has a lot of charm and personality, and I love that there's a whole bunch of Deadpool Funko POP! vinyls for fans to build a display of. Even so, I'm still put off by the paint applications on this Inverse Deadpool bobble-head. I'm not saying the paint needs to be Hot Toys quality or anything close to it at this scale, but all of the stray paint lines and tiny missed spots make the the Deadpool Inverse variant just a bit too sloppy for my OCD to handle. Brilliant idea and a great design by Funko, but the quality control on the paint apps makes this Inverse Deadpool untenable for me to keep in my collection personally.
GRADE: B-