Even after the Avenger Hot Toys Hulk figure had been available for pre-order for months, many collectors laughed and said it couldn't be done and the figure would be cancelled. People said that the design didn't lend itself well to the work that Hot Toys does, or that the figure was just too big to be produced, or that the project was taking too long and would be cancelled. But today, Hot Toys has definitely proven all of those people wrong. The Hot Toys Avengers Hulk figure has now been released overseas, and it is one massive 18″ beauty of a figure!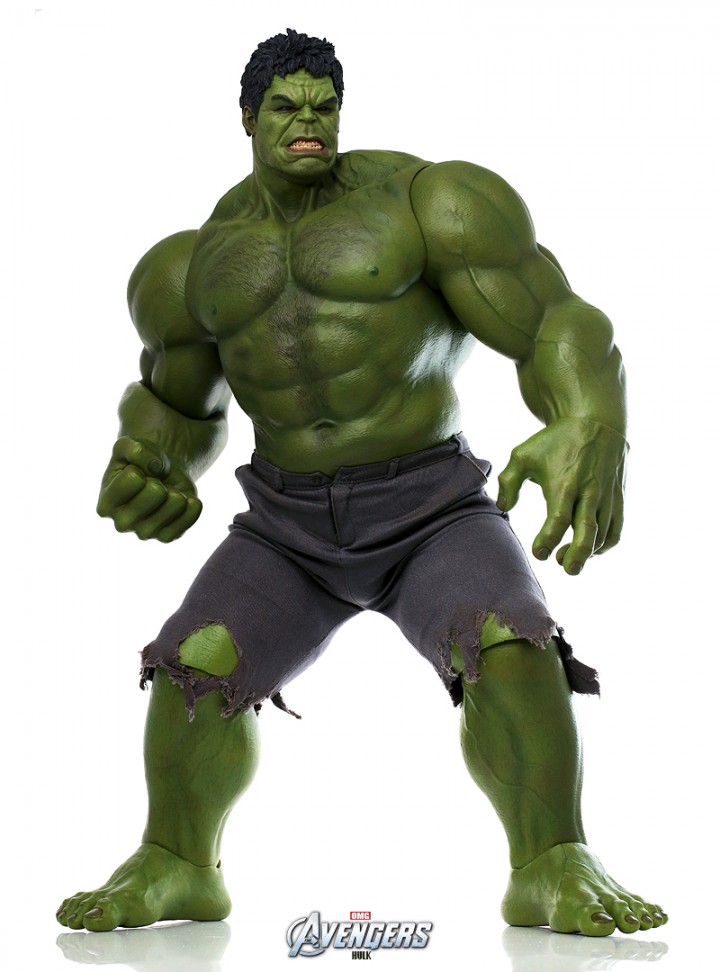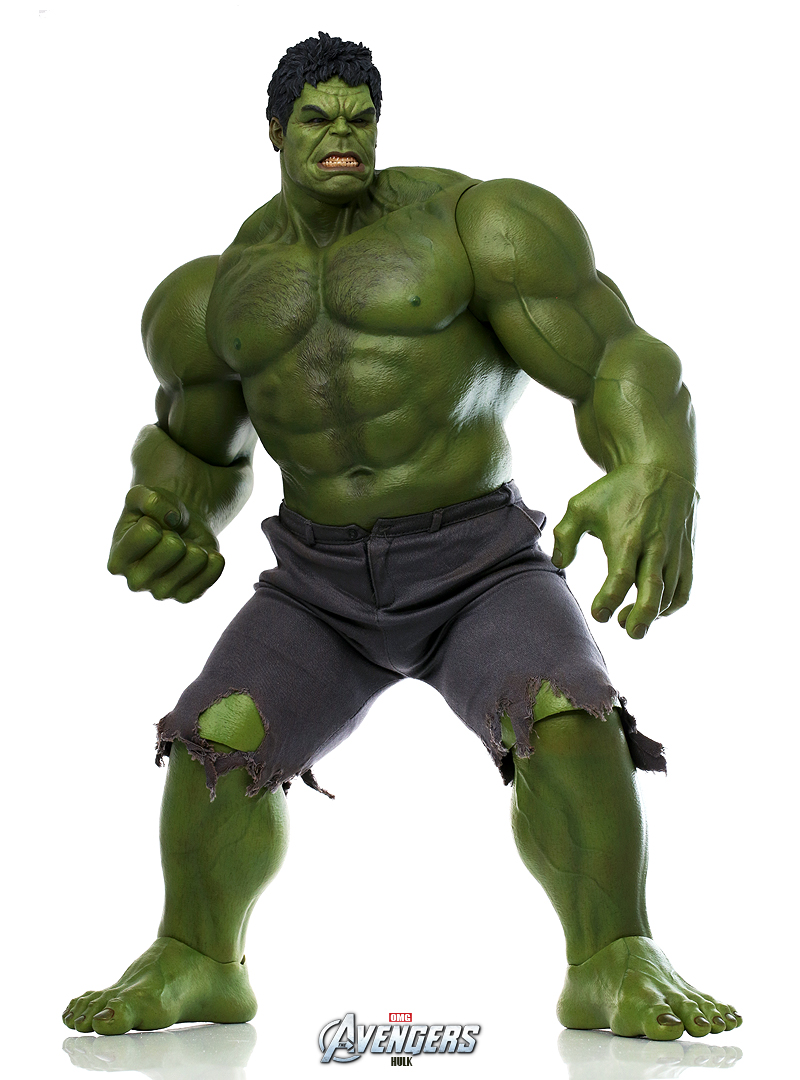 In these early photos from some of the best Hong Kong Internet bloggers, you can see that the sixth-scale Hulk Hot Toys figure is vastly larger than any other figure in the Hot Toys Avengers line–just the way it should be! How tall is the Hot Toys Hulk?
Unbelievably, Hulk is an insane 18″ tall! That's 50% larger than most Hot Toys figures, and bigger than a lot of young children! At just $300 for the Hot Toys Hulk, he's pretty much a bargain at just $16 per inch!
Did Hot Toys get the scale correct on this Hulk figure? That's going to be a hot topic for debate. Because Hulk is a CGI creation in the movie, his size and scale shifts a bit from scene to scene. And keep in mind, the Hulk's size can also change depending on how angry he is. So the Hot Toys Avengers Hulk 1/6th scale figure must be really ticked off.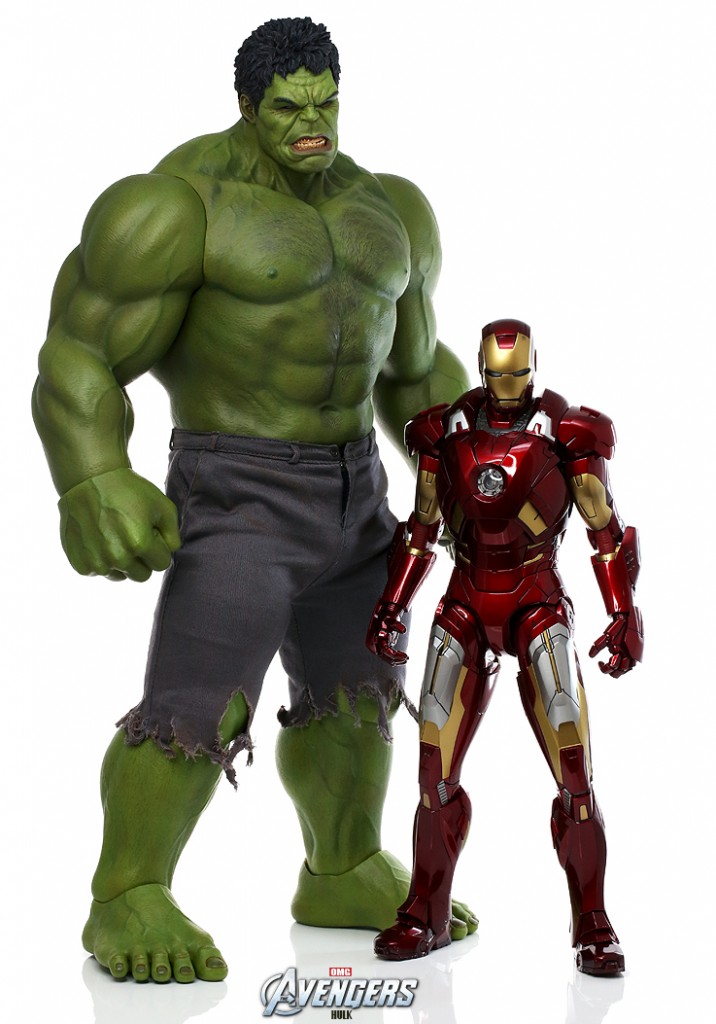 "HULK IS TALLEST ONE THERE IS!!!" With this release, the Hot Toys Iron Monger figure has been forced to give up his crown and pass the tallness torch to the Hot Toys Hulk 1/6 figure–while Iron Monger clocks in at an impressive height of over 17″ tall, Hulk is ever-so-slightly bigger than Iron Monger. Poor Obadiah Stane–always the Bridesmaid, never the Bride.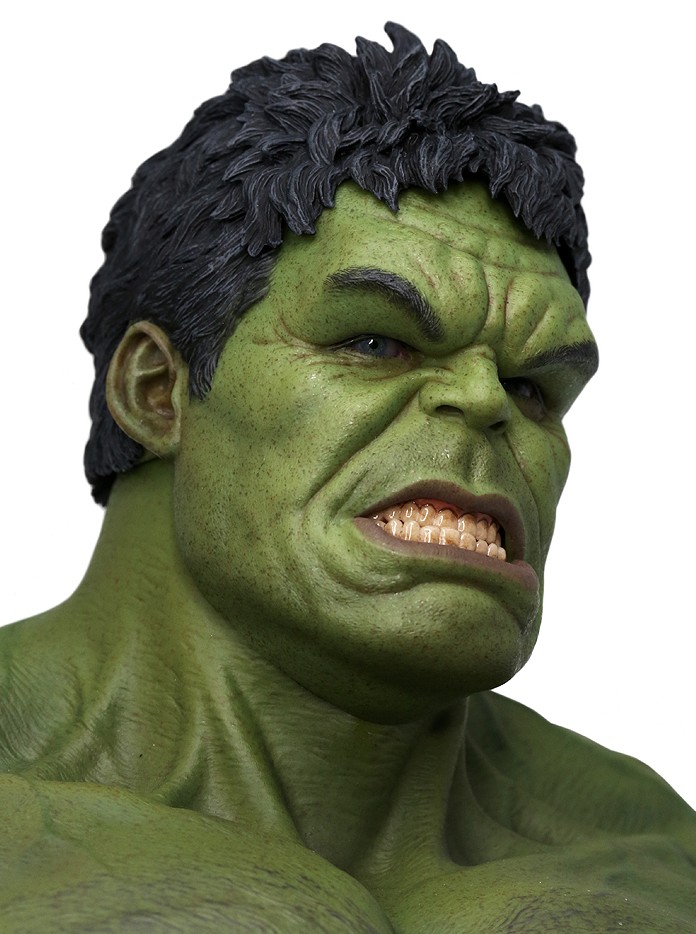 Hulk's head sculpt has been re-sculpted for this figure, and I would say the revised head sculpt is a pretty big improvement that was worth the extra time it took. And the textured graininess on the Hulk's head is downright insane. This is easily the most detailed Hulk figure I've ever seen from any company, ever. Anyone who said that Hot Toys couldn't make a "simple" design like The Hulk look killer were crazy.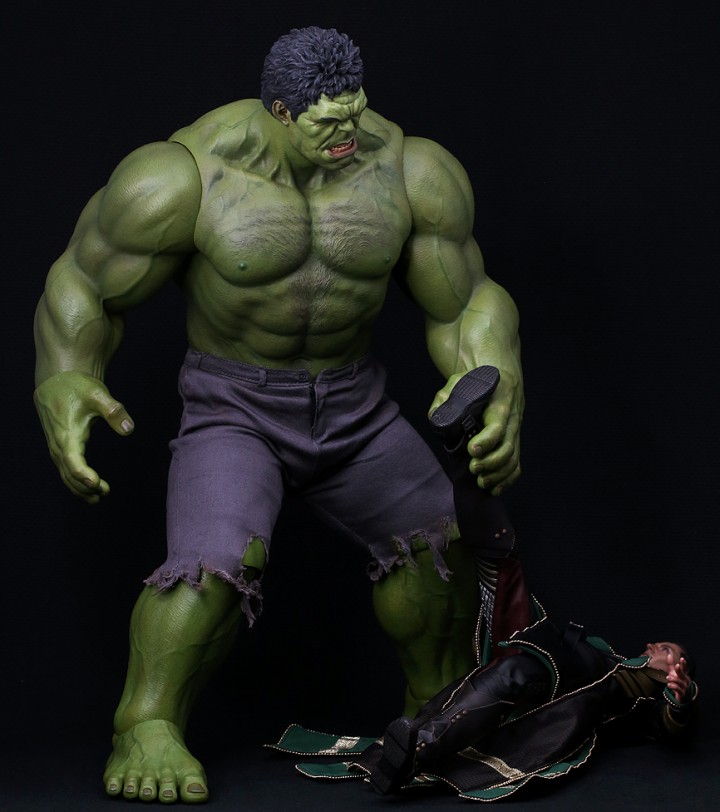 Instead of being made of rubber, The Avengers Hot Toys Hulk figure's arms and hands are made of an ABS plastic/vinyl material. This ABS vinyl won't dry out the way that rubber does, and allows the Hulk to have way-cool poseable fingers. Will these allow Hulk to grab Loki and "Smash"? Yes. Yes, they will.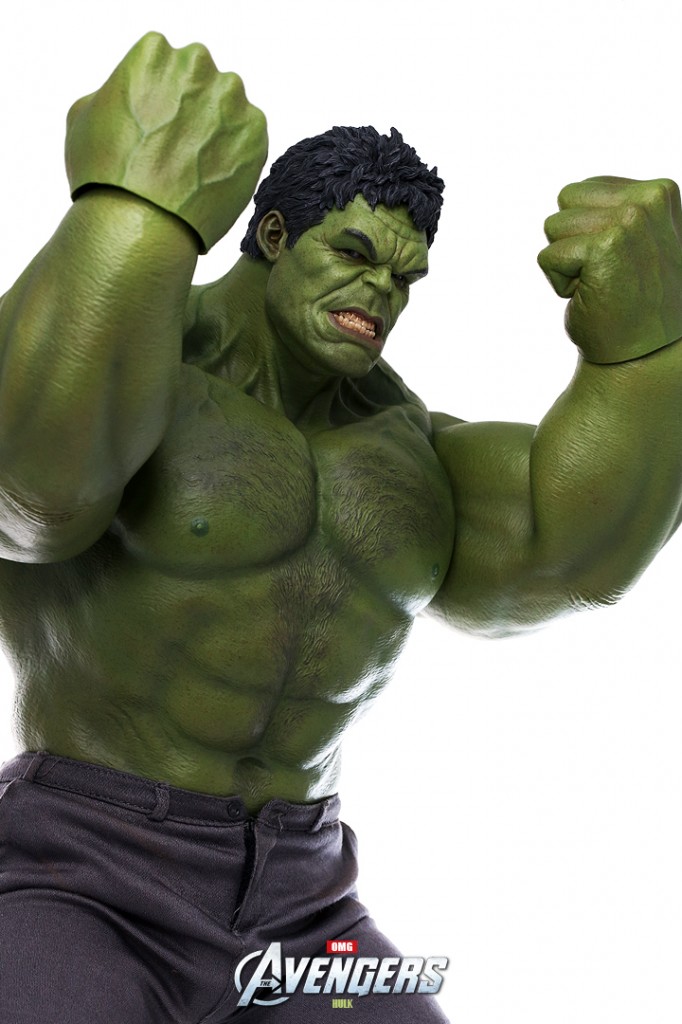 Hulk will, of course, also come with an extra pair of hands with closed fists, so you're not going to have to bend his fingers into a closed fist (yes, I remember that Toybiz Marvel Legends Hulk figure too). And my, what a hair chest Hulk has!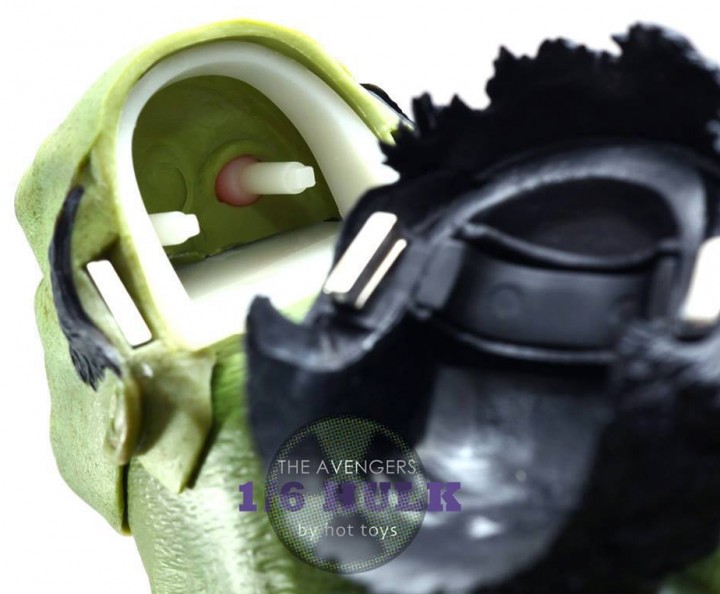 Whereas many Hot Toys DX figures feature the PERS (Parallel Eyeball Rolling System), the Hulk figure has a unique take on the feature–his head actually opens up and you can manually adjust both eyes from inside the Hulk's head before re-closing it!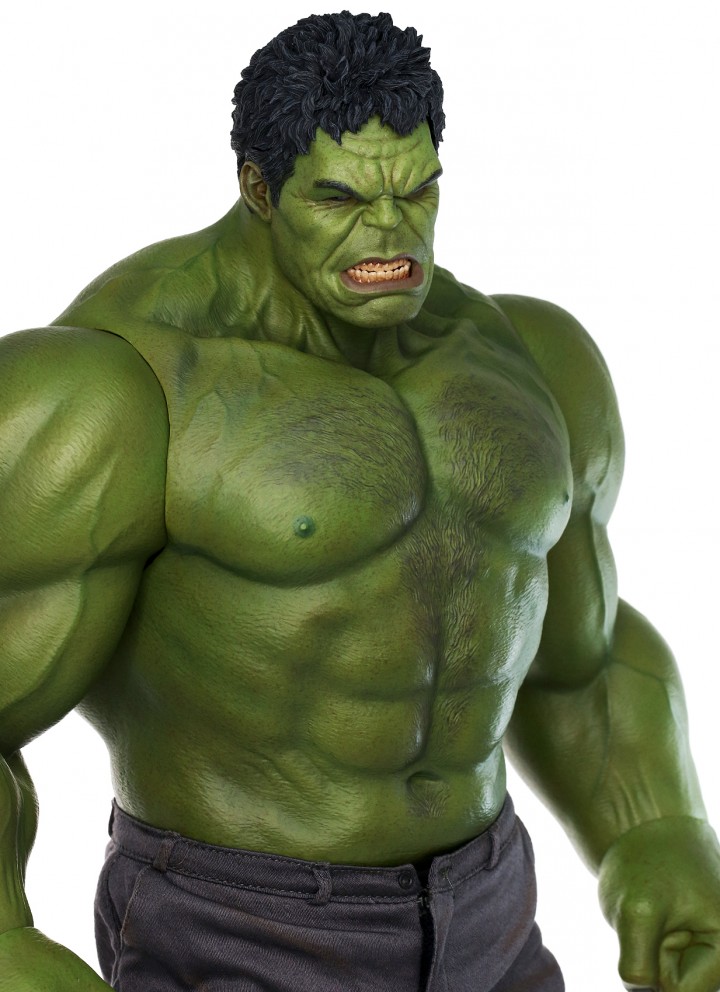 I know some people were initially put off by the early prototype photos of this Avengers Hulk Hot Toys figure and its $300 price tag, but man–I think a lot of those people are really going to be kicking themselves when they want this figure in a couple months when it's likely selling for $500-$600 on the aftermarket (and I don't think I'm exaggerating at all about that).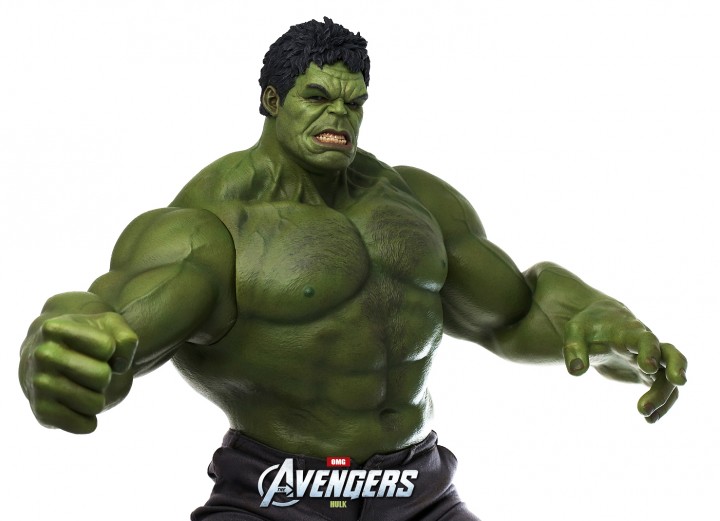 If you want the Hulk Hot Toys 1/6 scale figure and didn't place a pre-order for the sold out figure, I have a word of advice for you. Get on the Wait List at Sideshow Collectibles right away, as Sideshow is now converting Wait List Reservations for the Avengers Hot Toys Hulk sixth-scale figure. The Hot Toys Avengers Hulk figure sold out months in advance of its release–longer than any other figure in the Avengers Hot Toys line. Hulk is going to be a very, very expensive figure on the aftermarket, and if you want to get him for retail price, your best bet is getting on the Wait List right now.
The Hot Toys Hulk Avengers 1:6 scale figure has just been released overseas, and should be making its way to America shortly. I'd expect the Hulk Hot Toys figure to reach the United States at the very end of July 2013. I'll post a full review, unboxing photos, and photo gallery of the Hot Toys Avengers Hulk Movie Masterpiece Series figure just as soon as I receive mine.