With C2E2 2016 in Chicago this weekend occurring just slightly over a month after the New York Toy Fair 2016, I didn't expect to see any new collectibles revealed at the show. But Diamond Select Toys had been keeping some new toys in reserve, and did a surprise reveal of their Marvel Premier Collection Spider-Gwen Statue and Marvel Minimates Series 69 figures–including Tigra, Falcon, Enchantrss, Black Knight and more!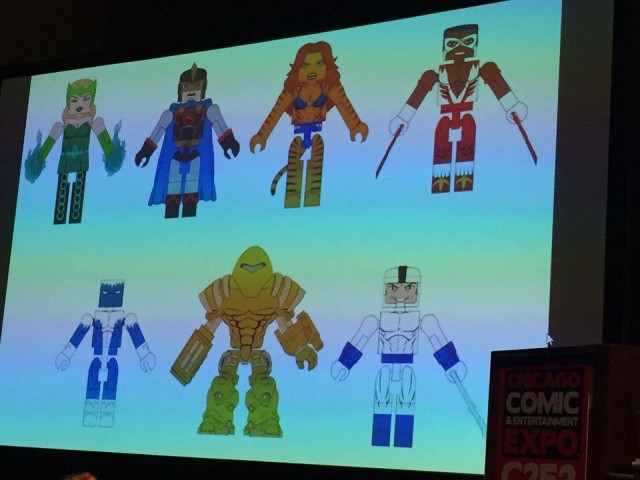 Considering the fact that Diamond Select Toys has released hundreds and hundreds of Marvel Minimates figures over the years in so many series and exclusives and multipacks that I can't even begin to count the total number of them, you might think they'd hit on every major Marvel character by now.
But believe it or not, there are still some big-name Avengers team members and villains we haven't gotten–but we'll be able to cross off several of them later this year!
Marvel Minimates Series 47 was revealed at the C2E2 DST panel, and will include Minimates Dane Knight Black Knight & Enchantress, Tigra & Classic Falcon (80's open vest), Blizzard II [Donnie Gill] & Mandroid, and a rare variant pack of Blizzard I [Gregor Shapanka] & Mandroid (Yes, there were other guys calling themselves Blizzard. I know, right?!).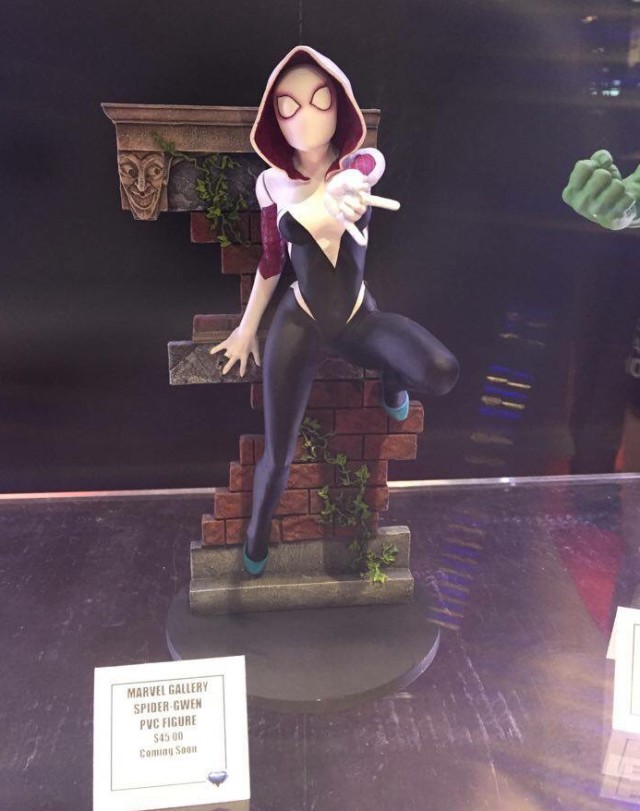 In addition to those new Marvel Minimates, Diamond Select Toys had on display two Spider-Gwen statues that haven't been shown at any events before.
The first of which is the Marvel Gallery Spider-Gwen PVC statue that went up for sale the week of Toy Fair, but wasn't shown at the actual New York Toy Fair 2016 because of the prototype being damaged in transit.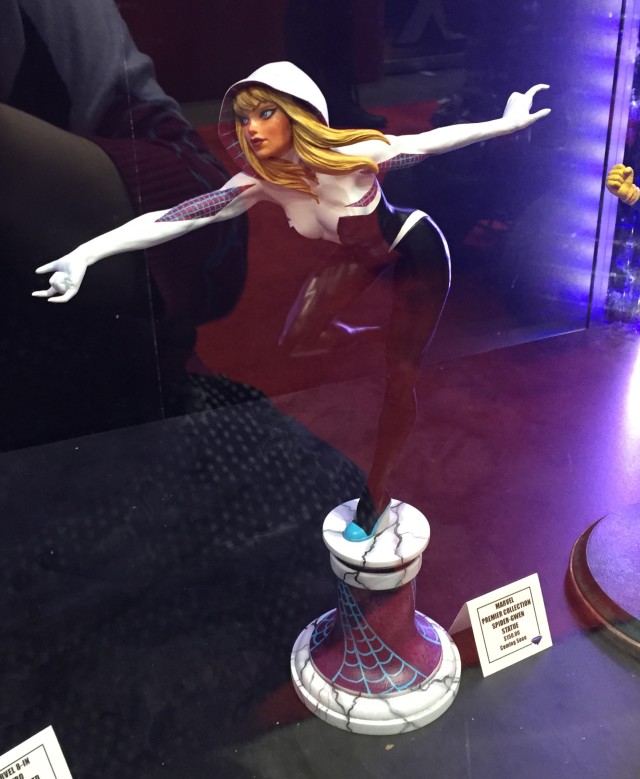 The far more exciting reveal, however, was a sixth scale Marvel Premier Collection Spider-Gwen statue that DST revealed for the first time ever at the show!
This time out, Gwen Stacy is portrayed unmasked in an action pose where she's leaping into action and preparing to fire a webline. I love the way her blonde hair is all windswept in this pose, and while we're getting quite a few Spider-Gwen statues in 2016, this rendition feels totally different from all of the others we've seen.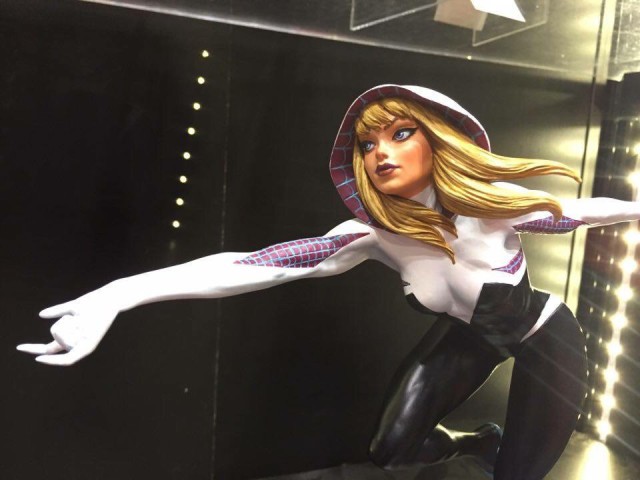 I think the base for this resin statue looks really neat with the white marble-like pedestal with purple and cyan webbed middle.
The only thing I'm not crazy about regarding the Diamond Spider-Gwen Marvel Premier Collection statue is the paint on Gwen's face–her face looks like it's covered in way too much make-up for my tastes. Maybe teenage girls do tend to wear a lot of makeup, but I'm not convinced Gwen Stacy spends hours in front of the mirror prettying herself up before going out to fight crime.
If DST cuts back on the paint deco on Spider-Gwen's face, I think they'll have another winner here.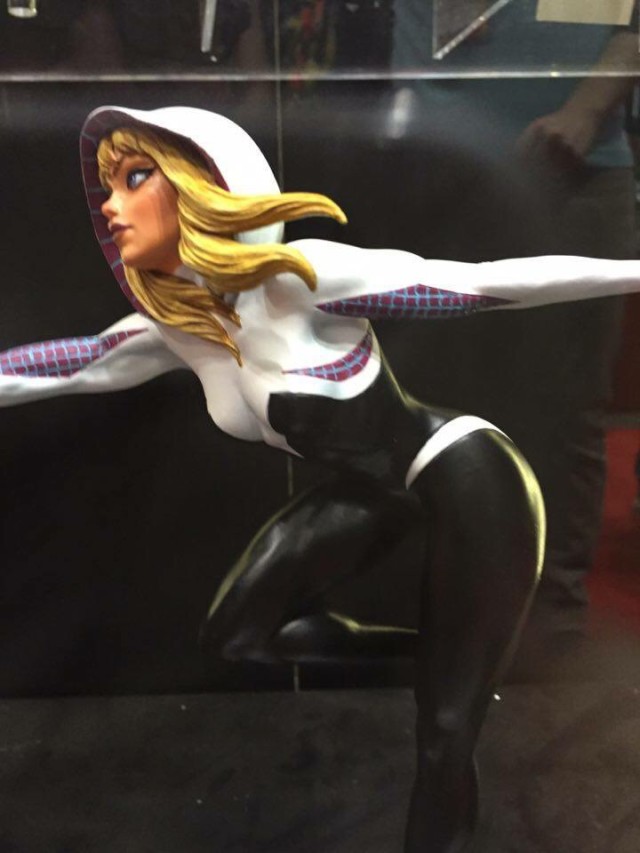 The Spider-Gwen Marvel Gallery Statue is already available for order, with the Marvel Premier Collection Spider-Gwen figure expected to go up for pre-order this coming week. Marvel Minimates Series 69 will go up for order later in the year, as the slide shown of that wave at the DST Panel was still of the figures in early development.
Thoughts on Diamond Select Toys' showings at the 2016 C2E2, Marvel collectors? Are you psyched about this series of long-requested Avengers Minimates figures or either of these DST Spider-Gwen statues?