The Disney Store has spoiled Star Wars fans with some very cool lower-priced resin Star Wars statues  several times now, but starting this year they've been giving Marvel figure collectors some love as well! They released a Civil War Captain America and Iron Man statue in the spring, and now they're moving on the the next big MCU movie: the Disney Store exclusive light-up 10″ Doctor Strange statue is now up for order, and it's limited to just 500 pieces worldwide!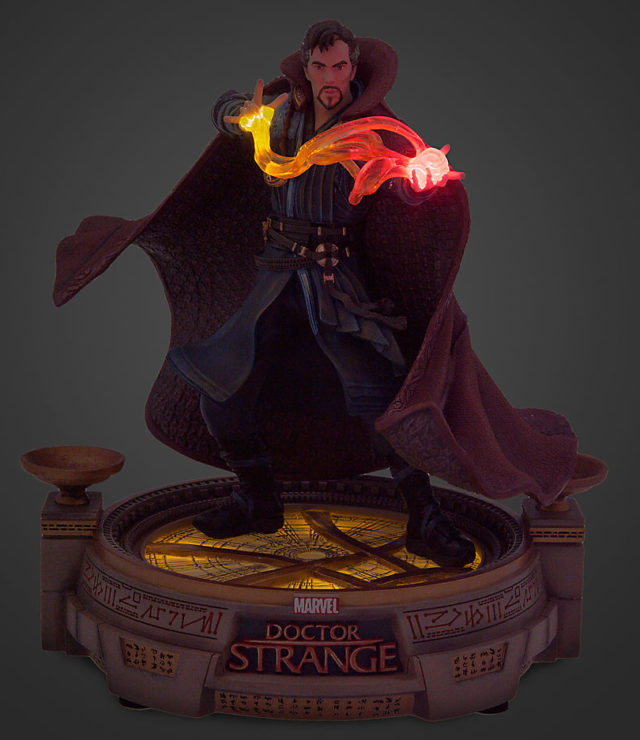 Up until this year, the only exclusive Marvel toys (other than Vinylmation) that the Disney Store ever carried were produced by other companies such as Diamond Select Toys and Hasbro.
But this year, the Disney Store has broadened their horizons with exclusive Marvel 10″ figures, Marvel Tsum Tsums and even resin statues. And the latest statue to appear is the Sorcerer Supreme himself, Doctor Strange!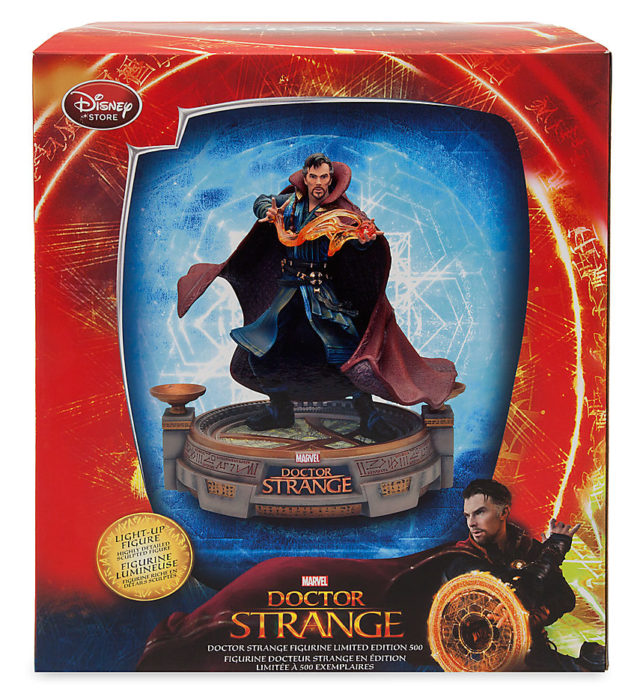 For whatever reason, most merchandisers seem to be taking a cautious approach with Doctor Strange. Kotobukiya hasn't announced anything for the movie, Bandai has not announced a Dr. Strange Figuarts, there's been no teases of a Premium Format Dr. Strange to date, and there's no Doctor Strange Tsum Tsum plush.
Heck, Hasbro isn't even releasing any Doctor Strange 2″ or 3.75″ figures this year, despite his movie launching next week.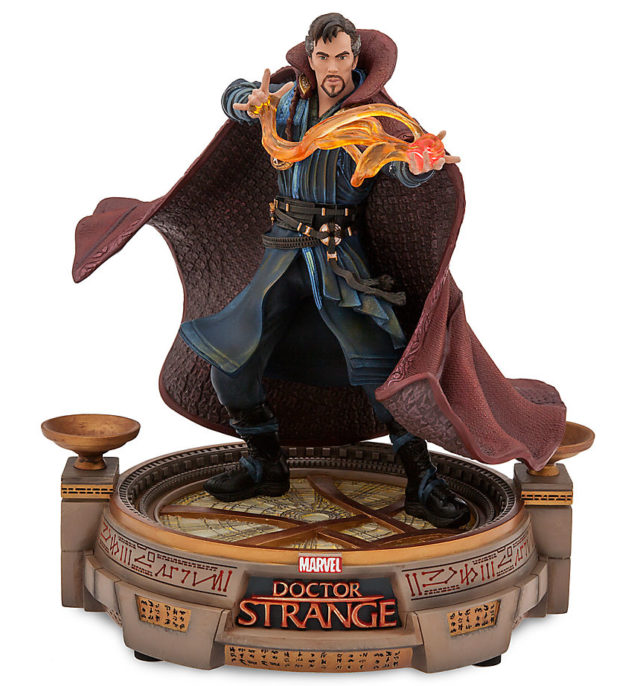 But while he's not getting the love you'd expect for the titular character of a major upcoming Marvel movie, Stephen is at least getting a resin statue direct from the Disney Store!
While I wasn't crazy about their Civil War Iron Man & Cap statue, standing 10.5″ tall and 8″ wide, this Doctor Strange movie figure is actually looking better than I would expect from the Disney Store (seeing as how they're not a world-renowned statue manufacturer).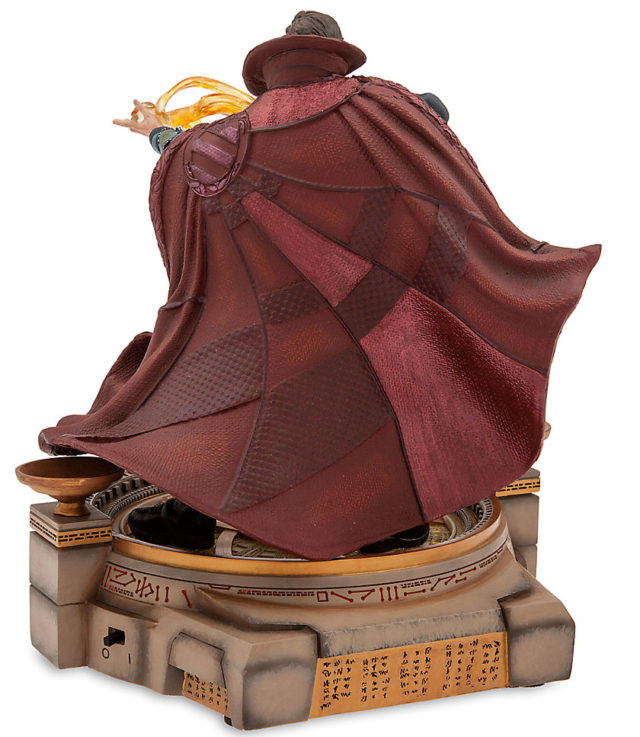 The Stephen Strange face sculpt is clearly comic book-inspired rather than being a Benedict Cumberbatch portrait, but the movie costume sculpting is actually quite nice. And that cape is absolutely magnificent–I really love the back of Dr. Strange's cape on this statue! I'll be really surprised if we see it done better in statue form by any company.
The Eye of Agamotto base also looks totally exquisite (and note the easy on/off switch for the electronics on the back of the base). Frankly speaking, this piece far exceeds any expectations I had for Disney Store exclusive figures!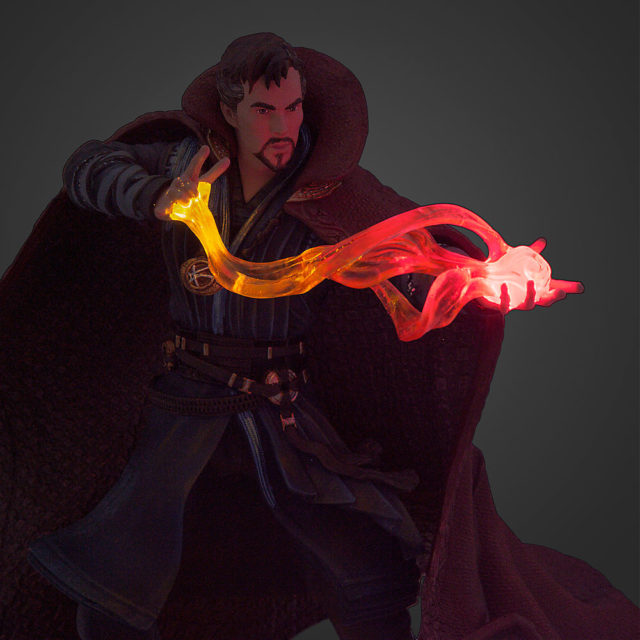 But where this piece really shines is its electronic function. Doctor Strange is sculpted with a translucent resin magical effects piece between his hands with a pretty gradient of colors on it. Once you turn on the electronics and light it up, this piece looks really stupendous (and the darker lighting drowns out the lack of Benedict Cumberbatch likeness)!
Of course, as this is a 10″ resin statue, it's a little expensive with an MSRP of $169.95. That's definitely pricey, but not unreasonable given the size and light-up feature of the statue. Not to mention a super-low LE 500 edition size!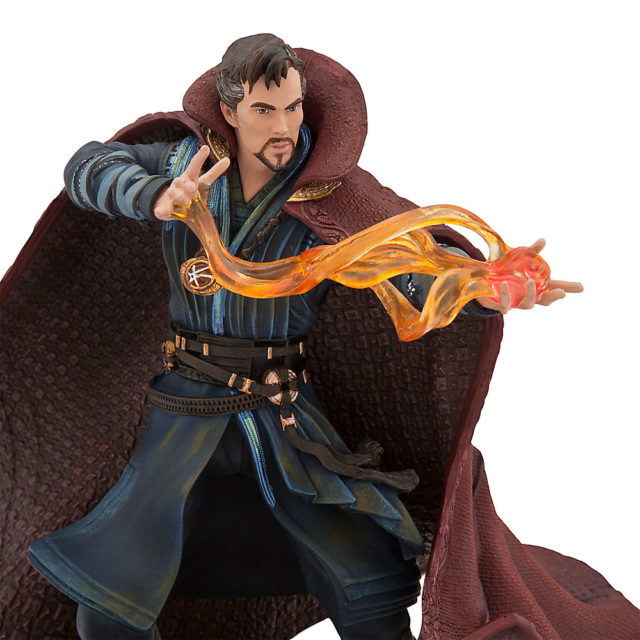 The Disney Store Exclusive Doctor Strange figure is now available for order, and is in-stock and ready to ship right now. The Civil War Captain America & Iron Man statue didn't sell out very fast, but that statue had a much higher edition size of 800. With an edition of 500 and a lower price (as well as being a better-looking piece, in my opinion), I think the Doc will sell out much speedier.
What do you think of the Disney Store's new Doctor Strange movie statue, Marvel collectors? Are you interested in collecting more MCU statues of this type, price and quality, or does this line hold no allure for you?