Ever since toy manufacturers began revealing the lineups for their Avengers: Age of Ultron toys, collectors have been complaining about the lack of Scarlet Witch, Vision and Quicksilver figures. We're getting LEGO and Minimates versions of all three, as well as comics-based Marvel Legends Vision and Scarlet Witch figures. Quicksilver has really gotten the bum's rush, however. But now you can rejoice, collectors–because Hasbro has finally released the Quicksilver action figure we've all been waiting for: the Titan Hero Quicksilver figure has now been released!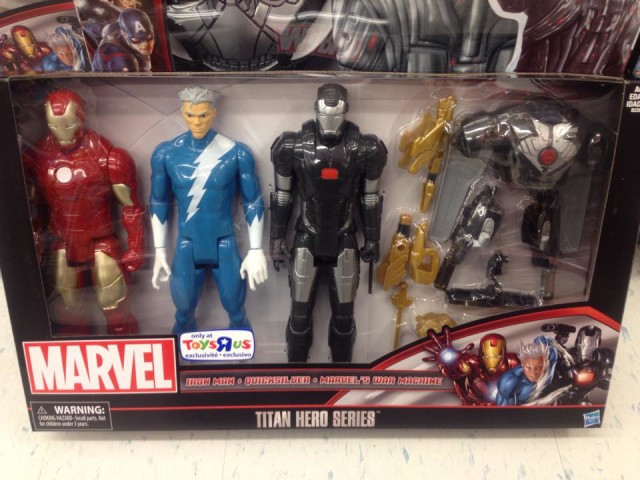 …Okay, I admit it. I may have inserted just a little bit of sarcasm into that opening paragraph. This is, in fact, probably
not
the Quicksilver figure that most folks (or any folks) have been waiting for. That said, it's the only Hasbro Quicksilver figure in a larger size than 3″ expected to be released in 2015, so we're just going to have to make do with Titan Hero Quicksilver (or not).
Of course, even if you do want this Quicksilver Titan Hero figure, he won't be coming alone. Nope–you're going to have to buy him in a special Toys R Us exclusive three-pack with repacks of Titan Hero Iron Man and War Machine!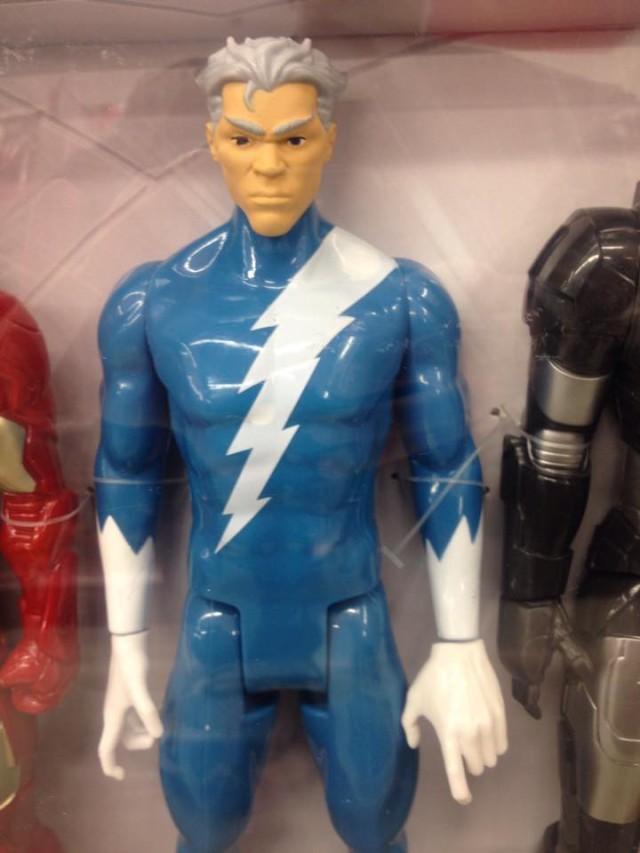 To be perfectly honest, I think that this Titan Heroes Quicksilver 12″ figure is one of the nicest Titan Hero figures that Hasbro has come up with so far. He has articulation in his wrists, bringing Quicksilver to a whopping total of seven points of articulation! For a Titan Hero, that's like being super-articulated!
I also really like the great sneer that Hasbro sculpted onto Quicksilver's face. Really, as far as Titan Hero figures go, Quicksilver is rather terrific.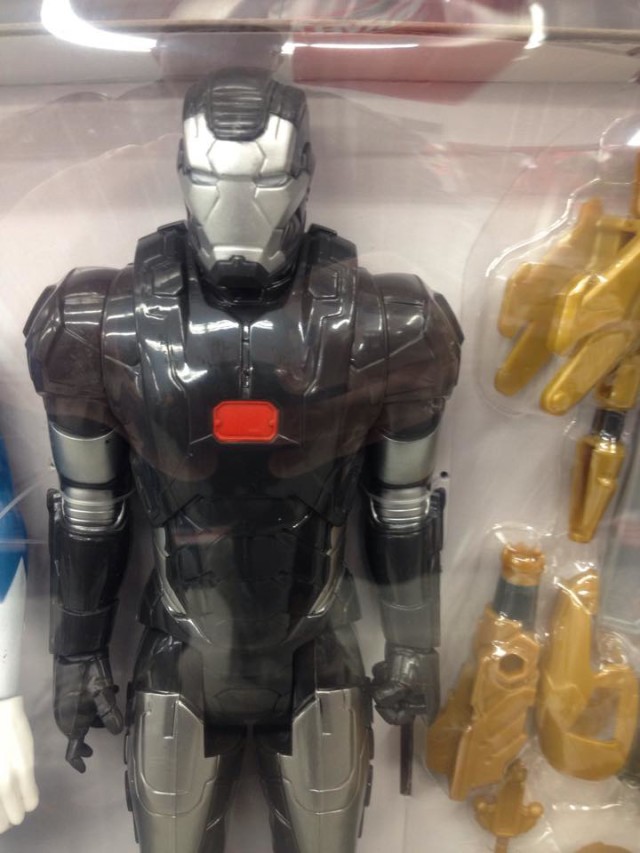 And while the Titan Iron Man figure has been available perpetually for years now, the War Machine Titan Hero figure has actually been quite hard to come by. Originally only released as part of a different three-pack of Titan Hero figures back in 2013, there are actually probably many Titan Hero collectors who will be excited about being able to add a 12″ War Machine figure to their collection.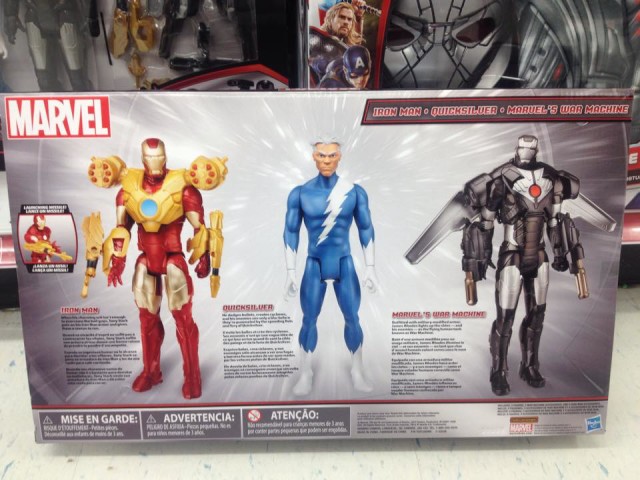 This exclusive Hasbro Marvel Titan Hero box set also includes some bizarre armor add-ons, giving War Machine flying wings (for what–War Machine flies already without wings?!) and crazy gatling-gun shoulder armor and extra chest armor for Iron Man. Thanks for wasting a bunch of plastic and driving up the price for these sets with useless accessories, Hasbro! (Sorry–sarcasm again.)
Hopefully this Hasbro Quicksilver 12″ figure gets a solo release down the line (a la last year's "Exclusive" Titan Hero Green Goblin, Electro and Venom figures), but there's no word on that at this time. And even if Quicksilver does get released as an individual Marvel Titan Hero figure, it likely won't be until 2016.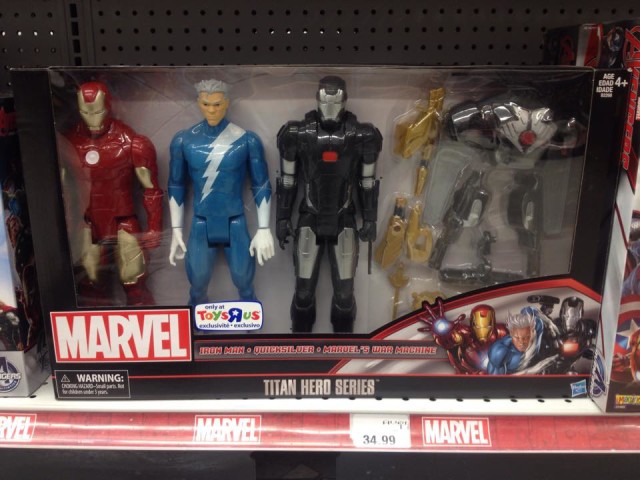 The Toys R Us Exclusive Marvel Titan Hero Series Three-Pack is now shipping to Toys R Us stores, and is priced at $34.99. That's a pretty weak price for a three-pack of figures that usually retail for $10 each, but this is Toys R Us pricing, after all, so what are you going to do, right?
Anyone out there planning to expand their Titan Hero figure collection (or start one) with this TRU exclusive Quicksilver set?