Hasbro might have thought they were fooling someone by releasing information on all of the Hasbro San Diego Comic-Con exclusives yesterday except one, but their attempted surprise was more than a little spoiled by the fact that we had already seen and reported on the Marvel Universe Lady Deadpool, Kidpool, Dogpool, and Championpool figures last week. Luckily for us, there were still some juicy details we didn't know, and it turns out that the now confirmed Marvel Universe Deadpool Corps SDCC 2013 Exclusive Figure Set may actually be the "tastiest" exclusive at all of Comic-Con…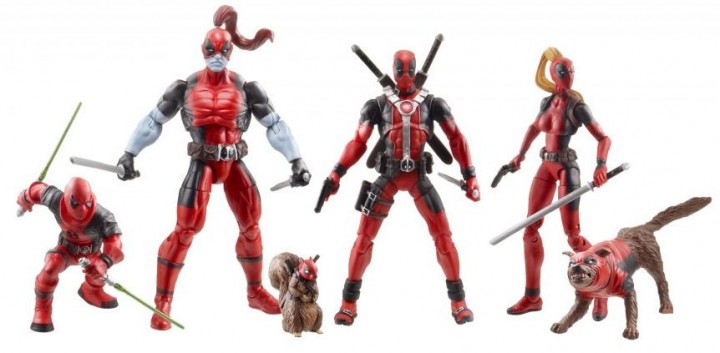 Okay, so time for me to come clean. After seeing the leaked photos of the Deadpool Corps Marvel Universe figures a few weeks back, I was pretty "Ehn" on the set. I loved Dogpool, but I thought it was lame that Kidpool was an unarticulated PVC figure, and Lady Deadpool and Championpool just aren't my thing. So I was planning on passing on a very hard-to-get Hasbro San Diego Comic Con 2013 Deadpool Corps Exclusive Box Set.
But then Hasbro hit me with something that I never expected. Something that well and truly, honest to gosh, knocked my socks off: photos of the actual final Marvel Universe Deadpool Corps SDCC Exclusive figure set, in all its packaged glory. While I'm pleased that we're getting a Squirrelpool figure and I guess the Deadpool figure was sort of a necessity, what I'm actually about to gush over isn't the figures in this exclusive set: No, it's the box.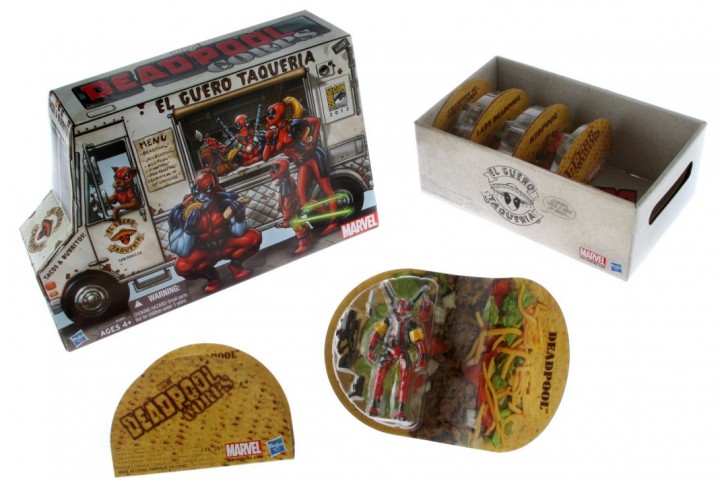 The Deadpool Corps Marvel Universe six figure set will come packaged in a cardboard taco truck. No, really. But wait, it gets crazier: the individual figures are blister carded on card backs that look like taco shells and are then folded up and placed into a big taco tray. Yes, the Deadpool Corps figure are all inside of tacos. Does this sound utterly ridiculous and insane?
…Yeah?  That's the point. This elaborate packaging manages to reflect the inane, off-the-wall silliness and craziness that is Deadpool in a way that I never thought was imaginable. I mean, come on–Dogpool is even there driving the taco truck box! Absolutely incredible. Amazing.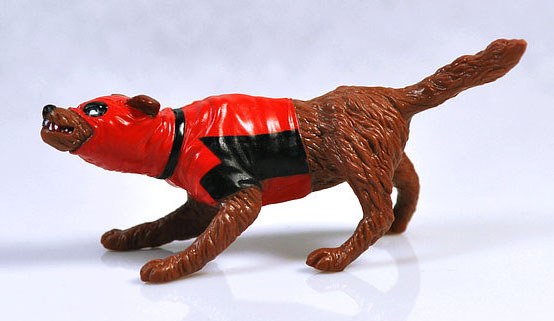 This just may be the most creative and geeky packaging in the history of action figures. So while I'm still lukewarm on the actual figures in this set (beyond the must-have Squirrelpool and Dogpool figures), right now I'm declaring this the coolest Marvel exclusive of 2013 Comic-Con International. Companies like Hot Toys and Diamond Select Toys that haven't announced their 2013 SDCC exclusives yet really have their work cut out for them to try to top this.
The SDCC Deadpool Corps Figure Box Set will be sold exclusively at San Diego Comic-Con 2013 next month from July 18-21 2013, with a price of $49.99. Leftovers and probably a small amount of the production run will be pulled aside and sold after the show on the Hasbro Toy Shop website, but I suspect that this is the kind of exclusive that is going to be a serious instant sell-out.
Be sure to 'Like' Marvel Toy News on Facebook if you want Marvel Toys News and updates beamed instantly to your Facebook Newsfeed!