If there's one thing about the various lines of Spider-Man Homecoming toys that I've seen lamented, it's the sheer lack of Shocker movie figures. Sure, The Shocker is getting a movie LEGO Minifigure and a Minimate, but folks really wanted a Hasbro 6″ movie Shocker. But wait–! Just when hope seemed lost a 6″ Spider-Man Homecoming Shocker figure has appeared! Of course, he's not quite the Marvel Legends version many collectors may have been hoping for…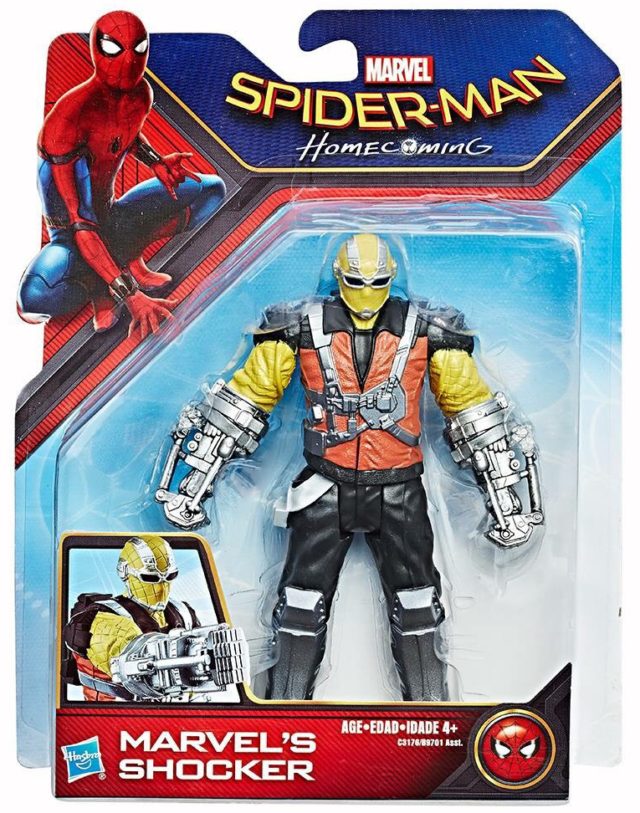 At this point, I thought we had pretty much seen everything that we were going to see as far as Spider-Man Homecoming figures go. But it looks like I spoke too, as images leaked out today of a new figure from the second series of the movie line: Marvel's Shocker (AKA
The
Shocker)!
Sharp-eyed (and not-so-sharp-eyed) readers will notice that this is, well… not a Marvel Legends Shocker figure. This is actually part of the line of Hasbro "kid-friendly" six inch figures that retails for about 10 bucks.
I know many collectors are going to be disappointed that this isn't a super-articulated movie Shocker action figure, but unless Hasbro has a big surprise unveiling planned for San Diego Comic-Con 2017 next month, this is likely to be the only 6″ Shocker figure that ever gets released.
The costume here for Shocker looks sort of cool, in my opinion, although everybody knows that I am typically no fan of 5 points of articulation figures like this one.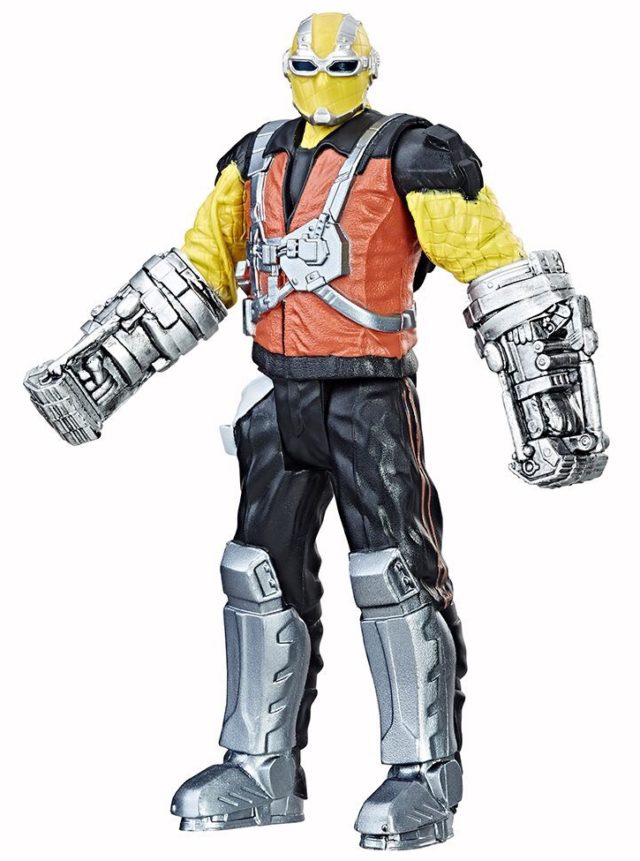 What's weird about this figure is that, well… it's The Shocker wearing a costume that we haven't seen in any trailer for the movie and that doesn't even match what other companies like LEGO are doing.
It wouldn't be unprecedented for Hasbro to place a costumes villain in this childrens' line that we don't see released anywhere else (a la Amazing Spider-Man 2 Green Goblin), but some of the figures in this line are also clearly made up (like the nifty Blue Spider-Man that I couldn't resist buying), so it's unclear if this is a true movie Shocker or Hasbro being creative at this time.
At this time, none of the release details for this Shocker action figure or any other Spider-Man Homecoming Wave 2 figure from the 6″ kids' line are known. I'll post an update here and to the Marvel Toy News Twitter and Facebook Page once more information is available.
Thoughts on this figure, Marvel collectors? Do you think this costume is the real deal from Spider-Man Homecoming, or just Hasbro having some fun? And if this is the only 6″ movie Shocker figure released, will you buy one?