Although T'Challa wasn't shown amongst the first batch of Captain America: Civil War sixth scale figures prototypes, it was a question of when–not if–a Hot Toys Black Panther figure would make its debut. I thought we might be waiting until after more of the returning heroes went up for order until we saw him, but the hype for Black Panther is hot and so his sixth scale figure: the Hot Toys Black Panther figure is now up for order!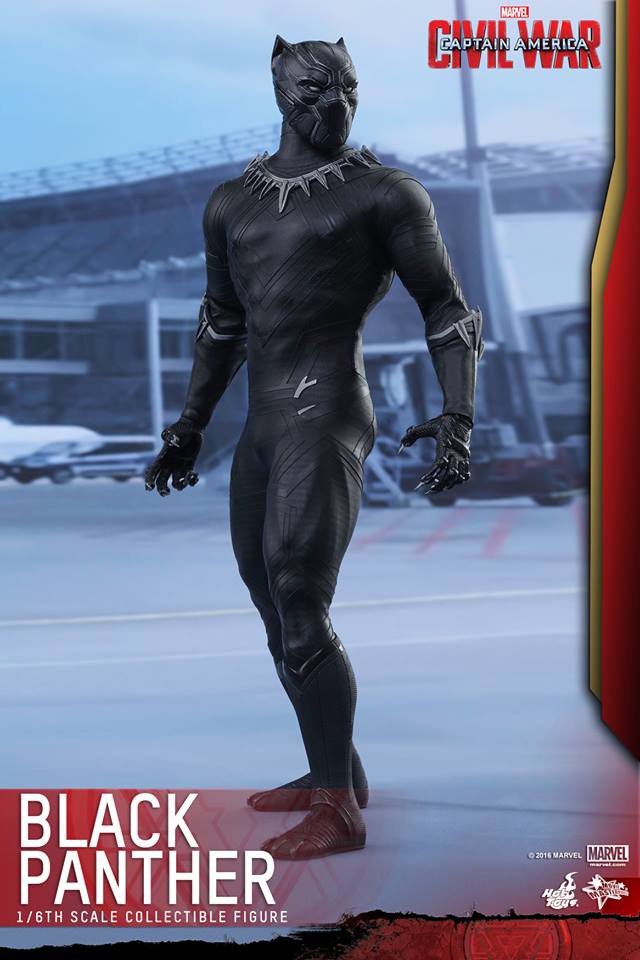 With the vast majority of the main characters in Captain America Civil War being returning characters in updated costumes, I was reasonably certain that we'd be seeing tweaked versions of all those heroes before we saw the quartet of "new" characters previewed by Hot Toys: Crossbones, Agent 13 Sharon Carter, Giant-Man and Black Panther.
But while we're still waiting to see the former trio of those four, Hot Toys kicked off the weekend by premiering their 1/6 Black Panther figure!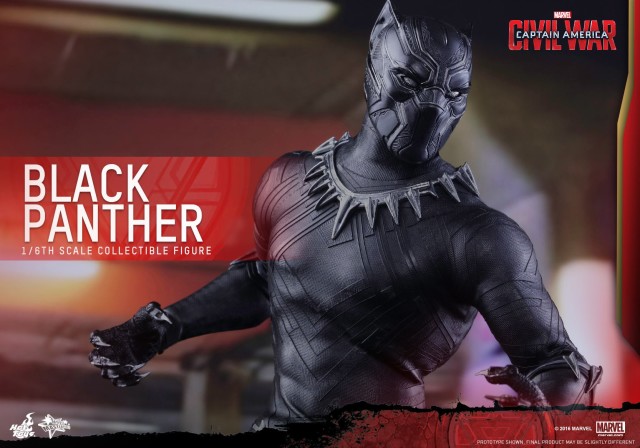 Most of the time, all we get for a new character from Hot Toys is a new head with new costume and accessories on the "same old, same old" body molds.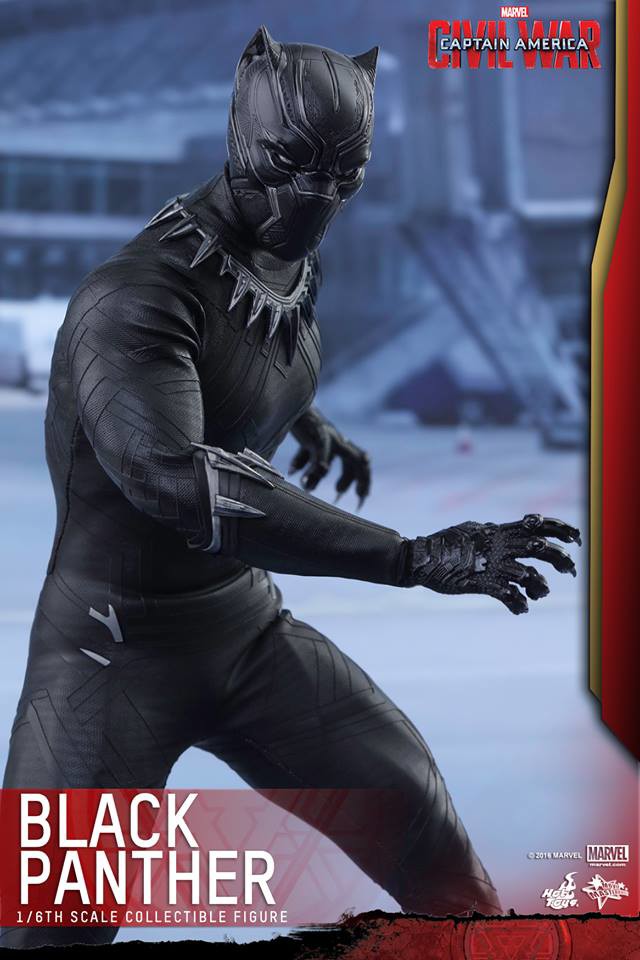 But for such a prominent and unique-looking character as the movie Black Panther, that wasn't gonna cut it on a high-end figure–and it's not going to! Hot Toys has tooled a 100% new body mold to give us the most authentic Black Panther figure possible!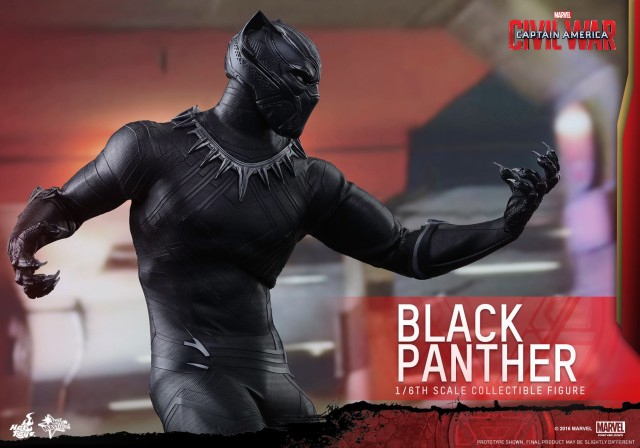 And what a figure it is. From the helmet to the body, this figure is covered in more details and textures than we may have ever seen on a Hot Toys Marvel figure. I love how sharp and deadly the claws look on this MMS figure! It was definitely worth the wait of a few extra months to see what Hot Toys had come up with for the most compelling member of #TeamStark.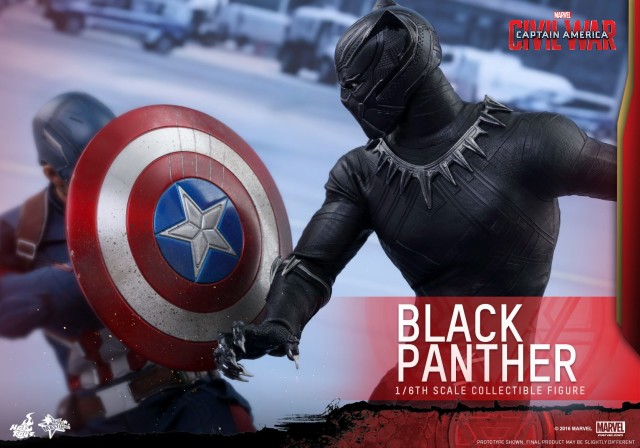 Oddly enough, the official photos of this sixth scale Black Panther movie figure show off a Captain America Hot Toys figure with a claw-scratched shield that has never been shown with any figure before–including that Captain America, which has already been solicited! Hints of another Civil War Cap coming down the line? Hmmm…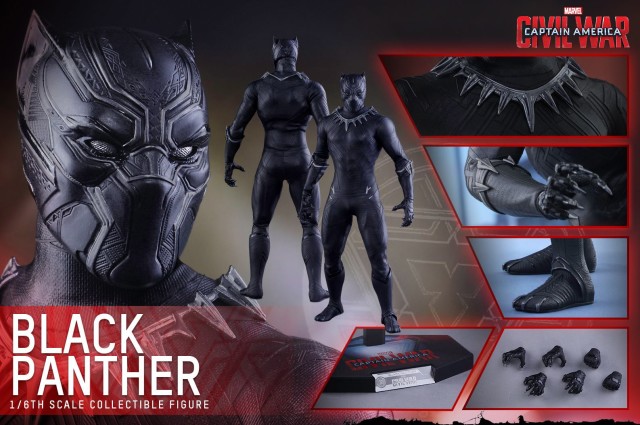 In order to keep down costs, the 12″ Black Panther Hot Toys figure comes with very few accessories. We get some interchangeable hands, a figure stand, and, well… that's it.
I'm okay with that if it keeps this figure in the $220-$235 price range, but there is an integral addition this figure doesn't appear to include…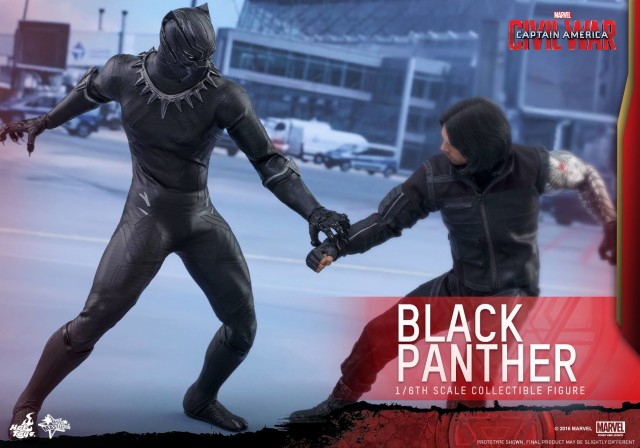 If there's one thing about this figure that disappoints me, it's that there's apparently not going to be any unmasked Black Panther T'Challa head included.
Both Hasbro and Funko are giving us Unmasked Black Panther figures, so it's really surprising that Hot Toys doesn't mention or show a T'Challa Chadwick Boseman portrait.
I suppose Hot Toys is probably waiting to release a new Black Panther sixth scale figure with an unmasked head for his own solo movie, but that's years away from now, especially considering this figure won't be released until Q4 2016/Q1 2017. Disappointing.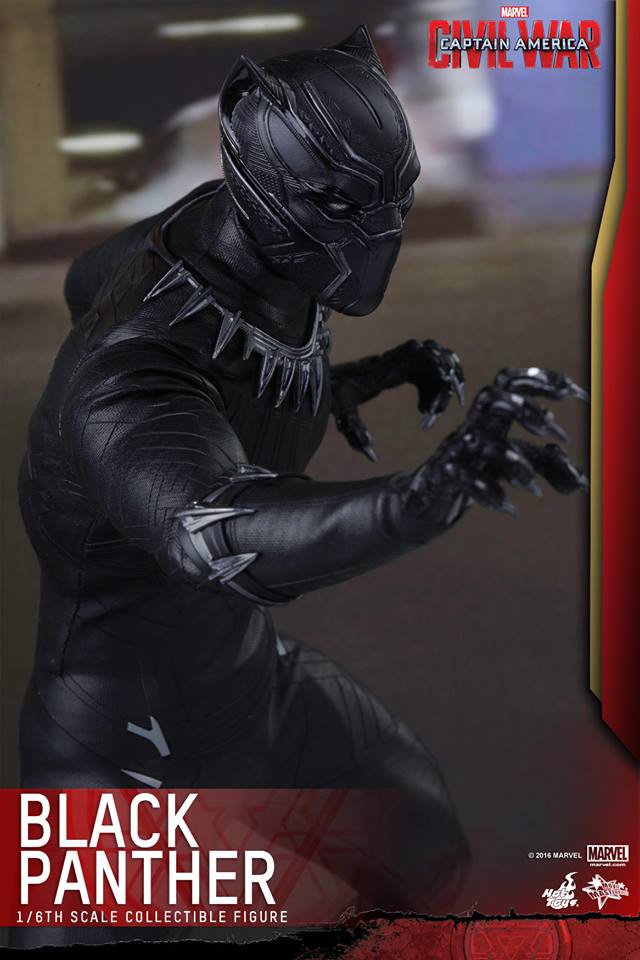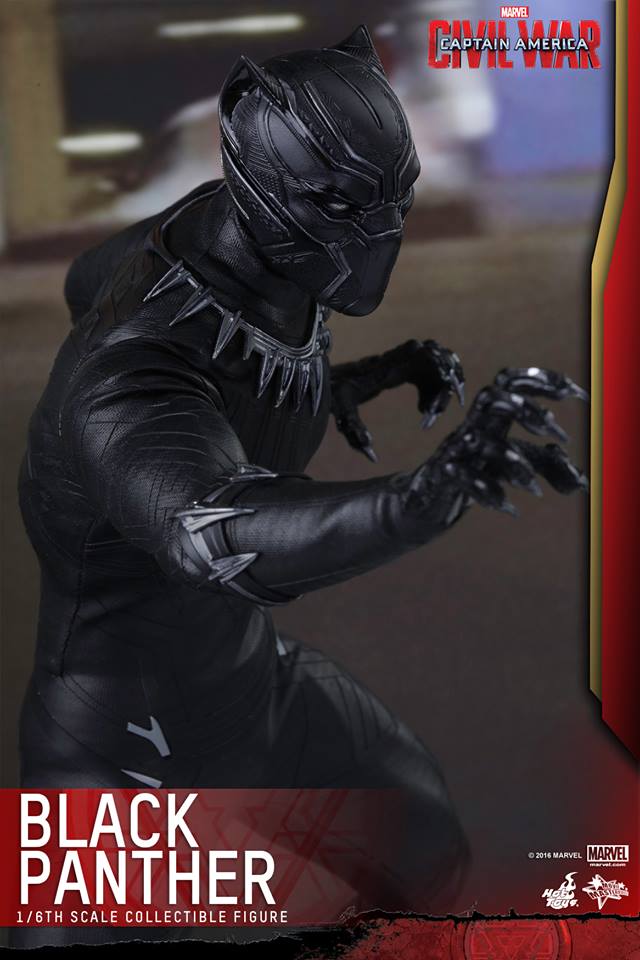 The Hot Toys Black Panther sixth scale figure is expected to go up for order on the Sideshow Collectibles website on Monday afternoon, April 11th. With T'Challa getting more hype than any other character appearing in the Civil War, I have a hunch this will be the fastest-selling of all the Hot Toys Civil War figures.
What do you think of our first look at the most-anticipated sixth scale figure from Captain America: Civil War, Hot Toys collectors? Is this King of Wakands destined for your shelf later this year, or are you unimpressed with what Hot Toys has put together for us?