"What's that? Hot Toys is making a new Iron Man figure?! You don't say!" But seriously, due to the complex licensing between Sony and Disney for Spider-Man, the Spider-Man Homecoming Iron Man Mark 47 armor permutation is the first armor in a long, long time I wasn't sure if we'd get a fully-articulated die-cast version of. A semi-poseable Mark XLVII went up for sale a few months ago, but I shouldn't have doubted–the Hot Toys Iron Man Mark 47 Die-Cast figure is now up for order!
Let's be real here: if an Iron Man armor appears in a Marvel movie for more than three seconds, Hot Toys
will
make a sixth scale figure of that armor permutation if legally allowed to do so.
And while I wasn't sure exactly what kind of licensing hurdles would have to be jumped in order to produce a Spider-Man Homecoming Iron Man MMS (and if it would be possible at all), Hot Toys has clearly navigated the red tape successfully and is ready to take orders for this year's newest (and only) MCU Iron Man!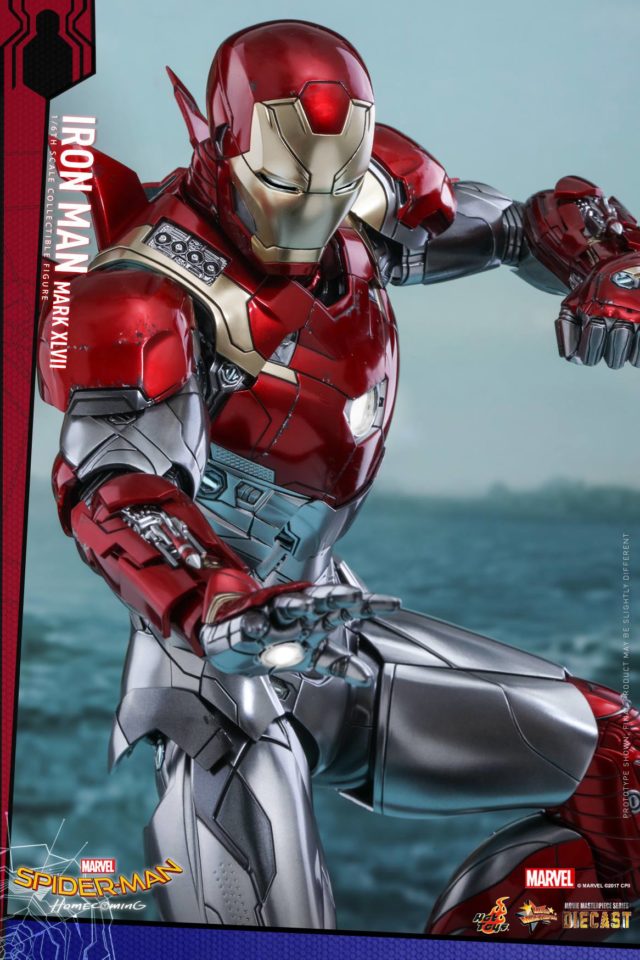 If this armor looks familiar to you, it's because it's the exact same armor as last year's Captain America Civil War Iron Man Mark XLVI armor–just repainted in colors inspired by Ultimate Iron Man, as seen in this summer's Spider-Man Homecoming movie.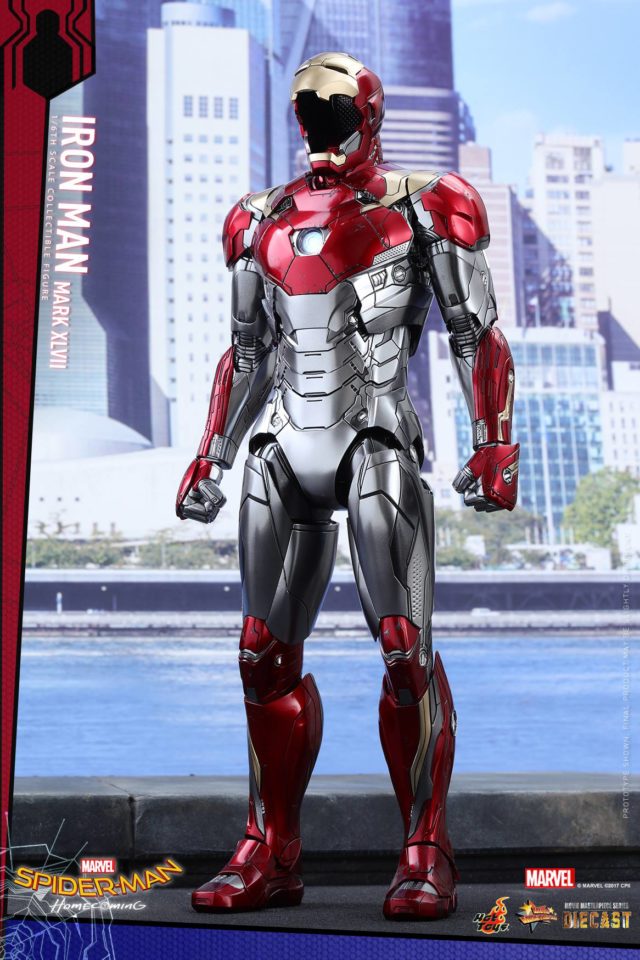 As with the Civil War version, you can open the helmet up without having the Robert Downey Jr. portrait inside to have an "empty" armor–a fun feature that's not common at all in the Movie Masterpiece Series.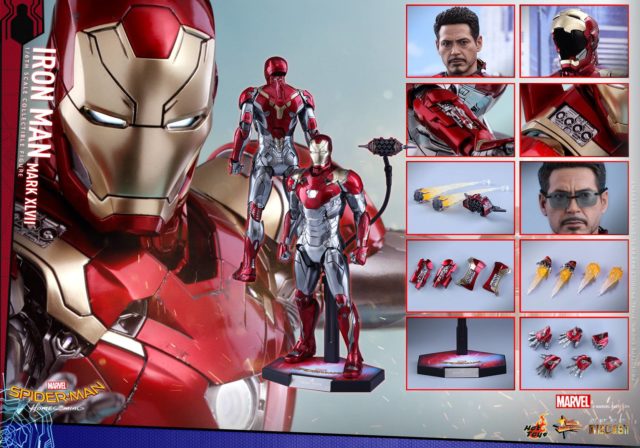 Basically, this figure is a 100% repaint of last year's Iron Man, but with a new Tony Stark Robert Downey Jr. portrait, a neat flying drone accessory, and a new coat of paint.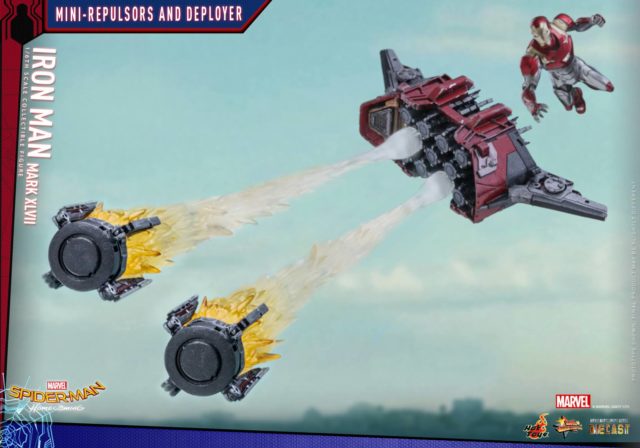 The flying drone is actually surprisingly cool, featuring firing missile pods effects pieces.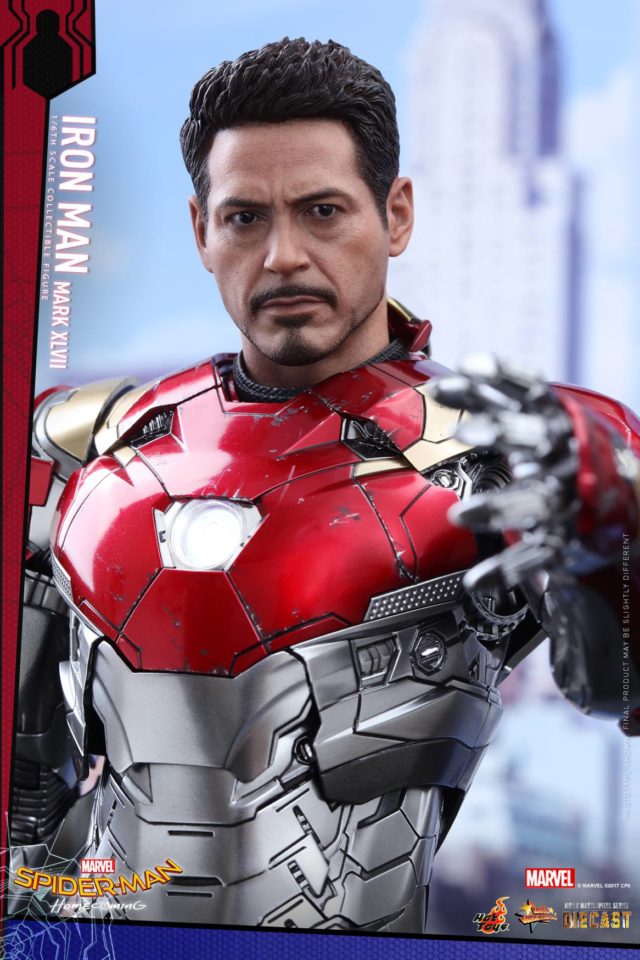 No toy company on Earth has sculpted Robert Downey Jr.'s portrait as many time as Hot Toys has now, and they've pretty much got it down to a science. There's also a pair of sunglasses for Tony Stark to wear.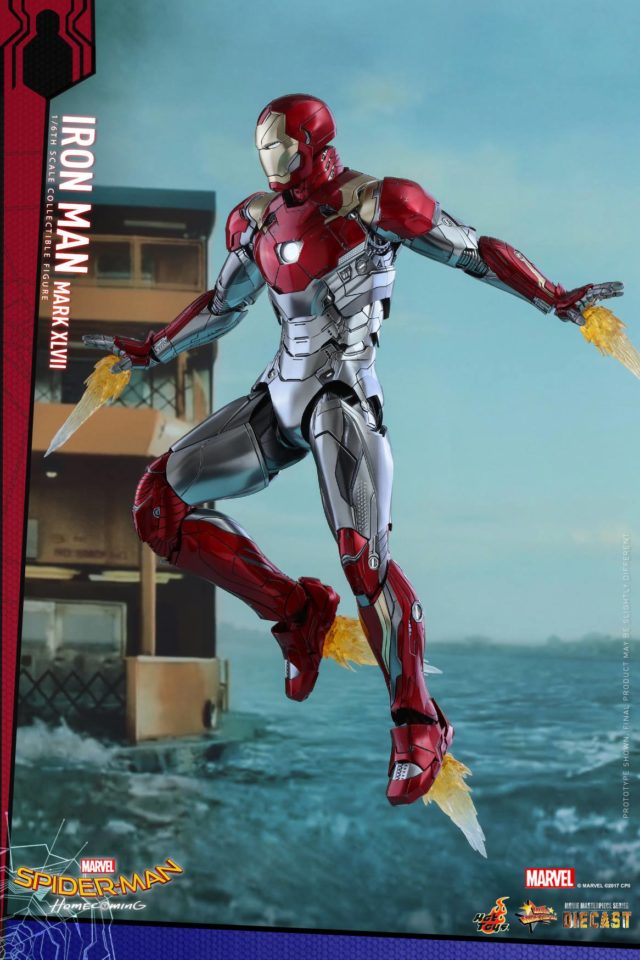 And hey–four thrust effects pieces to attach to both hands and both feet! Man, Hot Toys really knows the way to my heart. If any of these features excite you the way that they do me, this just may be the ~$350 12″ figure for you!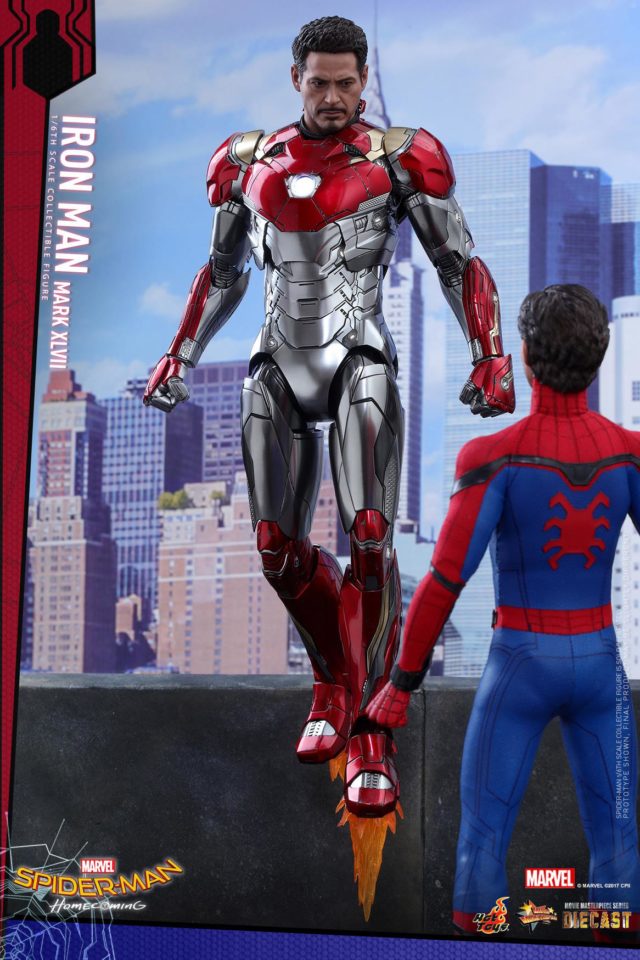 Despite being a repaint of last year's armor, the Mark 46 armor
was
one of the most spectacular armor permutations ever designed and looks incredible with its 28 LED lights lit up throughout the body.
So yes, it's a repaint with no accessories. But a movie-accurate version of the next iteration of the spectacular Mark 46 armor to pose beside the new awesome Homecoming Spider-Man 1/6 figure? Yeah–I'm in.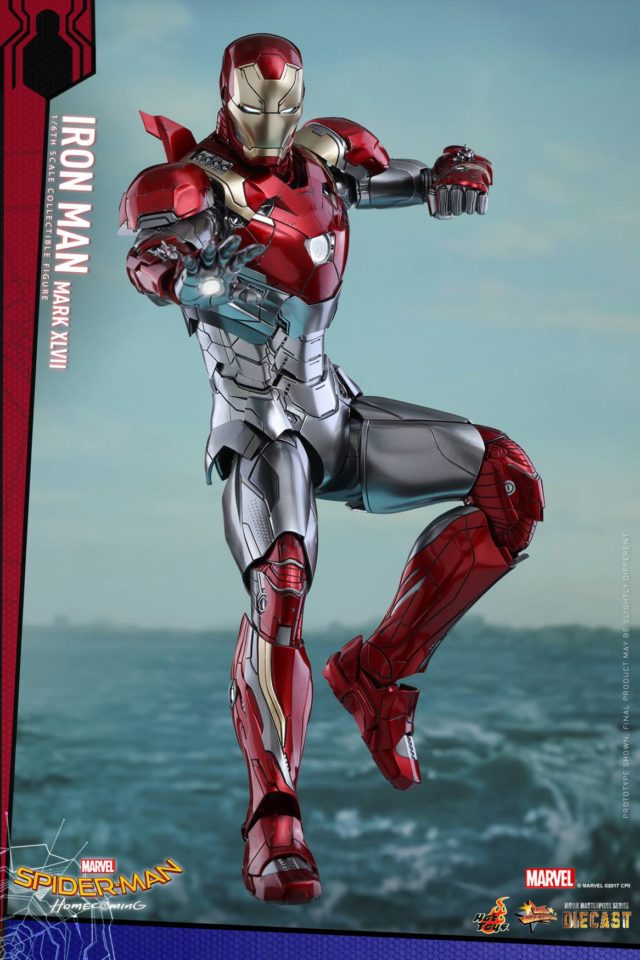 The Hot Toys Die-Cast Iron Man Mark XLVII sixth scale figure is now up for order, and is scheduled to be released in Q4 2017. That's a super fast turnaround time for an Iron Man die-cast figure, due largely to the armor being a 100% repaint of the Civil War version. It's kind of funny, but this die-cast Homecoming Iron Man is likely to arrive months before we actually get out first Hot Toys Tom Holland Spider-Man from the movie!
Do you prefer this repainted Mark 46 armor or the original version, Marvel collectors? Are you planning on picking this 1:6 die-cast figure up? And is anyone out there still a completist with regards to Hot Toys Iron Man figures?