It's that time of year once again! It's hard to believe, but it's been around a full year now since we got our last limited exclusive Marvel Hot Toys Movie Promo figures–Battling Captain America and New Avengers Scarlet Witch. Traditionally, the Marvel Movie Promo figures sell out within hours and skyrocket on the aftermarket. It will definitely be interesting to see if this year's follows suit, though: the Hot Toys Spider-Man Homecoming Iron Man figure is now up for order!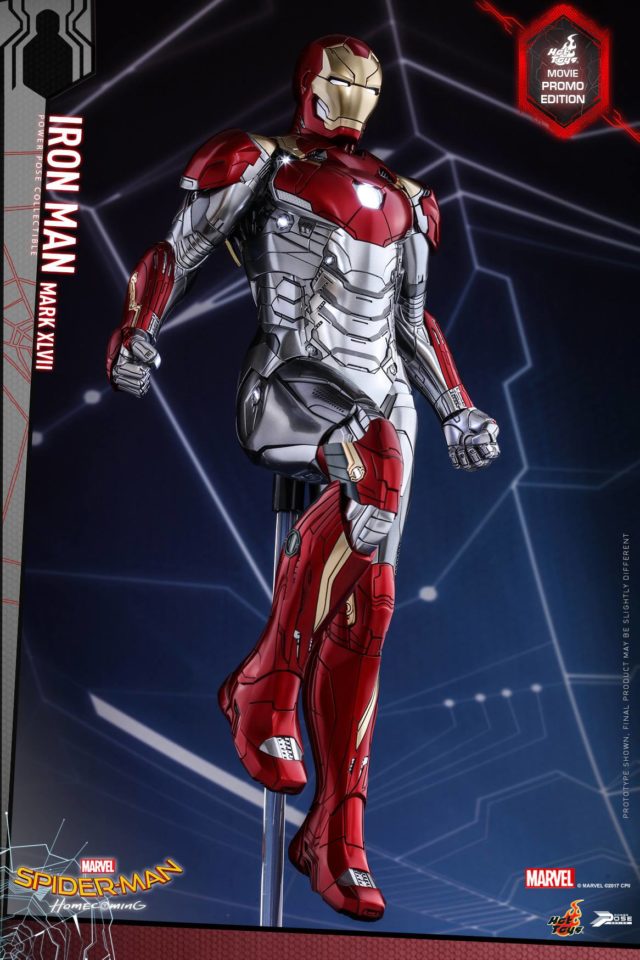 Now
here's
an interesting choice by Hot Toys! Ordinarily, any Marvel Movie Masterpiece Series sixth scale figure that they label as a "Movie Promo" exclusive sells out–without question–within a few hours, and then the price on these limited figures explodes on the secondary market.
But this year's Spider-Man Homecoming movie promo isn't a traditional MMS figure at all–it's a rare Power Pose Series figure: Homecoming Iron Man Mark XLVII!
I think everybody was a little bit surprised when the toys of Iron Man Mark 47 various companies were showing off turned out to be canonical to the movie, as the new Homecoming armor appears to just be the Mark 46 Civil War armor repainted in Ultimate Iron Man colors.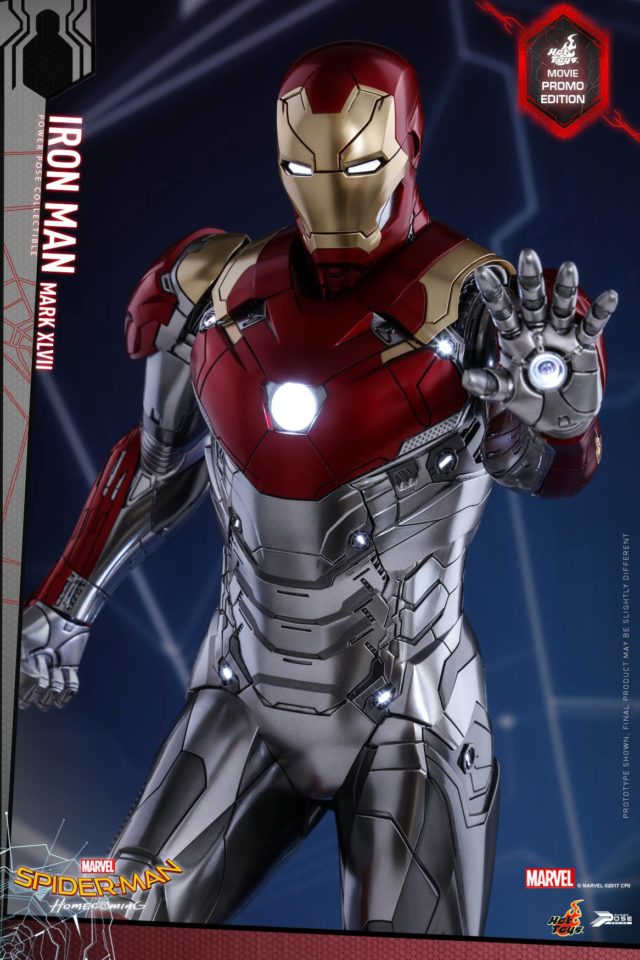 Of course, while it's a little disappointing whenever a new MCU Iron Man armor is just a recolored version of a previous armor, it's also the perfect vehicle for merchandisers to repaint old molds legitimately and release them again.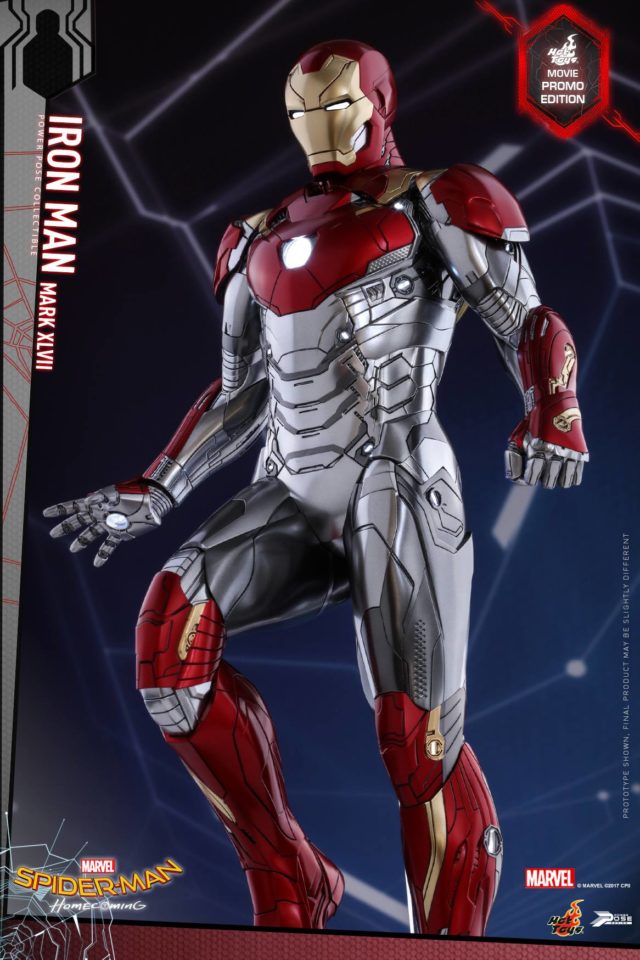 And so, Hot Toys has made the very interesting choice to make a Movie Promo Homecoming Iron Man PPS figure. The 1:6 Power Pose Series figures tend to have limited articulation and a much lower price-tag than typical MMS figures, but also far lower sales. So for Hot Toys to slap their hottest label on a figure that would sell limited numbers regardless seems nothing short of brilliance.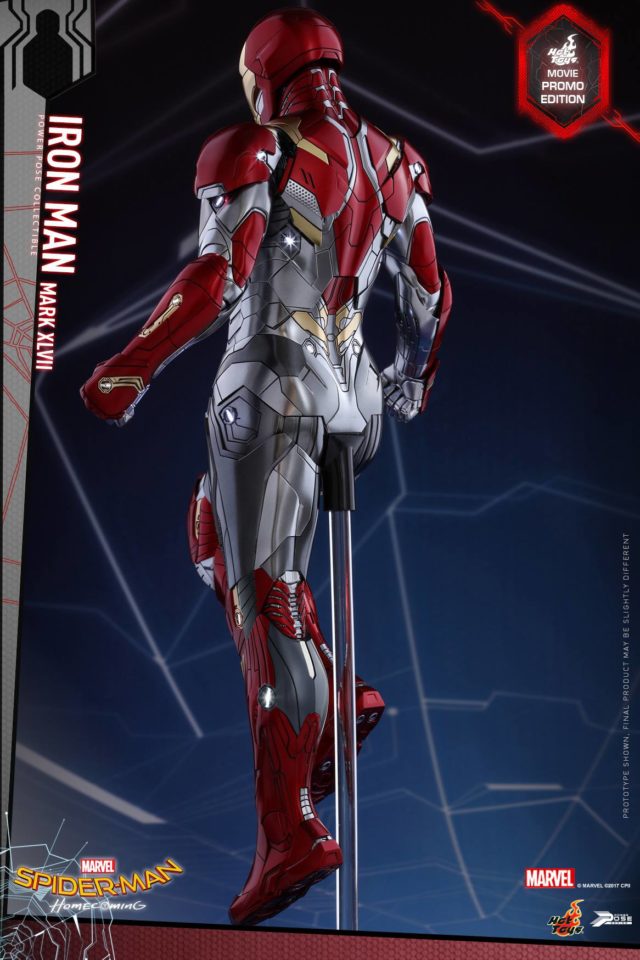 Already owning a good two dozen MMS Iron Man Hot Toys figures, I would be not terribly giddy about paying for a $350 repaint of the Die-Cast Civil War Iron Man (I'm not saying I wouldn't buy it–but I would not be enthusiastic about it).
But a sub-$200 in-scale Hot Toys Spider-Man Homecoming Iron Man figure with limited articulation…? Yeah–I'm in.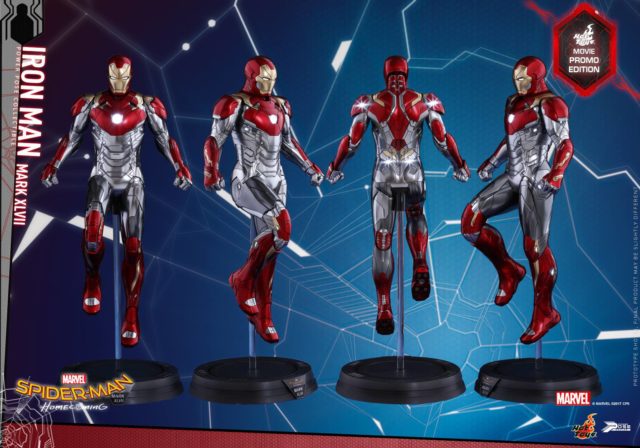 While the figure is light on accessories–just a flight stand pole and an extra pair of interchangeable hands–this Iron Man
does
have one major advantage over die-cast versions.
Unlike die-cast Iron Man MMS figures, all 28 LED lights on this Iron Man can be activated by one switch instead of four or more switches on various parts of the armor. Hallelujah! I love me some light-up functions in my Iron Men, but pulling off a bunch of panels every time I want to turn the lights on or off is a huge pain.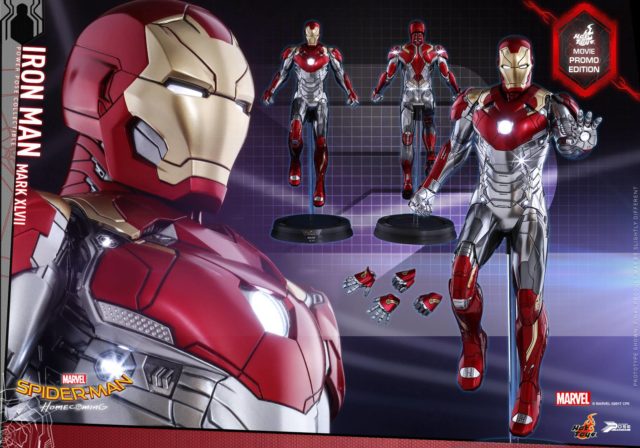 The Spider-Man Homecoming Iron Man Hot Toys Movie Promo figure is now up for order, with an estimated release in Q2/Q3 2017. That's a faster than usual turnaround for Hot Toys, but it's possible since this is a total repaint of a past figure. With a low price and super-limited availability, it'll be very interesting to see how fast this Hot Toys Power Pose Series figure sells out.
What are your thoughts on the Spider-Man Homecoming Movie Promo Edition Iron Man PPS, Marvel collectors? Will the limited nature of this figure convince you to buy a different style of Hot Toys figure, or are you holding out for a super-articulated die-cast version of this armor (or perhaps no version of this armor permutation at all)?