At this point, there aren't too many Spider-Man villains that have never had an official 6″ Marvel Legends figure released at least once. But one character that's been overlooked–at least until now–is the albino mob enforcer, Tombstone. Lonnie Lincoln is finally getting his due from Hasbro, and while his costume might not be everyone's first choice, the Marvel Legends Tombstone figure that went up for sale last week is really pretty killer…
The Right:
Lonnie Thompson Lincoln, you have arrived! After decades as one of the more memorable characters in the Marvel universe's mob underworld, you finally have your very own Hasbro Marvel Legends six inch figure to your name!
While many fans were hoping for a 6″ Marvel Legends Tombstone figure wearing a business suit or even his V-neck shirt that's best-known from the 90's Spider-Man cartoon series, the bare-chested design that Hasbro went with looks a lot cooler than I anticipated.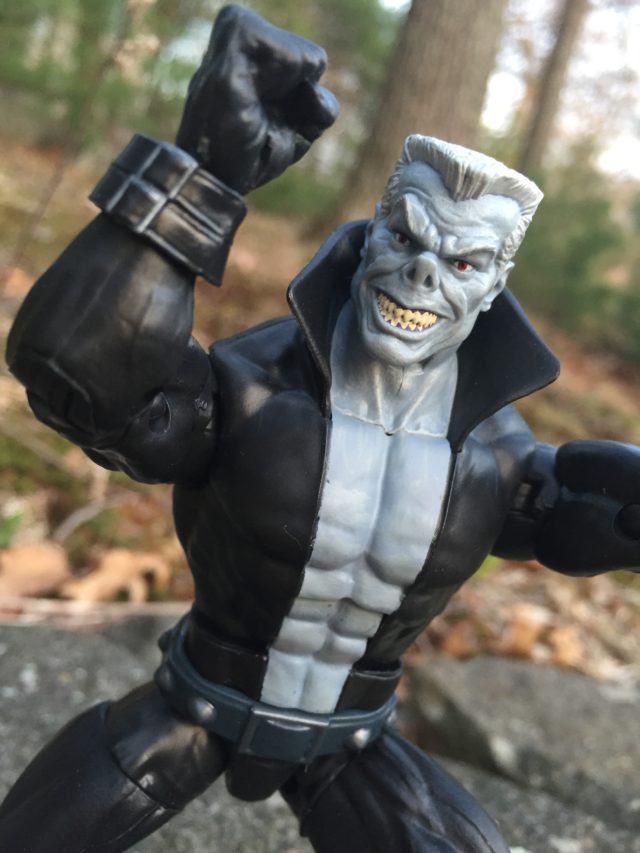 I've already seen some folks complaining about Hasbro using the lazy tactic of "just painting on Tombstone's shirt". I don't really understand that gripe , though, because, well… the shirt isn't just painted on.  There's a clear sculpted "lip" on the edges of the shirt–and the raised collar necessitated a new mold anyway. Hasbro absolutely did "right" with Tombstone's torso mold.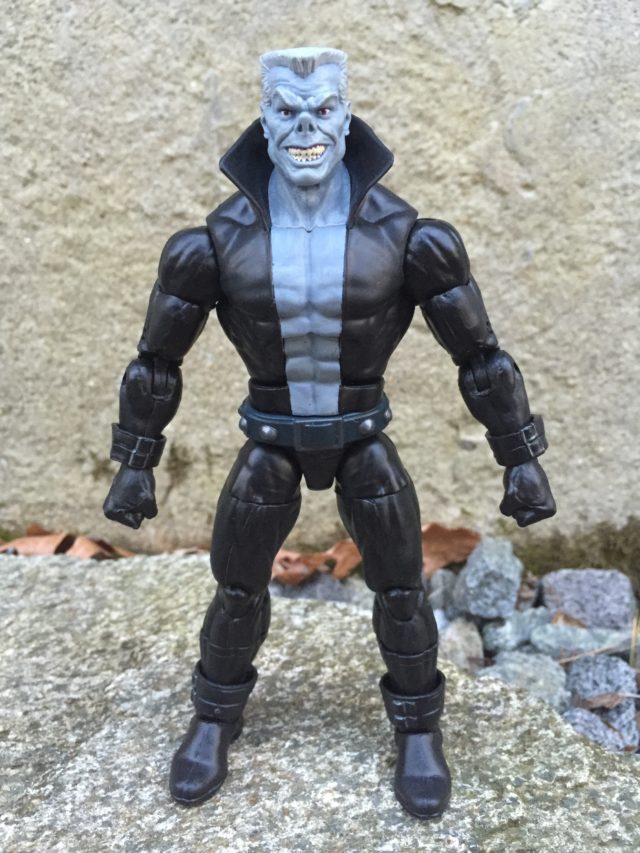 The exposed chest costume on Tombstone is really unique visually, and makes the figure "pop" more on the shelf than it would if he was just wearing his well-known black shirt.
The Tombstone Marvel Legends figure also has a thick belt with painted studs and belt buckle around his waist (which seems to be permanently attached, thankfully), and four add-on bands with painted buckles on his wrists and ankles. All of these accessories add a lot of visual appeal to the figure and break up the monotone look wonderfully.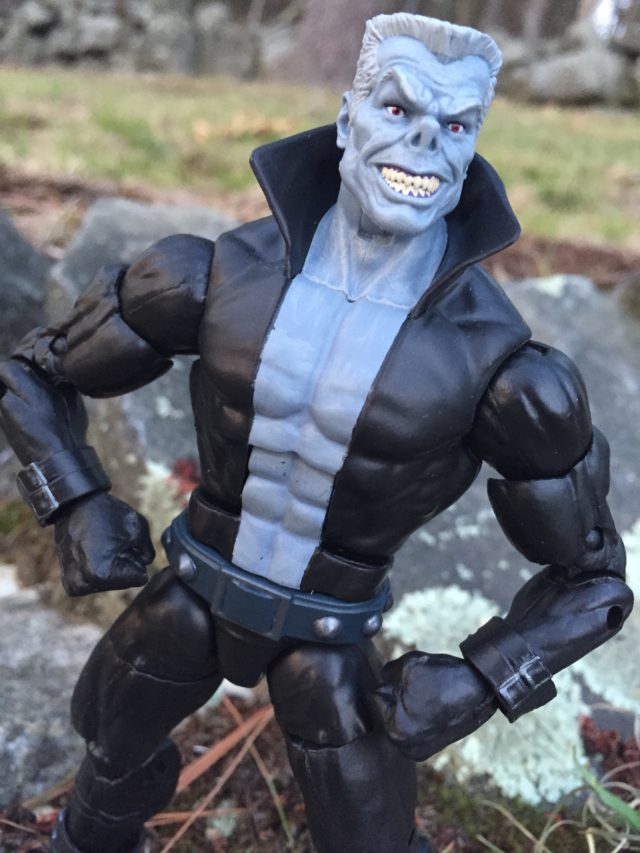 As you'd expect, the ML Tombstone head is a 100% new sculpt, and it looks tremendous. From Tombstone's sharpened teeth to his prominent eyebrow and pink eyes, Hasbro really nailed the likeness here. The cocky, open-mouthed expression has way more personality than we typically get in a head sculpt. Love it.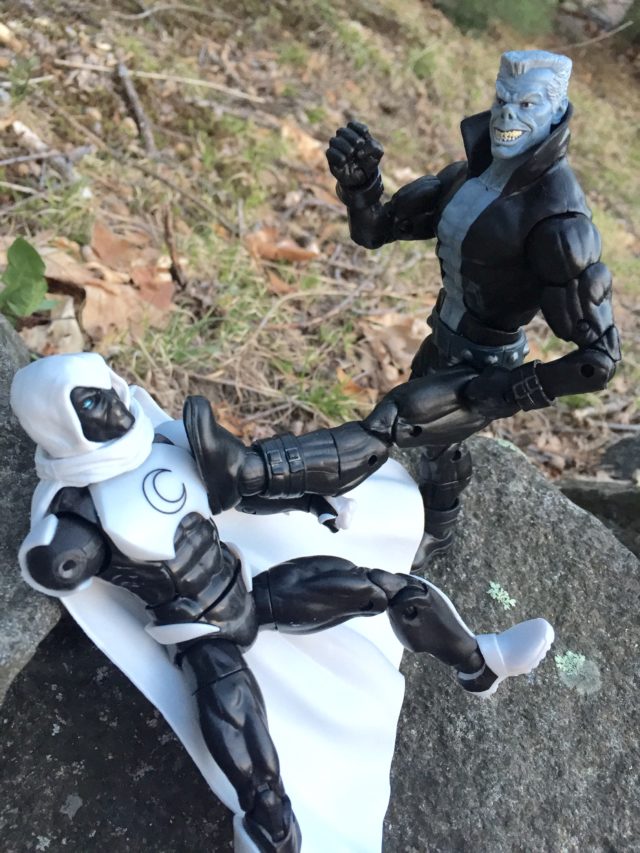 Articulation-wise, it's "the usual" level of super-articulation: ball-hinge head/shoulders/wrists; swivel biceps/thighs/boots/waist; ab crunch; double-hinged knees and elbows; ball hips and hinged ankles with rockers. If anything is holding back this figure's posing potential, it's not the articulation, that's for sure.
The Wrong:
This is a better Hasbro Tombstone action figure than I ever thought I'd see in my lifetime, but he's not quite perfect. Let's look at the figure's cons…
First off, while I love the Tombstone head sculpt for what it is, it definitely doesn't have the enraged, vicious edge to it that Lonnie Lincoln has when he's in a brutal, fighting mood. Seeing as how Marvel Legends Tombstone gets zero accessories other than a small Vulture Build-A-Figure piece, I don't think an alternate, angry head would have been unwarranted here.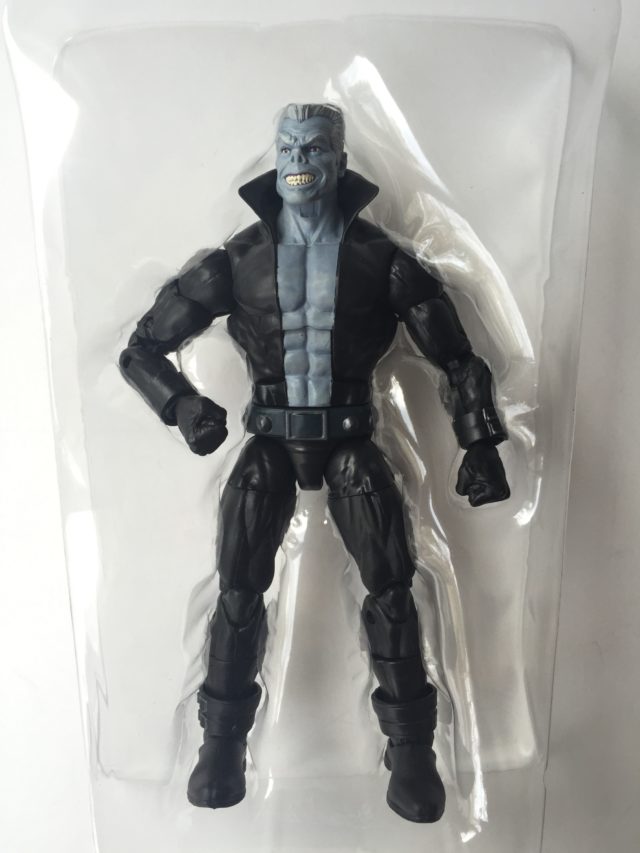 And speaking of alternate parts: yes, Tombstone primarily attacks by punching things, so if he was only going to get two hands, they should be (and are) fists. That said, the lack of any kind of grasping or neutral hands at all to choke or throw heroes around with really limits his posing potential.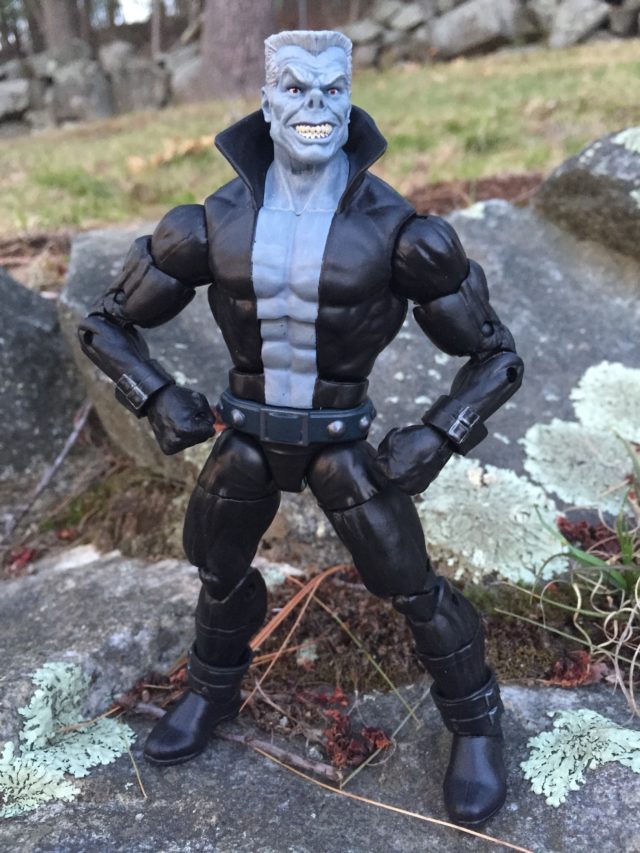 The bands on Tombstone's wrists and ankles look fantastic, but are a bit more loose and wobbly than I prefer. It's not an impediment like the Cyclops figure I reviewed in the winter, but it is noticeable (especially to my OCD sense).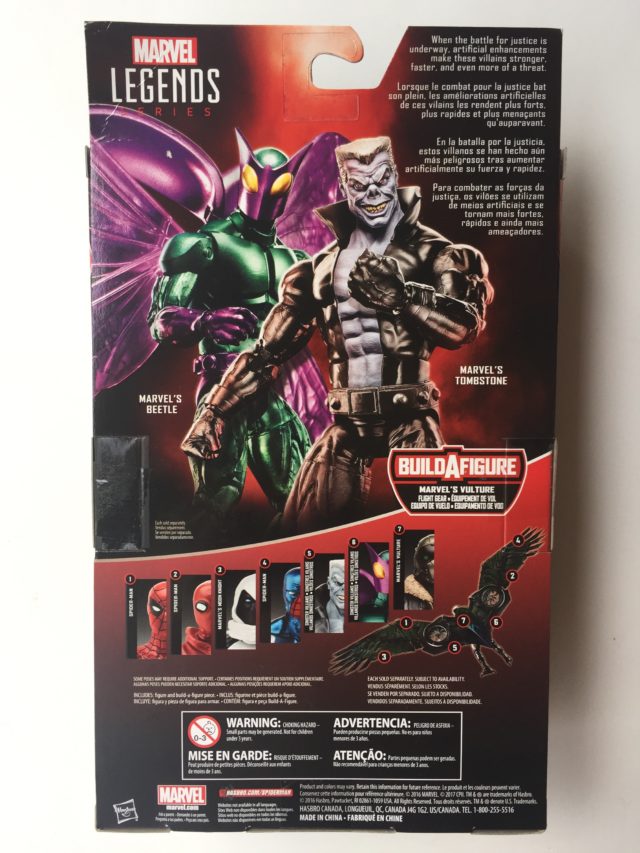 Finally, the black plastic used for the joints–especially the biceps peg–feels really cheap and rubbery, and I am pretty worried about the joint breaking (especially after my new Marvel Legends Moon Knight's arm fell off the first time I gently turned the bicep).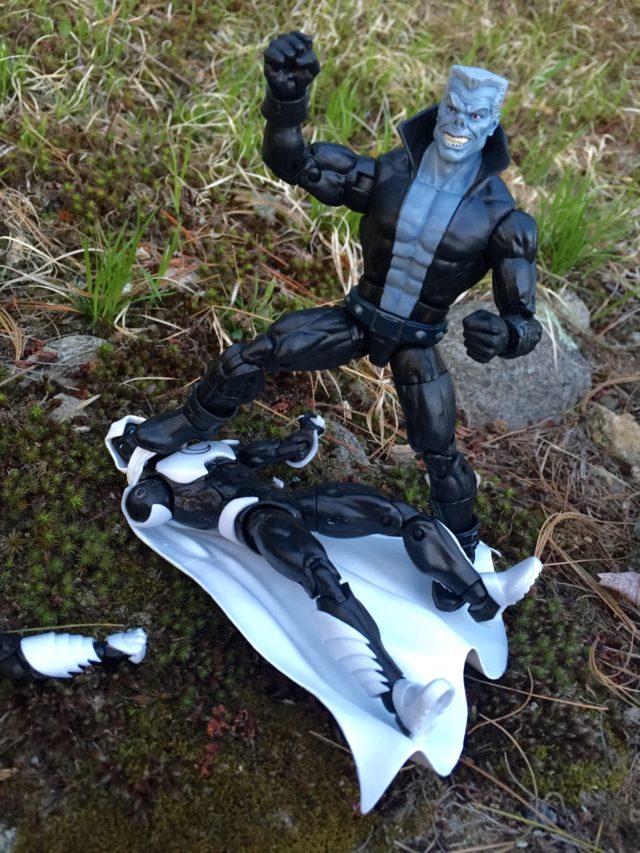 Overall: Marvel Legends Tombstone is a very good figure that falls short of being excellent simply because of the absence of anything extra to put him over the top. The grinning head sculpt is a huge winner, but a more intimidating alternate head would have made sense for more serious displays. The fists were essential inclusions, but Tombstone can't grasp or throw anyone around with them. The bands on his wrists and feet look superb, but flop around loosely. Overall, the Tombstone Marvel Legends figure is a good figure that doesn't quite reach the heights of being a great figure.
GRADE: B