It's not precisely the armor that everyone was clamoring for from Iron Man 3, but in a surprise move, Hot Toys has announced that the first of the Iron Man 3 Hot Toys Movie Masterpiece Series armors will be shipping out later in 2013! No, it's not the Iron Patriot or even the Mark 42. Going up for order very soon, it's the limited Summer 2013 Exclusive Hot Toys Iron Man Midas Mark 21 figure!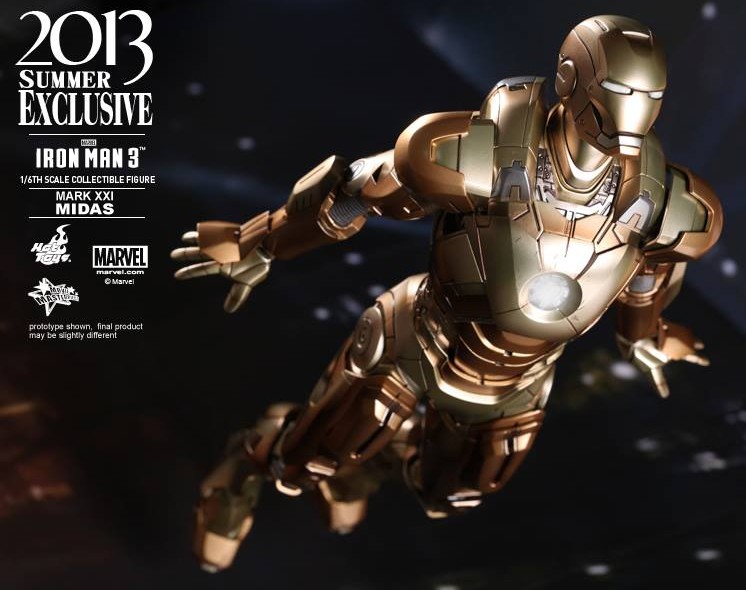 As soon as I woke up and saw that Hot Toys had posted the glamor shots of this figure, I knew Hot Toys fans were gonna flip.
When Hot Toys put their Iron Man 3 Tony Stark the Mechanic figure up for order last week, I (foolishly) thought that a second Tony Stark Hot Toys figure from the movie would be the most controversial choice of the year that Hot Toys made. Turns out I was wrong, as fans annoyed with the mass of Hot Toys Iron Man 3 merch have pretty much immediately turned on Hot Toys for their latest choice of Iron Man 3 Movie Masterpiece Series figure: the Hot Toys Iron Man Mark 21 Midas Armor.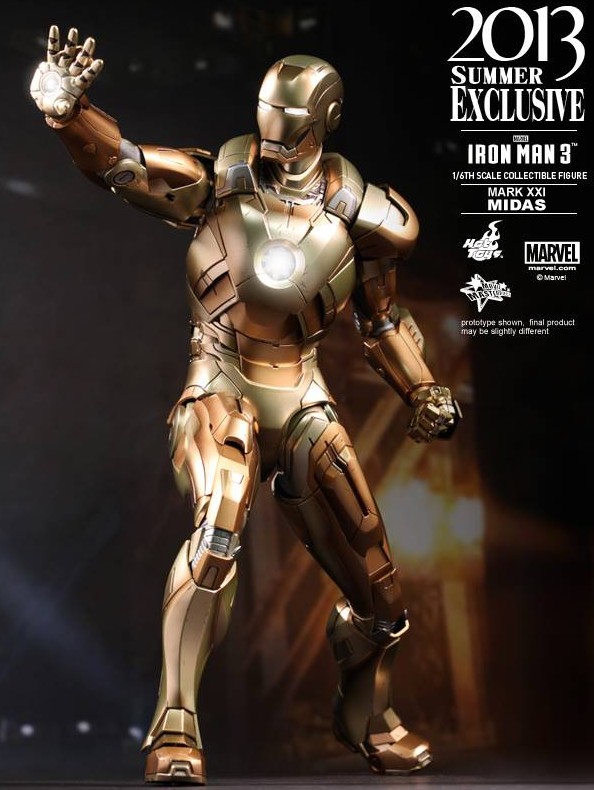 For those with sharp eyes (or those who own the Iron Man 3 art book), the Midas Iron Man armor is virtually identical to the Iron Man Mark VII armor–except, of course, that it's all gold (hence the name 'Midas'). Basically, this Midas Hot Toys Iron Man Mark XXI figure is a good old-fashioned repaint. A $250-$300 repaint. And in a year where the majority of the Marvel Hot Toys figures announced are various Iron Man armors from Iron Man 3, fans hated the Midas armor on sight. Me? I love it.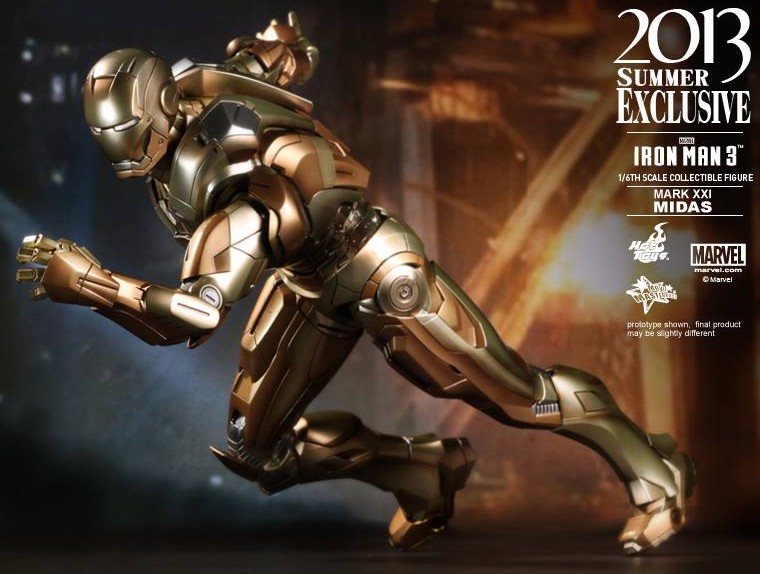 I don't keep it a dark secret that "Iron Man 3" is among my favorite movies ever, and as such, I still have (crazy) aspirations of completing the House Party Protocol in Hot Toys Iron Man 3 Movie Masterpiece Series form. Would I prefer Hot Toys create the Bones or Shotgun armors first? Yeah–but they weren't quick-to-produce repaints and weren't going to happen in 2013. So the chance to own one the first of the 35 new Iron Man 3 armors before 2013 ends? Sign me up!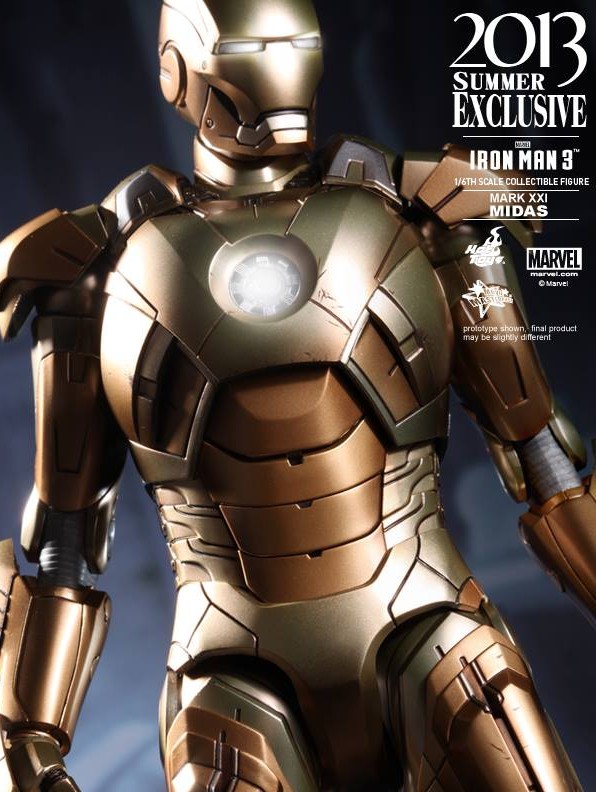 Recognizing that not everyone is going to want a gold repaint of an Iron Man armor that only appears on-screen for split-seconds in the Iron Man 3 movie, Hot Toys has brilliantly made this Iron Man 3 Midas Hot Toys Iron Man a 2013 Summer Exclusive available at various conventions and Toy Fairs in Asia. As a super limited exclusive, there's not a speck of doubt that this figure will be a fast sell-out (although its future secondary market value is a bit questionable).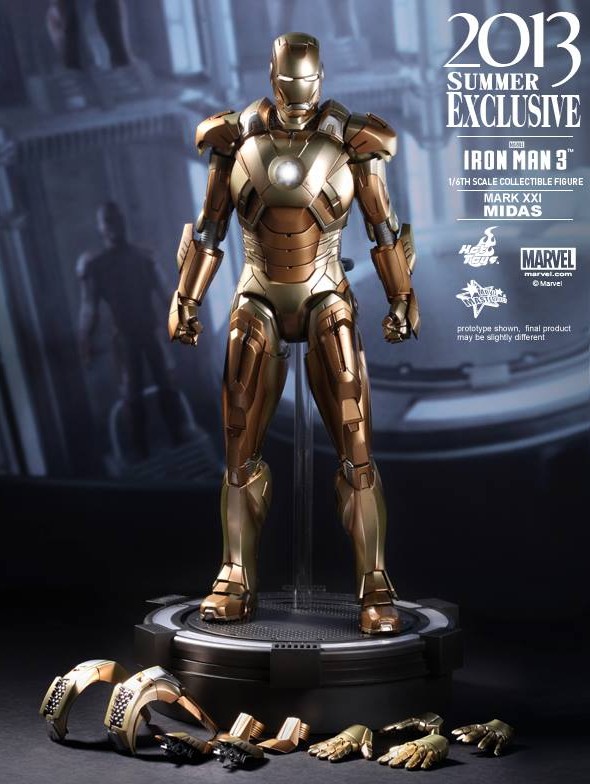 The Hot Toys Iron Man 3 Midas Mark XXI Movie Masterpiece Series figure will be released first in Asia at various events starting the second week of August. In the United States, keep checking the Sideshow Collectibles website, where the Midas Iron Man figure will be exclusively available at an unannounced time.
You can also 'Like' Marvel Toy News on Facebook, as I'll be posting pre-order links both here and on the Marvel Toys News Facebook page as soon as the 2013 Exclusive Hot Toys Iron Man Mar 31 Midas MMS figure goes up for order.