Yesterday I kicked off my Marvel Legends 2016 reviews with the Living Vampire, Morbius. But while Morbius is the oldest Spider-Man villain on that list, he's not the oldest villain overall. There's another character who's older and far more famous–and he just so happens to be the first Build-A-Figure of the year! Morbius earned high marks in his review–can the Spider-Man Marvel Legends Absorbing Man Build-A-Figure do the same?
The Right:
Hasbro set the Build-A-Figure bar super-high last year with outstanding releases such as the Marvel Legends Hulkbuster Iron Man and Rhino figures, so Crusher Creel was going to have to climb a steep hill to match the overall quality of those characters.
I don't think that this Absorbing Man BAF quite gets to those heights, but he definitely has some very positive qualities.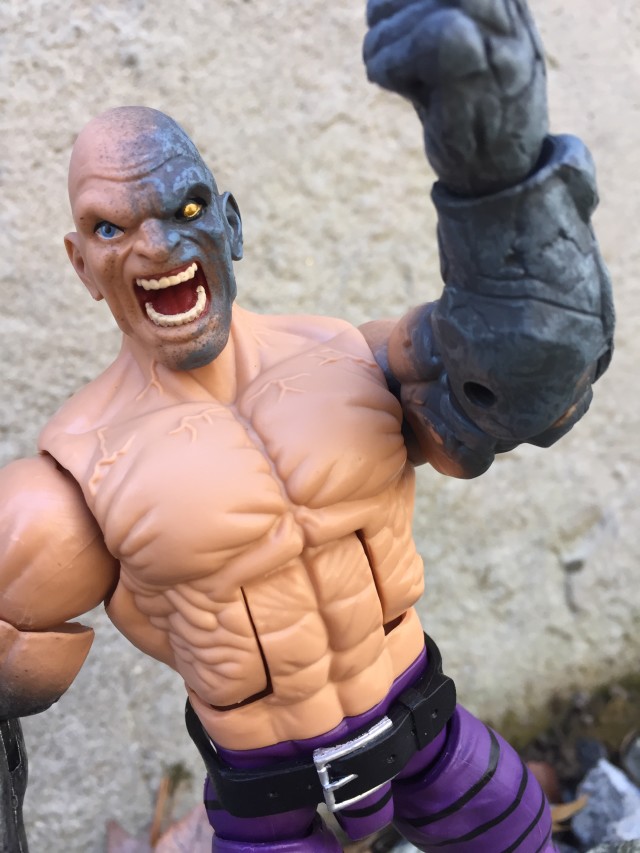 First off, how cool does the transformed Absorbing Man head look?! I love the bilaterally-cut head with rocky left side and glowing eye. It looks absolutely terrifying, and is easily one of my favorite heads we've seen on a Build-A-Figure.
Just as cool as the morphed head are the transformed arms that Crusher comes with. This figure has a total of four interchangeable arms: normal and steel right arms, and wooden or stone left arms.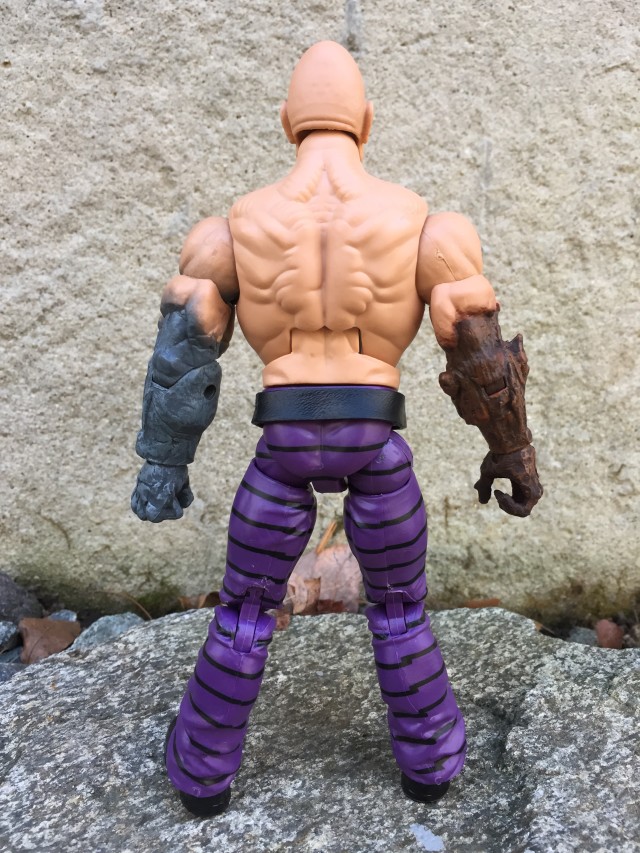 The sculpting detail on the transformed arms is outstanding, and I honestly can't imagine ever bothering to display the rather plain non-transformed arm when the other choices look so much more excellent and exciting.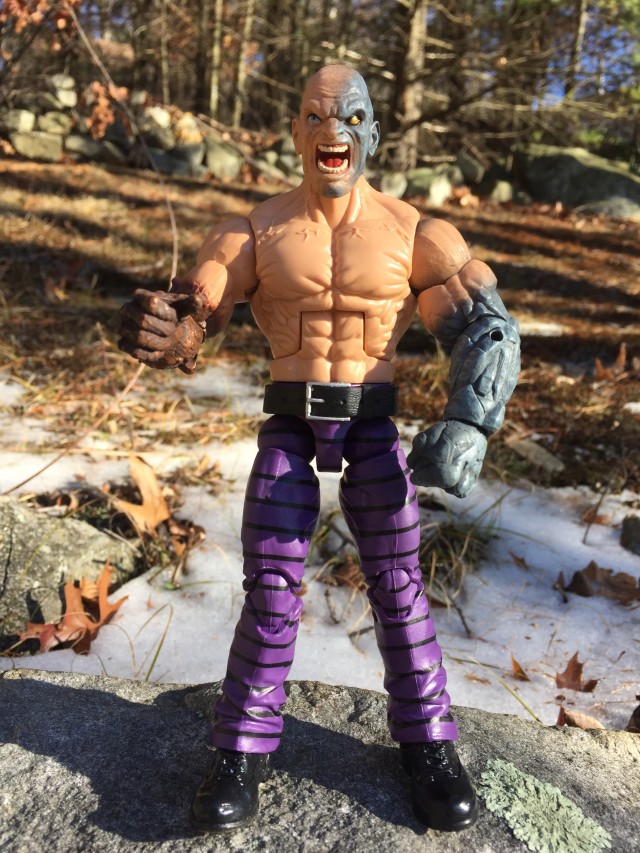 I'm also very pleased with the paintwork on this Build-A-Figure (with one major exception I'll come to later on). All of the transformed parts have a nice wash on them that brings out the details, and I was surprised how clean the paint applications were on the black stripes of Absorbing Man's purple pants.
The Wrong:
Scale obviously missed the mark sometimes in the Hasbro Marvel Legends 6″ figures series due to the necessity of shared tooling, but sometimes a figure's scale looks really, really off. Such is the case with the Absorbing Man Marvel Legends BAF.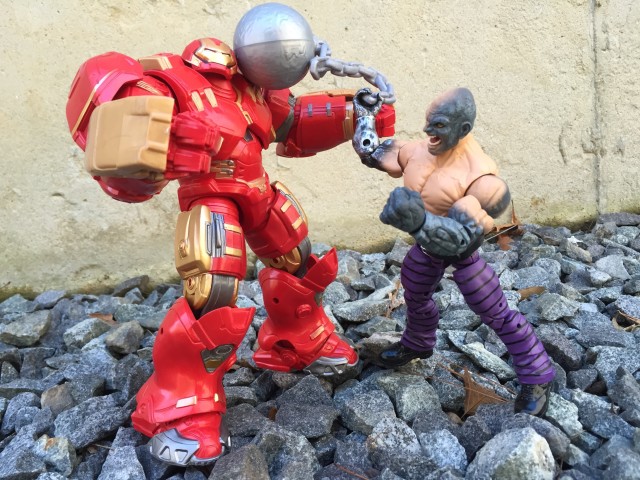 Carl Creel's official height in the Marvel Universe is listed as 6'4″, but this figure looks like he's easily eight feet–or maybe even nine feet tall! He absolutely towers over 6″ Legends figures to the extent where it looks a bit silly.
In addition, I was disappointed to see that the Absorbing Man's wrecking ball–his signature weapon–came in a light grey plastic this time that doesn't look like metal or match his steel arm at all.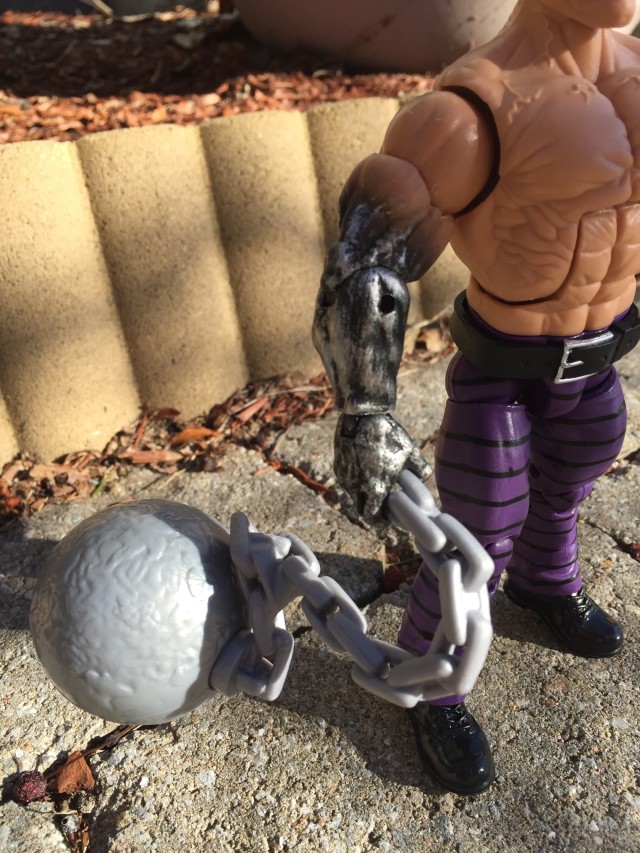 If you have the wrecking ball from the various Wrecking Crew figures you can swap it in and have the weapon look much better, but as that version of the wrecking ball isn't included in this wave, I won't confuse readers by including it in any of these review photos. It's definitely disappointing to see how poor the wrecking ball looks this time out, though, as the previous releases of it had all looked fantastic and this iteration looks really plastic-y.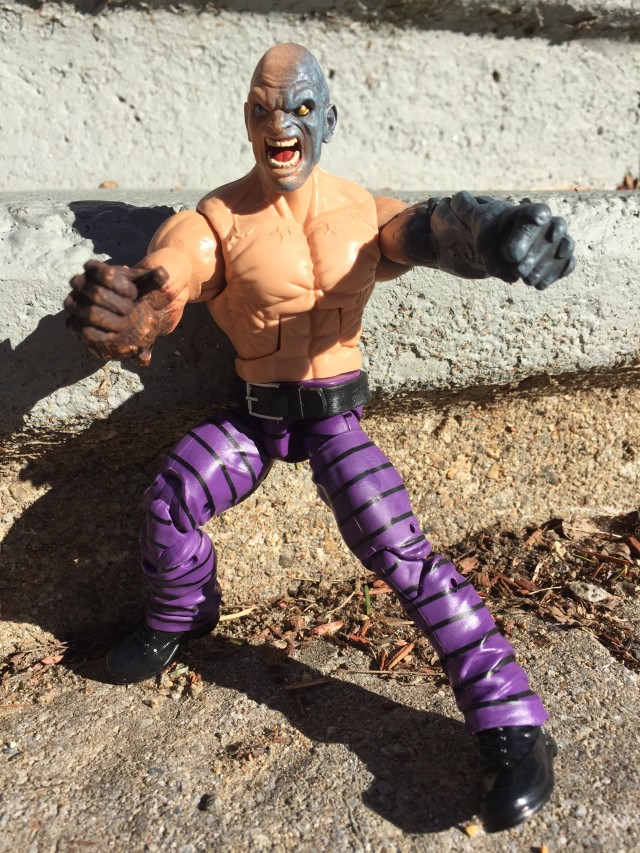 Finally, I'm a tad disappointed in the articulation on this figure. I can deal with the lack of double-jointed elbows, but the ankle articulation is so badly restricted that it can be tough to get this guy into a cool pose. Ankle rockers are present, but his articulation is hindered by his sculpt and prevents them from working properly.
In addition, Absorbing Man can only look forward, sideways and down–his head has no upwards range of motion at all.
But wait, there's one more thing…
The Ridiculous:
I gave the partially-transformed Absorbing Man head piece a heap of praise, but the non-transformed Absorbing Man head is an absolute car wreck–by which, I mean it looks like Crusher Creel's head has been in some sort of car wreck.
For whatever reason, the regular Absorbing Man BAF head has a totally different (and more Conehead-like) shape than the morphed head, and the awful paintwork on the eyes makes him look for like Sloth from "The Goonies" than the Absorbing Man.
I'm glad that this Build-A-Figure came with two heads, because after this review I'll never be dissolving him with this normal head.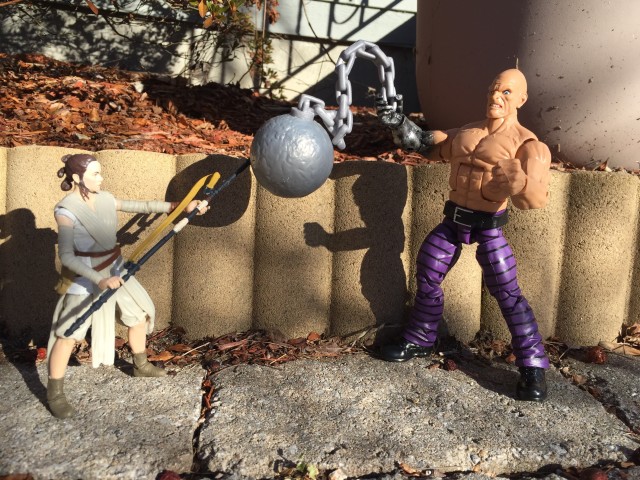 Overall: An odd choice as a Spider-Man Legends Build-A-Figure to begin with, the Absorbing Man BAF turns out to be a merely average figure. I think that the transmorphed arms and head on this figure look super-cool when attached, but I'm disappointed in the scale, wrecking ball, posing potential and ludicrous non-transformed head.
I wanted every figure in this wave regardless of the BAF pieces packed in, so I don't mind having the Absorbing Man as a freebie, but overall he fails to impress me beyond being an average release.
GRADE: C