Although we're now less than halfway through the first month of the year, Sideshow Collectibles is already mercilessly seeking out their chunk of collectors' 2016 dollars. After putting over $1,200 in new Marvel statues up for order last week, they're already at it again with another quarter-scale piece of one of Marvel's hottest up-and-coming characters (who happens to be starring in her own movie in just two years): the Sideshow Captain Marvel Premium Format Figure is now up for order!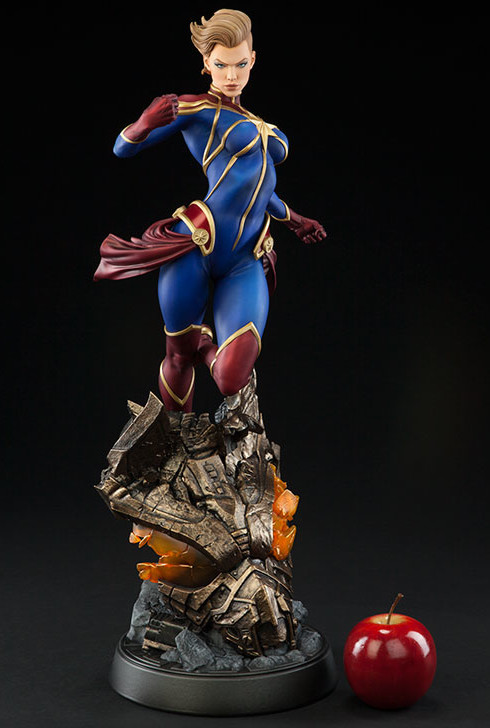 With Captain Marvel set to be featured in the first-ever Marvel movie starring a female character in 2018, Carol Danvers is poised to become the most recognizable woman in the entire Marvel Universe.
As such, there was really no way that Sideshow Collectibles could miss the opportunity to capitalize on Carol's future prosperity by releasing a new Premium Format Figure of her in her most famous identity.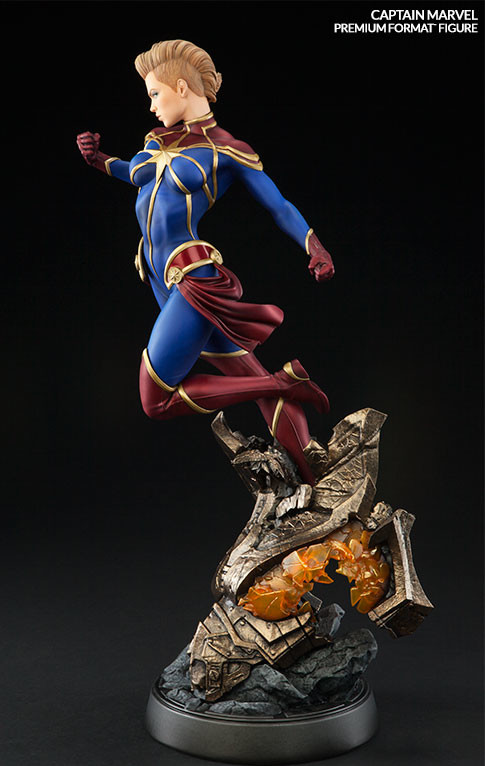 First, the elephant in the room: like Dark Phoenix last week, both versions of this statue are going to retail for $499.99. Ouch. The base for this statue is elaborate and the figure itself is beautiful once again, but these $500 price-tags are going to take a lot of getting used to.
Collectors are certainly willing to pay the big bucks for XM Studios statues–but will they pay nearly as high of prices for Sideshow's work? I guess we'll see…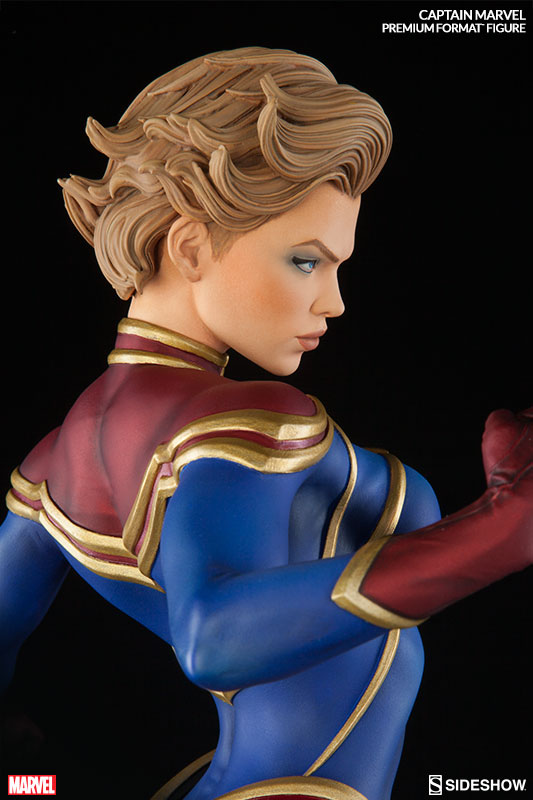 On the bright side, that hefty price-point yields a magnificent, dynamic statue of the soon-to-be most famous Marvel superheroine. The head and face for this Carol Danvers Premium Format Figure are gorgeous, and Sideshow has totally nailed Carol's short-haired look.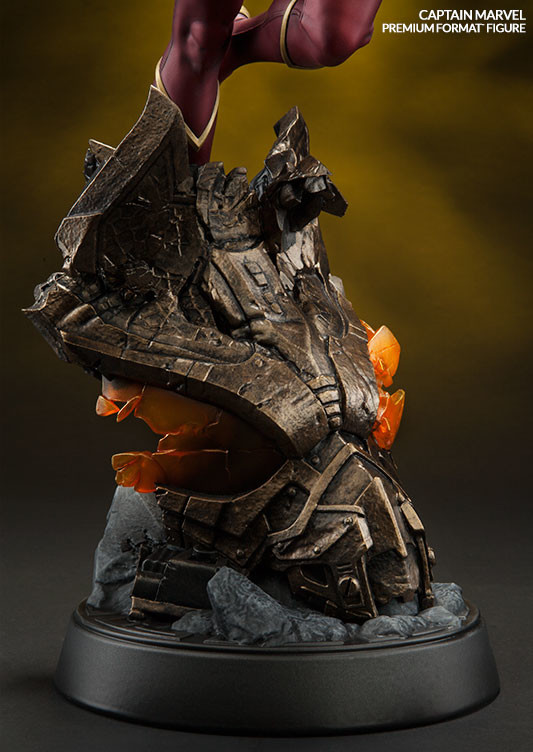 The base for this 1/4 Premium Format statue is another superb one: a super-detailed damaged Brood warship. This is almost without question the closest Sideshow will ever come to releasing a Brood statue, and it really does look sharp and sufficiently alien.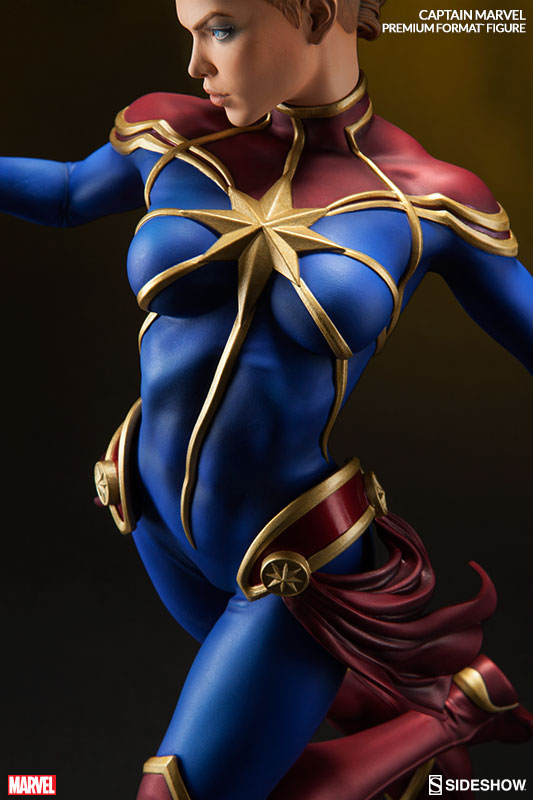 Oddly enough, the folks who I reckon will have the biggest issue with this Carol Danvers Captain Marvel PF statue's look are those who are diehard fans of her comic book appearance. While Sideshow Collectibles' interpretation is clearly inspired by the comics, they've made some changes to her iconic costume design.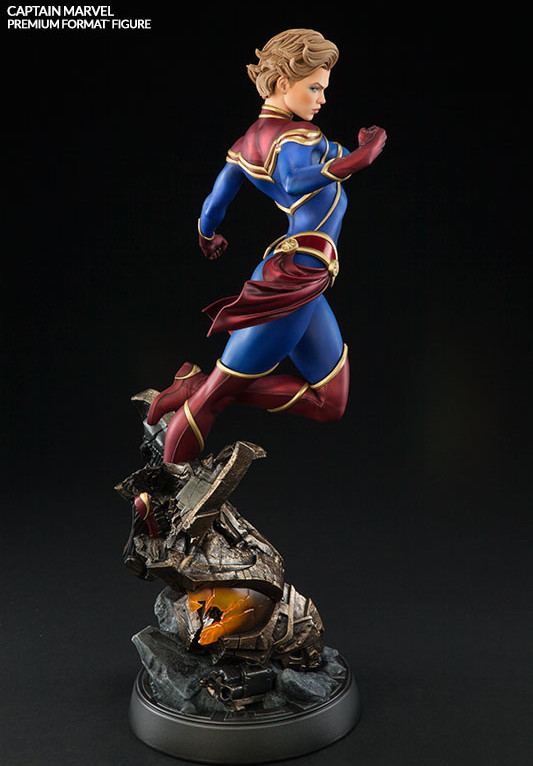 Of the differences between the comic and statue designs for the modern Captain Marvel, the dual sashes on Carol's hips are probably the most jarring. She's only ever had  one sash on her costume in the comics, and it looked quite a bit different from these. The lining on the costume had also been modified, although I think I may prefer Sideshow's take, honestly.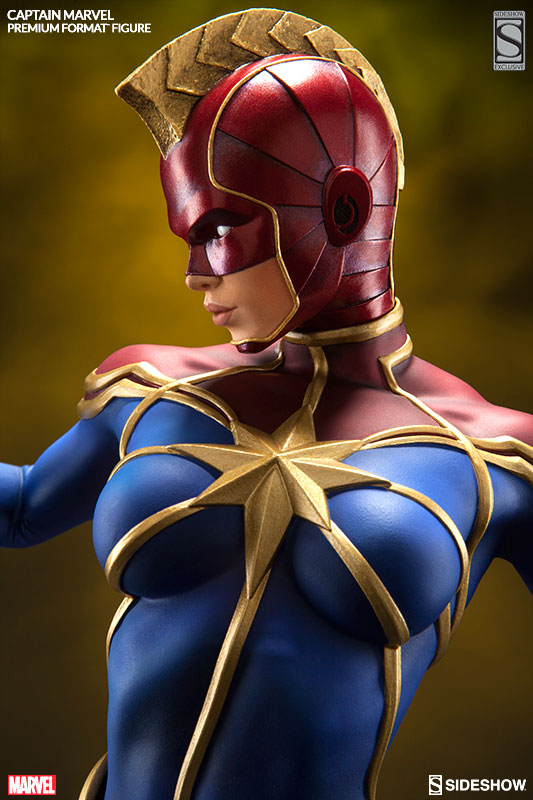 The other part of the costume that  deviates a bit from the source material is the Sideshow Exclusive Captain Marvel accessory: an alternate, masked head for Carol. Whereas in the comics Carol's blonde hair pokes out of the mask like a Mohawk, Sideshow's version has the top closed off like the classic (male) Captain Marvel's mask/helmet.
I actually thought that the redesigned mask for Captain Marvel looked pretty snazzy, but I've heard a lot of comic readers dislike it. I suspect we may be seeing his type of mask on the MCU Carol Danvers, though, so I think this exclusive may ultimately end up being highly in-demand a year from now.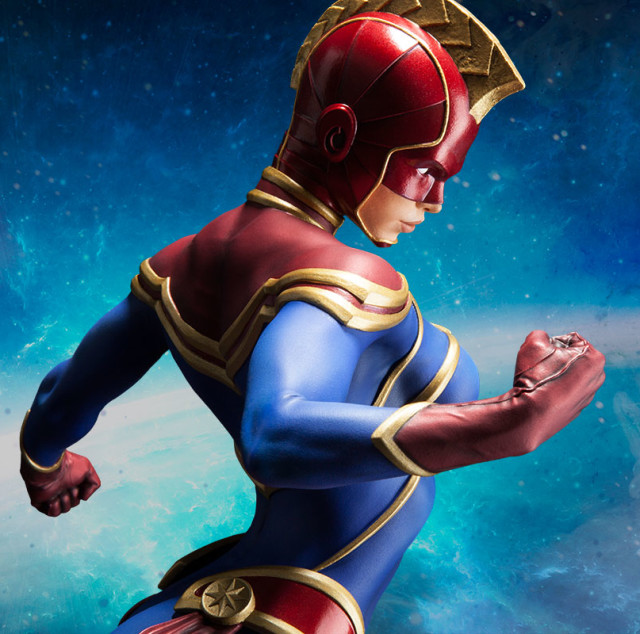 The Sideshow Premium Format Captain Marvel statue is now available for pre-order, and is scheduled to be released in late 2016. Like most Marvel PFs, I expect that the Exclusive version will sell out quickly, while the regular edition should be up for pre-order for the majority of 2016 (unless SS is planning to greatly decrease production quantities, which wouldn't be the worst thing in the world for collectibility).
With the official photos–and the official price-tag–now fully unveiled, how do you feel about the second 2016 Marvel Premium Format Figure? Is this Captain Marvel quarter-scale statue on your radar, or is there no chance you're going to drop half a grand on the MCU's future most prominent female?