I'm about as "all-in" as it gets when it comes to Guardians of the Galaxy toys and collectibles, so when an early shipment of the Toys R Us Exclusive Marvel Legends Groot Evolution figure set hit online last week, it was the very definition of "instant purchase". Three days later, the Guardians of the Galaxy Marvel Legends 2017 Groot Evolution Pack has arrived! And I am very, very pleased with the most Groot-iful figure set ever…
The Right:
When Groot was selected as the Build-A-Figure for the first-ever Marvel Legends Guardians of the Galaxy Series back in 2014, it was a genius move by Hasbro. No one was sure if audiences were going to take to Gamora or Drax, but Hasbro was reasonably (correctly) certain that collectors would want to build the first 6″ scale Groot figure ever.
The Groot Build-A-Figure was a hit–and the GOTG movie was the blockbuster I hoped it would be–but that left many collectors who couldn't find or afford the whole GOTG Marvel Legends series Groot-less.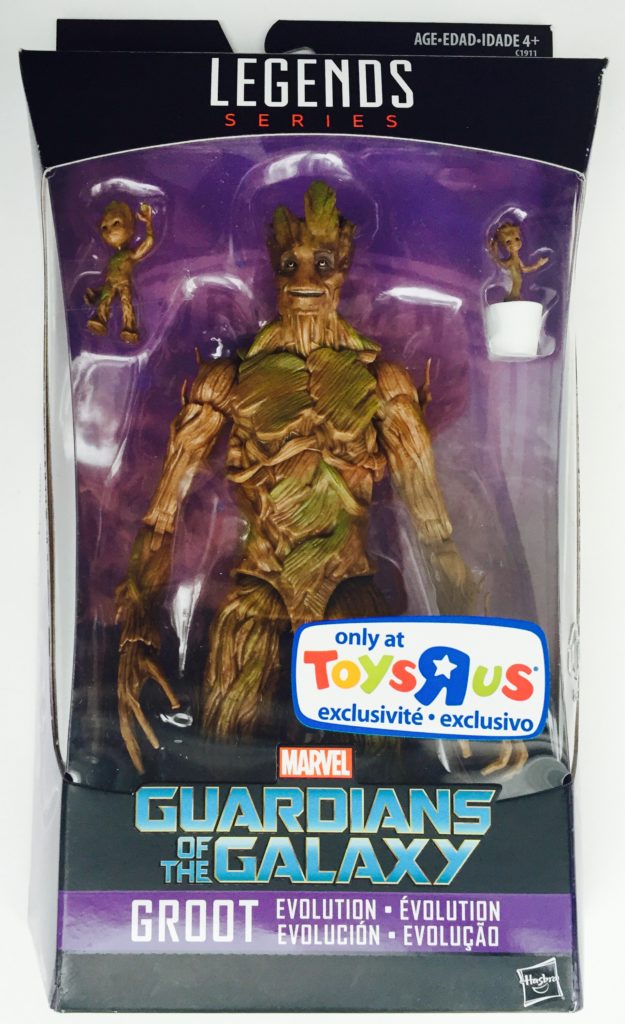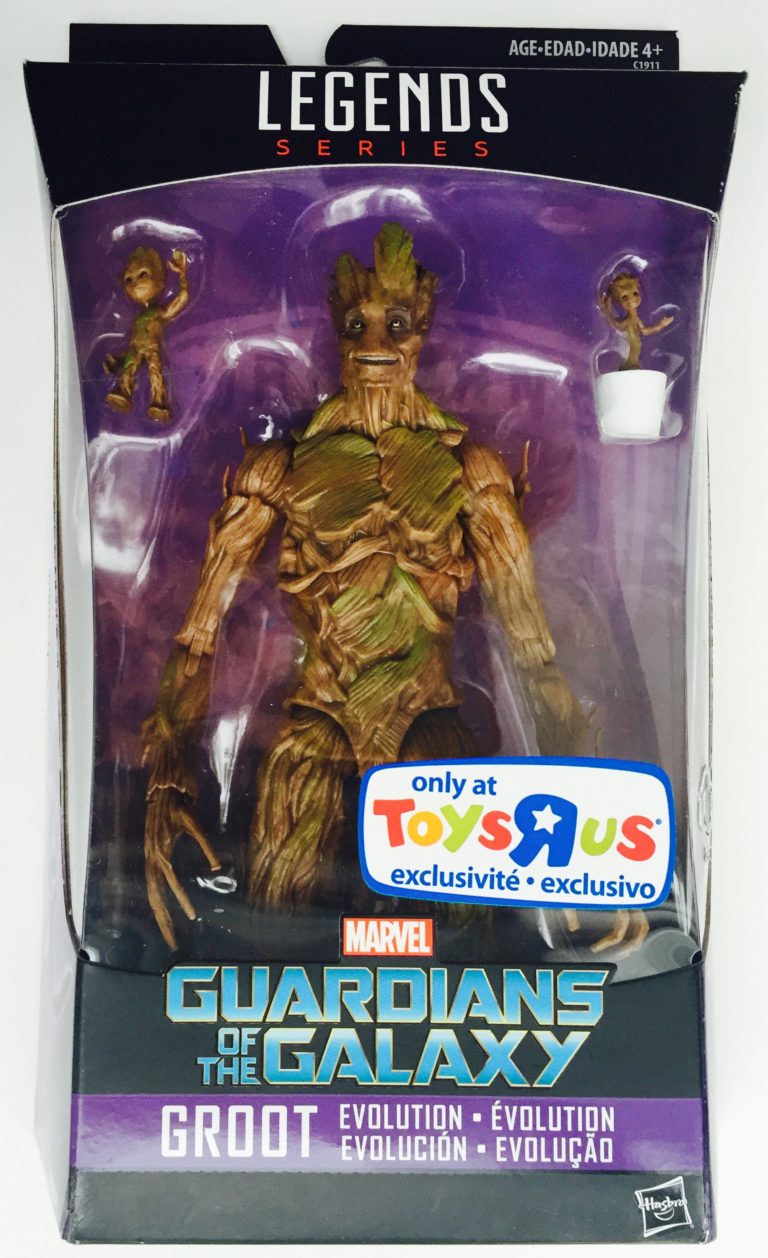 It's taken two and a half years, but finally a movie Groot Marvel Legends figure is available again for those who missed out. To me, more people getting to enjoy this wonderful figure is firmly in "The Right".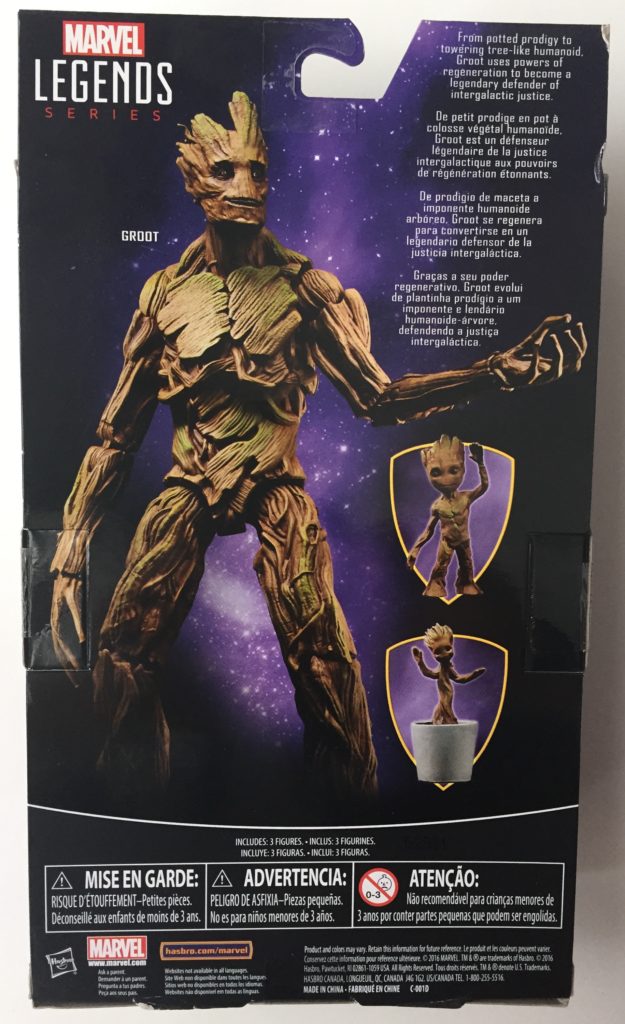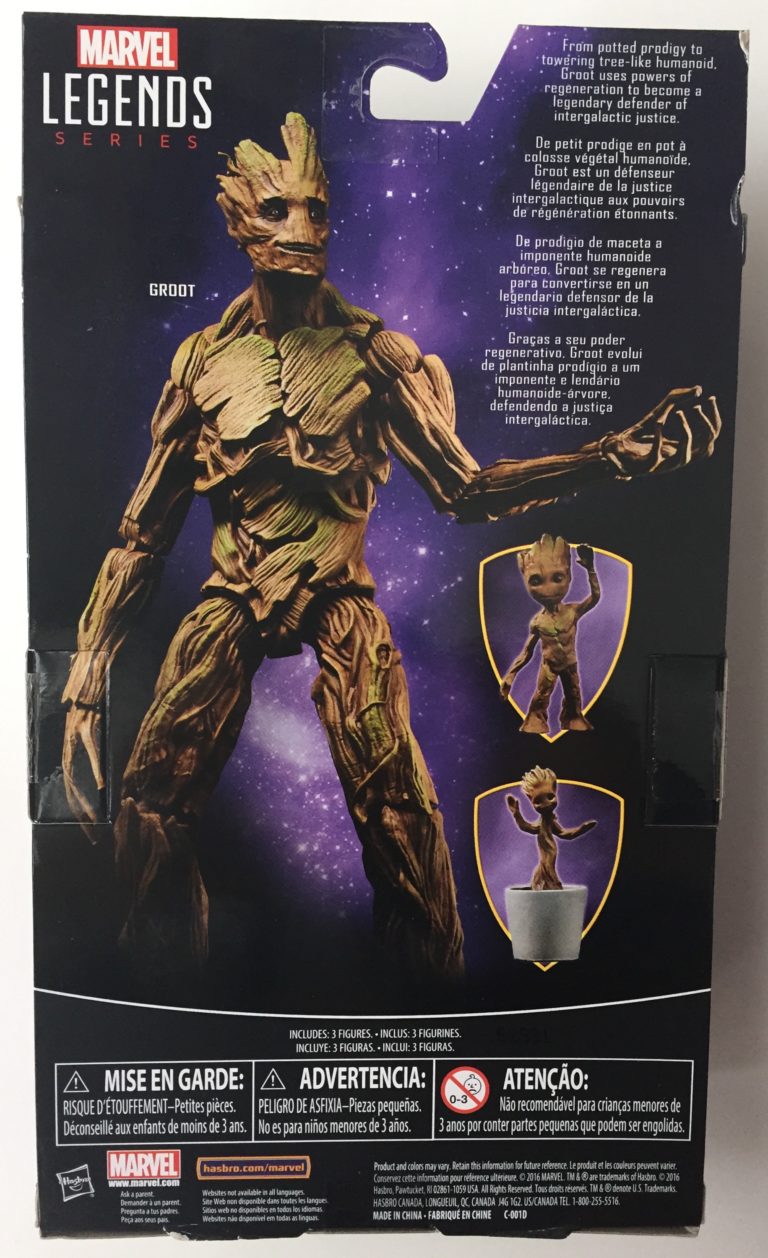 But so as not to totally step on the toes of those who had the original Groot BAF–and to help preserve its value–Hasbro has created a totally new head for this Toys R Us Exclusive Groot Build-A-Figure. That keeps the original version unique, gives hardcore collectors a choice to upgrade to a slightly new figure, and a Groot available for the masses. Good stuff all-around.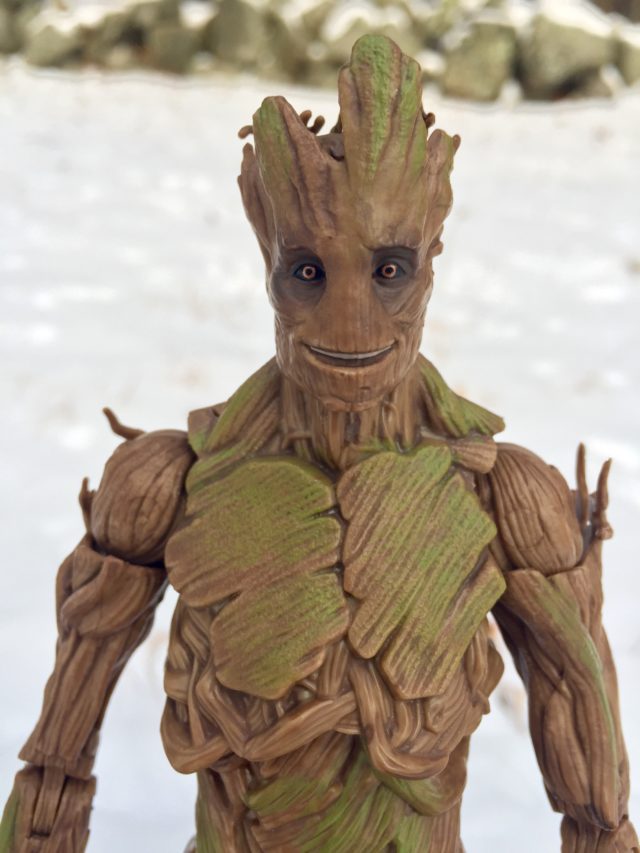 And about that new Groot head–it's awesome!! Whereas the original Groot Build-A-Figure head looked rather bored and lifeless, this new head has a perfect depiction of Groot's childlike smile on it. The eyes even have a spark of life twinkling in them! In short–I love it.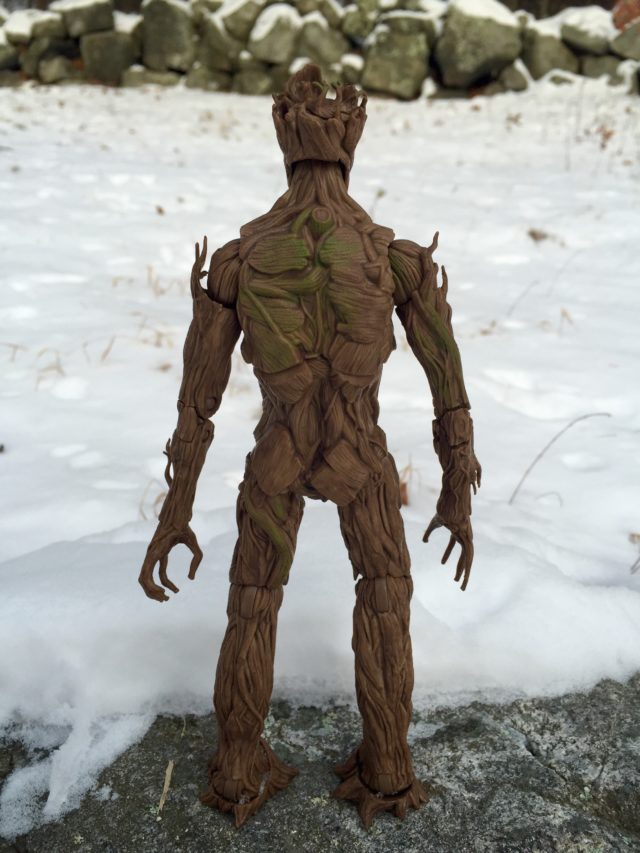 Those who have the movie figure from two years ago are familiar with the rest of the Groot Evolution Marvel Legends figure's body: it stands over 9″ tall, features a wonderfully intricate woodlike sculpt, and has more articulation than any anthropomorphic tree man probably needs.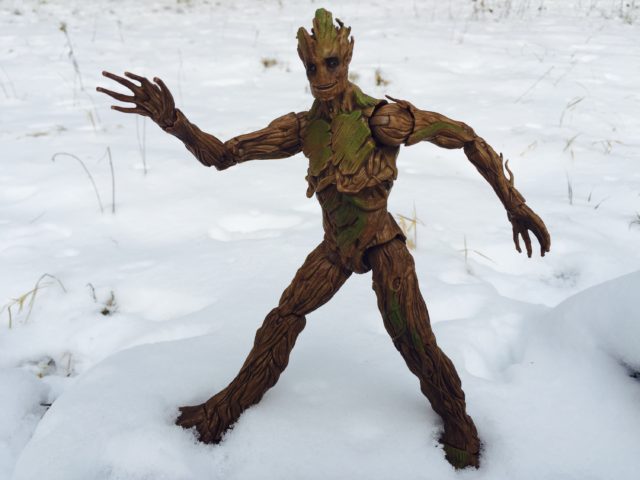 The Groot Evolution figure features a ball-jointed head/upper torso; ball-hinge shoulders/wrists/hips/knees; double-jointed elbows; swivel biceps and hinged feet with rockers. Seeing as how he's not exactly a ninja, I think this amount of super-articulation is more than enough (and doesn't really distract from the beautiful sculpt).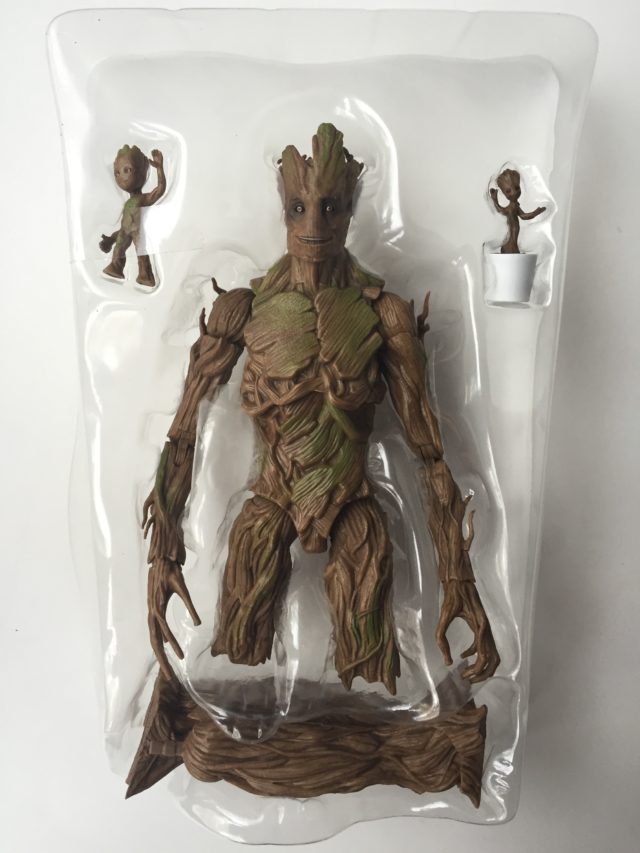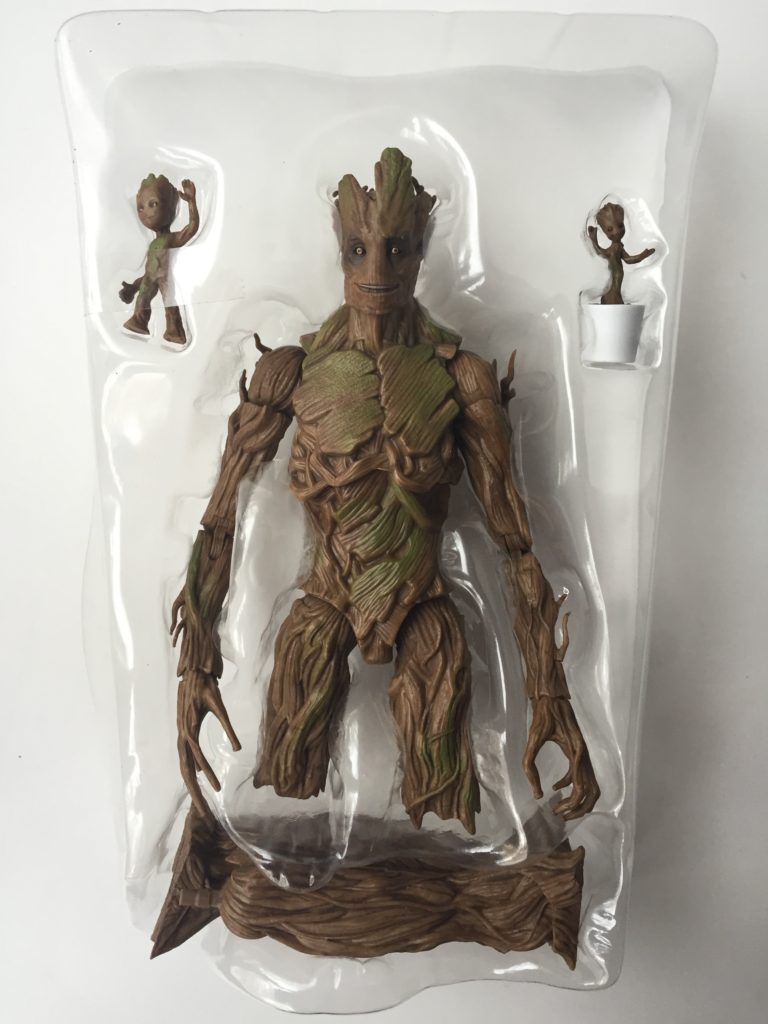 But while the rest of Groot's Build-A-Figure body is a reissue, that's not to say nothing else about this set is new–because there's actually two other all-new figures here: Young Groot and Dancing Baby Groot PVC figurines that are a little under 1.5″ each.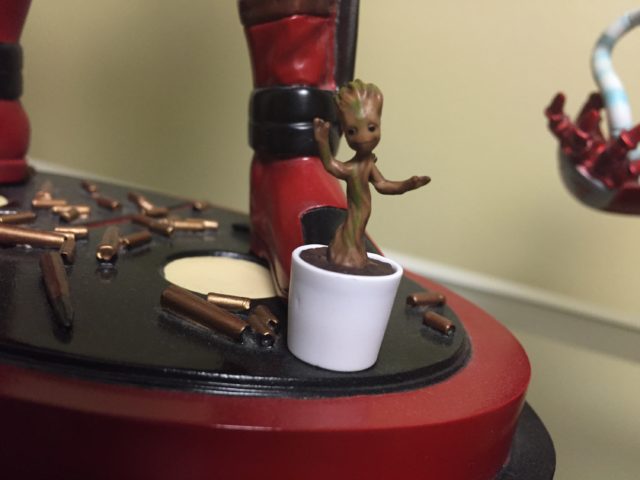 First up, it's the first-ever Potted Baby Groot Marvel Legends figure. We got drowned in so many Dancing Baby Groot toys in 2014-2015 that it almost totally slipped my mind that we never got this little gem.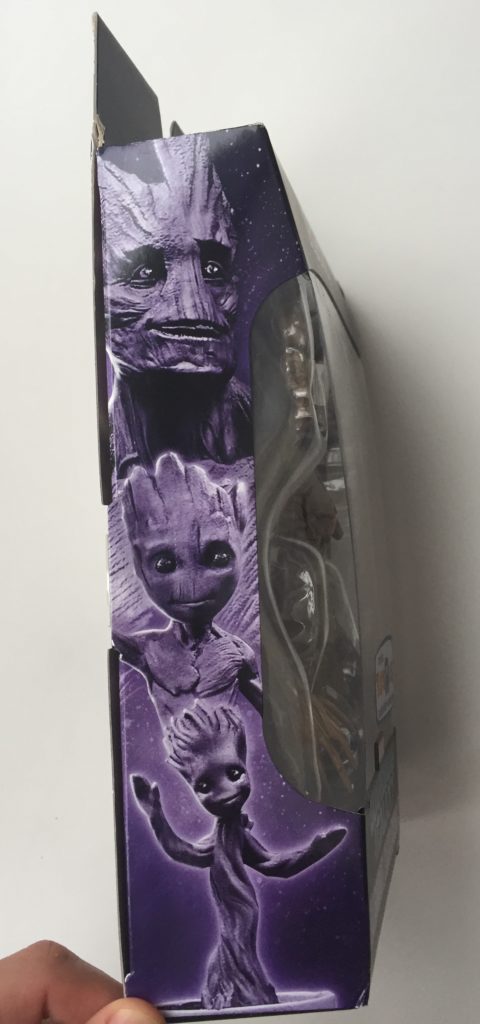 Potted Groot is molded in brown, with a white pot and black painted eyes and green highlights on his body. The sculpted texture of the soil is an unexpected highlight.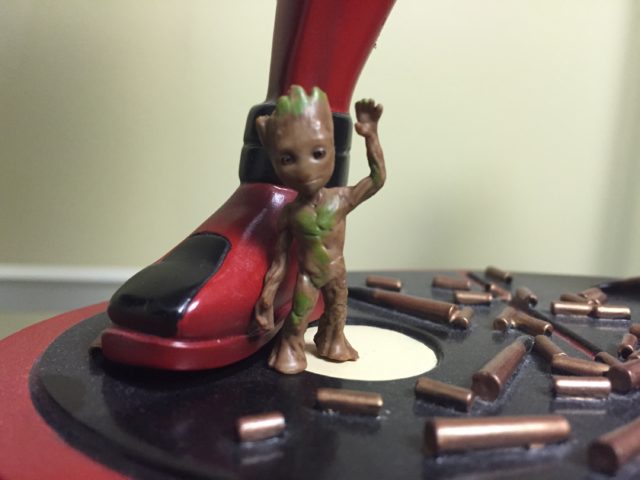 We also get the first Guardians of the Galaxy Vol. 2 Young Groot figure to be released by any company as part of this set! This figurine is exactly the same height as the full potted one, making for some nice symmetry on the shelf.
GOTG 2 Baby Groot has black eyes and green highlights as well, and is in a cute waving pose. He'll look really cute perched on top of the Rocket Raccoon someday, although for now he'll have to settle for hanging out with his older self.
The Wrong:
I could complain about the parts reuse here, I suppose–but you know that old saying, "if it ain't broke, don't fix it"? That's how I feel about the reused parts on this Toys R Us Exclusive Groot Evolution figure. Hasbro already made a near-perfect movie Groot action figure in 2014, and it would have made no sense to reinvent the wheel by changing anything but the head here.
I've heard some complaints from collectors about a previous Build-A-Figure coming back packaged by himself, but it's been years since he original was available and the head from that one is still unique. I've got no problems with this exclusive release using the old Build-A-Figure mold.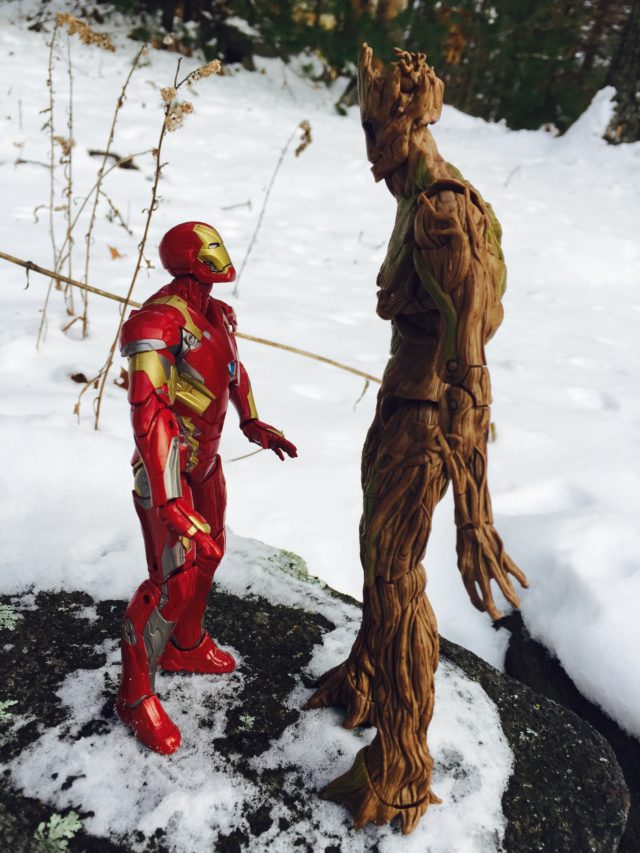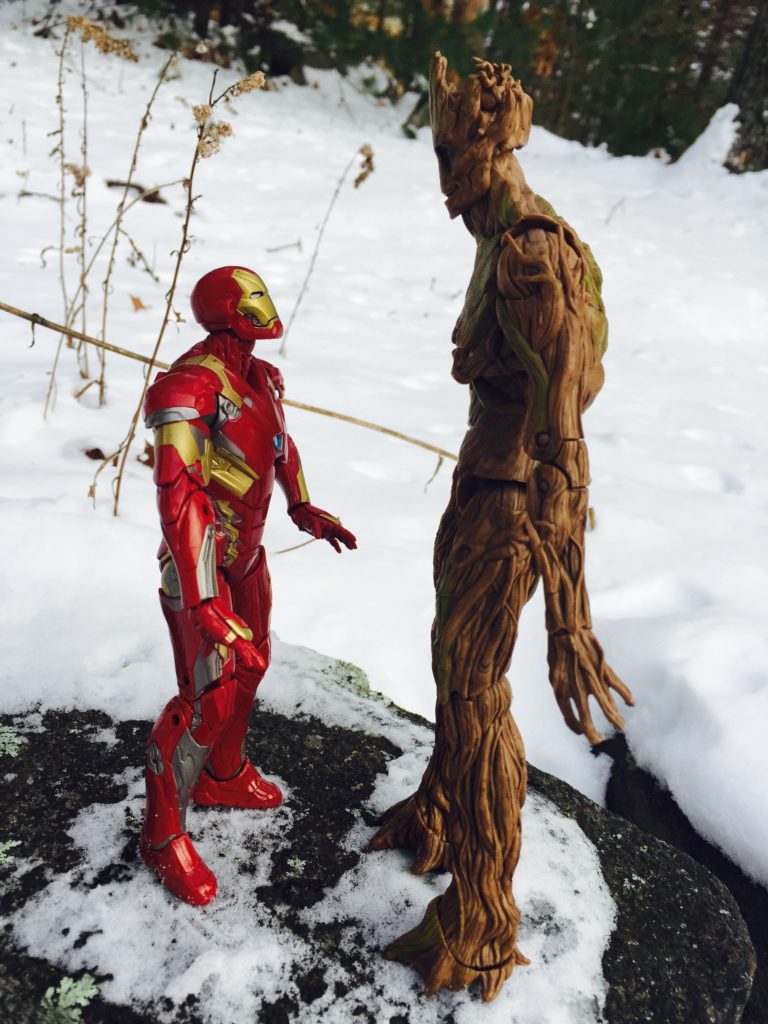 In fact, I've got no issues with this Groot Evolution exclusive pack at all. With the expected MSRP at Toys R Us being $19.99 for a 9″ figure with a new head and two new PVC figurines, this figure set is a steal.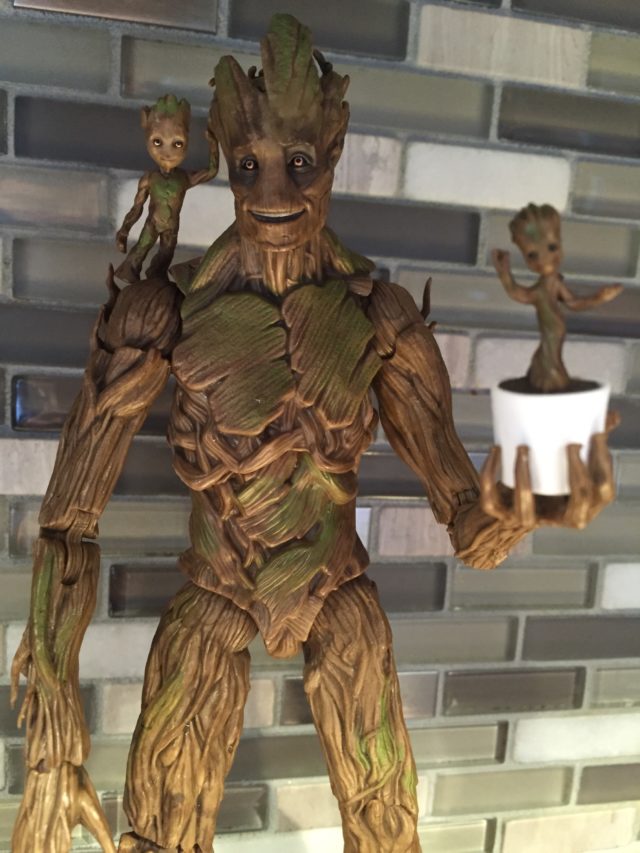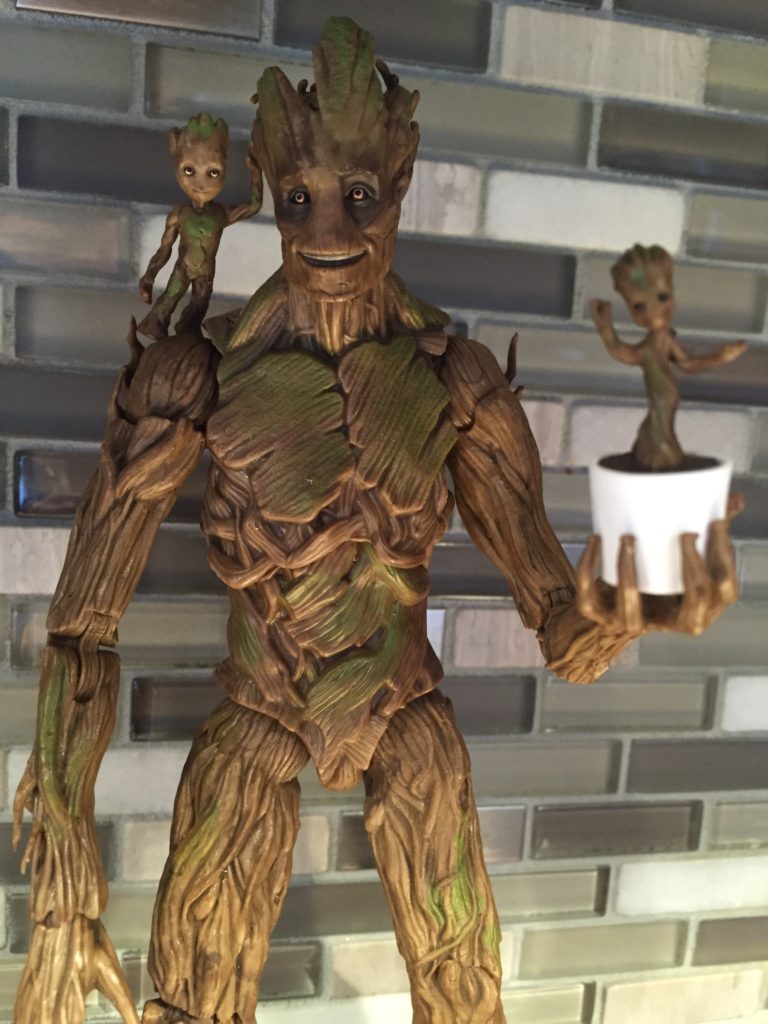 Overall: Toys R Us lucked out with their latest 6″ Marvel Legends exclusive figure set, because this Groot Evolution Marvel Legends set is aces from top to bottom. The only part of the original Groot BAF that failed to capture the character was the stern face sculpt, and Hasbro has remedied that here with one of their most expressive heads ever. Huge figure, great new head, low price, terrific sculpting/paint/articulation, and a pair of adorable new Young Groot figurines. This is just perfect. The bar is set for you, remaining 2017 Marvel Legends Guardians of the Galaxy figures.
GRADE: A+