Of all the characters in the first wave of Spider-Man Marvel Legends 2017 figures, none of them are getting anywhere near the amount of hype as the new inheritor of the name Ms. Marvel–Kamala Khan! The Pakistani-American superheroine has had plenty of buzz around her since she got her powers two years ago, and the time has come for her first articulated action figure! But while Marvel Legends Kamala Khan selling for a mint right now online, is she also a risky purchase…?
The Right:
It's hard to believe that Kamala Khan only took up the mantle of Ms. Marvel a little over two years ago, because in a very short amount of time she's become one of the most recognizable Marvel teen characters ever. And as such, her merch is about to start rolling in!
This is set to be the winter of Kamala Khan Ms. Marvel! Kamala got her first-ever toy in the form of a POP Vinyl from Funko last month, her first articulated Hasbro Marvel Legends 6″ figure this month, and she's even got her own LEGO Ms. Marvel Minifigure on the way next month!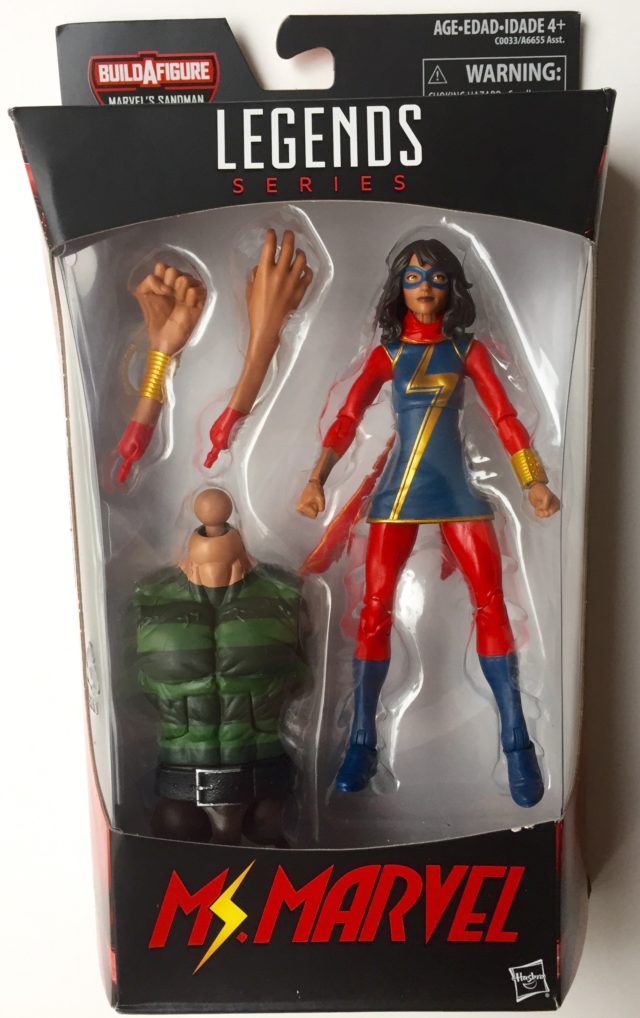 While I was overall very pleased with the Funko POP Ms. Marvel vinyl figure, it's this Marvel Legends 6″ Ms. Marvel I've really been waiting to write about. And thankfully, she's an excellent figure (with one major potential drawback).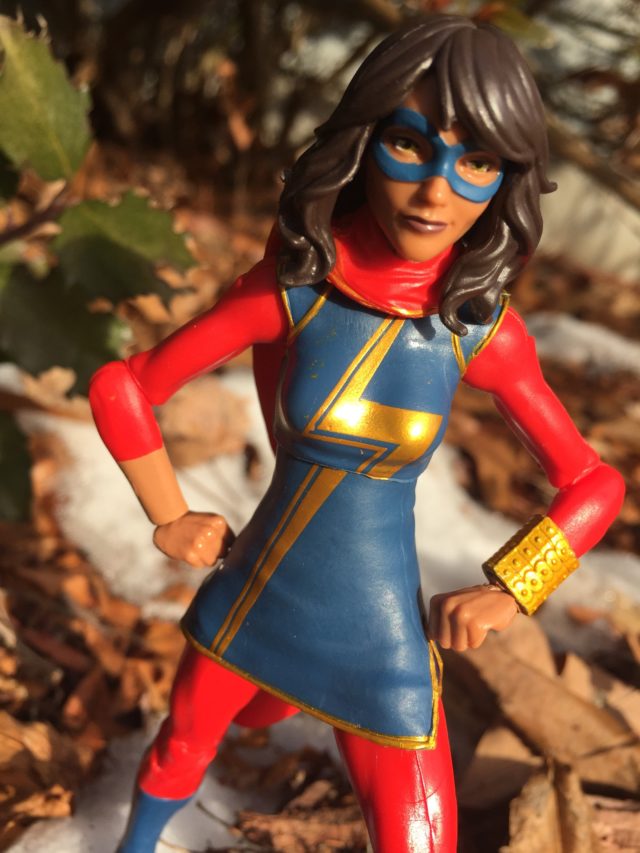 While Hasbro didn't quite manage to totally nail Kamala's spark of life and personality with their head sculpt, I think it's a "pretty good" portrait of her that does a nice job of capturing a lot of her charm. Her facial expression is a neutral smile–something we rarely see, but an appropriate look for this character.
Also, notice that Hasbro did nail the sculpting detail on Kamala's ever-important bangle bracelet! It looks awesome!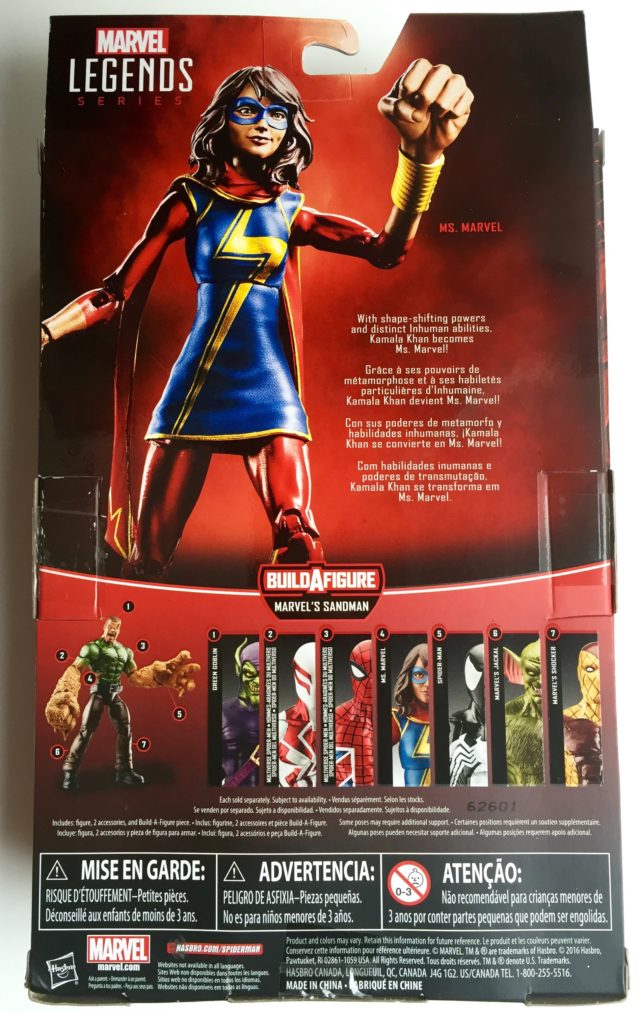 Speaking of appropriate: I've heard some folks concerned about whitewashing, but the skin tone of this figure looks dead-on to the character's skin color from her ongoing comic books. Her costume's colors are also suitably bright and vibrant, just the way they should be.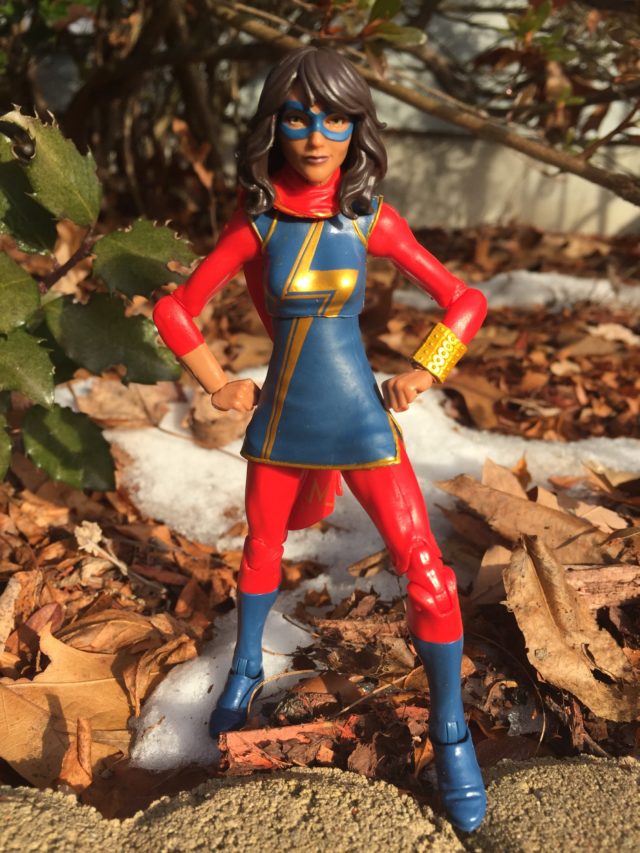 The printing of the logos on Ms. Marvel's torso and scarf isn't 100% perfect, but it is very close and looks terrific. No complaints here–the shiny paints chosen for the logos look great. And because she uses the teen girl body mold, she's also in the same scale as and almost exactly the same height as the Marvel Legends Miles Morales Spider-Man figure.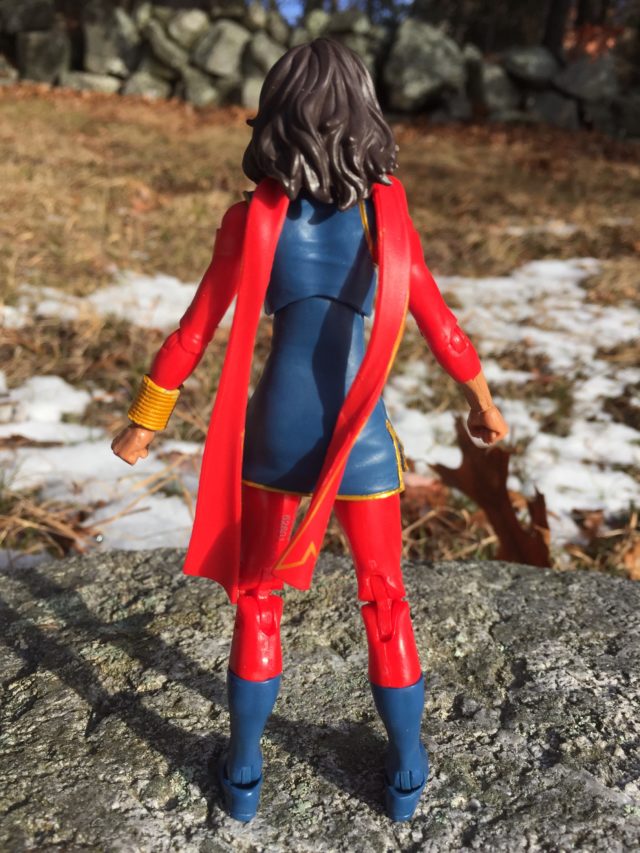 Though Ms. Marvel is wearing a skirt, it's made of a very soft and flexible plastic that doesn't get in the way of posing her at all. Perfect lengths and made of just the right materials.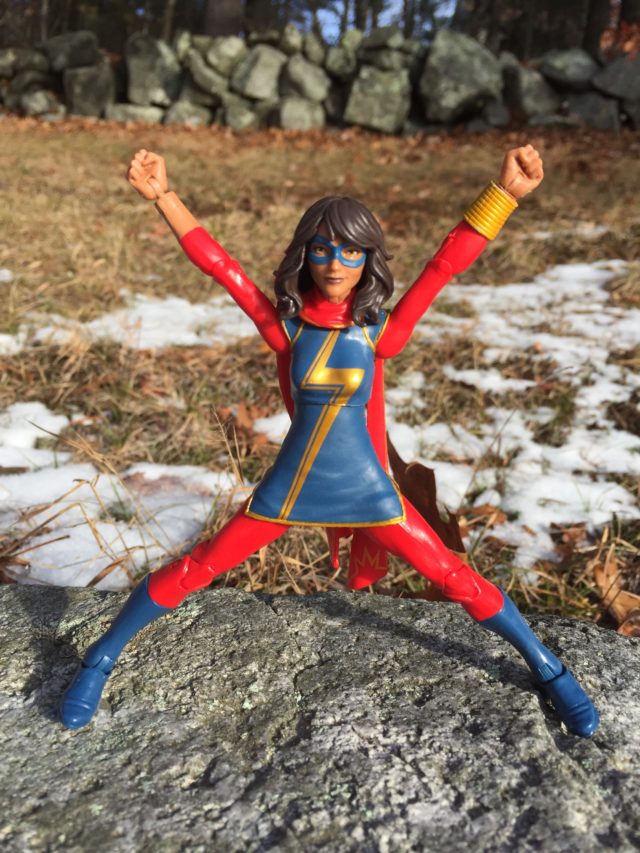 As far as articulation goes, Kamala is as well-articulated as any other female Hasbro has released in the past few years: almost perfect. Double-hinge elbows and swivel biceps are still absent, but Ms Marvel is packing a ball-hinge neck/shoulders/wrists; ball-jointed hips and upper torso; double-jointed knees and hinged ankles with rockers.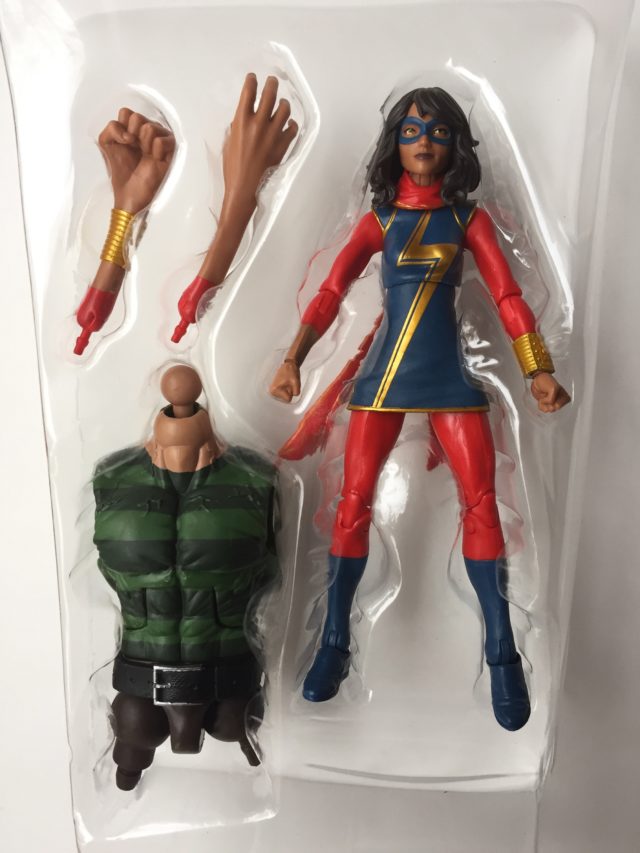 Besides coming with the biggest piece of the Sandman Build-A-Figure (his torso), Kamala gets two accessories: an Embiggened left fist and a stretchy right arm with an open hand.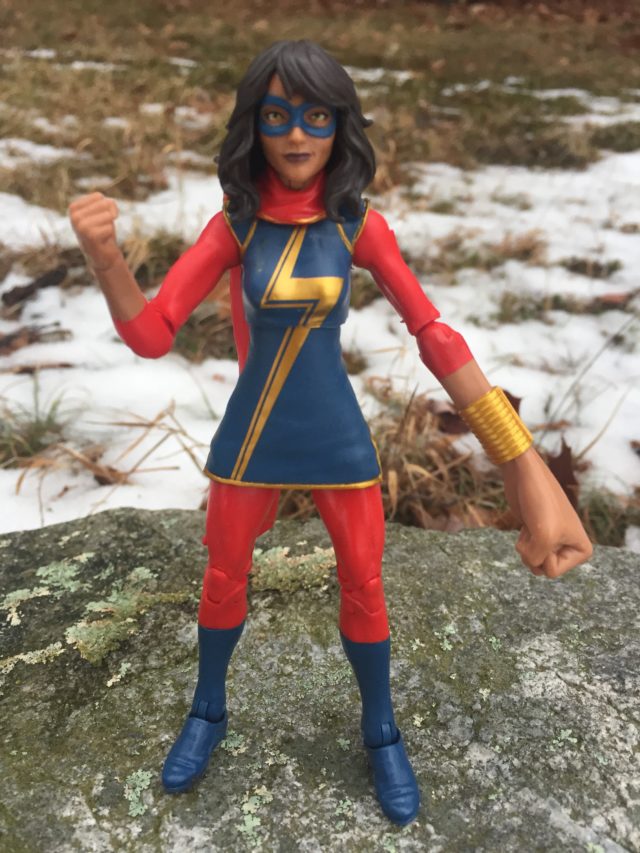 Both of these arms are a great way to demonstrate Marvel Legends Kamala Khan's super powers, and are overall a ton of fun. Or, at least they would be if I hadn't run into some troubles with this figure…
The Wrong:
If you noticed that my photos of Ms. Marvel are pretty static, it's because I didn't want to move her joints around too hard. The Ms. Marvel Kamala Khan Marvel Legends figure is pretty darned great… as long as she doesn't break. Which mine did–within a five minutes of being out of the package.
See, the first time I tried to swap her Embiggened Fist back for her normal left arm, the peg for her arm ripped off inside of her body and I spent an hour boiling the figure and performing surgery with a needle to dig out the peg.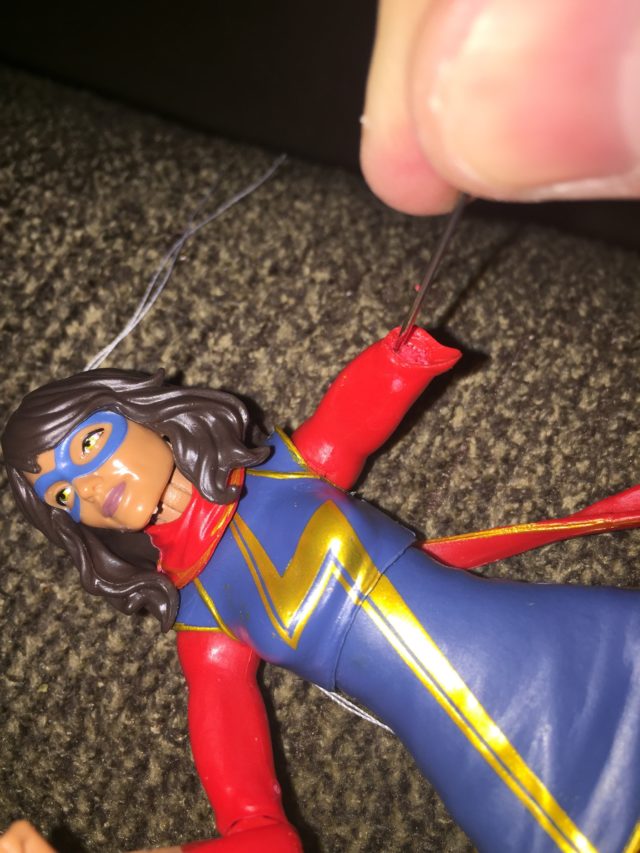 I was eventually able to get Kamala's regular left arm on (which will now be attached forevermore), but her ankles are also stuck and feel like they'll break if I move them without heating her first each time. And so, she gets only the mildest of poses in these photos.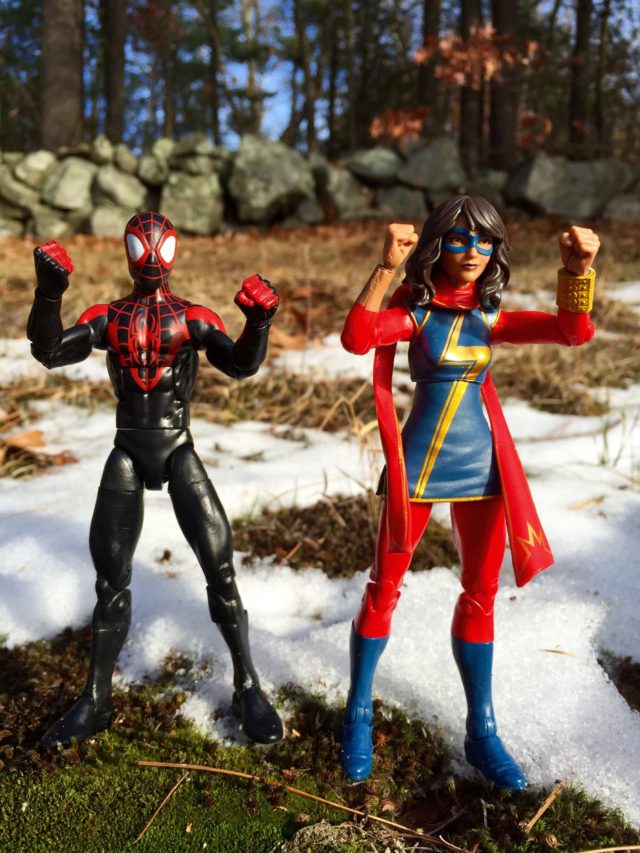 While I could have possibly not snapped her arm if I heated her with hot water every time I wanted to pose her, that's a pretty ridiculous thing to have to be concerned about.
And from posting about this on social media and reading others' experiences, it seems breakage and poor plastic quality may be a widespread issue with this action figure. Considering how great this figure is in most every other way, this is a real shame.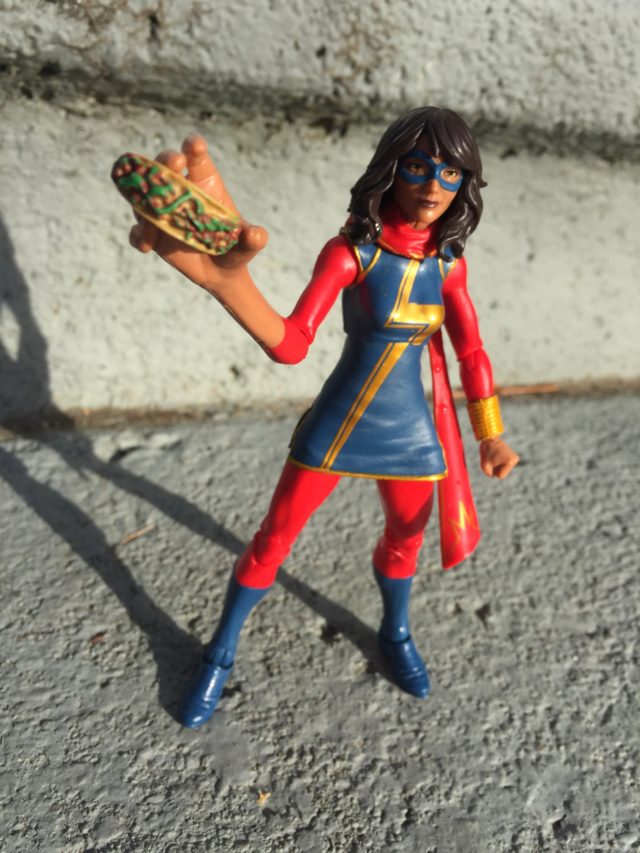 Overall: While the 6″ Marvel Legends Ms. Marvel Kamala Khan figure is a very strong figure in almost every aspect from sculpting to accessories to articulation, I can't in good conscience give an 'A' to a figure with potentially widespread breakage issues. Quality control absolutely matters, and it's sad to see it marring what's an otherwise excellent action figure. I definitely give this Kamala Khan figure a recommendation, but be careful when posing her or swapping her arms–she's too expensive and hard to come by to break needlessly.
GRADE: B