Before I dive head-first into reviewing the new Marvel Legends Guardians of the Galaxy Series, there's one more figure from the 2017 Marvel Legends X-Men series left to talk about. You'll have to buy the whole set to build him–but it must be fate, because this week only, you can get the case for $15 off  MSRP and free shipping with code "XMEN" at WoozyMoo! It's my favorite Marvel character ever, the shape-changing techno-organic member of the New Mutants–the Marvel Legends Warlock Build-A-Figure!
The Right:
If I have a favorite comic book series of my entire life, it's the original Chris Claremont-era New Mutants comic book series from the 80's. And while I love all the characters from that original roster (well, maybe not Magma), the X-Men's first extraterrestrial techno-organic alien is my favorite by a landslide!
The mutant pacifist member of The Technarch, Warlock was a staple of the original New Mutants team and one of the most unique X-Men members ever. There's no question the former member of Excalibur,  X-Factor and the New Mutants deserves his own Marvel Legends action figure–and its every bit as unique as he is.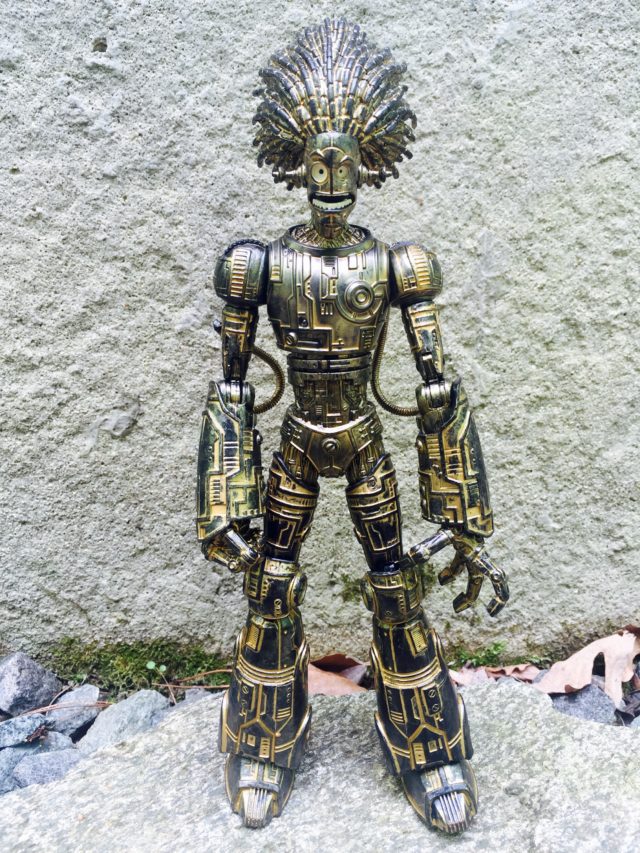 The standout aspect of this figure is undisputedly the sculpting. Covered from head to toe in sculpted technological circuitry detailing, Warlock looks incredible. The black paint wash on his arms and legs especially bring out the details and look like they're straight out of a classic comic book.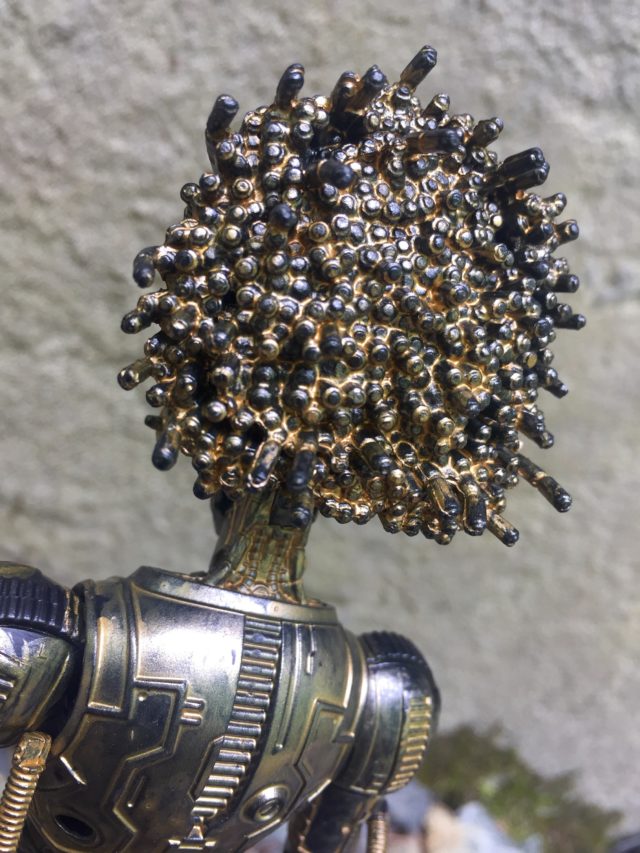 Warlock's "hair", made up of hundreds of strands of wires, is a sight to behold–especially from the back. The sculpting and texture of the hair is one of the most beautiful things I've ever seen in Marvel Legends.
And although he's a 100% new unique sculpt (with zero potential for reuse that I can think of), the ML Warlock figure is just as super-articulated as we've come to expect: ball-hinge head/shoulders/wrists; hinged ankles with rockers; ball-jointed upper torso and hips; swivel thighs and biceps; and even double-hinged knees and elbows.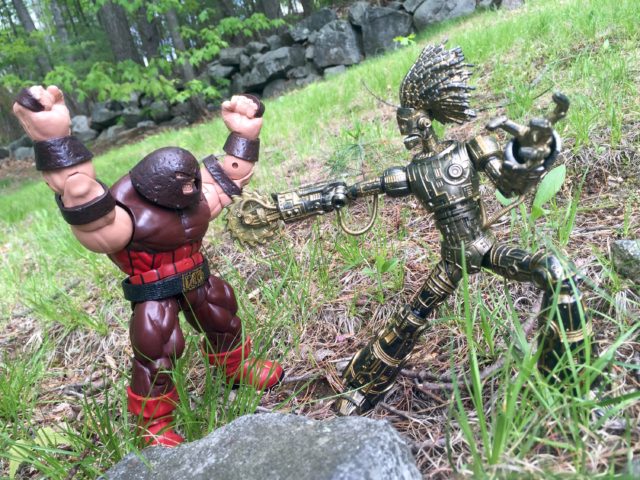 Over the weekend, I reviewed the Mantis Build-A-Figure that many collectors complained about the size of for a Build-A-Figure. Those fans won't be complaining here, though–the Warlock Marvel Legends Build-A-Figure is huge. He's easily taller than the Juggernaut, although not quite as tall as Giant-Man.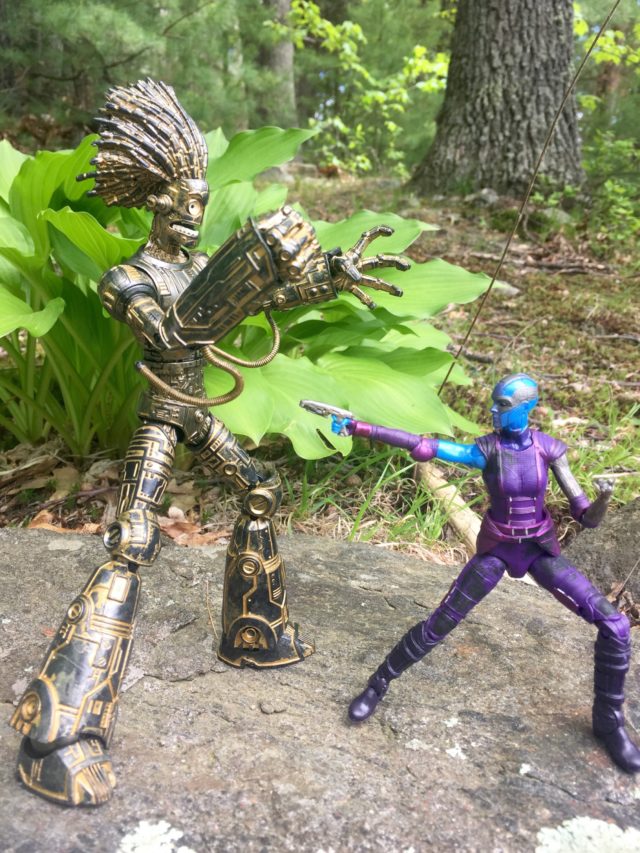 Personally, I think Warlock should only be about 7″ tall–I think he's going to look really out of place when/if Hasbro finally releases his teenage New Mutants buddies. That said, collectors seem to prefer larger BAFs and Warlock is a shape-shifter, so I'll let it slide.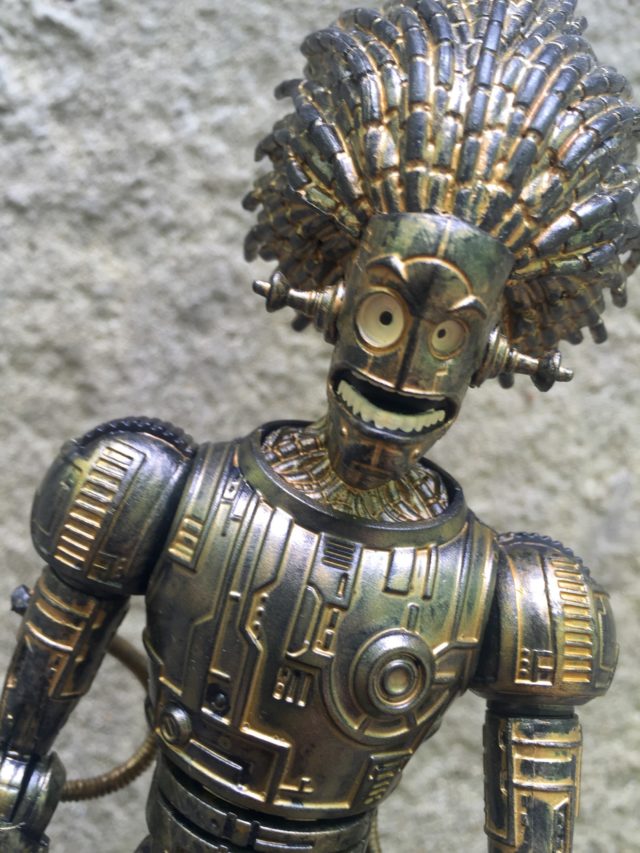 The other thing I'm going to let slide, even though I'm not totally in love with it, is the facial expression. In a perfect world, the Warlock Build-A-Figure would have a crazy toothy smile. But probably realizing how bizarre that would look in a realistic-styled Marvel Legends lineup, Hasbro took a different route instead.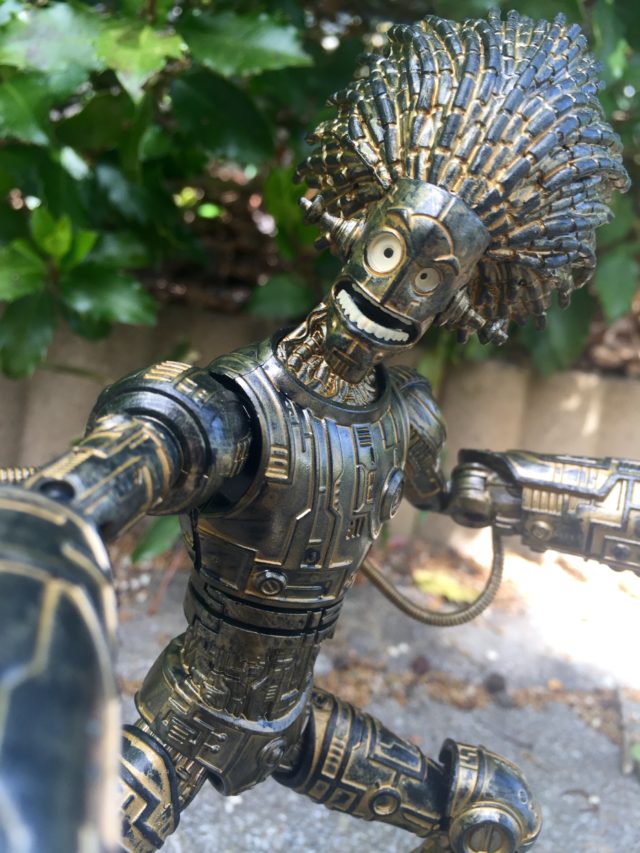 Warlock is sculpted with asymmetrical eyes (which look perfect) and an open-mouthed expression (which looks less perfect). It's a slightly comical look that leaves 'Lock appearing somewhat bewildered, and I really don't like it that much. It's a wonderful sculpt, but I'm personally just not that into it.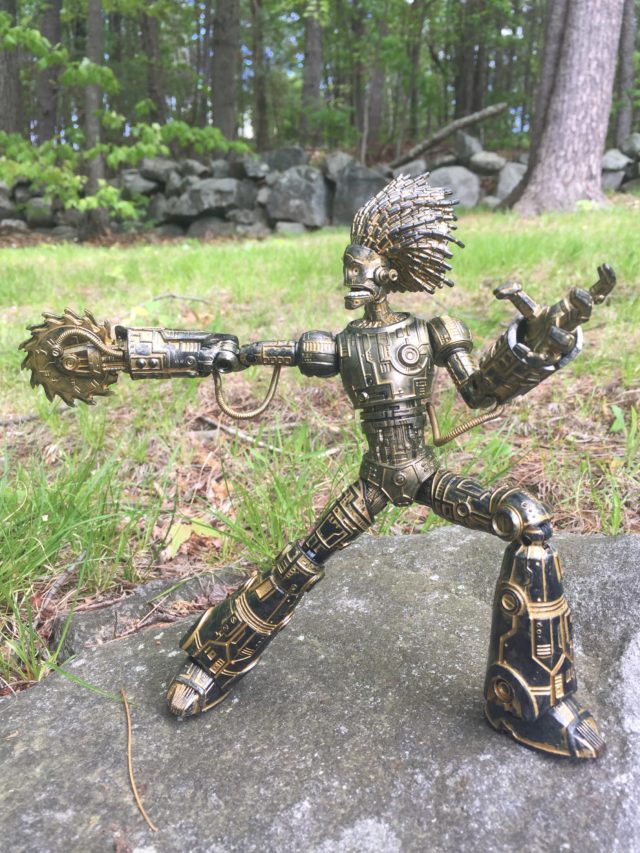 The Warlock BAF comes with one extra accessory: an interchangeable buzzsaw hand. The sawblade itself doesn't turn (that would have been wicked, so I'm rather saddened by that), but you can rotate the whole wrist. I think it's an appropriate accessory for the transforming alien, so it gets a thumbs up from me.
The Wrong:
The most obvious and baffling thing about this X-Men Legends Warlock figure is the wires on his arms. The wires are meant to connect to the holes is his back, but not only do the  pegs refuse to stick into the holes on mine for even one second for photos, but the wires themselves are simply far too short!
If you do manage to get the wires to stick into Warlock's back, they're so short that you can't even lift his arms with them plugged in. And so, we're left with the cords perpetually dangling from Lock's forearms. From a design perspective, this is really strange.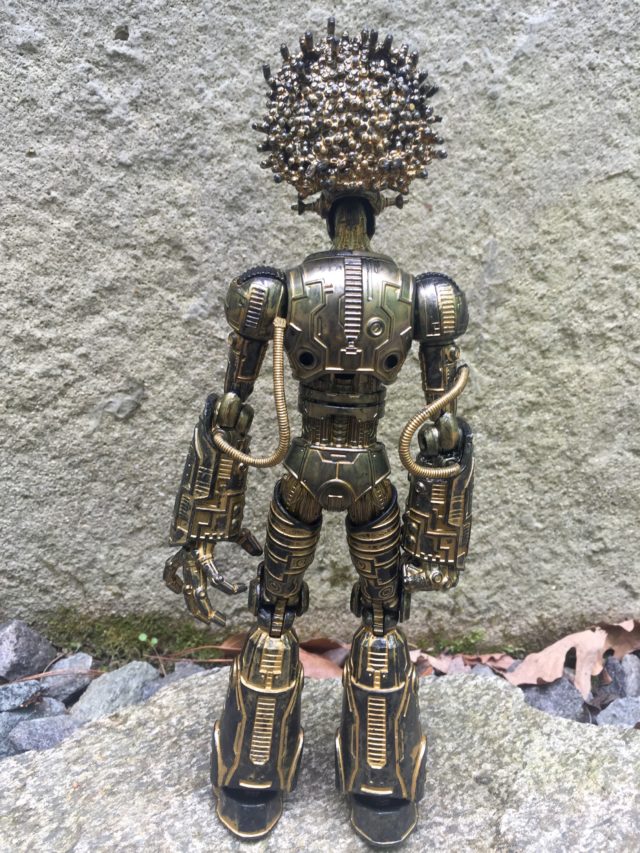 The other major shortcomings of this figure–or at least the one copy of it that I've built–has to do with the quality control.
If I have the Warlock BAF knees bent to any degree, they wobble as bad as a bobblehead. His hip joints are also ultra loosey-goosey–it seems like Warlock's thin joints just can't quite handle his thick lower legs. (For those of you readers who've already built Warlock–how are the joints? Loose or sturdy?)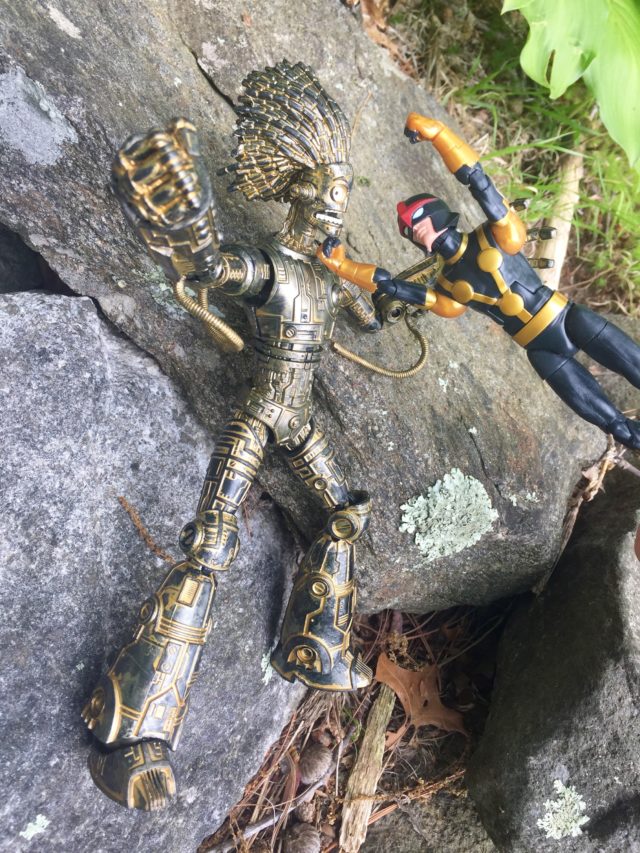 In addition, while the black paint wash on the gold limbs looks fantastic, I've yet to find a Sunfire with a Warlock torso with the same amount of paint wash. As a result, my Warlock's body looks way too gold (almost entirely so), and it's really jarring when compared to his perfectly-colored black and gold limbs.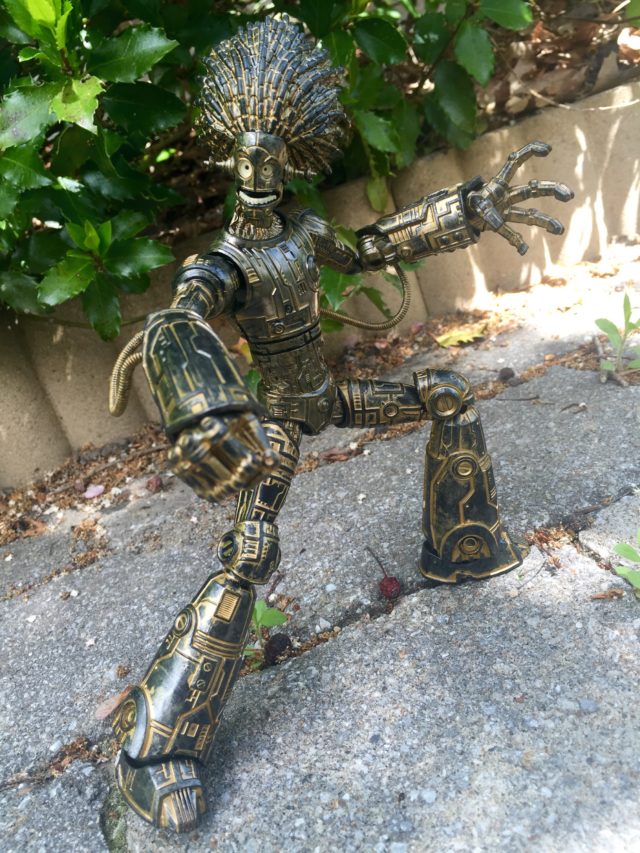 Overall: It pains me to not give 'Lock a perfect score, but I'm bothered enough by his super-loose joints, too-gold (and too-tall) body, too-short wires and derpy expression that I can't give him that elite of a grade.
Even so, the sculpting work on this X-Men Marvel Legends Warlock Build-A-Figure is absolutely gorgeous and among the best I've ever seen in the line. Factor that with super-articulation, a cool interchangeable buzzsaw hand and an A+ character selection, and you have one of the most visually-compelling and unique Marvel Legends Build-A-Figures ever. Flaws and all, I outright love this Warlock figure.
GRADE: B+