With a blockbuster MCU movie due out this fall and his first ongoing Marvel comic book series in eons heating up, 2016 is the year of Doctor Strange! The 7″ Diamond Select Toys figure I ordered at my comic shop ended up getting cancelled for some reason, but it turns out fate was interceding on my behalf–I ended up getting the Marvel Select Doctor Strange discounted to $20 shipped online! At the same price as a Marvel Legends figure, I was anticipating being blown away. And with a few provisos, I am…
The Right:
Although he's arguably one of the most powerful and important characters in the Marvel Universe, the Sorcerer Supreme hasn't had nearly as many toys released over the years as you might expect. He's only had a single Marvel Legends figure each from Hasbro and Toybiz, along with a handful of smaller-scale figures.
But this year, Doctor Strange has finally hit it big, and is getting his largest and best-detailed figure to date in the form of this beautifully-decorated Marvel Select 7 inch action figure.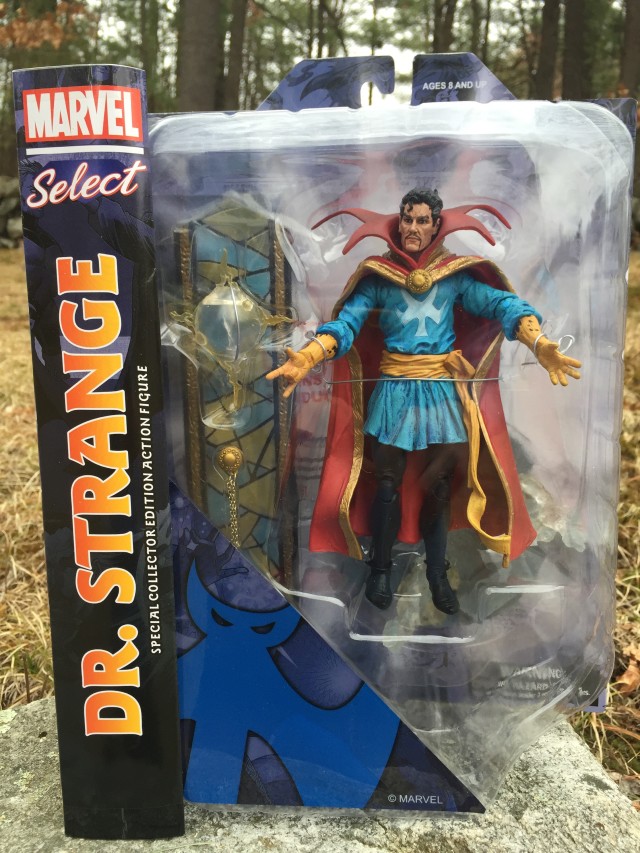 Not that there's been a lot of competition, mind you, but the level and sculpting and paint detail on this figure annihilate all other Doctor Strange toys that have come before it.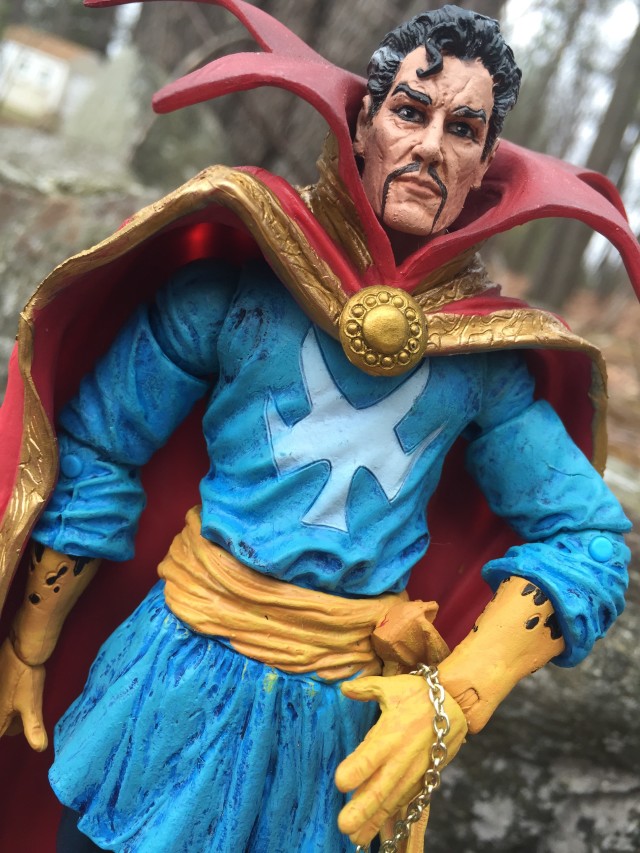 From the creases and folds on his sash and tunic, to the ornate sculpted pattern on the trim of his cloak, to the dark paint wash bringing out the copious details, to the dead-on head sculpt and uniquely-shaped collar, this is unquestionably the most impressive-looking Doctor Strange action figure ever made.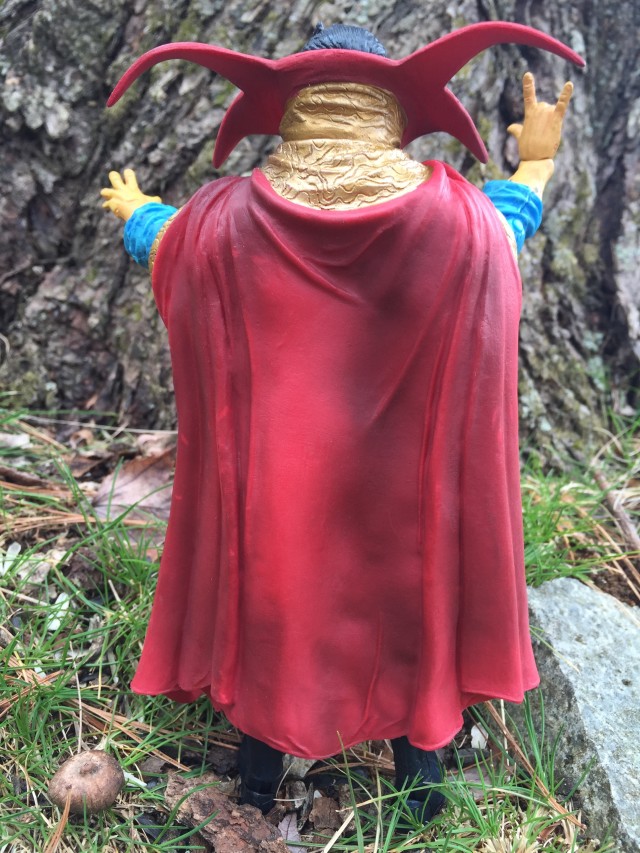 Even the back of Dr. Strange's cape has a dark paint wash on it and a beautifully-decorated golden area. Front and and back, this figure is a knockout.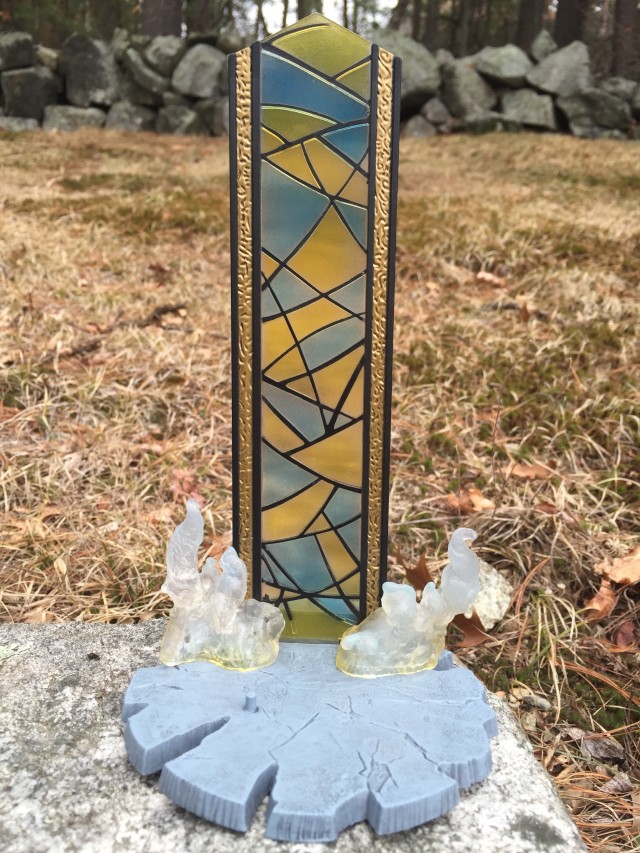 As with most Diamond Marvel Select action figures, a diorama-style base is included. In this case, it's a tall stained-glass window atop a stone floor.
I don't have the space to display all of these diorama bases, but I can't deny the appeal of the scenic translucent stained glass windows on the base. If you want to display Dr. Strange alone, putting him on the stand makes for a great statue-like display.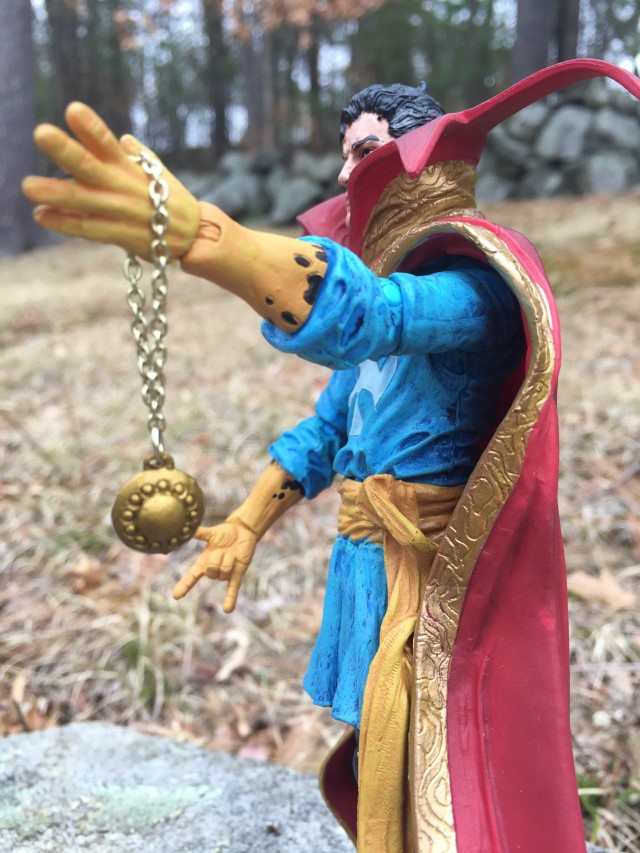 Along with the diorama base, a little golden Eye of Agamotto is also included. The Eye itself is rather simplistic, but the real metal gold chain that it hands upon makes the piece really feel like top-quality! Definitely a nice addition to this figure.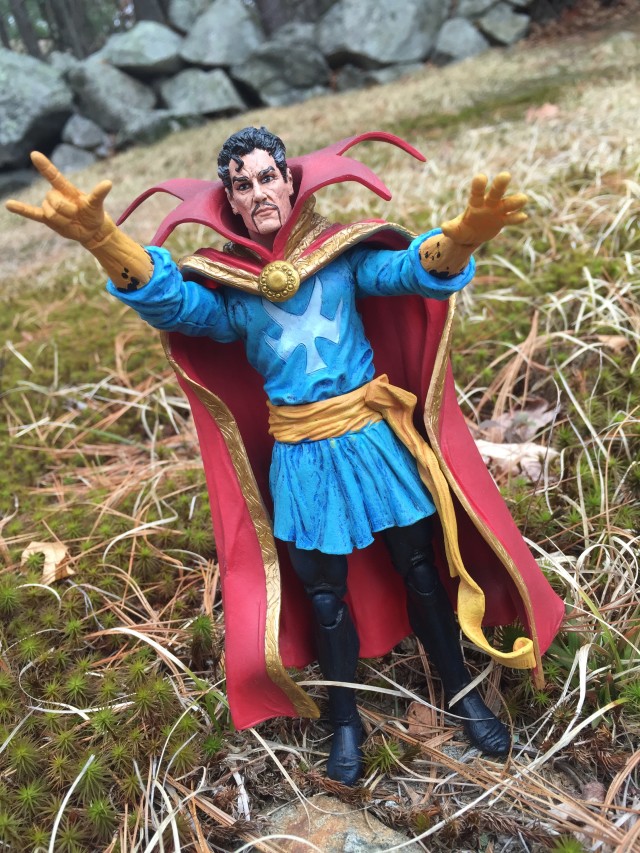 I'll be griping about the flexibility of this figure at length momentarily, but before that, I want to commend the points of articulation I actually do like here: specifically, the arms and feet.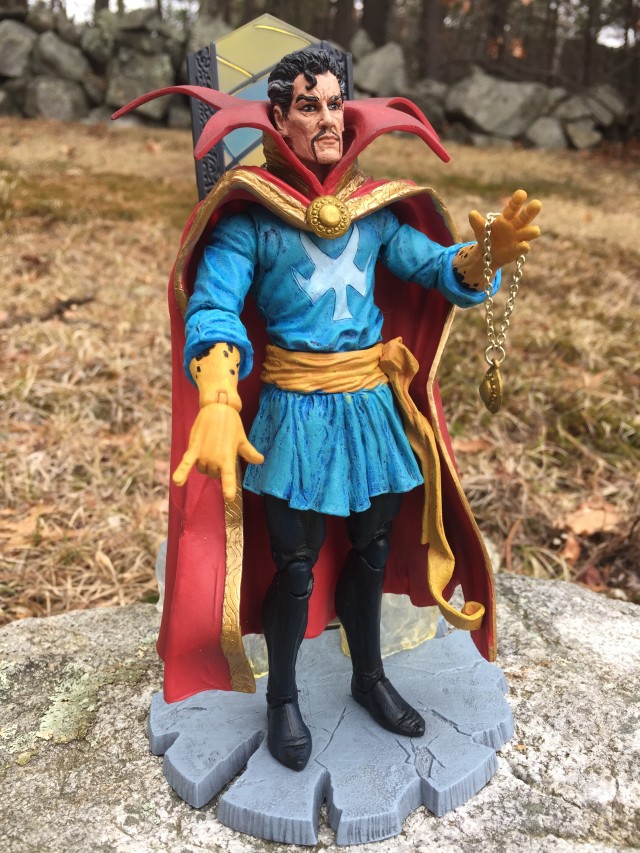 The only truly usable articulation on this Diamond Select Toys Dr. Strange figure, the ankle rockers are crucial to getting Stephen to stand up properly without his base, while the arms thankfully have loads of articulation built in (shoulders, biceps, forearms, wrists). Every cool pose that you can do with this figure is reliant on these joints, and I'm very thankful that they're here.
The Wrong:
I'm just going to come right out and say it: the articulation on this Doctor Strange Marvel Select figure is horrible. That's not necessarily a deal breaker for most folks–Odin knows Dr. Strange isn't exactly a ninja who needs to be doing extent poses–but collectors should be aware of this action figure's posing limitations before buying it.
The big problem here isn't even the number of points of articulation–it's the factors inhibiting them. Stephen has a ball-jointed head–but his hard plastic cape collar restricts the side-to-side motion so badly that he can never move his head more than a couple degrees from straight forward.
DST has incorporated double-jointed knees into this figure, but for what reason I cannot say–thanks to Doc's rigid skirt and cape, Doctor Strange's legs are basically stuck in place and able to be spread apart a bit, essentially rendering double-jointed knees meaningless.
In addition, it seems like the Sorcerer Supreme is meant to have a swivel waist, but if so, it's restricted too much for me to twist it without risking snapping Doctor Strange in half, so I shan't be risking that.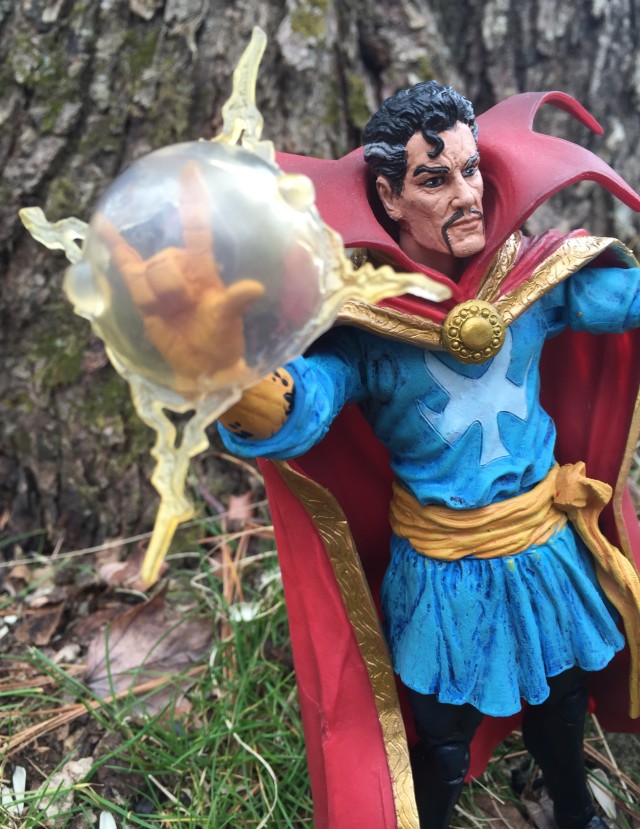 The accessory I traditionally would like the best with this figure is the translucent yellow effects piece, but there appears to be a real design flaw with it: it's really awkward and difficult to get it onto the Doc's hand.
The effects piece has a peg on it, but there's so hole anywhere on the DST Doctor Strange figure to slide it into. As a result, the best I can do is clumsily trying to balance the effects piece on the doctor's bent-back hands, which is about as inefficient as you'd expect.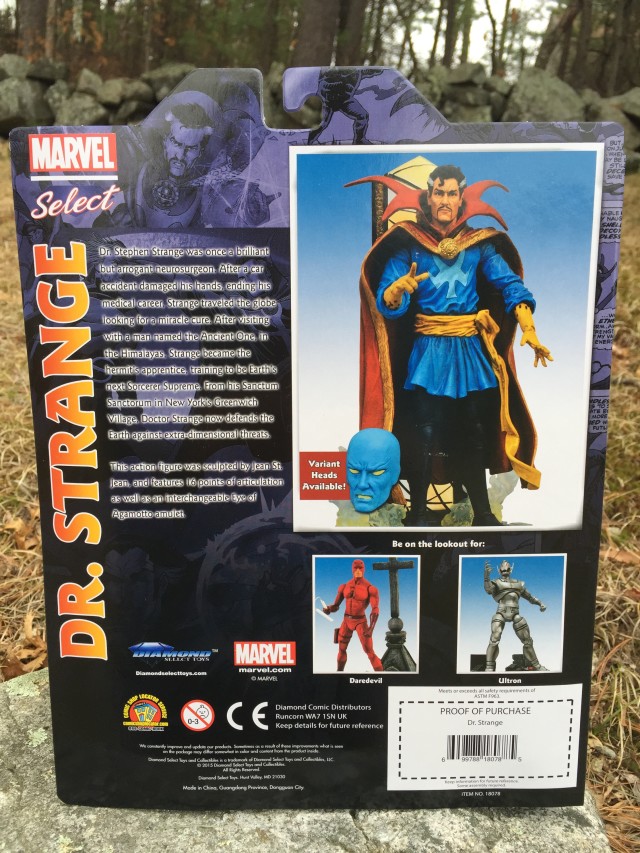 Finally, one thing that bugs me is when toy companies show us things that we can never have. The back of the packaging for this figure shows a blue masked Doc Strange head, with the text "variant heads available!"
Unfortunately, from what I've heard, alternate heads for this figure are in fact not available from Diamond Select Toys and never will be. I hate it when items that we'll never own for whatever reason make it to the packaging. Bummer.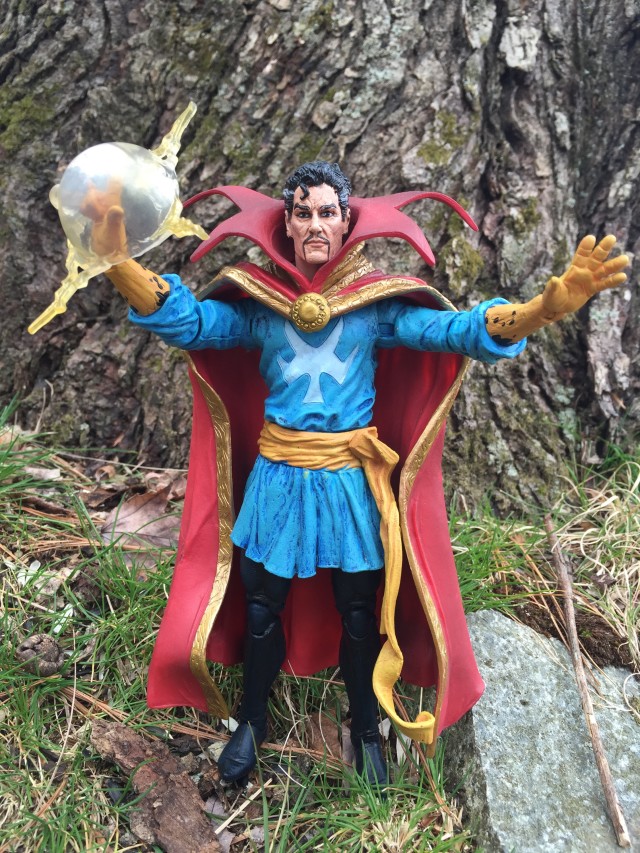 Overall: The Diamond Select Doctor Strange figure is one of those rare figures that's an "A+" for packaged collectors and a bit lower for those who open their toys and want to play with them and pose them.
This is hands-down the definitive Doctor Strange action figure compared to every other Stephen Strange toy ever released, but some designs flaws such as the heavily-restricted articulation and awkward effects piece keep it barely out of "A" territory for loose figure collectors. This Marvel Select Doctor Strange is available for $20 shipped online right now, and at that price he's a steal. Recommended.
GRADE: B+