Not every character out there is ideally suited for being made into an action figure wearing soft goods clothing. But of all the characters Mezco has picked thus far for their Marvel ONE:12 Collective series of 6″ figures, there's no better choice than the Sorcerer Supreme. With his robe and long, flowing cape, Doctor Strange was made for soft goods. And now, he's officially being made in them: the Mezco ONE:12 Collective Doctor Strange figure is now up for order!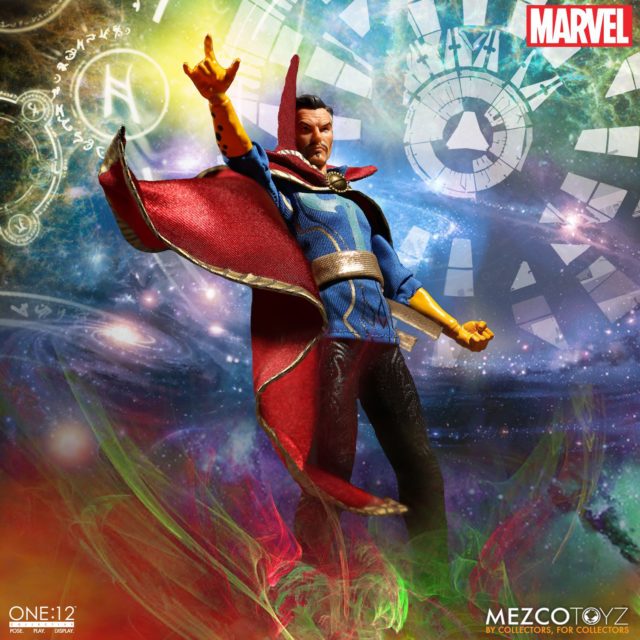 I wasn't immediately sold on the Mezco Marvel ONE:12 Collective line like a lot of collectors were (I felt like classic Captain America looked like he was wearing husky sweat clothes), but Mezco really won me over with their Shadowland Daredevil and Fully Loaded Punisher figures. And now, Mezco Toyz is moving on to perhaps their most appropriate choice for this medium yet: Dr. Strange!
Of the four new Marvel 6″ figures that Mezco showed off at their pre-Toy Fair event (with the other three being classic Iron Man, Netflix Daredevil and Biker Shorts Wolverine), I thought that this Doctor Strange was definitely the most impressive of the bunch, and I've been looking forward to pre-ordering him since.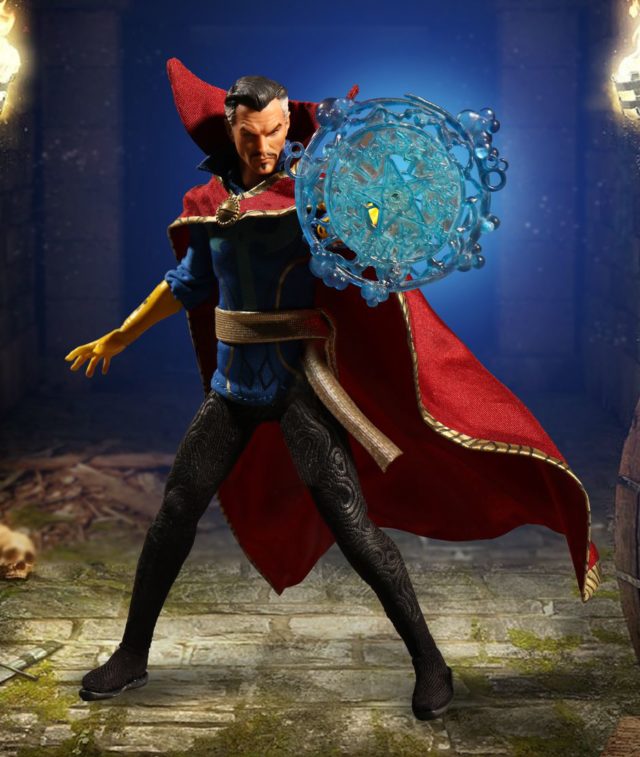 The real cloth clothes on this figure just look right. The tunic is wonderfully tailored, and the Cloak of Levitation looks downright fantastic. It even has a wire inside for posing purposes! I sincerely doubt we'll ever see a better Doctor Strange cape in this scale from any company.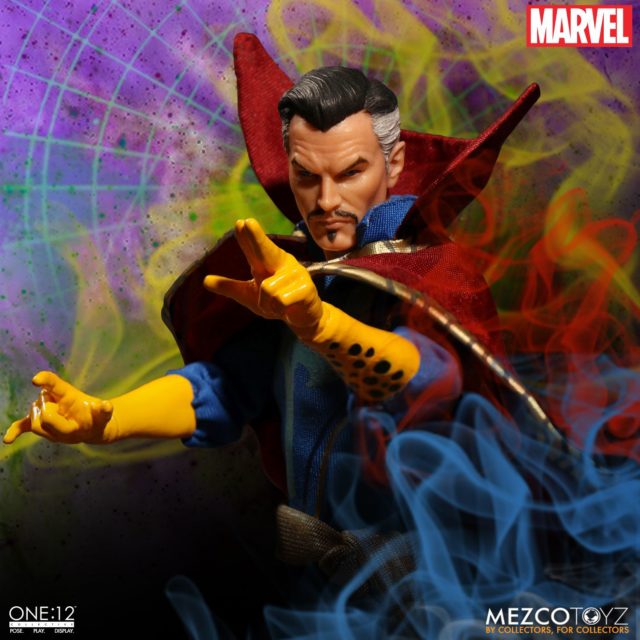 Some collectors might balk that the gloves on Dr. Strange are sculpted and soft goods, but that's absolutely the right choice–any attempt at soft goods gloves in this scale is more likely to come out looking like fluffy mittens than anything one could successfully perform spell crafting gestures in.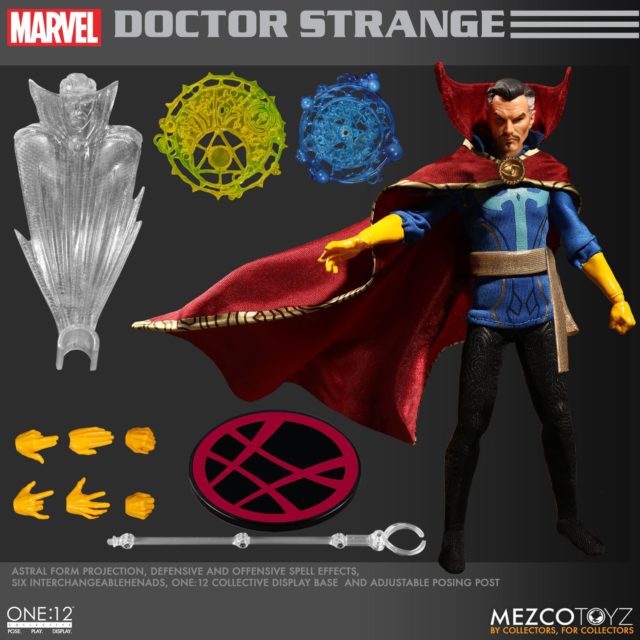 We only get one head with this figure, but that's fine in this instance–Stephen Strange isn't exactly the most expressive guy around. There's plenty of other accessories included, though, including six interchangeable hands, a logo display with posing pole, interchangeable open and closed Eye of Agamotto amulets, and a couple other major highlights…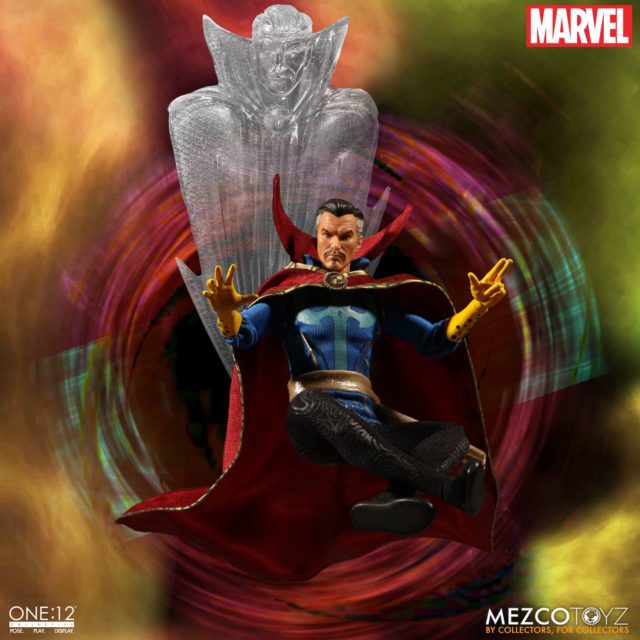 An accessory that either Mezco Toyz either hadn't announced until today or that I somehow managed to totally overlook (unlikely) is a clear Astral Form Doctor Strange projection that can be displayed behind the actual figure! This rivals the Daredevil radar sense effect in sheer brilliance, and really shows a lot of creativity on Mezco's part.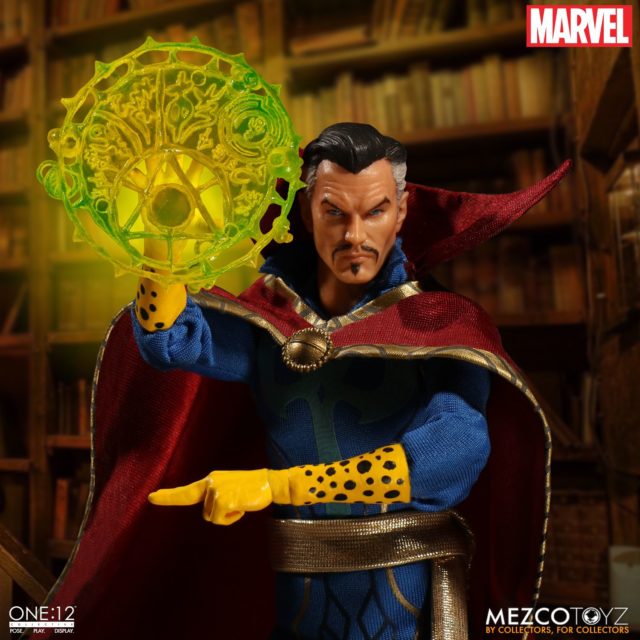 My absolute favorite part of this figure, predictably, is the magical effects piece accessories. Yes, that's plural–there's both offensive and defensive effects in translucent green and blue plastic, and they're both unique sculpts! Craziness!
We've gotten magical effects from a ton of companies since last year, due to the Doctor Strange movie, but these magical effects are easily some of the very best ones (and quite possibly the very best ones) from any company. Love them.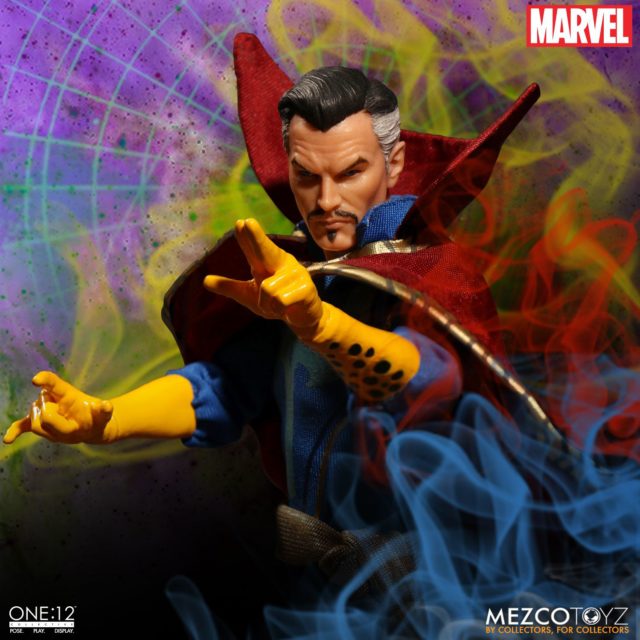 The Marvel ONE:12 Collective Doctor  Strange 6″ figure is now up for order, and is scheduled to be released this coming winter (November 2017-January 2018). Both EE and Woozy Moo are offering free shipping on the doc, which is the best (re: only) deal I've seen on him. After every version of Punisher sold out and instantly exploded on the aftermarket, I'm definitely going to be pre-ordering any future ONE:12 Collective figures I can't live without.
Now that Marvel's master of mysticism is up for order from Mezco Toyz, what are your thoughts on this release, Marvel collectors? Is this 6″ Hot Toys-style mixed media Doctor Strange worth 80 bucks to you, or are you sticking with a 6″-7″ Strange from Hasbro, DST, Bandai or another company?