Something I have literally been looking forward to for months is the opportunity to see the Play Imaginative Iron Man Super Alloy figures in person. I'd seen online images of the figures earlier this year, but they didn't seem like anything special or worth their hefty price tags. But then I heard the hosts of Marvelicious Toys podcast rave about the line in their Episode 92 SDCC 2013 coverage, and I knew had to see these for myself. Finally seeing the 1/12 Iron Man Movie figures like Iron Monger, Armored Whiplash and Disco Iron Man at NYCC 2013 this weekend, my heart rejoiced while my wallet cringed in agony…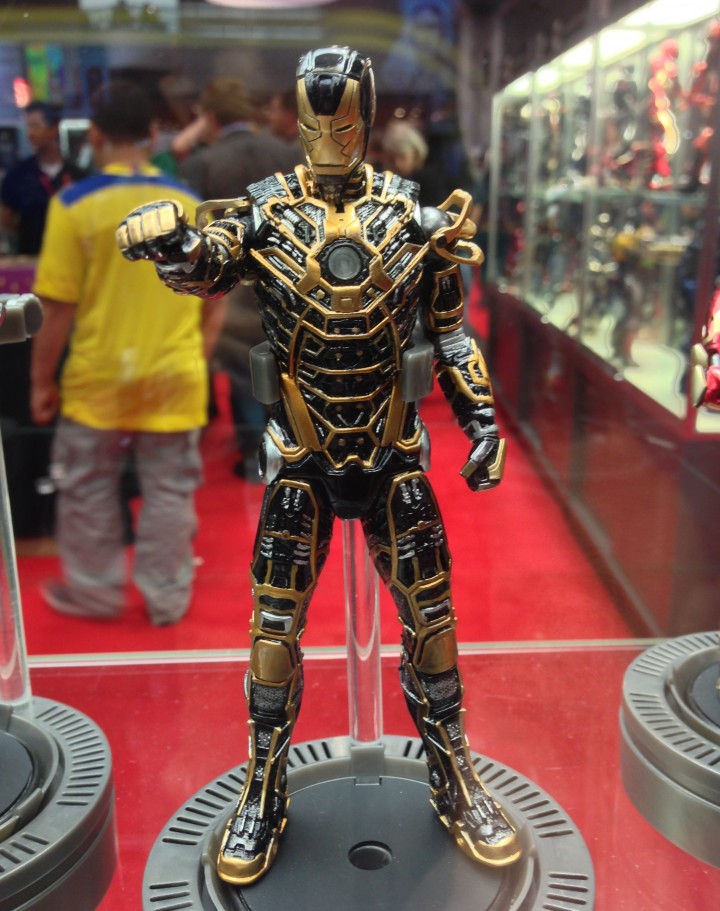 I'd heard from other event and convention reports that the sheer multitude of Super Alloy Iron Man figures that are being displayed at the Play Imaginative booths are insane, but nothing can really prepare you for the awe-inspiring, overwhelming feeling of seeing glass case after glass case filled with tens of thousands of dollars of upcoming metal Iron Man action figures!
I didn't count how many Play Imaginative Iron Man 1/4 and 1/6 figures were actually on display, but the number was easily around nearing 100 total. It's outright crazy (and also a little bit scary) to think of just how much product Play Imaginative is planning on selling for Iron Man collectors next year (and how much money it's going to cost anyone who tries to be a completist with this line–which won't be me, sadly).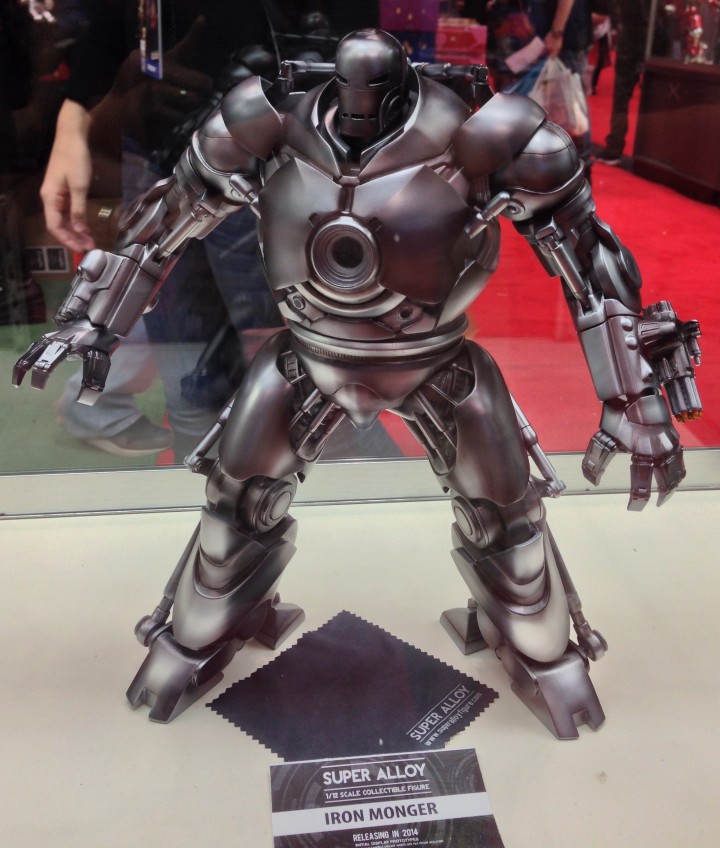 By far and away the coolest Super Alloy Iron Man Play Imaginative 1/12 scale figures on display at NYCC 2013 were the Iron Monger and Armored Whiplash (which they're calling "Whipslash", from some reason) figures. These are huge and intimidating in comparison to the 1/12 Super Alloy Iron Man armors, and a perfect complement to the rest of the figures coming in the line.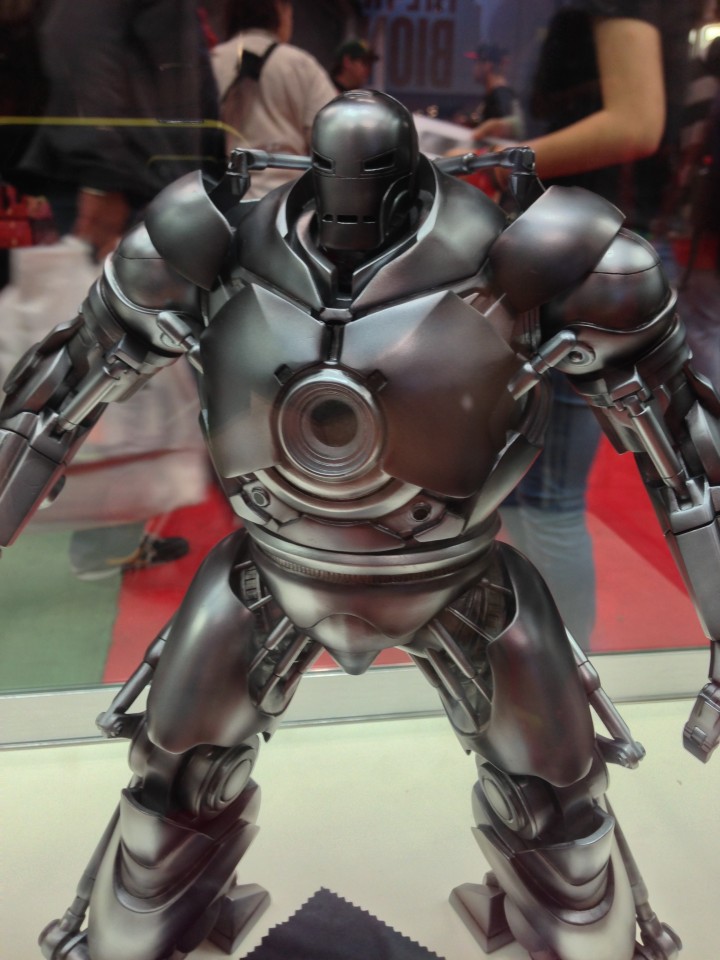 I don't believe that the Play Imaginative Whiplash and Iron Monger Super Alloy figures were displayed at San Diego Comic Con, so I think this is the first time that these two massive armors were shown off in the United States.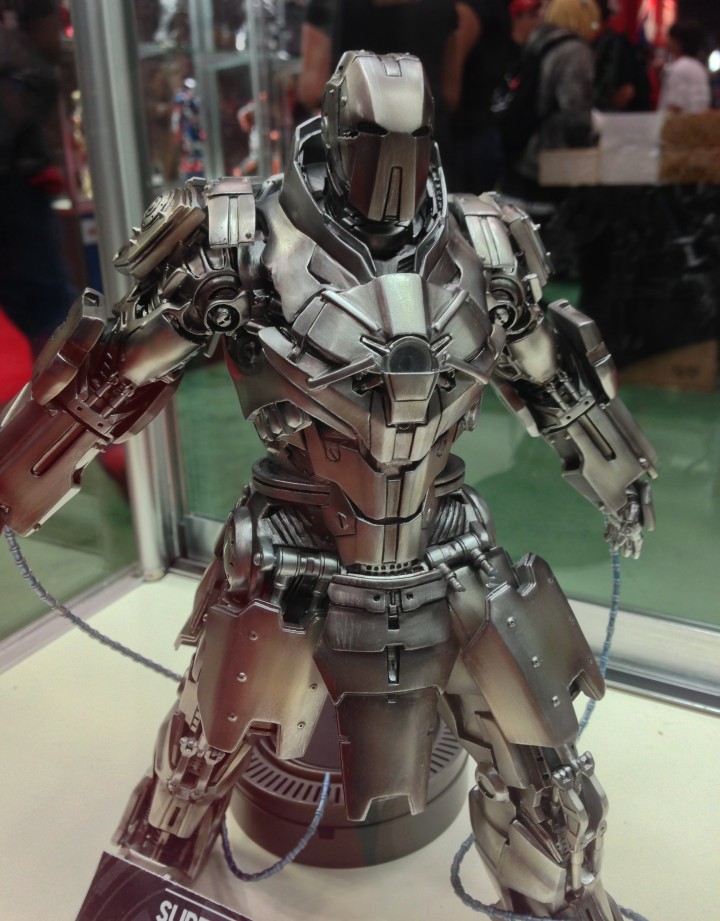 I feel lucky to have seen this pair in person, as I don't know if photos can really do justice to what it is probably the pinnacle of Play Imaginative's whole lineup of Super Alloy Iron Man 1/12 scale figures!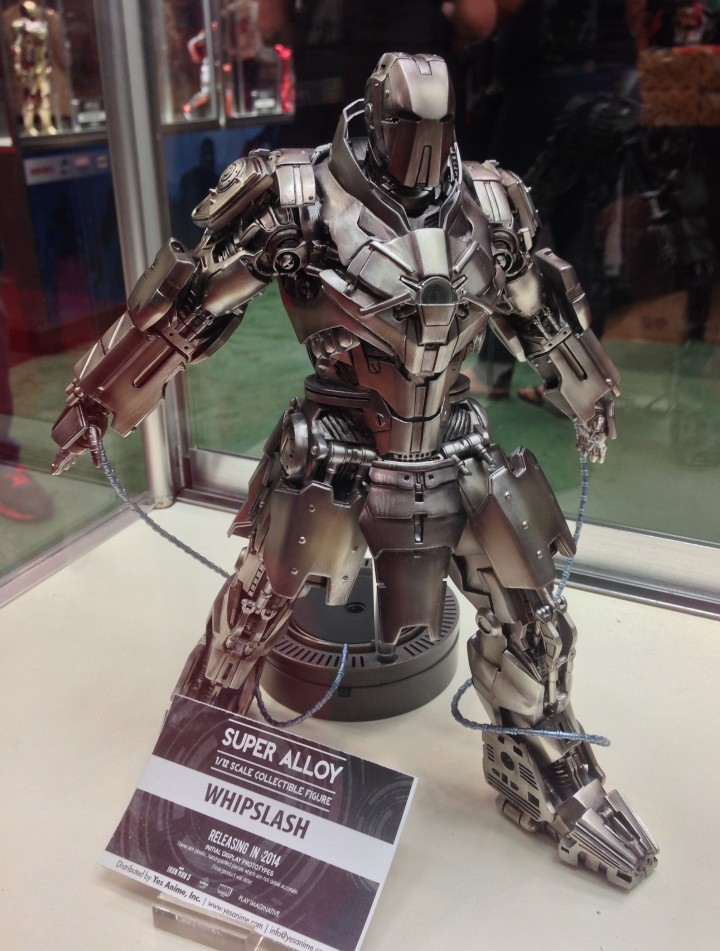 I rather hated the Armored Whiplash design in the Iron Man 2 movie, but I love it on this Play Imaginative Whiplash. I may actually end up buying this Super Alloy Whiplash figure instead of the sure-to-be-pricey Hot Toys Armored Whiplash that's been shown a few times but never solicited.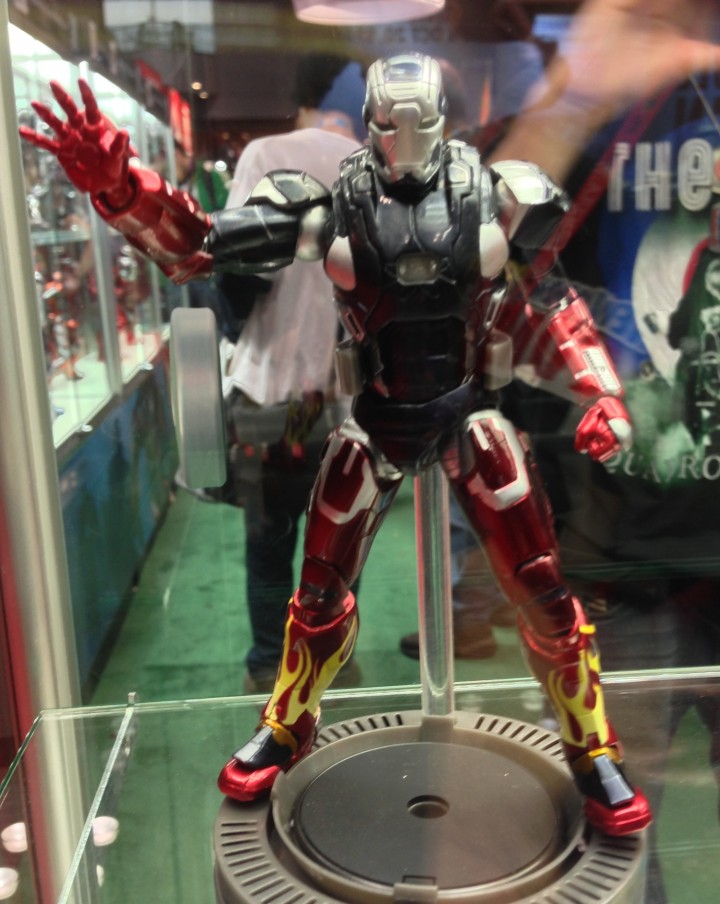 The 1/12 Iron Man armors looked incredible. If I had $5000+ to spend, I'd absolutely buy them all (I don't). As it is, I definitely plan on picking up some of my favorite armors that I don't expect to see recreated by Hot Toys, such as Disco Iron Man, Jack Iron Man and Hot Rod Iron Man.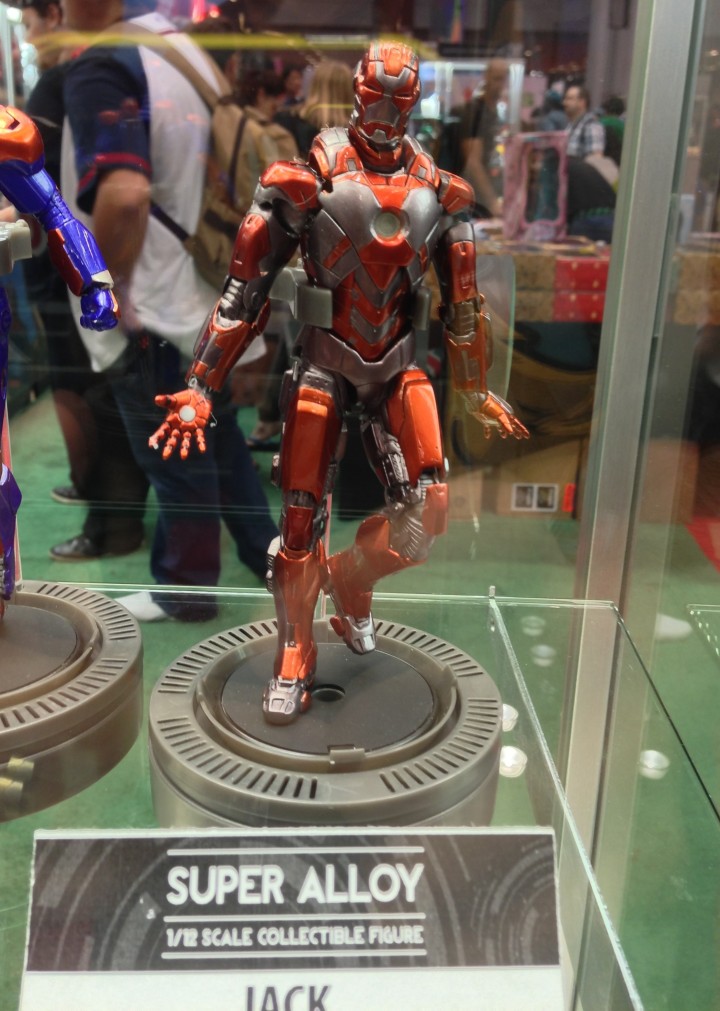 These are expensive at around $100 per 6″ figure, but I really don't expect to ever see another company create figures of these armors this good (if at all). Maybe Hot Toys will surprise me with a 1/6 Hot Toys Hammerhead Iron Man Movie Masterpiece Series figure, but I somehow doubt it.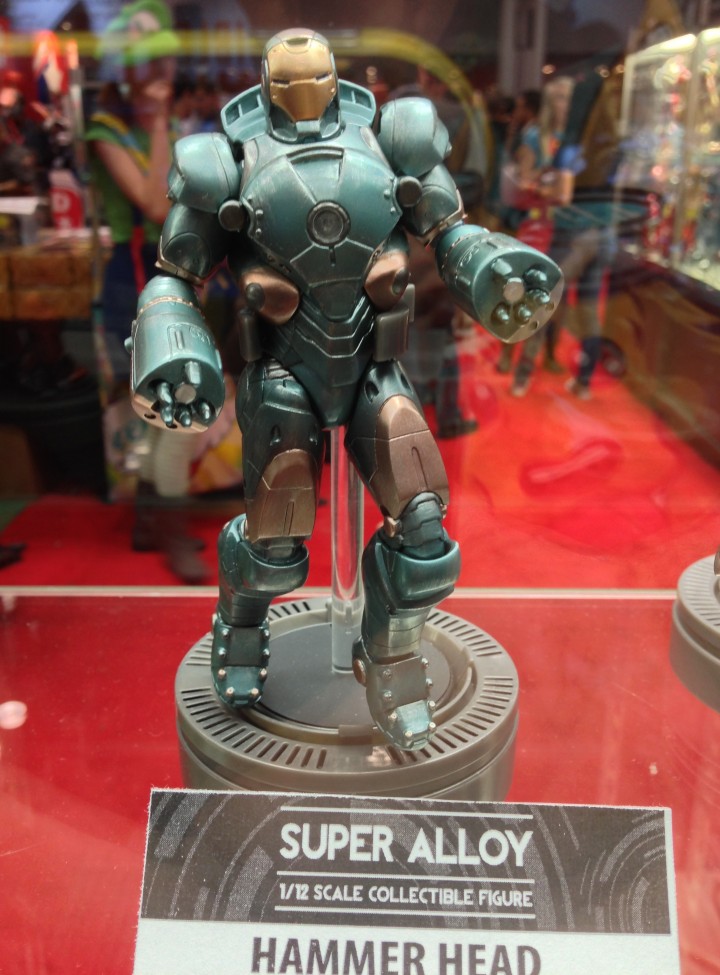 I didn't take photos of every Super Alloy Iron Man 6″ figure at NYCC 2013, but trust me: if it was in any of the movies, it was on display and looked fantastic.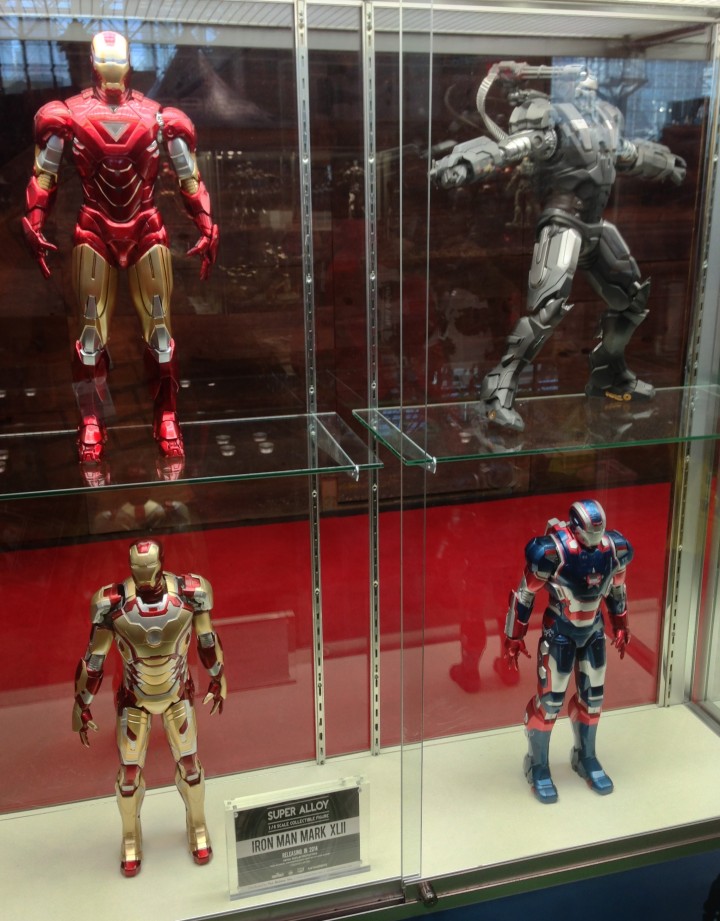 I'm going to touch very briefly on the 1/4 Scale Play Imaginative Iron Man Super Alloy figures: I don't like them. With their $600 price tags, these quarter scale Iron Man figures would never be on my grocery list to begin with, but I left New York Comic Con 2013 feeling particularly unimpressed by these.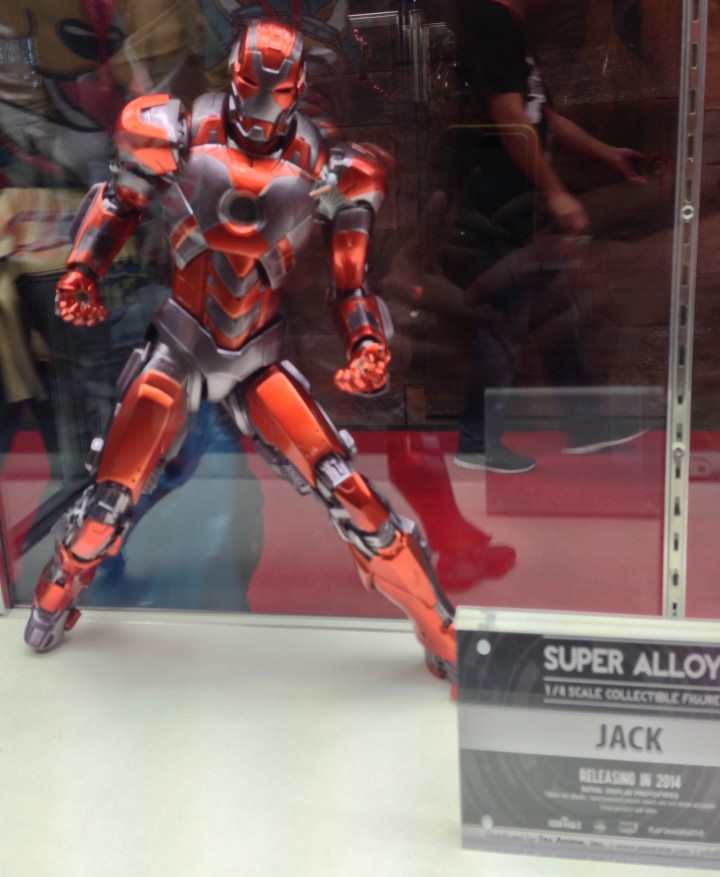 For ridiculously expensive figures that stand about 18″ tall, I felt like the detailing on the various Super Alloy Iron Man 1/4 scale figures was of a lesser quality than on the 6″ figures, and the articulation looked pretty awkward.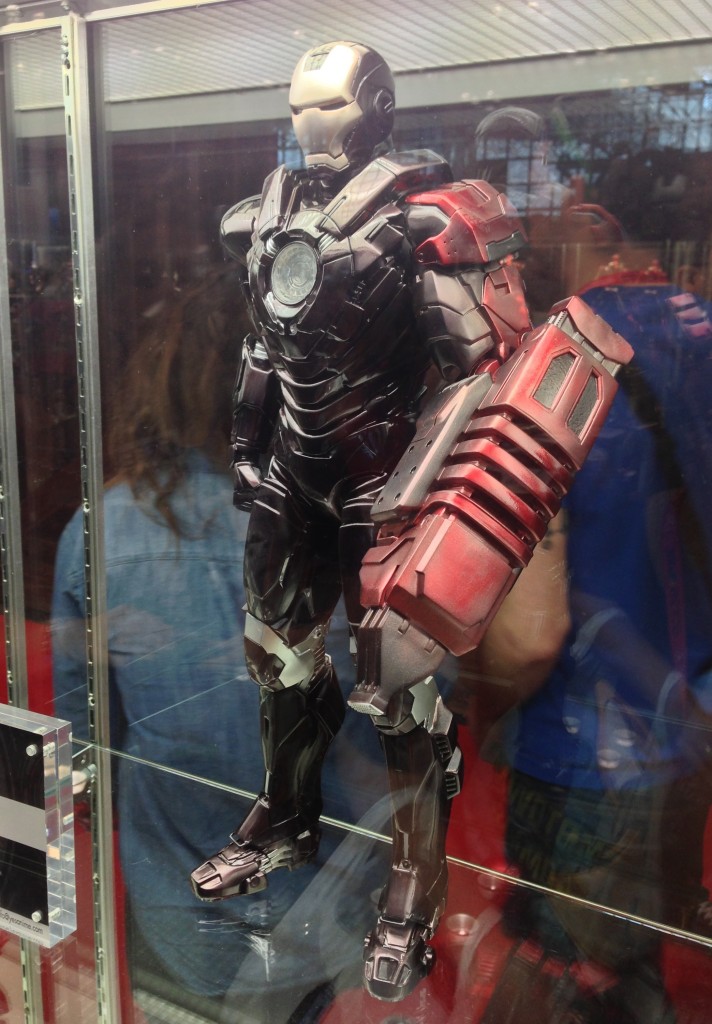 Even the Play Imaginative Iron Man armors that were standing straight-up didn't look quite right to me. The 1/4 Iron Man Super Alloy figures don't look bad, but they don't look as nice as the Hot Toys Iron Man figures that cost a third of the price, in my opinion.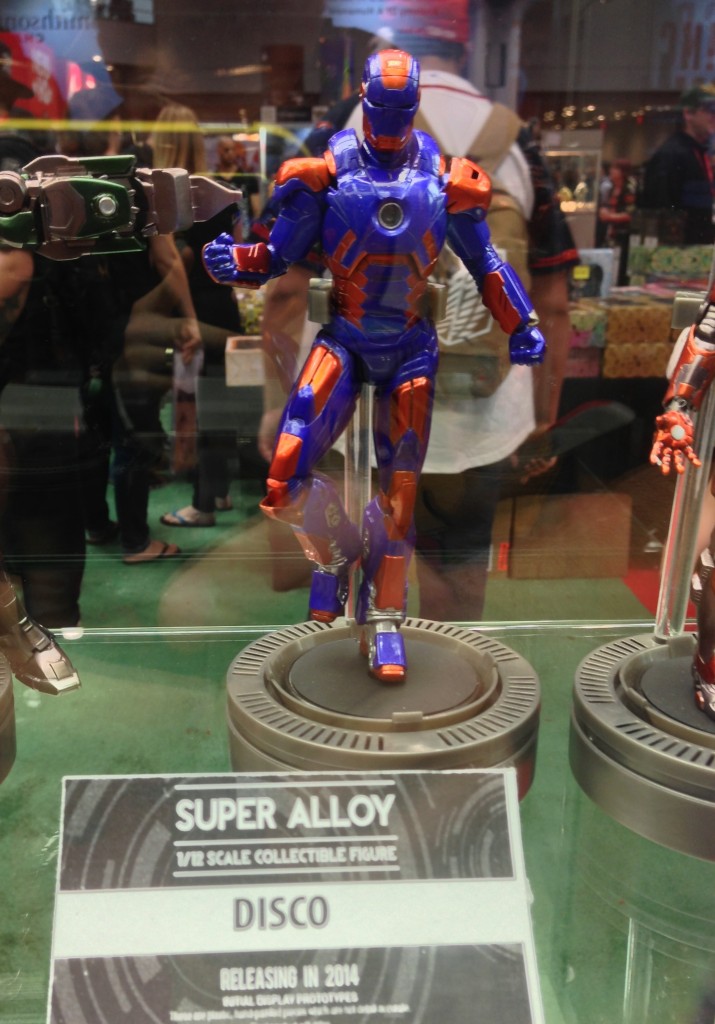 If you're interested in ordering any of the Play Imaginative Iron Man Super Alloy action figures in either the 1/4 (18″) or 1/12 (6″) scales, BigBadToyStore has all of the Super Alloy Iron Man figures that have been solicited up for pre-order right now. Only a handful of figures have been put up for sale thus far, but there are a ton more expected to go up for order over the course of the next year, so keep your eyes peeled.