Though Gentle Giant Ltd. didn't attend last weekend's 2013 New York Comic Con event, they had a minor presence at the show in the form of their Marvel Zombies Magneto mini bust exclusive that was sold at the Marvel booth. In addition, Gentle Giant sent out E-Mails and  unveiled several new products in honor of NYCC 2013 during the show, including the second in the series of Marvel Zombies mini-busts: the Gentle Giant 2014 Zombie Venom bust!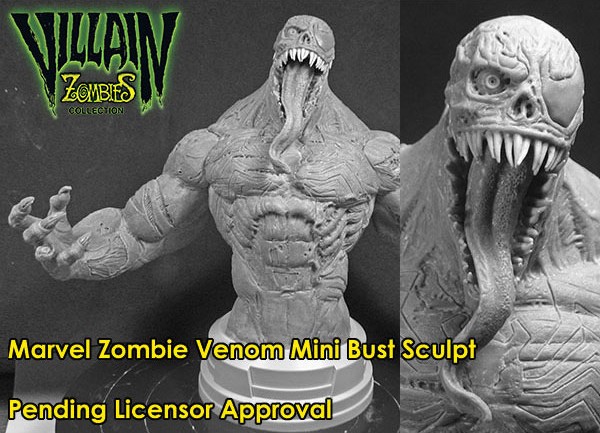 Marvel Zombies have been out of the spotlight for a while, so I really wasn't sure how the New York Comic Con 2013 Zombie Magneto mini bust was going to fare when it went up for sale at the Marvel booth at NYCC 2013 over the weekend. Well, obviously I underestimated the appeal of Marvel Zombies–I saw tons of people carrying around this exclusive at the show, and
the Zombie Magneto busts have sold for for $160+ on ebay already!
Thus, it was probably a smart move on Gentle Giant Ltd.'s part to make a whole series of Marvel Zombies Villains busts, as demand is clearly still hot for all things Marvel Zombies! During the show, Gentle Giant sent out images of the next mini bust in the Marvel Zombies bust series: Zombie Venom!
Though Zombie Venom is of very little importance in the Marvel Zombies comics (the symbiote is weak and easily killed by Spider-Man), Venom is always one of the most popular and marketable villains in the entire Marvel Universe. He appears on the cover of the Marvel Zombies hardcover, and is inevitably going to be a very hot item for Gentle Giant when he does come out!
I'd anticipate that the Marvel Zombies Venom Bust will be released in mid-2014. I'll post an update with painted photos of the final, approved sculpt once Gentle Giant releases updated photos of the Zombie Venom mini bust (although we're still likely several months away from that occurring at the point).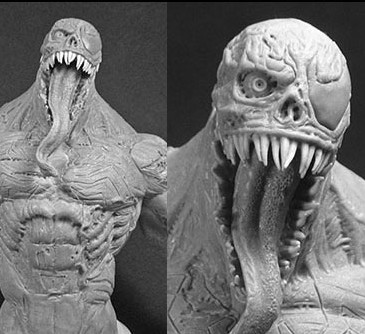 What do you think of the Marvel Zombies Villain Series Venom bust, Marvel fans? Is this gruesome take on Spider-Man's most famous villain a must for your collection, or are you not interested in a bust of a character with very few story appearances and significance?