You never know what you're going to find while walking around New York Comic Con, but one thing I definitely wasn't expecting any of the dealers at NYCC 2013 to have at the show was something that I hadn't seen before (because, you know–I'm pretty well-informed). Even so, one of the dealer booths at last weekend's 2013 NYCC managed to surprise me by having a few Funko POP! Vinyls I hadn't seen before, including the fabled Funko Thor The Dark World Thor with Helmet POP Vinyl figure…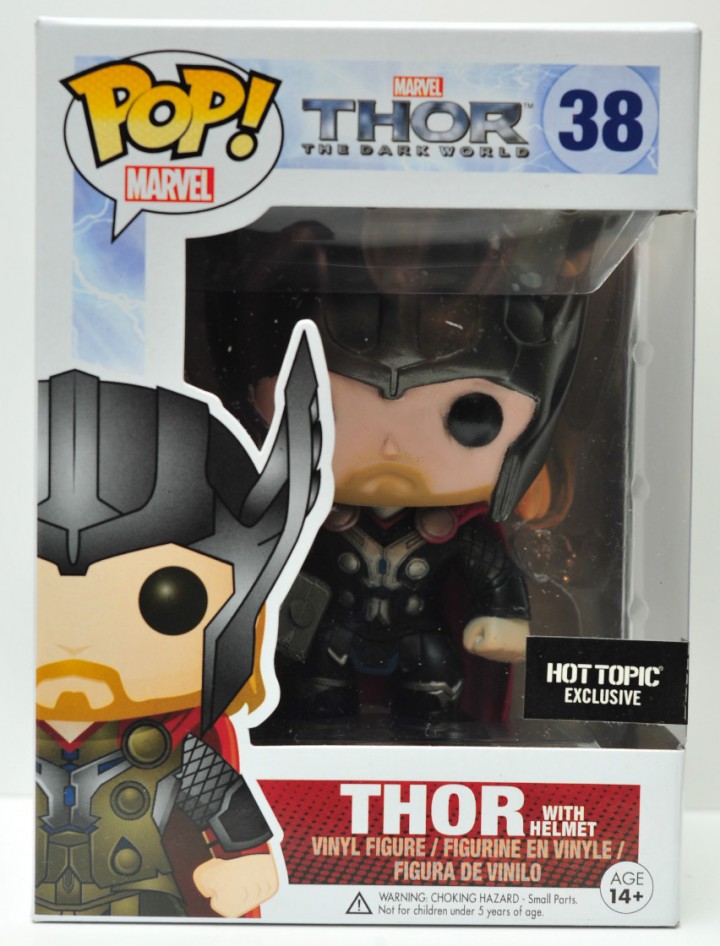 If you've been collecting the Funko Marvel POP! Vinyls–and in particular the Thor The Dark World POP! Vinyls–you've probably noticed that while four figures are pictured on the box backs of the Funko Thor 2 movie POP Vinyls, only three of those figures have shown up at retail.
The Funko POP Vinyls Loki, Unhelmeted Thor and Dark Elf figures have been available for order online
and in stores for several weeks, but the fourth figure, Thor with Helmet, has been a weird anomaly up until now.
I was half-expecting the Thor with Helmet Funko POP Vinyl figure to show up as another Comikaze Expo 2013 exclusive, but it turns out that's not going to be the case. Luckily, it appears that this movie Thor with Helmet POP Vinyl will be exclusively to the nationwide chain of Hot Topic stores, as the figure's box bears a "Hot Topic Exclusive" sticker.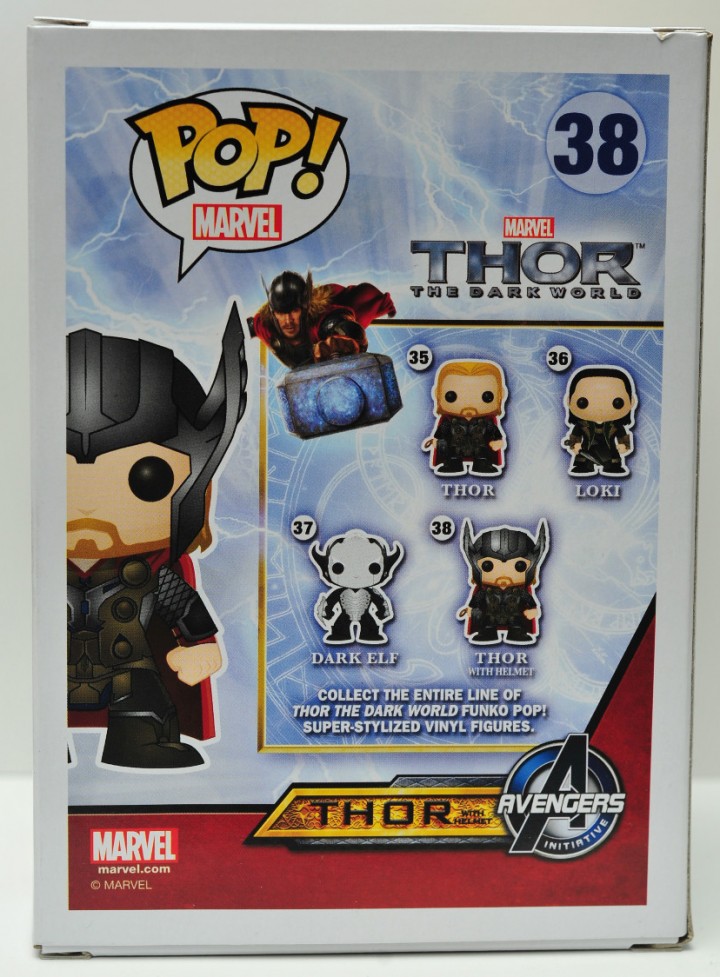 I'm not especially big on buying Funko figures at Hot Topic, as they tend to mark POP! Vinyls up higher than other retailers do, but I definitely prefer the Funko Helmeted Thor be exclusive to Hot Topic stores instead of some obscure convention that makes getting the figure a pain.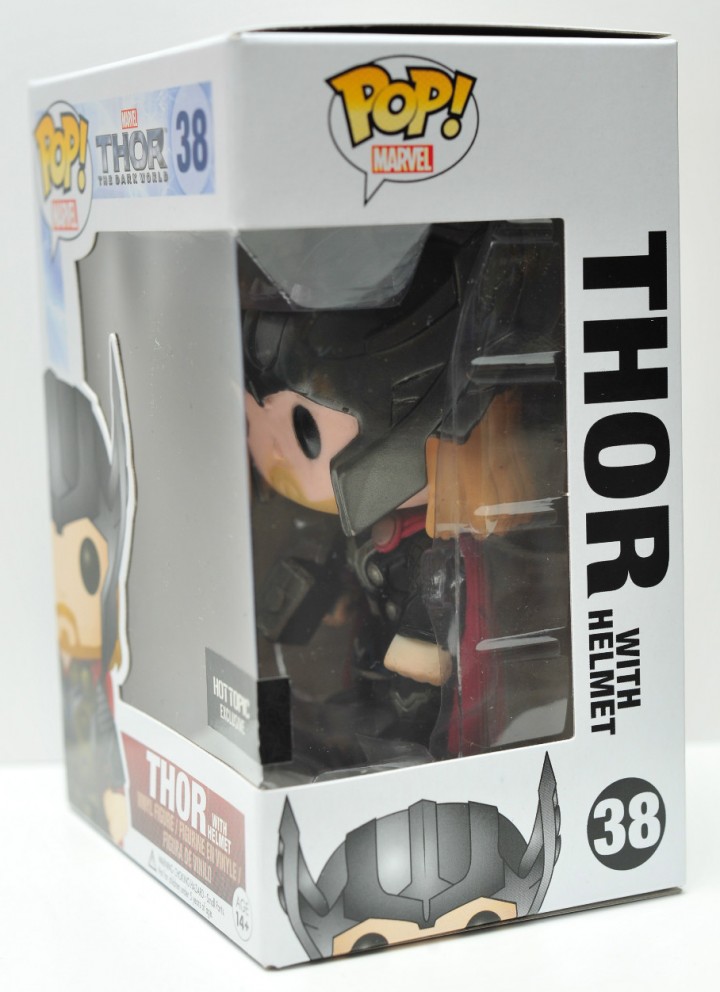 The Thor with Helmet vinyl bobble head has the unique number of Marvel POP! Vinyls #38, meaning that if you want to have a complete collection of Marvel POP Vinyls without the number series being interrupted, you'll have to track down the Thor with Helmet figure. Traditionally variants don't have their own number designations, but recent variant figures like the Funko Compound Hulk and Funko Peter Parker figures have started a new trend.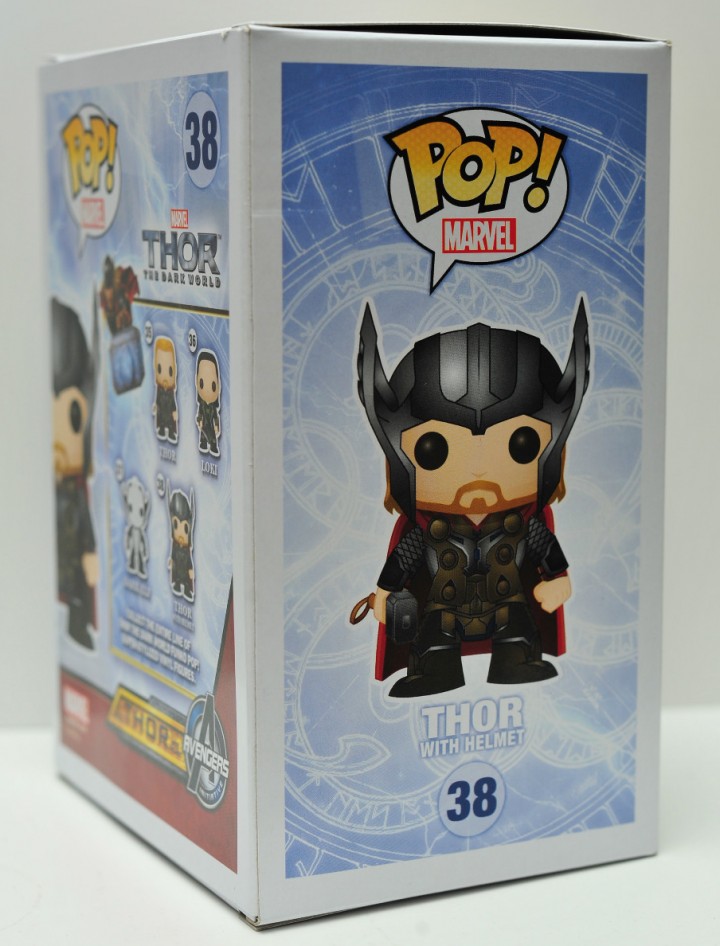 Presumably the Funko POP! Vinyls Thor with Helmet figure will be available via the Hot Topic website at some point (most of their exclusives are), but that hasn't happened yet. In the meantime, you can check out your local Hot Topic stores to pick up Marvel POP! Vinyls #38, or grab Thor with Helmet off of ebay for about 15 bucks.
Funko seems to have outplayed me here, as I would have passed on this figure unquestionably if it hadn't had that unique number designation in the Funko Marvel series. What about you, Marvel collectors? Are you on-board for the Hot Topic exclusive Funko Thor with Helmet POP! Vinyls figure, or is this exclusive one your collection is okay without?