Although there weren't any new Marvel Select figures on display at NYCC 2016, that doesn't mean that Diamond Select Toys didn't bring some new Marvel toys to get excited about! In fact, two upcoming waves of Walgreens Exclusive Marvel Animated Minimates figures were on-hand with some characters that I think a lot of fans are going to be pretty stoked about, including modern Scarlet Spider, Anti-Venom, Speed Demon… and the first-ever Minimates Squirrel Girl figure!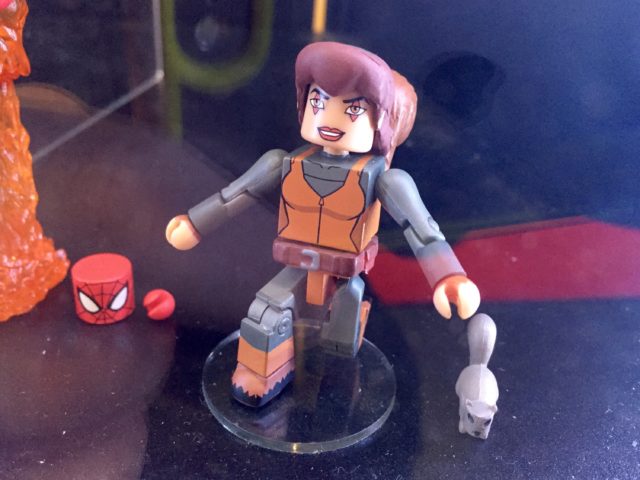 Marvel Minimates are like the Energizer Bunny of Marvel action figures–no matter how many hundreds of characters have been released (including a nearly uncountable number of Spider-Man variants), the line just keeps going and going and going!
And at New York Comic-Con 2016 this weekend, the next two assortments of exclusive Walgreens Marvel Animated Minimates had a nice big area in the display case all to themselves!
The lighting and glass of the Diamond Select Toys display cases at conventions make it really difficult to get perfect photos, but I've included the best I was able to take of the various figures in the waves. Pardon the quality.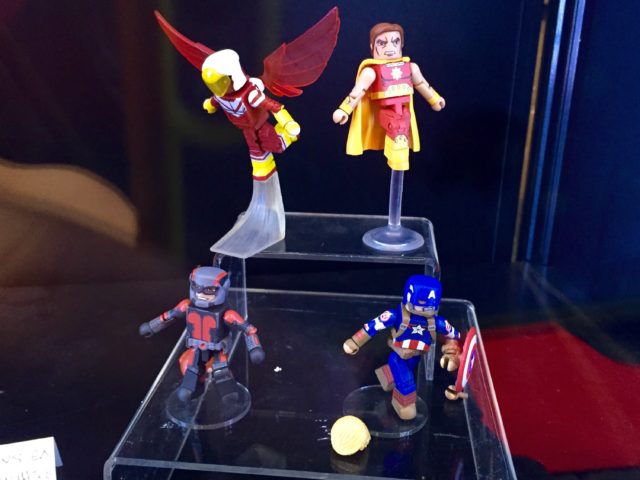 Walgreens Exclusive Animated Marvel Minimates Wave 3 is as follows:
Squirrel Girl & Jet Pack Spider-Man
Spider-Man Noir & Spider-Man
Falcon & Hyperion
Ant-Man & Captain America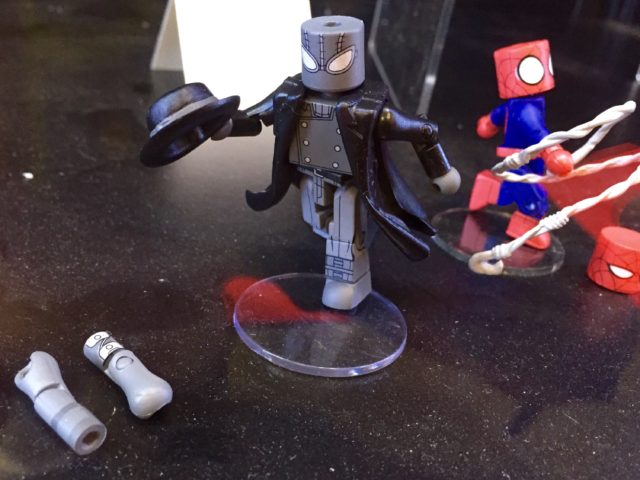 The big names in this quartet of new two-packs are definitely the debut figures for the Squirrel Girl and Spider-Man Noir Minimates, though Hyperion has his fans as well.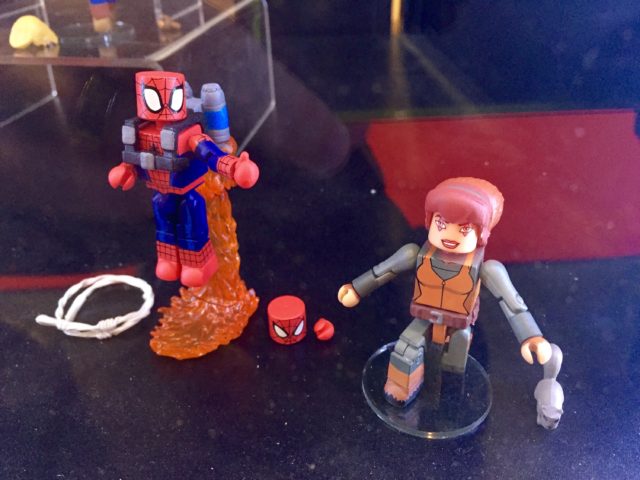 It's been quite a year for Squirrel Girl and Tippy-Toe, with their first Funko POP Vinyls figures, a Kotobukiya Bishoujo and now these Minimates figures. Can a Marvel Legends Squirrel Girl be far behind…? Also, I think that the Jetpack Spider-Man Minimate figure packed with Squirrel Girl is one of the most bizarrely fun Spidey variants ever in the line.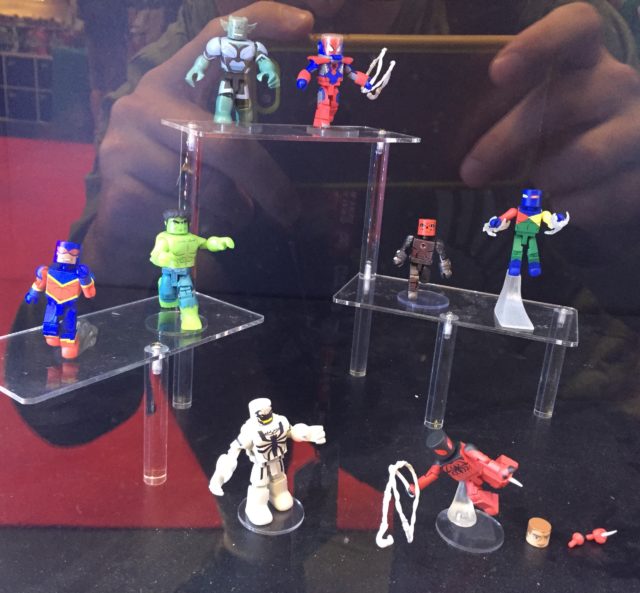 Meanwhile, Walgreens Minimates Wave 4 brings us these four duos:
Speed Demon & Hulk
Ultimate Green Goblin & Spider-Man
Anti-Venom & Kaine Scarlet Spider
Iron Skull & Doctor Spectrum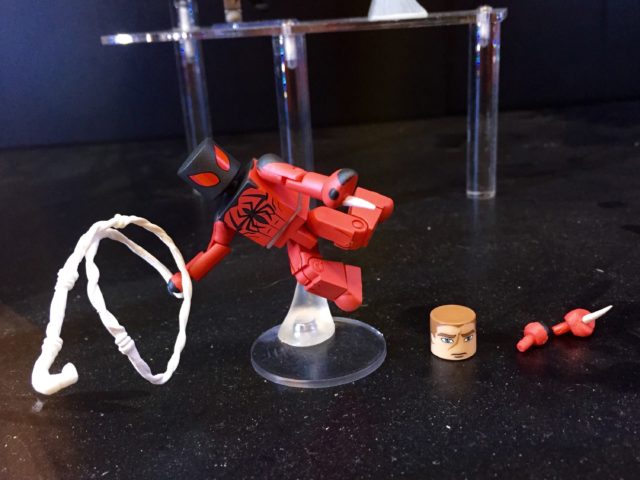 As you might have guessed from our site header and Facebook/Twitter avatars, I'm pretty psyched about the new Kaine Scarlet Spider Minimate figure. He's even got an alternate scarred unmasked head!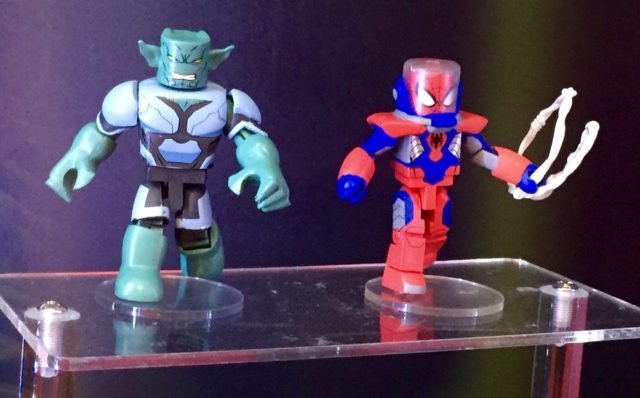 We can add another to the list of DST Spider-Man variants with the (Space Suit…?) Spider-Man packed with this Ultimate Green Goblin figure. Green Goblin has the extra buff chest pieces to show how tough he is, of course.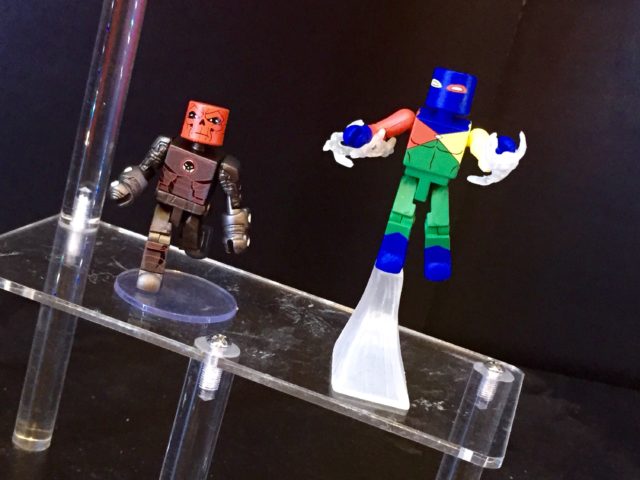 The amount of Iron Skull figures and toys out there is a real head-scratcher to me, and I'm not sure his two-pack with Dr. Spectrum is going to be a big seller (though Hulk's popularity says fellow Squadron Supreme member Speed Demon will sell just fine).
Both Minimates Marvel Animated series are listed as "Coming Soon" on their placards with no exact dates known just yet. I'll post an update once the release specifics regarding these toys are confirmed by Diamond Select Toys.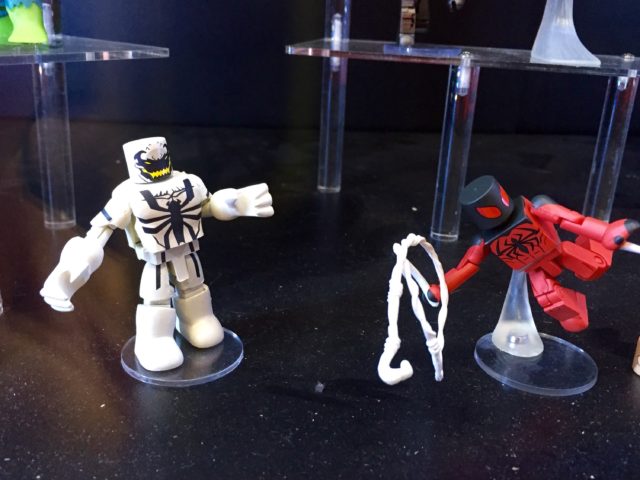 If you can't find them at your local stores (because these can genuinely be a wee bit tricky to track down), you can order the Walgreens exclusive Minimates figures online.
What do you think of the third and fourth series of Marvel Minimates Walgreens exclusives figures, Marvel collectors? Will you be stalking Walgreens once again this winter to claim your own Minimates Squirrel Girl, Anti-Venom, Spider-Man Noir and more? What animated characters would you like to see added to the line?