Black Panther doesn't exactly have the most mainstream cast of supporting characters, so when it came time to fill out the Black Panther Marvel Legends figures series with comic-based figures, Hasbro had to stretch a bit and slot in other "kings". It was sort of a reach, but few fans were complaining about getting new, classic versions of the Kings of the Inhumans and of Atlantis! Supply has caught up to demand and Marvel Legends Namor is available now online for MSRP, but is this the best toy ever of the character?

The Right:
When the 2016 Walgreens Exclusive Namor was wearing his black costume and not the iconic green speedo, a lot of collectors voiced their displeasure with the costume selection.
Whether or not Hasbro heard those complaints or already had a classic Namor in the works we'll never know (I'd strongly bet on the latter), but not that long after the Walgreens Namor, a new classic Namor Marvel Legends 6" figure has  now arrived!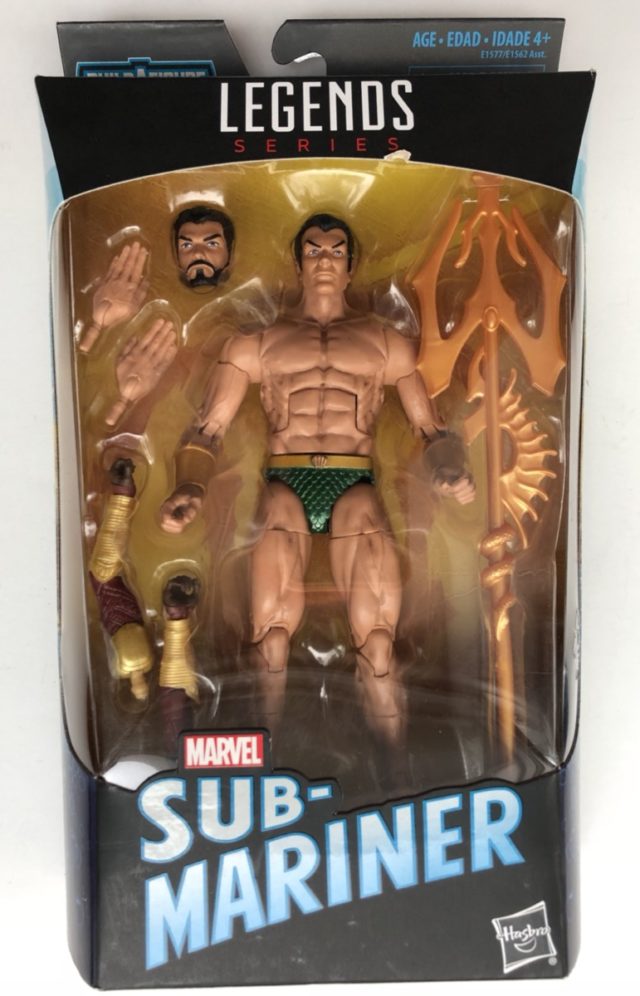 Now, to be truthful, Namor's classic costume isn't exactly the most amazing design in the world: it's a pair of green swim briefs. It would have been a simple matter for Hasbro to paint a "smooth" crotch green and pop it on this figure.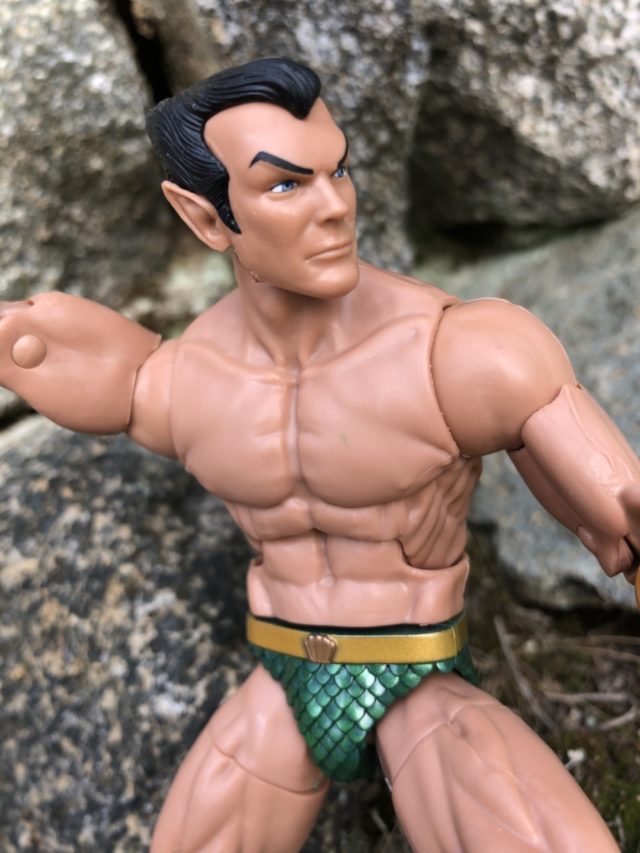 Thankfully, that's not what they did. The layered texture and shiny green paint on Namor's swim trunks makes them the most eye-grabbing part of the whole figure (let's all stare at Namor's crotch—haha). Even the gold band has a seashell design on it to look less plain. Nice work here.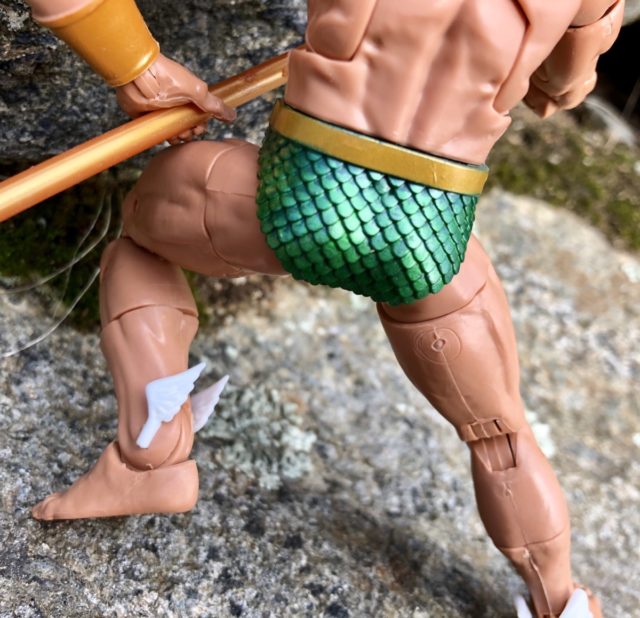 The other two aspects of this figure that make Black Panther Legends Namor not just a naked dude are his wristbands and the wings on his feet.  They're simple, well-sculpted, and break up the otherwise flesh-toned figure well.
Hasbro included one of my absolute favorite accessory choices with this 6" Namor: an alternate head. Now, there's no question that clean-shaven is the iconic look for the King of Atlantis, but I did see quite a few collectors excited about a bearded Namor head, so I'm happy for those fans.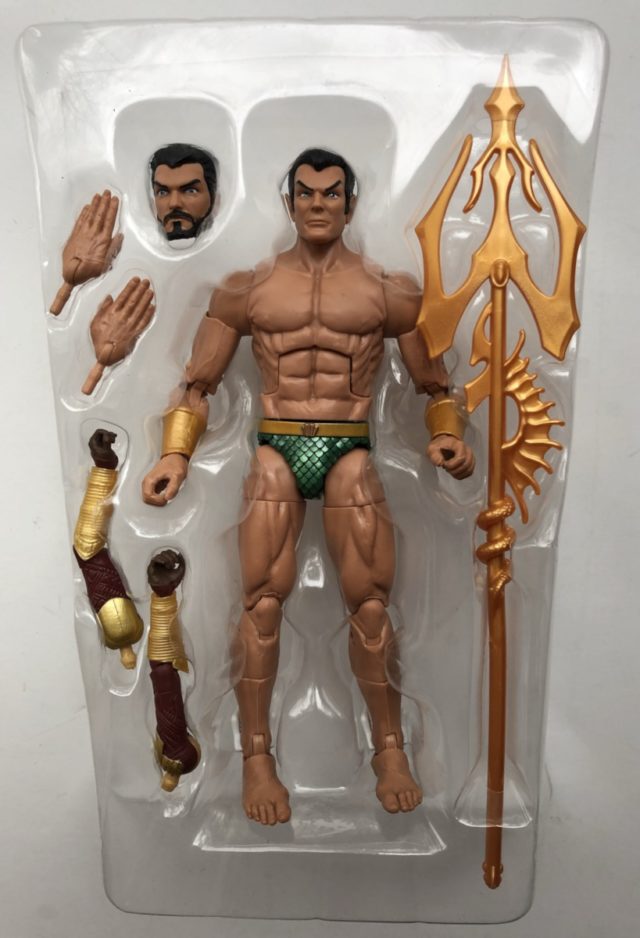 While it's not the portrait I'll be displaying the figure with, I have to admit that the Namor bearded head looks more angry and determined than the almost friendly default head.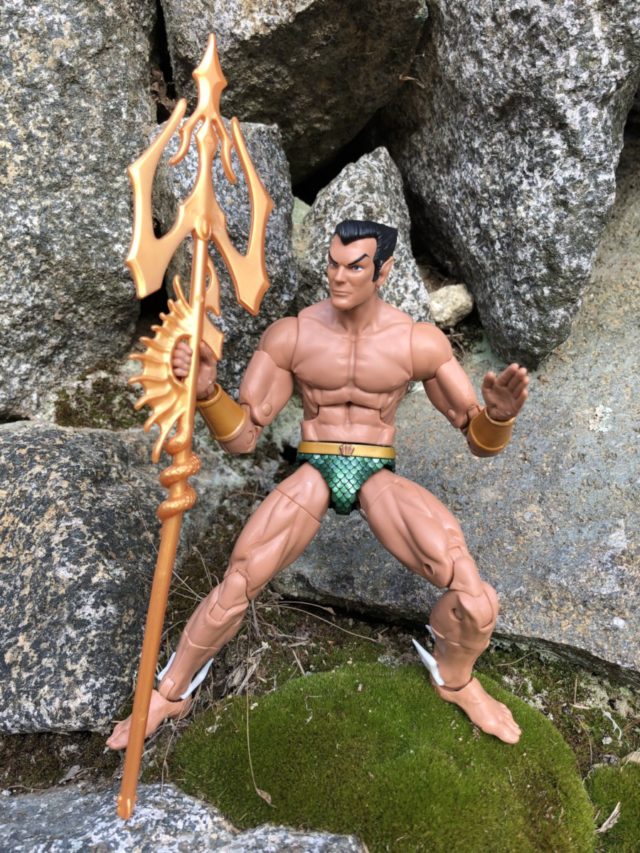 Namor comes with just one weapon, but it's a good one: a trident that is really cool. The trident is noticeably taller than the Namor figure itself, and is cast in a very nice satin, glossy gold plastic.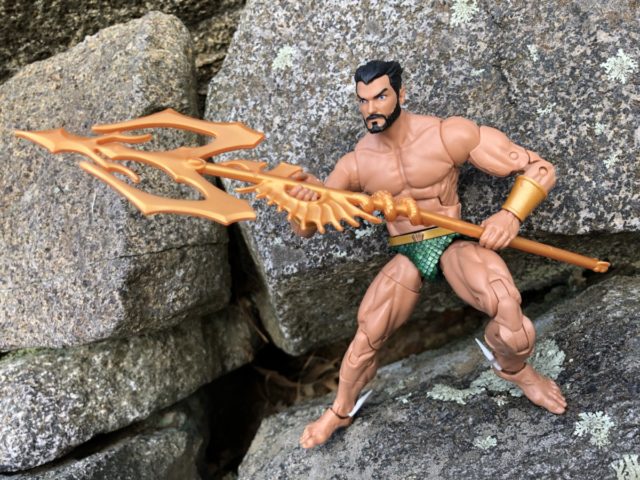 The trident is wonderfully designed, with a seahorse dorsal fin and snake coils sculpted onto it. The weapon looks quite regal and adds some real "oomph" to a figure that otherwise is a bit plain-looking.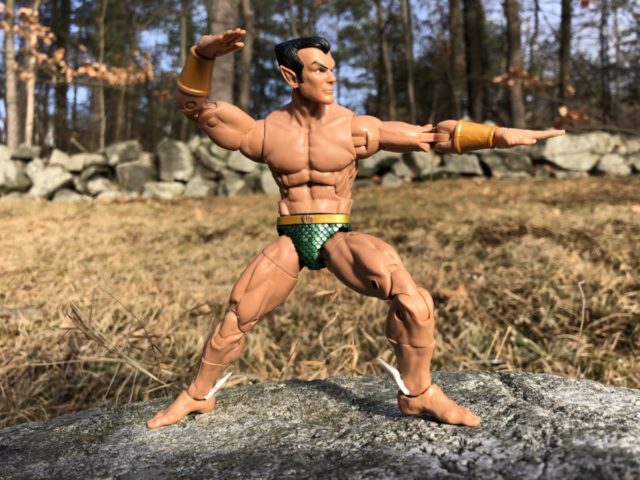 Articulation-wise, this is a Marvel Legends figure, so the posing possibilities are off the charts. He's got swivel calves/biceps/thighs/waist; ab crunch; double-hinge elbows and knees; ball-hinge neck and shoulders; swivel-hinge wrists; hinged ankles with rockers and ball hips.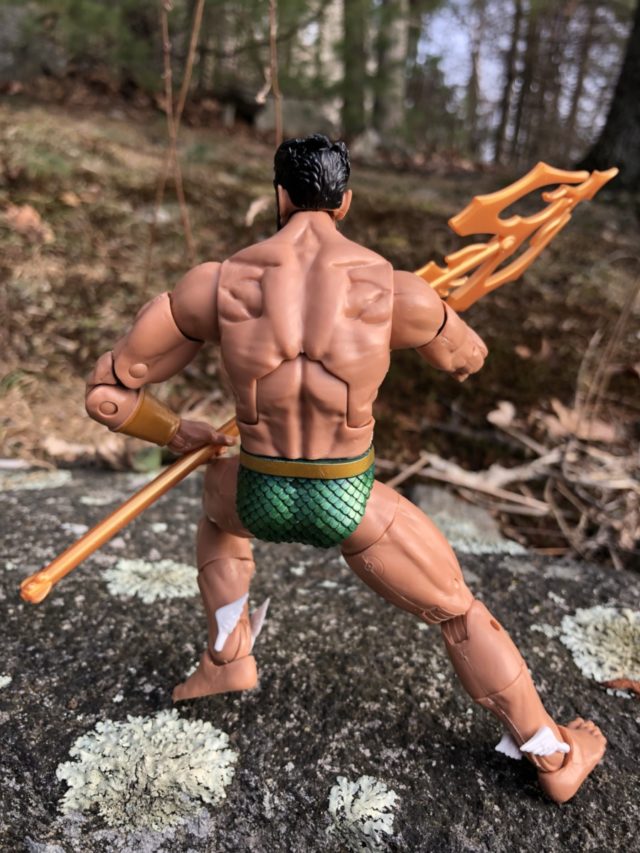 Nothing in the sculpt restricts the movement, Namor can hold his trident one- or two-handed without a hitch, and stable deep crouches aren't a problem. As far as posing goes, this is a delight.
The Wrong:
While Namor isn't exactly tops on my list of favorite Marvel characters (or even Marvel characters with 'Namor' in their name), this toy comes extremely close to being the "perfect" figure version of the character. I've got just three minor gripes about Namor, which is pretty small given how much I like to grumble.
First up, while I do think that the default, beardless head for this figure looks like Namor, it doesn't feel like Namor. I just don't feel Namor's overwhelming ego and arrogance radiating from the portrait–he just looks too polite for a guy who's generally either aggro or rudely snobby.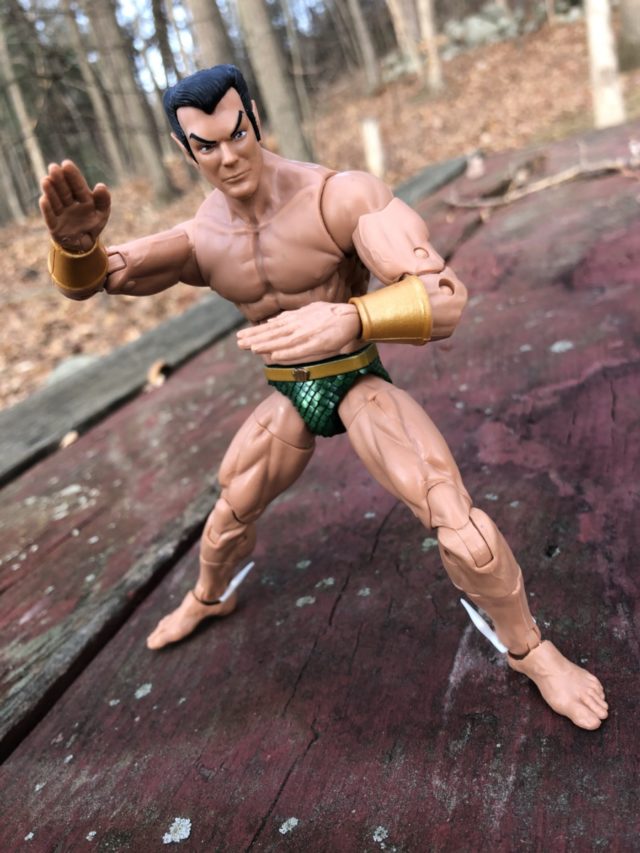 Minor gripe #2: Namor's hands. We get two pairs of interchangeable hands here: grasping hands (for the trident) and Kung-Fu (okay, swimming) hands. Since Namor typically punches his foes into submission, I'm really surprised there's no fists here. I'd really prefer my Namor be able to punch instead of having to karate chop some b*tches.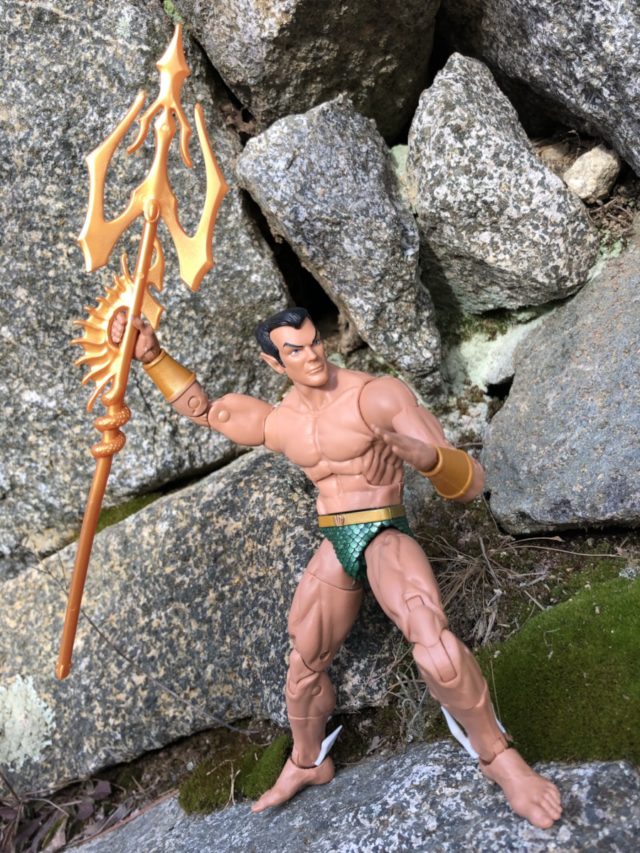 Last trivial complaint: no paint deco whatsoever on the trident. Hasbro picked a nice color and Namor's trident typically doesn't have much decoration on it in the comics, but I'd have liked at least a red jewel or some paint deco on the handle… something… so it doesn't just look like a nicely-colored, molded piece of plastic.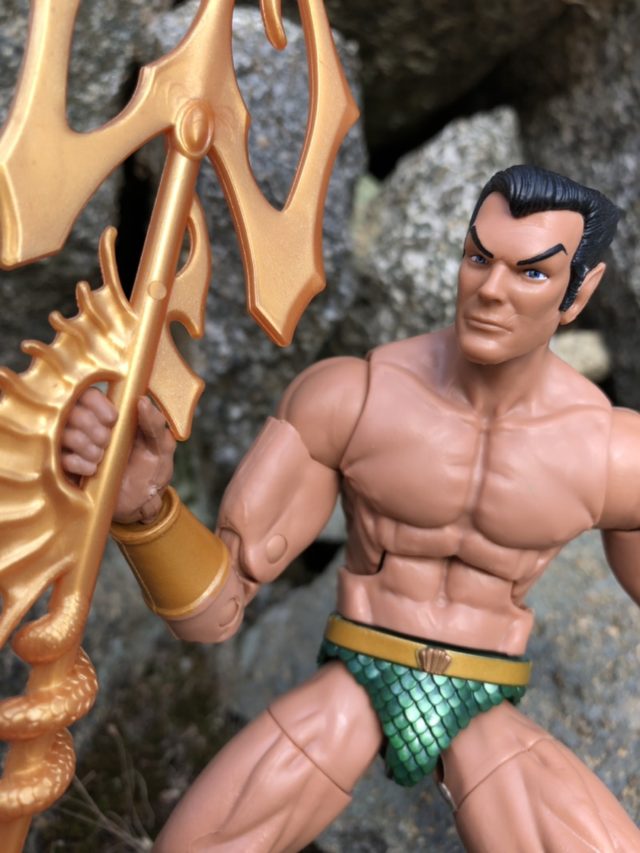 Overall: I was initially going to score this figure a bit lower, but as I laid out my thoughts in words, I discovered that the handful of things I don't like about this Marvel Legends Namor figure are pretty minor. While I would have liked fists, a more angry/arrogant head and a bit more deco on the trident, that's about where my complaints end.
The articulation is the usual level of excellence, it's fun posing Namor with the trident, the green speedo has outstanding paint and texture, and the bearded head is great for those who want that look. I wouldn't quite call this figure perfection, but it is the best Namor action figure we're likely to get for quite some time (if not ever).
GRADE: A-