It was one week ago that we said goodbye to San Diego Comic-Con 2016–but that wasn't the only major toy event to close out July: the Summer WonderFest 2016 show also took place in Chiba, Japan last week. And while most of the reveals at the Summer Wonder Festival were based on anime characters, there were two very-anticipated Marvel toys on display at WonderFest as well: the upcoming Revoltech Spider-Man and Deadpool figures!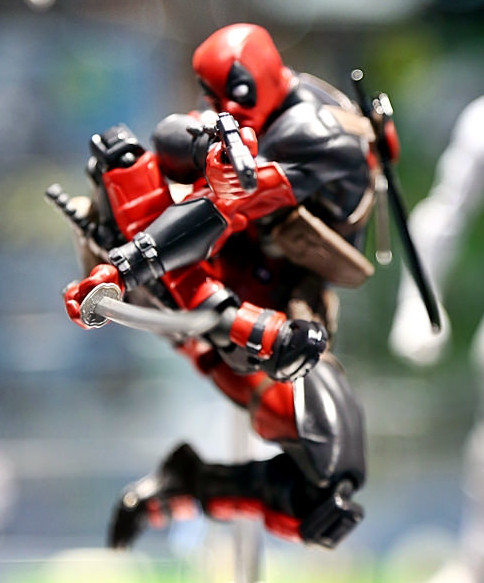 Though the Kaiyodo Revoltech line has been going strong for many years now and regularly releases Iron Man Revoltech figures based on the MCU Iron Man movies, it's only in 2016 that they're entering the comics-based Marvel characters arena!
Kaiyodo took the collecting world by storm with their Revoltech Deadpool figure that went on sale earlier this summer, and they brought a finalized Deadpool and a prototype of Spider-Man with them to the 2016 Summer Wonder Festival!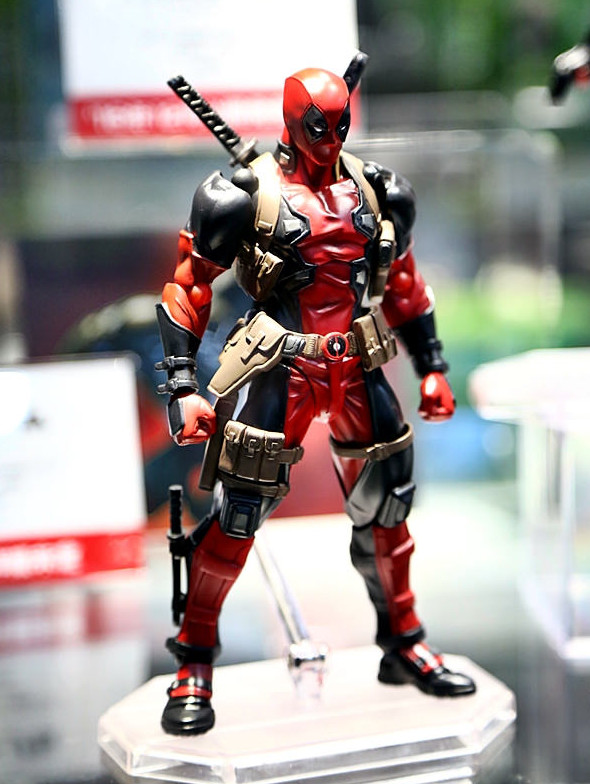 While most folks who are getting Deadpool have already ordered him (and he's sold out almost everywhere at this point), the show let us see even more great dynamic poses of the Deadpool Revoltech, so buyers can feel pretty good about their pre-ordering decision on this Wade Wilson figure!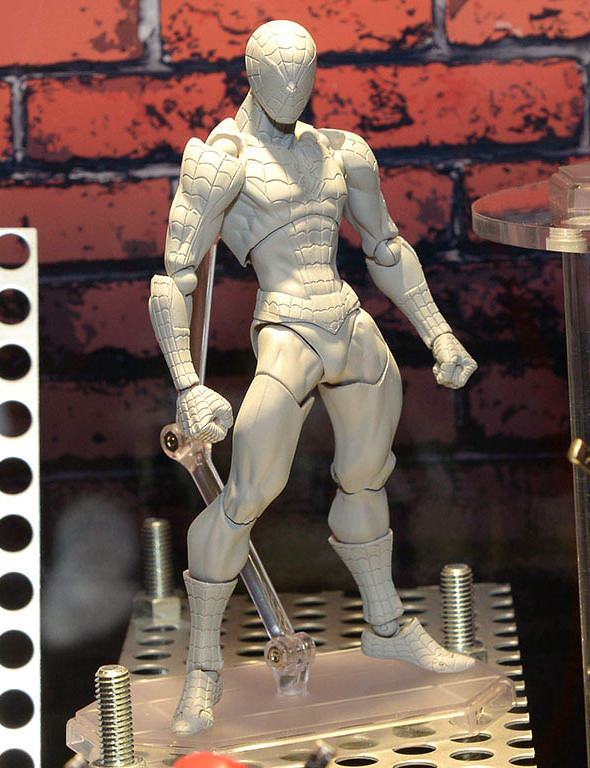 But what most folks are more interested in seeing from the show than the "same old Deadpool" that's been up for order for a while now is something all-new and different! And so, the next Kaiyodo Marvel Comics figure made its public event premiere at WonderFest as well!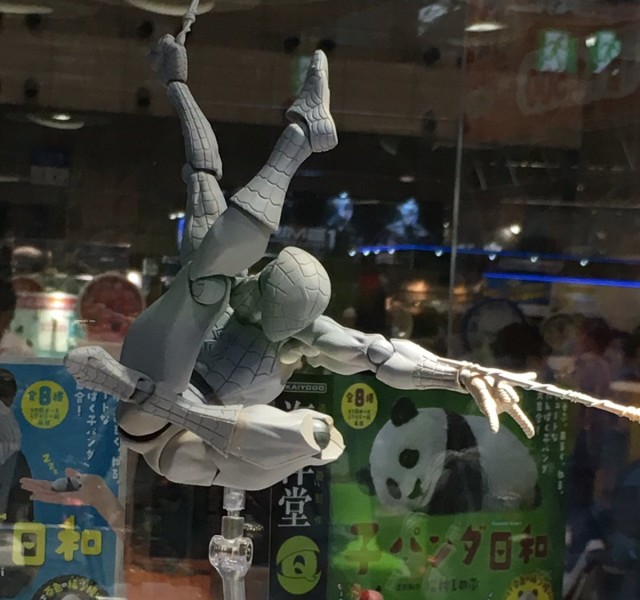 The second entry in the Amecomic Yamaguchi American Comic Characters Revoltech line is an Ultimate Spider-Man figure!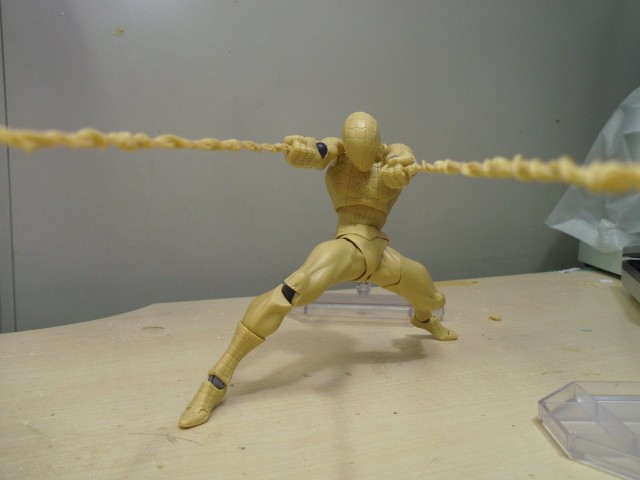 As you can see from the prototype photos, this Spider-Man figure includes interchangeable hands and web-lines as accessories, although we don't know the complete load out of extras that will be included with the figure just yet. Could we see alternate expressions like we did with Deadpool…?
Want a Spider-Man figure that can do a crawling pose that's better than the ones you can get out of basically every other Spidey figure ever made…? Then Revoltech Spidey may be the Spider-Man toy that you've been waiting for!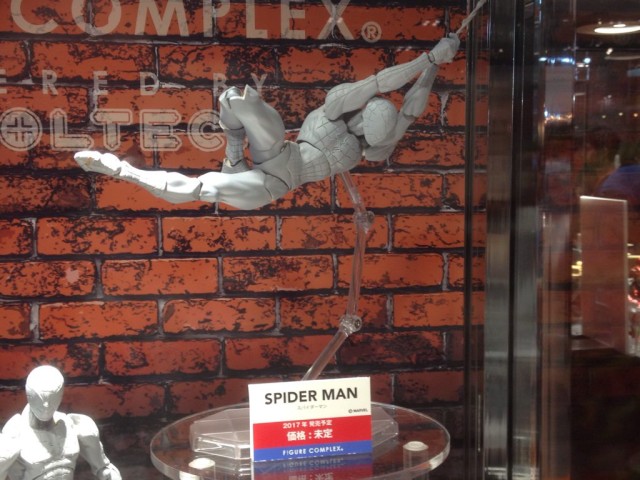 While some of the joints on these figures are a little bit ugly and weird-looking (particularly the weird shoulder joints, which show a very obvious gap from the rest of the toy), many collectors will consider the nearly-unparalleled flexibility and articulation to be a fair trade-off for some wonky-looking joints.
Both this figure and the upcoming Revoltech Venom are under the licensing banner of the "Ultimate Spider-Man" cartoon, so expect to see these figures colored and stylized to look similar to their cartoon appearances.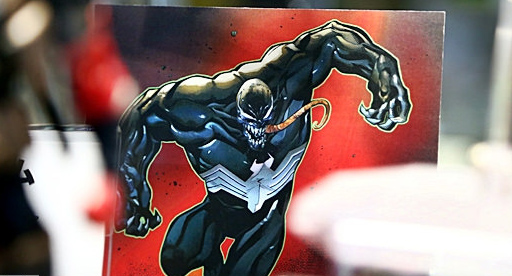 The Kaiyodo Revoltech Deadpool is now up for order, and is scheduled to be released in October 2016. Revoltech Spider-Man and then Venom are both scheduled to go up for order later this year, and I'll post updates here and to the Marvel Toy News social media pages when more information about those figures' releases are available.
Having seen updated photos of the Deadpool and Spider-Man Revoltech figures, what are your current thoughts on these action figures, Marvel collectors? Are you considering shelling out for these import figures, or are the domestic Hasbro versions good enough for you?