If there's a toy company out there that I desperately want to love more than Funko, I don't know what it is. I've had my share of quality control issues with the Funko POP! Vinyls figure line over the years, which has left me mostly admiring their goods from afar. But with the massive amount of cool 2013 San Diego Comic Con exclusives Funko released, I could resist no more, and picked up a trio of their con exclusive Marvel POP! Vinyls. By luck (or bad luck) of the draw, I opened the Metallic Red Hulk POP! Vinyl first…

The Right:

The SDCC 2013 Funko POP! Vinyl Metallic Red Hulk has one very distinct color scheme difference from the regular release Red Hulk vinyl bobble-head (besides the metallic paint, obviously): while the regular release POP! Vinyl Red Hulk has yellow eyes, the Metallic Red Hulk Exclusive vinyl has black eyes (like most Funko POP! Vinyls).

It sounds like a little difference, but swapping the eye color on the Red Hulk bobblehead is actually a huge deal. The yellow eyes on the regular Red Hulk Funko POP! Vinyl look really cute and give ol' Thunderbolt Ross a really adorable visage, while the black eyes give the Comic Con 2013 Red Hulk Vinyl figure a hardened, angry face. I personally prefer the cutesy look of the yellow eyes, but I think it's terrific Funko made the black-eyed, more serious Red Hulk POP! Vinyl an option (even if it's as a limited exclusive).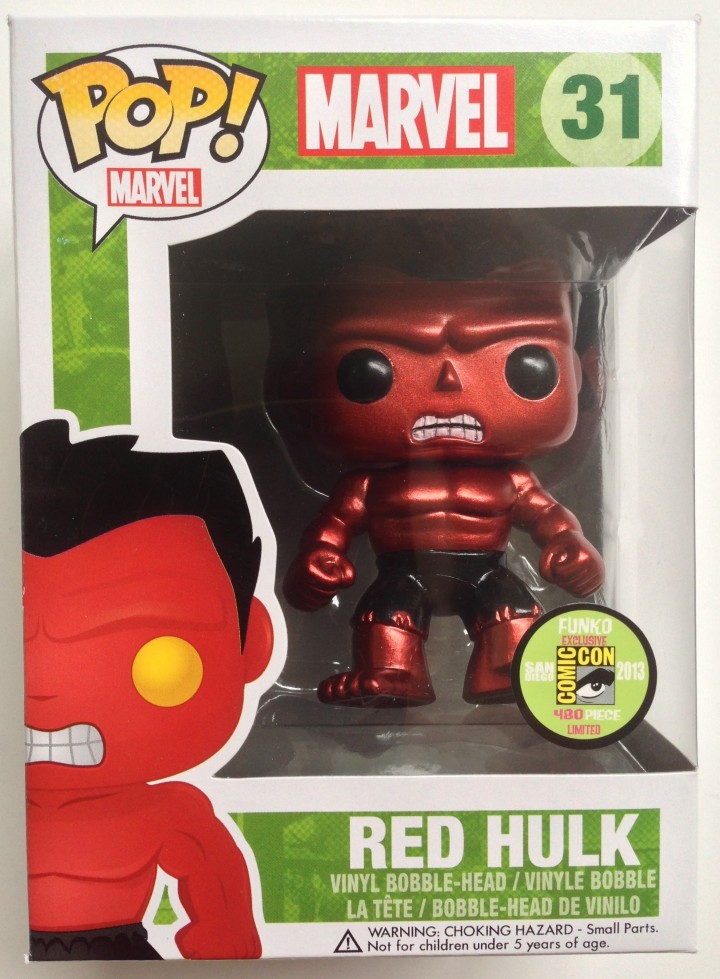 And speaking of this being a limited exclusive–I love that Funko is bringing the exclusivity back to convention exclusives. Three of the five Marvel POP! Vinyl SDCC 2013 exclusives are limited to just 480 piece produced–a super low number compared to the thousands upon thousands of pieces Hasbro makes of each of their exclusives. Funko isn't nearly as popular, but it definitely makes it more interesting knowing that you own .25% of the entire run of a limited POP! vinyl.
The Wrong:
There is a huge downside to this figure, and it's exactly what you're expecting if you've been reading carefully.
The first of my Funko SDCC 2013 exclusives that I opened and reviewed was the Epic Mickey Metallic Oswald Rabbit I reviewed over on my Disney Vinylmation website last week. I was really pleased and impressed with the paint applications and QC on that figure, which left me with high hopes for the Marvel POP! Vinyls. As soon as I picked up the Red Hulk figure and really looked at him through the window on the box, those hopes were dashed.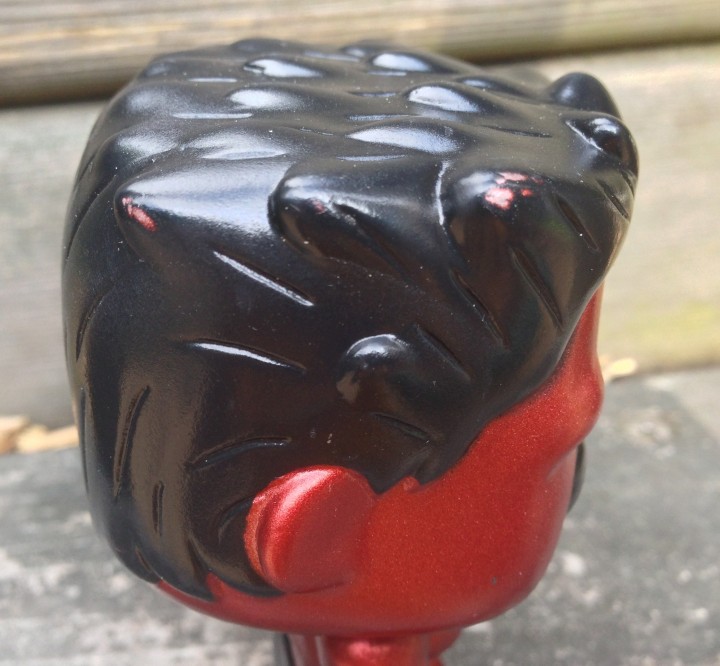 Great paint can save a mediocre action figure, but horrid paint can condemn an otherwise fine one. This case is the latter: The quality control on the Metallic Red Hulk figure has to be an all-time low from any company. The biggest and most irreconcilable issue with this Red Hulk (Metallic) Funko POP! Vinyl is that he has big scratches all over his hair, straight out of the package! Seriously–there's big streaks of metallic red where the paint must have been scraped off before they even packaged poor Rulk at the factory.
Red Hulk actually looks a lot better in the photos than he looks in person–up close, there's paint scratches, paint bleed, missed spots… he just looks awful. The large areas of red paint showing on Marvel POP! Metallic Red Hulk's tattered shorts is ridiculous, as is the amount of black paint bleeding down from his hair onto his forehead and back/sides of his head.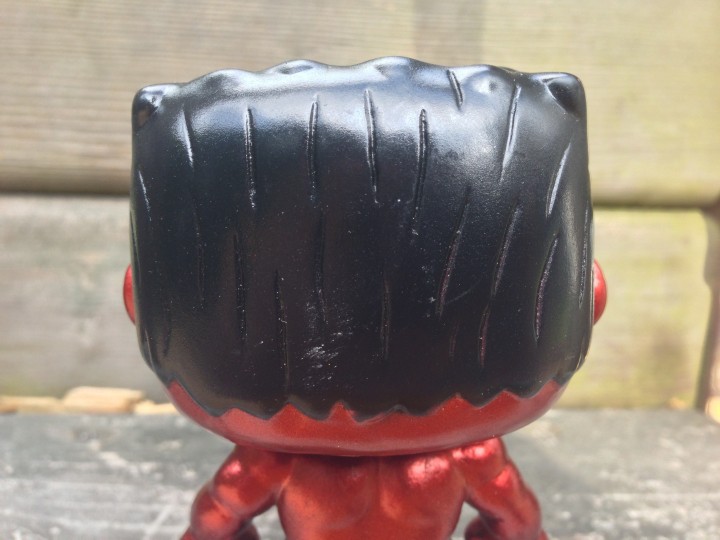 I could look past the multitude of quality control problems on this Metallic Red Hulk if only mine was affected, but it turns out there have been myriad complaints about this particular figure from collectors who ended up purchasing it. This particular figure has "factory rush job" written all over it. Thankfully I have looked at my 2013 SDCC Funko Metallic Ghost Rider and Deadpool figures already, and both look better than Red Hulk (at least, at a glance). I'll follow up with reviews of those two POP! Vinyls in the near future.
"Where Can I Buy It?!"
The Metallic Red Hulk was a SDCC 2013 exclusive at the show, so if you want one now, you'll have to get him off the secondary market. Metallic Red Hulk is selling for $25-$30 shipped on ebay right now (but if anybody wants mine, I'd be thrilled to part with him for $22 shipped–leave a reply).
Overall: I really and truly want to love this 2013 San Diego Comic Con exclusive Funko Metallic Red Hulk, but I just can't do so. Not because it's a bad design or because I hate metallic paints or anything ridiculous like that. No, I can't love this figure for the worst reason of all–because the quality control is godawful. Amidst the many, many complaints I've read about this figure online, I know that I'm not alone in getting a bum Metallic Red Hulk, and it's really too bad. Numerous scratches straight out of the box and terrible paint applications mar a figure that could be very cool, making it incessantly frustrating to look at as a result.
GRADE: D