The second full day of San Diego Comic-Con 2016 is in the books, and while Hasbro was more into promoting Star Wars today than Marvel, that doesn't mean that they didn't have some big Marvel reveals today as well! And by "big", I'm talking 12 inches of Wade Wilson goodness! That's right, the Marvel Legends 12″ Deadpool figure is the fourth figure in this year's new sixth scale series!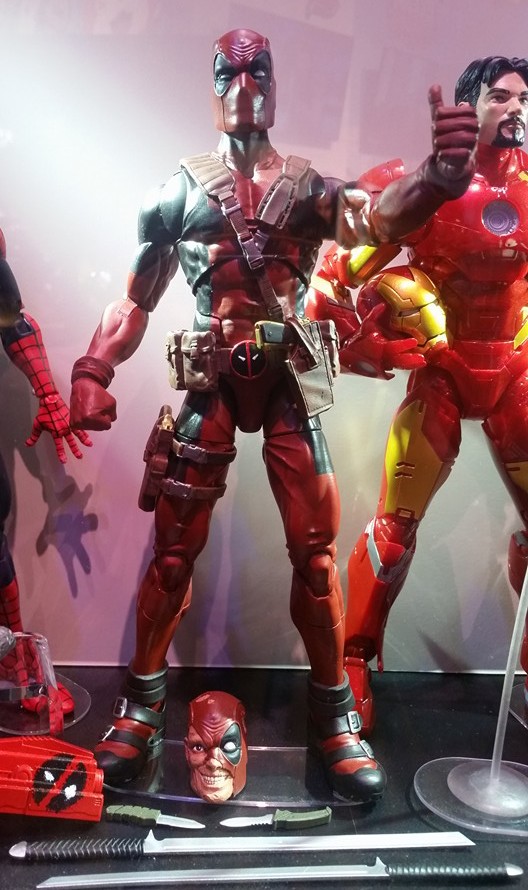 Seeing as how all three of the first figures in the Hasbro Marvel Legends 12″ Series are headliner characters that starred in a blockbuster movie this year, it should come as a shock to no one that the fourth character in the line starred in his own movie this year as well: Deadpool!
Fresh off of being the hottest figure in the X-Men Legends series (and perhaps the hottest Hasbro figure of 2016 overall), Wade Wilson has grown up and will be getting the foot-tall treatment later this year!
Stylistically similar to his release in the Juggernaut series, the Marvel Legends Deadpool 12″ figure will feature removable katana swords, knives and guns in sheaths, as well as having multiple pairs of interchangeable hands.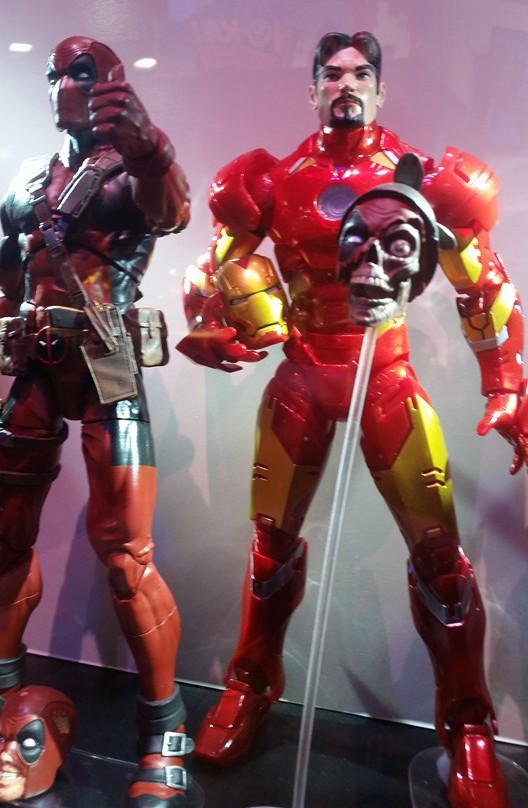 But unlike his 1/12 scale counterpart, this Deadpool will come with two extra heads–and one of them is a whole other character! First, the 12″ Marvel Legends Deadpool will include a battle damaged masked Deadpool head with part of Wade Wilson's grisly face showing through–a feature than the X-Men Legends versions does not feature.
And secondly, this figure will include another accessory the 6″ action figure iteration is lacking: Headpool, the flying zombie head Deadpool! I already have a hyper-detailed Headpool from the awesome Sideshow Deadpool sixth scale figure that was released in the winter, but for those who don't have $220+ to spend for a 1/6th Headpool, Hasbro has done a pretty bang-up job with this one!
The figure will also include a red gun with the Deadpool head logo on it, as well as a half-eaten (ewwww) burrito. Now there's an accessory I don't believe we've ever seen released before!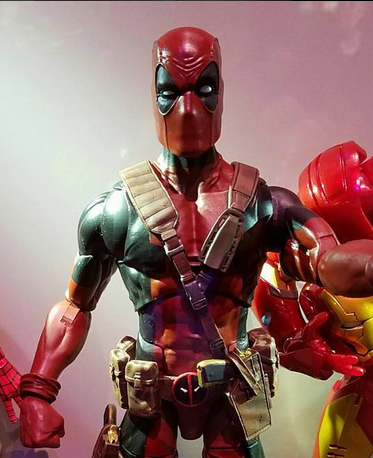 More specific information and photos of the Marvel Legends 12″ Deadpool figure should be available after the SDCC 2016 Hasbro Marvel panel on Saturday 7/23/2016. I'll post an update with any more information we learn about what is certain to be the best-selling figure in this 1/6 line thus far as soon as more details are available, and you can follow the Marvel Toy News Facebook and Twitter Pages to get more info on this figure as it becomes available.
What do you think of Hasbro's decision to make Deadpool the fourth member of their twelve inch figure lineup, Marvel collectors? Are you interested in adding a double-sized, $50 Deadpool Legends figure to your collection, or are you satisfied with the excellent 6″ Wade Wilson in the X-Men Series that just hit stores?
And big thanks to Joshua B. for sending in his photos of this figure that he took today at San Diego Comic-Con 2016!