We're a scant two weeks away from San Diego Comic-Con 2015, which means that the most exciting part of the year for Sideshow Collectibles collectors has arrived! Things have been mostly quiet on the Sideshow Premium Format Figure front for the past few months, but it looks like business is picking up once again–and with a character choice that is probably going to surprise a lot of people: the Sideshow Exclusive Brown Costume Wolverine Premium Format Figure Statue is now up for order!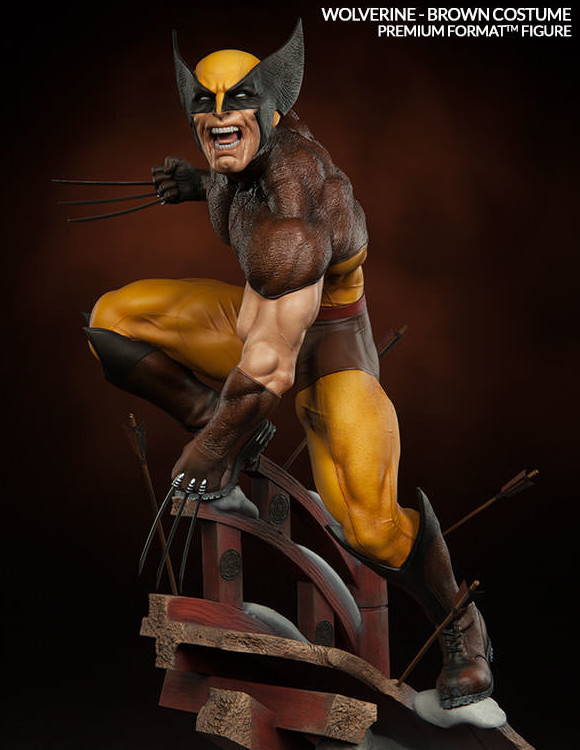 Just when our hopes for more X-Men merch coming down the pike began to dwindle, a new statue of the most iconic X-Men character of all has appeared from Sideshow Collectibles: a Premium Format Brown Costume Wolverine statue!
With other companies such as XM Studios being told not to produce X-Men Collectiblrs due to the rift between FOX and Disney/Marvel, I imagine many people are surprised to see Wolverine (of all people) getting a new Premium Format Figure.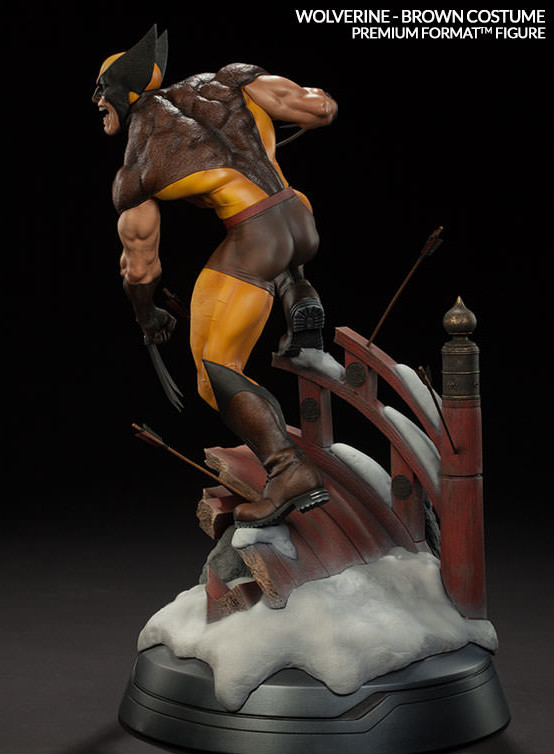 Here's the deal, though: Marvel licensees are permitted to make X-Men toys and collectibles as long as the merchandise is heavily based on the classic comics (and not the movies).
This is why Funko was able to do a whole wave of Classic X-Men POP Vinyls, as well as why Kotobukiya is still able to produce their Marvel NOW X-Men ARTFX+ statues. So if you're a fan of the Classic X-Men, rejoice–the future is not as bleak as feared!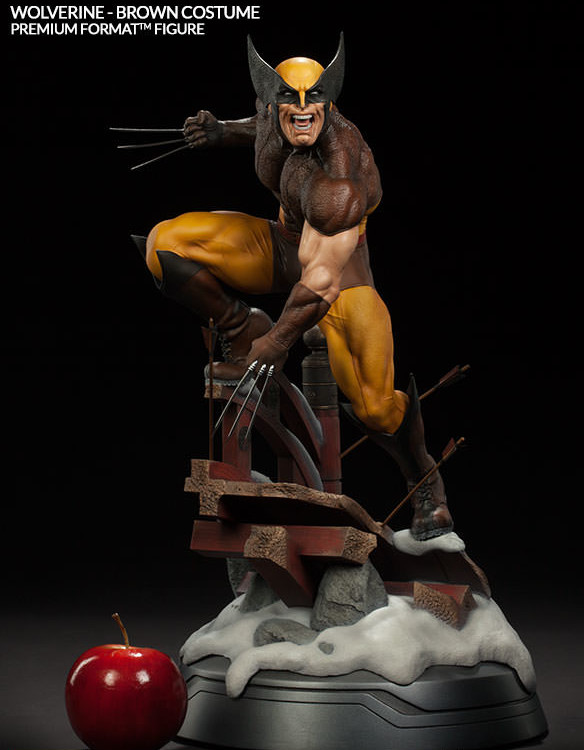 And speaking of "classic" X-Men–Wolverine doesn't get much more "classic" than his beloved brown costume from the original Wolverine limited series!
Kotobukiya put out a very nice Danger Room Sessions Brown Costume Wolverine statue a few months ago (which I love a lot), but this 20″ beast of a statue is far larger, grittier and more detailed the Kotobukiya 1/6th scale version.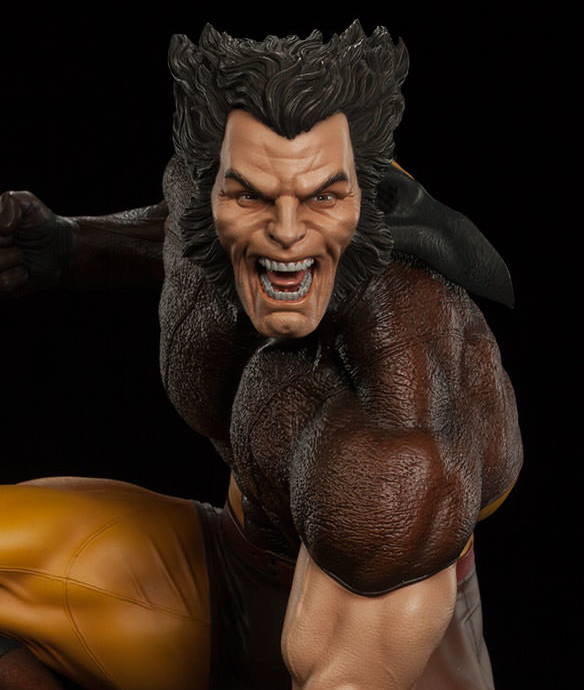 The Sideshow Wolverine Brown Costume Premium Format Figure will feature two interchangeable heads, so you can display Logan with or without his mask on. I don't think I've ever opted to display a mask-less Wolverine myself, but I know many fans love that look.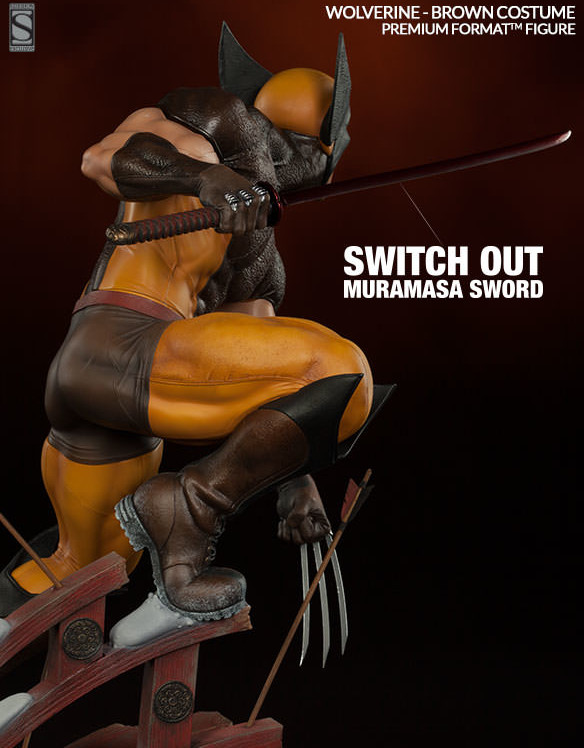 And hey, as usual, Sideshow also has an exclusive edition planned for this statue, which is solely available through the Sideshow Collectibles website. This version is limited to one per customer and includes a bonus interchangeable hand with the legendary Muramasa sword!
The Muramasa sword is a pretty high-profile weapon in the Wolverine mythos, and this version will definitely be the one that ends up selling for much more on the aftermarket once it sells through.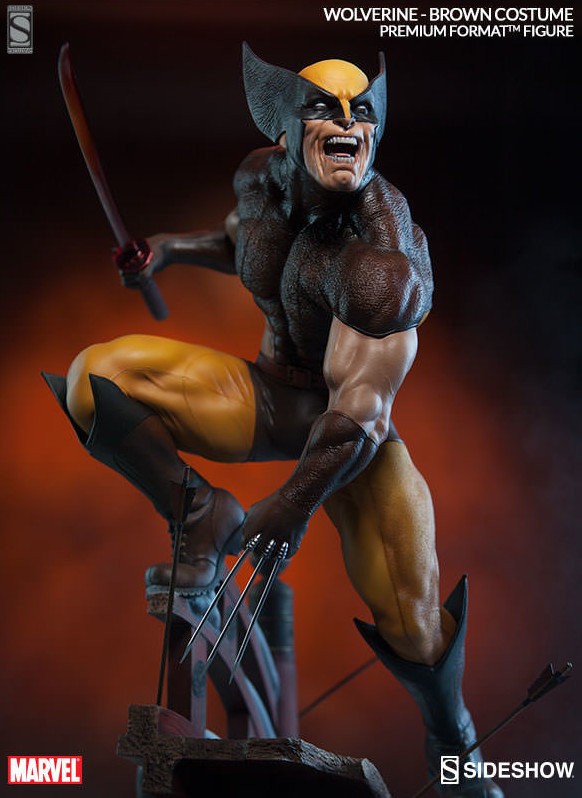 The Sideshow Exclusive Premium Format Wolverine Brown Costume statue is now available for order, and is scheduled to be released in July/August 2016. If you want the Exclusive edition (and frankly, why wouldn't anyone?), now might be a good time to lock one in with a payment plan option. And with the price on this impressive Premium Format Figure being a bit… hefty, I'm sure plenty of people are pleased about the payment plans!
What do you think of the Sideshow PF Brown Costume Wolverine statue, X-Men fans? Are you psyched to see that Sideshow can still produce X-Men character statues, or turned off by the price or character selection of this piece?