Sideshow Collectibles debuted two major 1/4 Marvel statues at San Diego Comic Con 2017 last July. One was the Wolverine Premium Format Figure that many fans are calling the best statue of the character ever, and the other went back in for further development. Well, it's been half a year, and the Master of Magnetism is back, reworked and improved! The Sideshow Exclusive Magneto Maquette statue is now up for order—does it look good enough to warrant the big bucks it costs?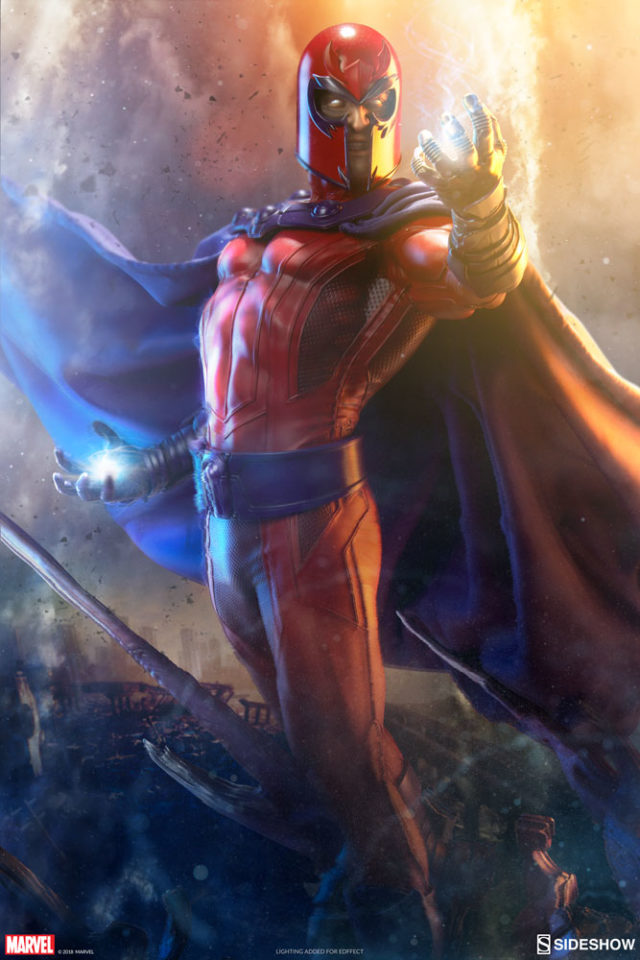 One of the most heavily rumored—and anticipated—pieces from Sideshow to appear at SDCC 2017 was a new Magneto Premium Format Figure. But when the prototype of Premium Format Magneto was actually unveiled, fans were underwhelmed.
And so, Sideshow went back to work on Magneto, spruced him up and made the statue fancier, changed him from a Premium Format Figure to a "Maquette", attached a hefty price-tag to him, set up a contest to give one away for free, and assigned the pre-order date to 1/18/2018. Has the statue improved enough to impress? Let's have a look…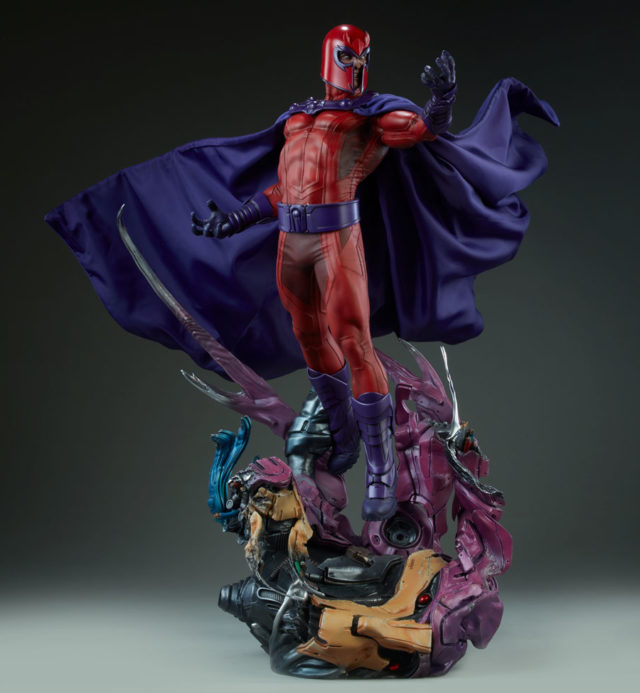 While I'm about as big of an X-Men fanboy as there comes, I've only ever owned one Magneto statue: the 1/6 Bowen Designs action-posed Magneto. For me, no other Erik Lensherr Statue has ever come close before. (Sorry, but the XM Magneto sitting on a throne just isn't my style.)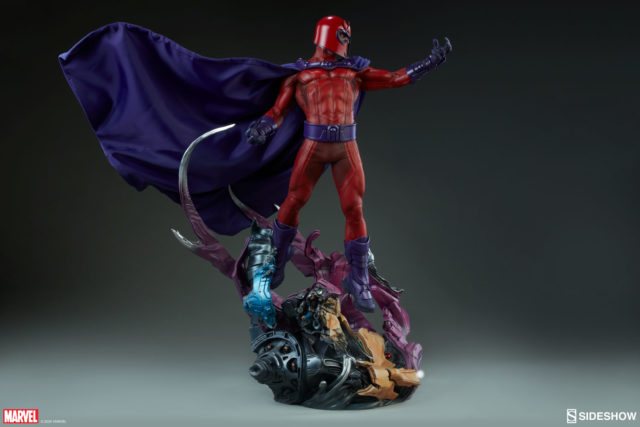 But… while it's not quite as classic as the Bowen Designs one, this Magneto Sideshow Maquette has definitely captured my attention—and soon enough, my dollars. I had deep reservations about this at SDCC, but the final piece ends up capturing the threatening majesty of the Master of Magnetism perfectly.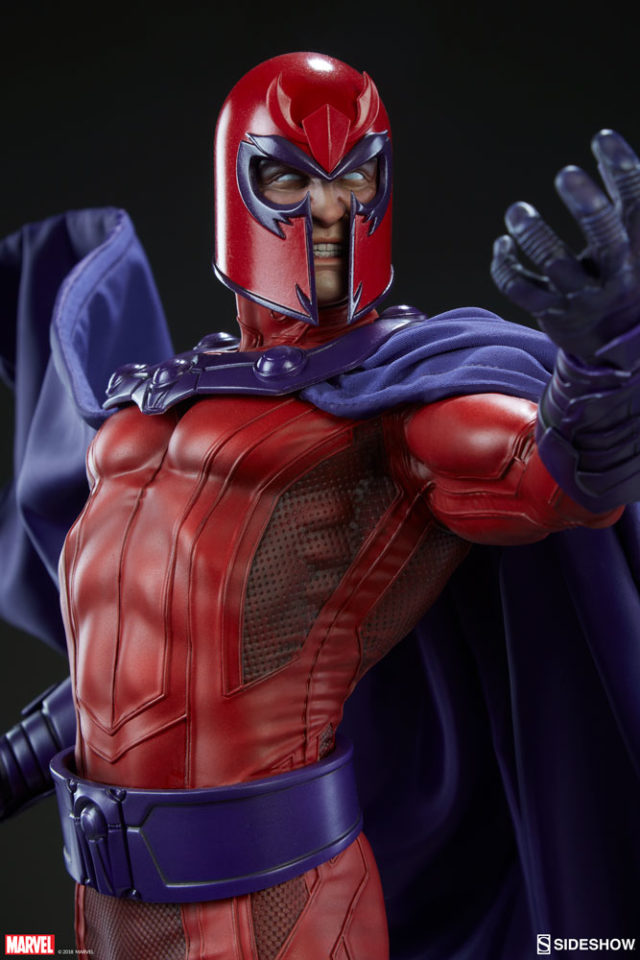 The pose Sideshow chose for this Magneto looks commanding and powerful. With one glance, it's clear that this is someone you do not want to screw with.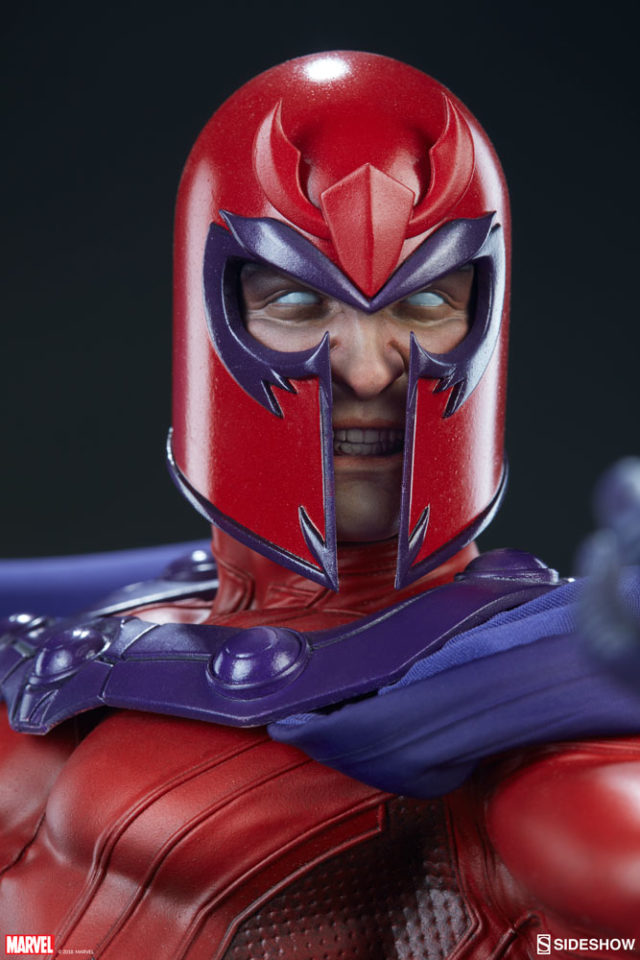 The default head for the piece complements that feeling well. It's a helmeted Magneto with an intimidating expression that's honestly a bit blood-curdling. I also always love whited-out eyes on Magneto statues.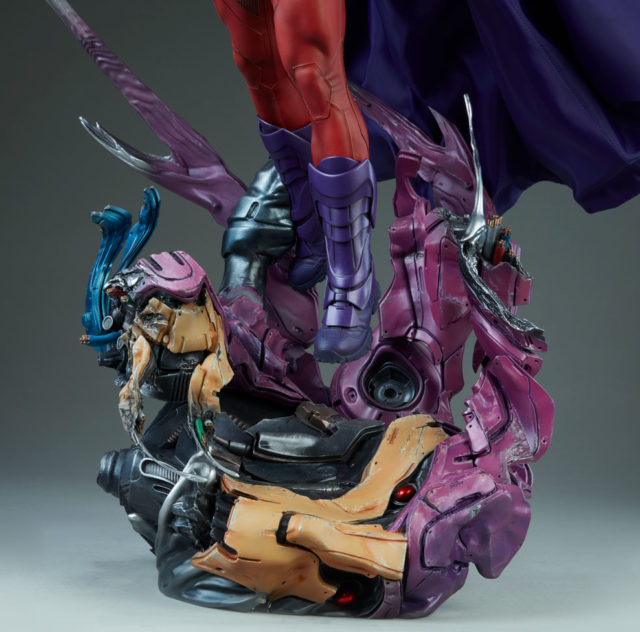 And that base…! Oh man, just when I said I was getting sick of wrecked Sentinel bases, SSC has to go and bust out this gnarly, jagged-edge Sentinel head that's being manipulated by Magneto's powers. This base. Is so. Cool. The base hugely adds to my appreciation level for the statue as a whole, which is something I haven't been able to say about very many Sideshow statues lately.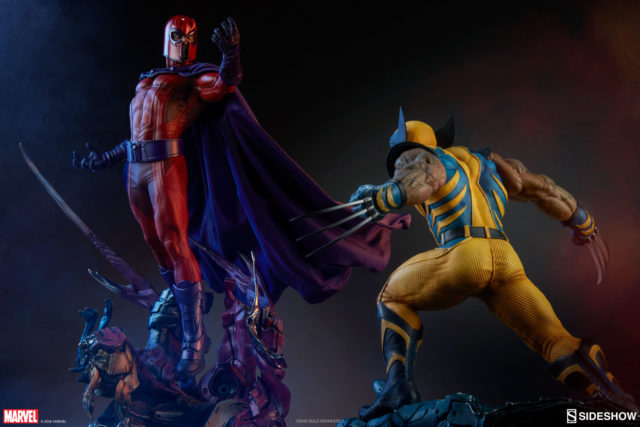 I wouldn't call it a "feature", per se, but I do like that you can choose to position the bases such that Magneto is either facing off with Wolverine or preparing to go into battle alongside him. More X-Men pieces like this, please, Sideshow!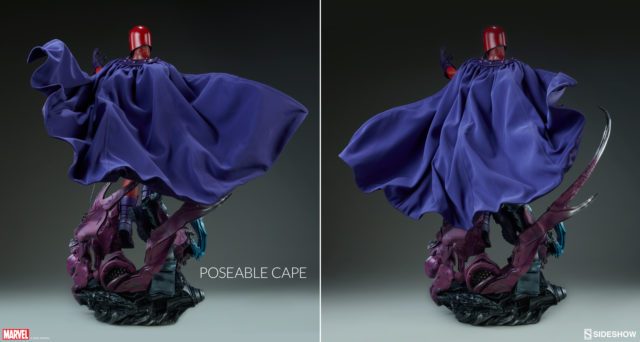 My preference as far as capes go is almost always sculpted as opposed to soft goods—but in this instance, I think Sideshow has really pulled off the fabric cape well. The deep purple works great for soft goods without looking out of place, and the poseable wires in the cape allow for some dramatic posing. To my surprise, I love this.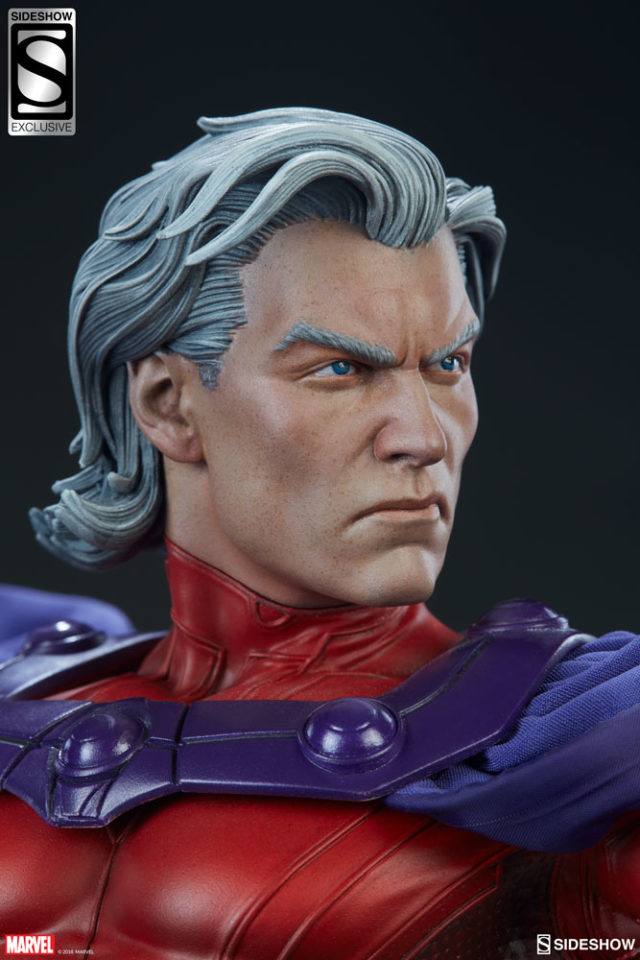 As usual, there's a Sideshow Exclusive Magneto Version, and it's arguably the best kind: an extra interchangeable head.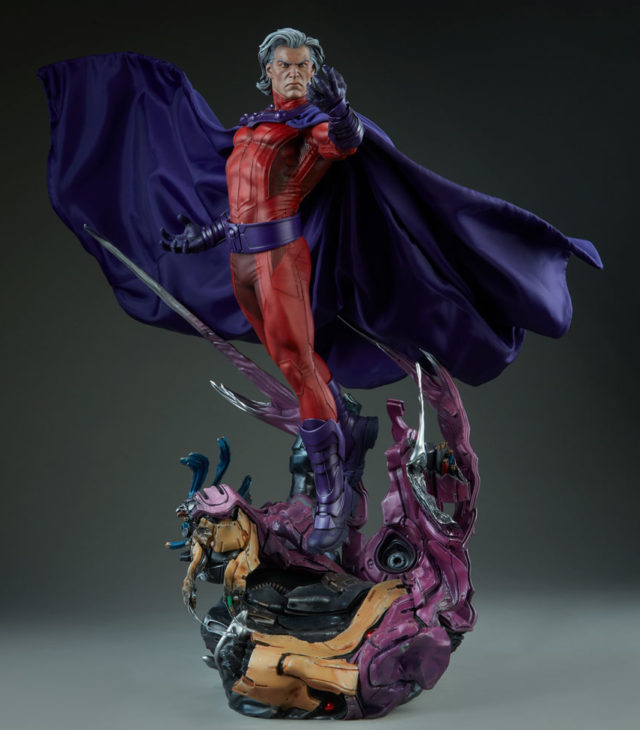 As many fans expected, the Magneto EX is Mags without his helmet. We very rarely see an unhelmeted Erik Lensherr statue (in fact, I can't remember one at all—anyone?), so this is a real treat. I didn't like the way his hair was sculpted at first, but the more I look at the head, the more I like it. Must-have EX, in my opinion.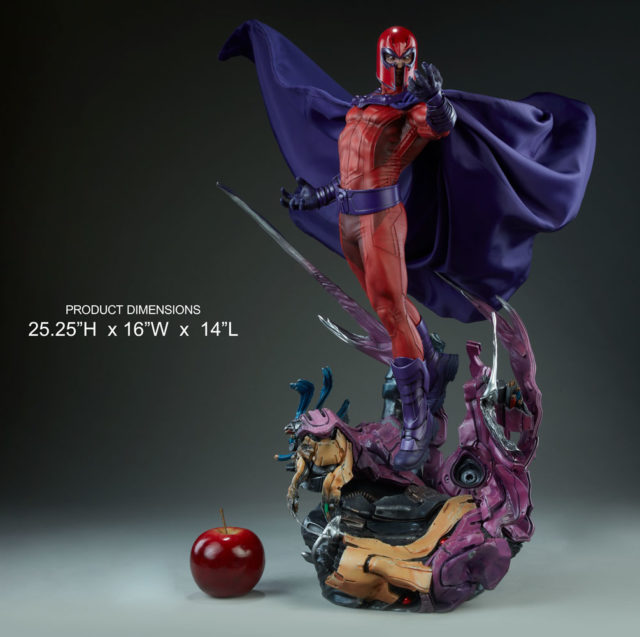 Now for the magnetically-charged metal elephant in the room: the price. As soon as Sideshow Collectibles started referring to this as a "Maquette" and not a "Premium Format Figure" anymore, collectors braced themselves for an astronomical price tag. And that price tag turns out to be… $750.
That's a high price to be sure, but actually cheaper than the $900 I was tensed for. It's certainly not the most outlandish price I've seen SSC charge for a statue, and given the complexity of this piece, the fact that it stands over 25″ tall (giving this statue the presence in a room that the X-Men's greatest villain deserves), and that it's only 50 bucks more than their last Deadpool PFF, I'm grudgingly on-board with the price.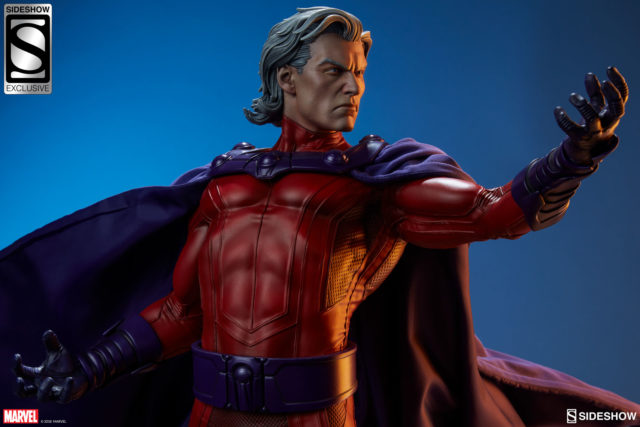 The Sideshow Magneto Maquette Exclusive Edition does up for order this afternoon, with an expected release date at the end of 2018. Thank God for payment plans, because that's what let's me sleep at night when I see must-have, sky high-priced statues like this Magneto maquette.
As a hardcore X-Men fanboy, this Magneto EX Sideshow maquette is a must for me. But what about you, Marvel collectors? What's your level of excitement for this Magneto 1/4 Statue, and is the price or any other factor keeping you from pulling the trigger on this piece?