Well, we knew this day would come, and it finally has. After debuting their first three Marvel 1/6th scale figures in July 2014, finally–finally–all three Sideshow Marvel Comics sixth scale figures will have gone up for order as of today. Deadpool arrived in the fall and Punisher was solicited back in October–and now, the circle is complete! The homicidal-looking Berserker Rage-enthralled Sideshow Exclusive Wolverine Sixth Scale figure is now up for order!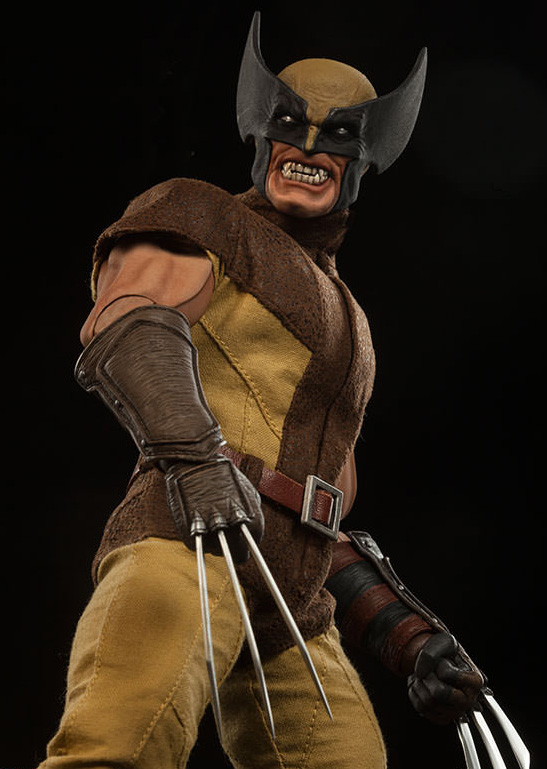 Sometimes–not often, but sometimes–I really turn around on a figure between the first time we see it and when it goes up for order. Such is the case with the third figure in Sideshow Collectibles' Marvel Comics-based sixth scale figure line: the icon of the X-Men, Wolverine!
When I first saw this 1/6 Wolverine at San Diego Comic Con 2014 (yes, 2014), I thought it looked pretty horrific (particularly the hideous head sculpt). But over time, I've really warmed up to this figure and its Logan portrait when I put it together in my brain that this wasn't just a figure of Wolverine–it's a figure of Berserker Rage Wolverine. With that in mind, this is a downright glorious head sculpt.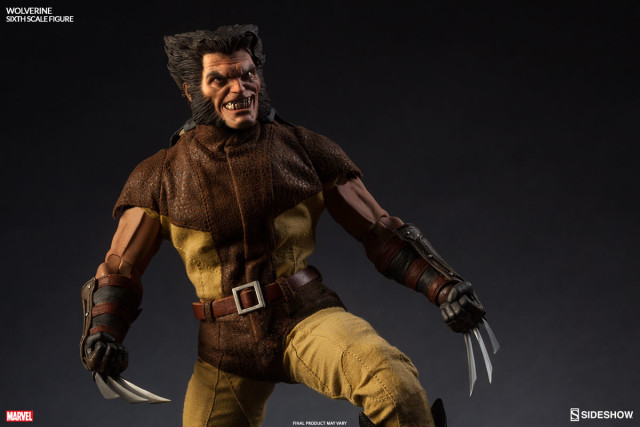 Of course, as terror-inducing as the masked head for this 12″ figure is, this figure really wouldn't feel complete without an even more intimidating unmasked Wolverine head!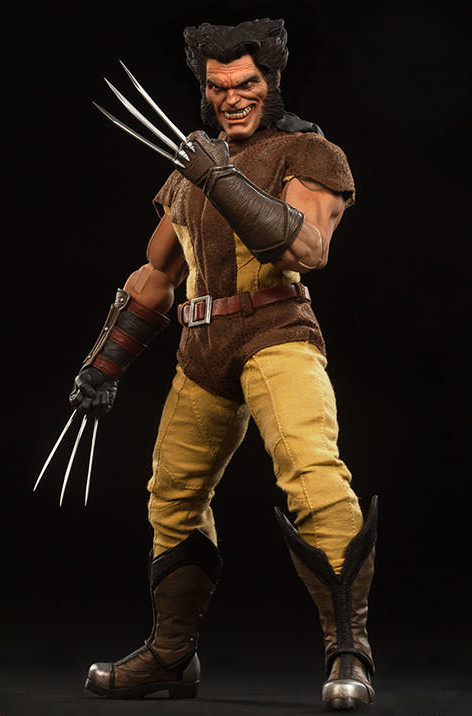 With his mask off and murderous intent etched onto his face, this Wolverine figure looks well and truly insane. And I love it!! This is easily the most psychotic Wolverine toy I've ever seen produced by any company. Great stuff!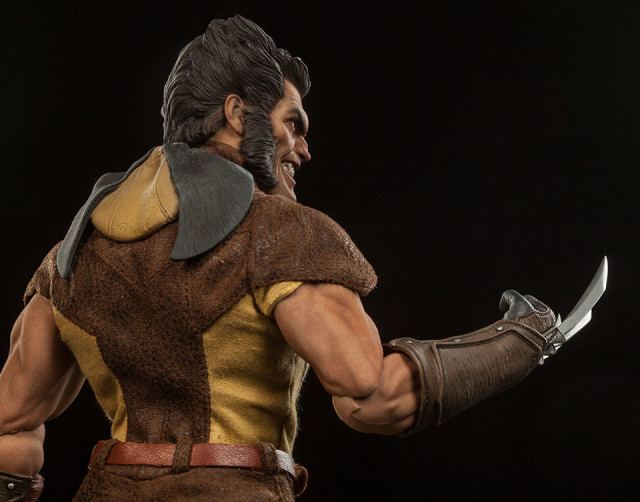 Of course, if you're going to have an unmasked Logan, you've gotten have a "removed" mask to hang on Wolverine's back, right? This is a detail that I thought Sideshow Collectibles might have forgotten about (and they wouldn't be the first toy company to do so), but they came through and the empty hanging mask looks terrific!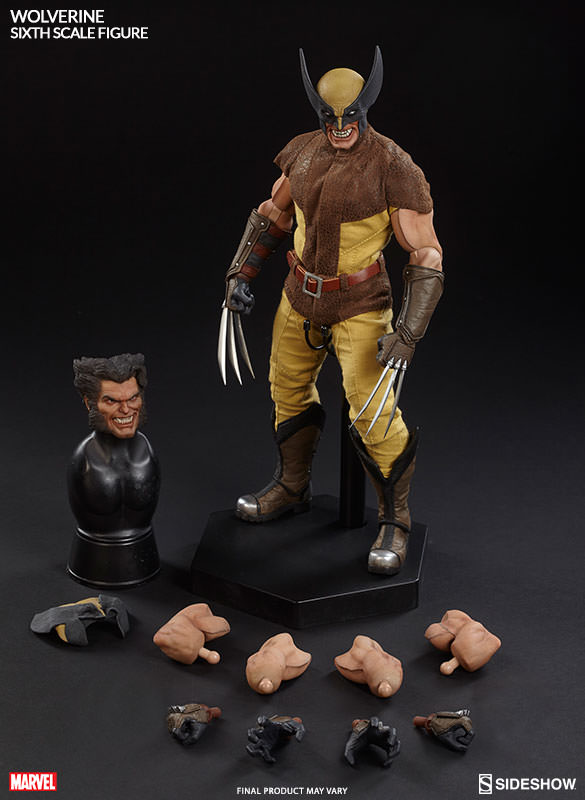 We'll be getting a healthy helping of accessories with this figure besides the extra head and pulled-back mask as well! Wolverine will include four pairs of interchangeable hands (Fists with extended claws, Fists, Grip hands, and Gesture hands), two pairs of interchangeable arms (flexed pose and neutral pose) and a black display base.
The interchangeable arms are cool–albeit really sort of a bizarre inclusion. I think they're going to ultimately look great, but I don't think we've ever seen a Marvel figure with interchangeable arms of this manner!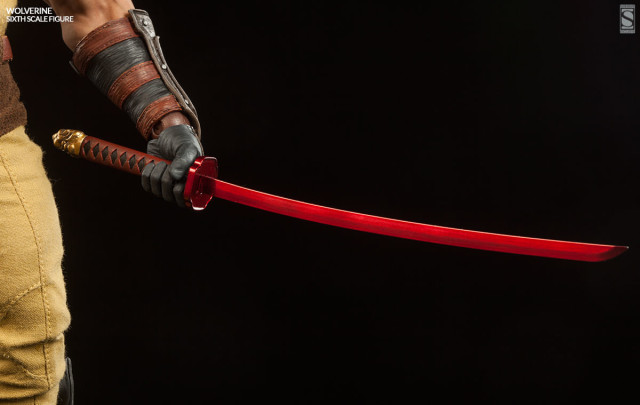 There is–of course–a Sideshow Exclusive Edition Wolverine as well. And while the exclusive accessory isn't as good as the Headpool that Deadpool came with, it's still a pretty sweet item (or should I say "items"?) that classic Wolverine fans are gonna love: the Muramasa Blade sword and scabbard!
The Muramasa Sword is pretty legendary in the Wolverine mythos, and I love the intricate detailing and deco that Sideshow went to the trouble of developing for the sword hilt.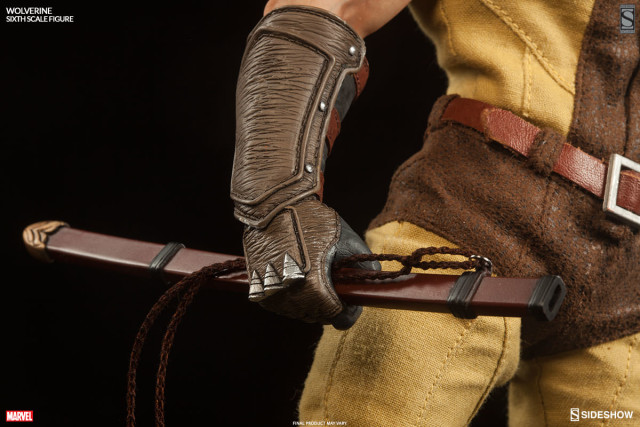 Meanwhile, the Muramasa scabbard looks quite nice itself, along with the authentic soft goods rope attached to it!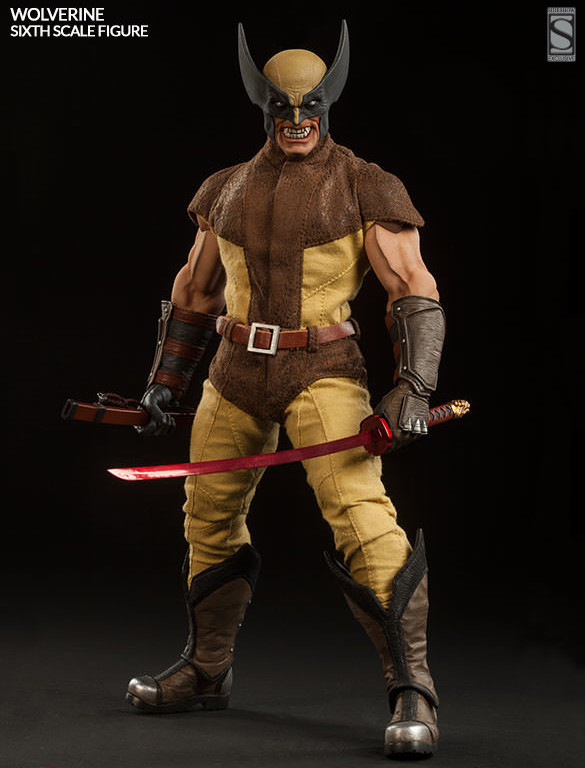 Sideshow is pricing this figure at $249.99 for both the exclusive and regular versions, so obviously aim for the exclusive version if you want this Logan figure. $250 is definitely "Hot Toys Territory" as far as pricing goes, but with the two head sculpts and variety of accessories (including interchangeable arms!) included here, I don't think Sideshow is price-gouging at all.
Overall, I'm really pleased with the final prototype of this Wolverine 1/6th scale figure. I'm sort of ambivalent toward Hugh Jackman as the movie Wolverine, but I'm all about classic comic book Wolverine, so ordering this particular 12″ Wolverine figure was an easy decision for me. If you're more of an X-Men movie guy than comic book guy, your choice will likely be more difficult.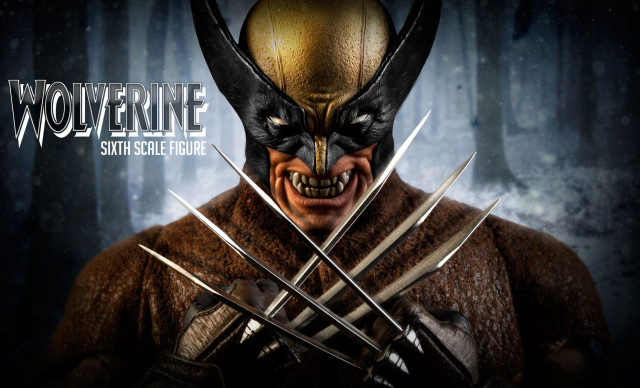 The Sideshow Wolverine 1:6 figure is now available for pre-order, and is expected to ship out in late 2016 (September to November). I doubt it'll be all that difficult to snag the regular version of this figure when it hits, but the exclusive with Muramasa Sword is likely to sell out long before this figure ships (and I hate having an "incomplete" figure missing the exclusive accessories), so I went ahead and locked in a pre-order now.
What do you think of Sideshow's interpretation of Wolverine, Marvel collectors? Are you creeped out by the psychopathic look on Logan's face, or are you happy to see Wolverine's murderous side given some rare merch attention?