Obviously I went and jinxed myself by making the assertion that this was going to be a slow Marvel toy news week because of the release of Star Wars, because now I'm getting positively slammed with new photos, news and pre-orders for all manner of Marvel toys! And the latest news to leak out continues the trend of early-announced Captain America: Civil War movie toys–this time, in brick form! They won't be out for a few months yet, but the 2016 LEGO Marvel Civil War sets have now been revealed–including a mega Giant-Man figure!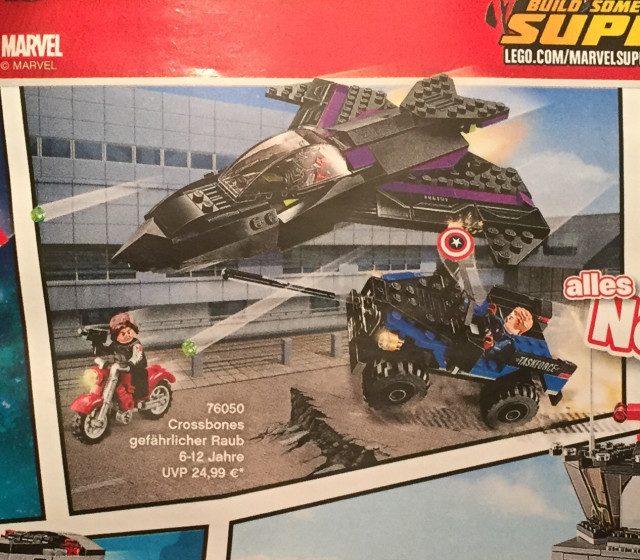 First up, we've got the LEGO 76047 Black Panterh Pursuit set (which unfortunately had its named swapped with the Crossbones set in the catalog images)! This set is significant because it gives us the very first-ever LEGO Black Panther minifigure, as well as the first Bucky Winter Soldier minifig that's available in a mass-release set.
A Winter Soldier Minifigure was previously available earlier this year as an exclusive promo release at the LEGO Stores, but this is the first time you can straight-up buy a Bucky minifigure in a store.
It's pretty difficult to judge the quality of the vehicle builds in this set without having seen what role (if any) these vehicles play in the movie, but I will say that Black Panther's jet looks sweet. This black and purple jet is one of the slickest-looking brick-built planes that I've ever seen. Love it!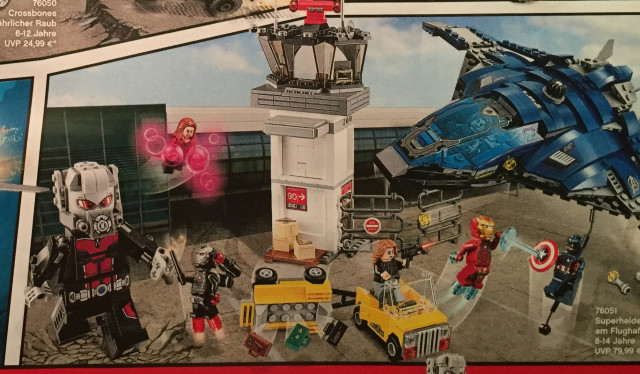 Next up, we've got the largest Marvel set of 2016: the LEGO 76051 Airport set… with Giant-Man "Minifigure"! This is a real mish-mash of a set that includes a Quinjet, an airport tower, an airport ground transport vehicle, seven figures and a gigantic, brick-built LEGO Giant-Man figure. Giant-Man is (sort of) brick-built, which I imagine is how TLG is getting around the restrictions in their license as far as releasing larger figures goes.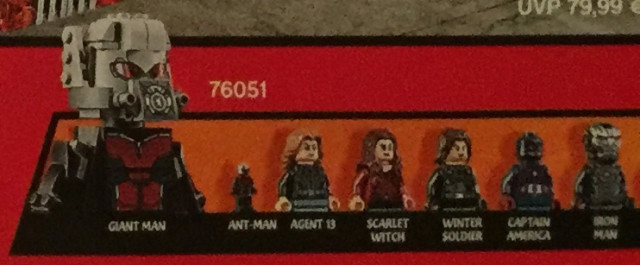 You get six standard minifigures in this set: an exclusive Agent 13 minifigure, a Scarlet Witch minifigure, a Winter Soldier minifigure, a Captain America minifigure, an Iron Man minifigure and an exclusive War Machine Mark III minifigure. In addition, a non-articulated Ant-Man micro-figure is included and the aforementioned sort-of-brick-built Giant-Man figure.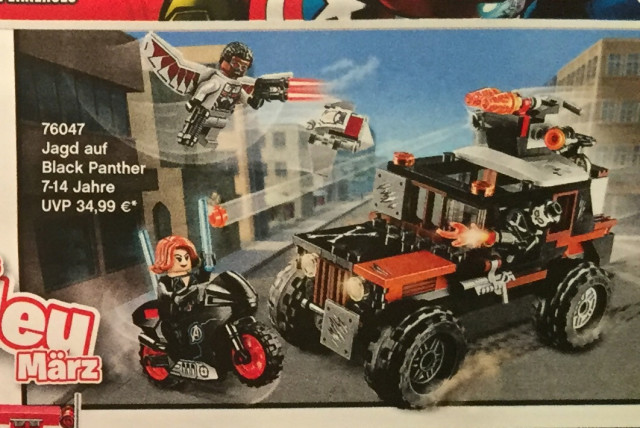 Last but not least, we've got the 76047 Crossbones set (whoever can correctly translate the name of this set from the text on the photo a couple photos back and have it make sense has my thanks).
Aside from Black Widow's sleek back motorcycle, the main portion of this set is Crossbones' battle-ready car. We've had our fair share of villainous cars released previously in this theme, but this one looks really evil (if a car can look evil, anyway).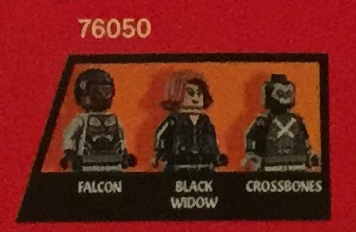 We've had a LEGO Falcon minifigure before, but this is his first-time getting a movie minifig. Sadly, I think this Falcon figure looks pretty awful. This figure just doesn't evoke the look or feel of the Anthony Mackie Falcon at all. The Black Widow minifigure looks almost exactly like her Age of Ultron figure, leaving the Crossbones minifigure as the main reason to buy this set.
We've literally only seen a flash of Crossbones in the trailer for Captain America: Civil War, so we can't really judge the authenticity of this minifig. Even so, the LEGO Crossbones minifigure still looks promising and I'll likely be picking up this set to snag him and his crazy battle jeep.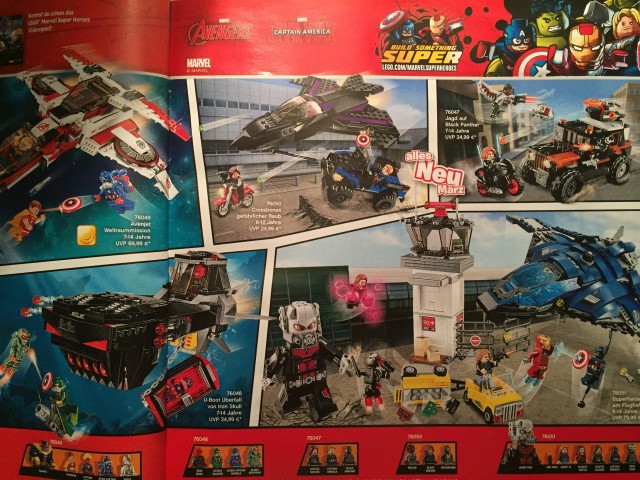 The non-movie LEGO Marvel sets will be available online and in stores on 1/1/2016, with the Civil War sets expected to be released in February-April 2016. I'll post updates including hi-res photos and regarding the release specifics for the LEGO Civil War sets as they become available, and be sure to 'Like' Marvel Toy News on Facebook and Twitter to have news and updates sent straight to your Facebook Newsfeed and Twitter Timeline.
What do you think of the three sets that LEGO has cooked up to coincide with the release of the Captain America Civil War movie, LEGO Marvel collectors? Are you planning to add any (or all!) of these sets to your collection, or does TLG's latest wave of sets fail to resonate with you?