When Sideshow Collectibles unveiled their amazing quarter-scale Iron Man 3 Iron Patriot and Iron Man Mark XLII maquettes last year, I was so lovestruck that I sincerely wished that Sideshow would go back and tackle the other prominent Iron Man armors from earlier Iron Man movies. I should have been careful what I wished for, though, as Sideshow now has a multitude of Iron Man quarter-scale maquettes lined up to be released over the next few years. And going up for order later this week with jaw-dropping good looks (and a matching price-tag)–the Sideshow Iron Man Mark II Maquette!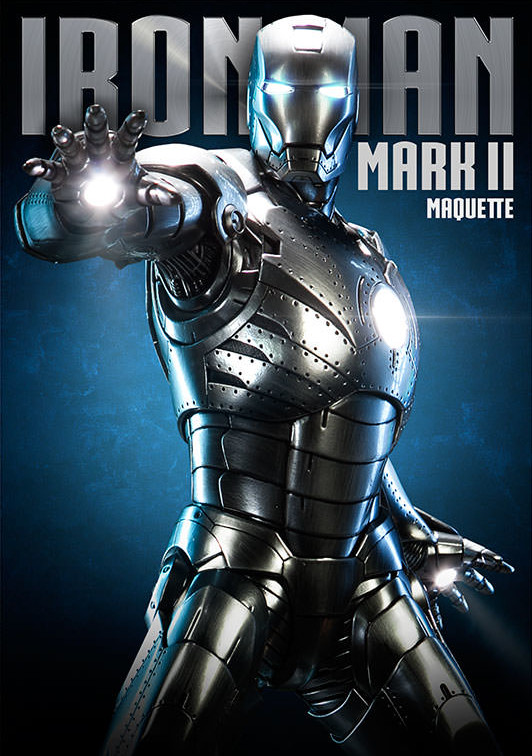 Although the Mark II Iron Man armor only gets to appear for a handful of minutes in the original 2008 Iron Man movie, it's a very important suit. This is the first prototype armor Tony Stark builds with all of his resources at his disposal, and also the suit destined to War Machine Mark I armor.
While I enjoy the more garish Iron Man armors the most (such as Hot Rod Iron Man and Disco Iron Man), the pure-silver Iron Man Mark II armor has an elegant aesthetic value that can't be denied.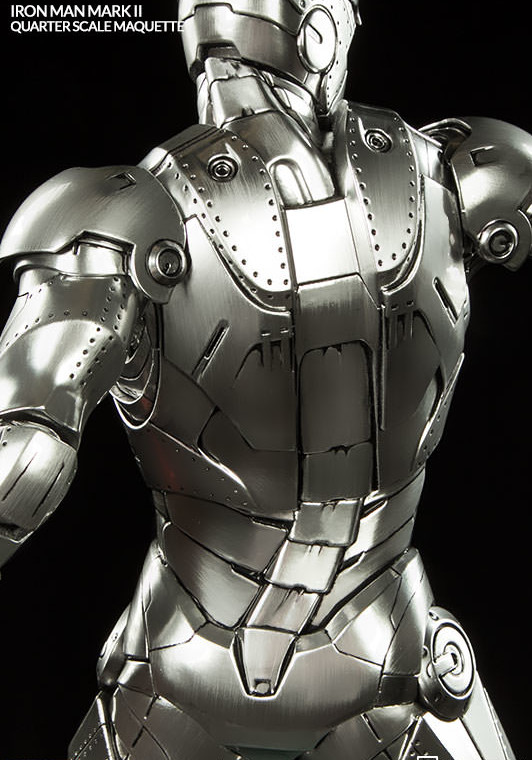 There's not a lot of paint detailing to apply on this particular armor, but Sideshow has wisely decided to use high-quality, high-gloss metallic silver paint to make the highly-detailed sculpted armor look as brilliant as it should. Simple as the color scheme may be, this Iron Man Mark 1/4th scale statue looks fantastic.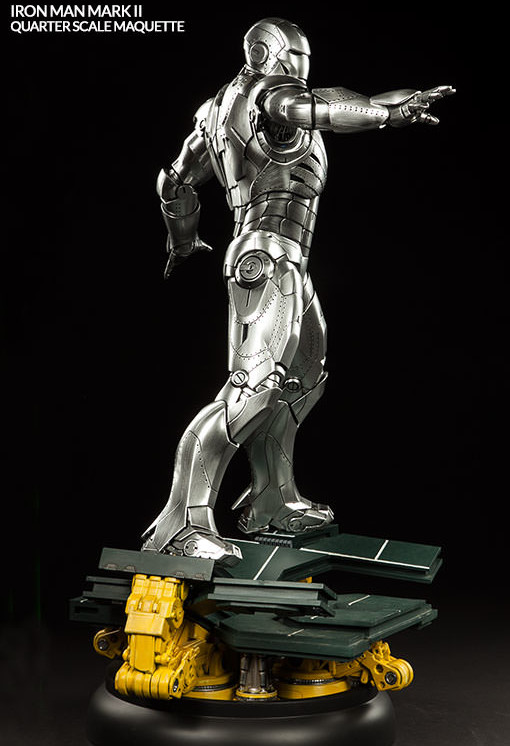 Generally speaking, quarter-scale statues tend to be about 18″ tall. Not so with the Iron Mark II, which stands an insane 26″ tall! For an Iron Man statue, that is absolutely huge! Off the top of my head and also after a quick web search I couldn't find evidence of any taller Iron Man 1/4 statue having been released, so I believe the Sideshow Iron Man Mark II maquette will be able to set that particular record.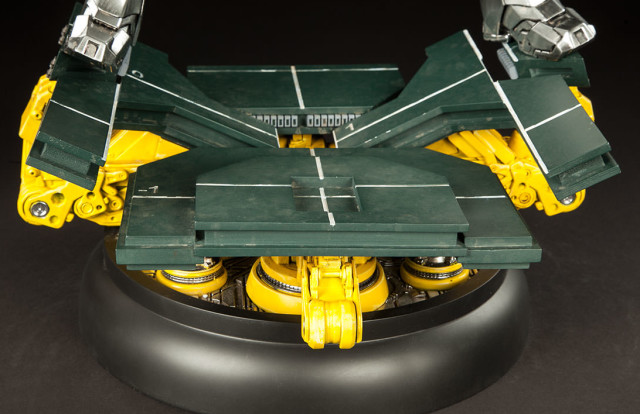 To get to that massive height, the Iron Man Mark II statue has been placed upon a super-cool Stark Industries gantry. The gantry base is elaborately sculpted with lots of nice paint weathering on it, so it really looks like a dirty, well-used gantry. The yellow and green colors of the gantry also go a long way to complementing the otherwise monochromatic look of the Iron Man Mark II armor itself.
This Iron Man gantry base is a big improvement over the base for the Sideshow Iron Man Mark XLII Maquette, which was my single biggest criticism of that piece.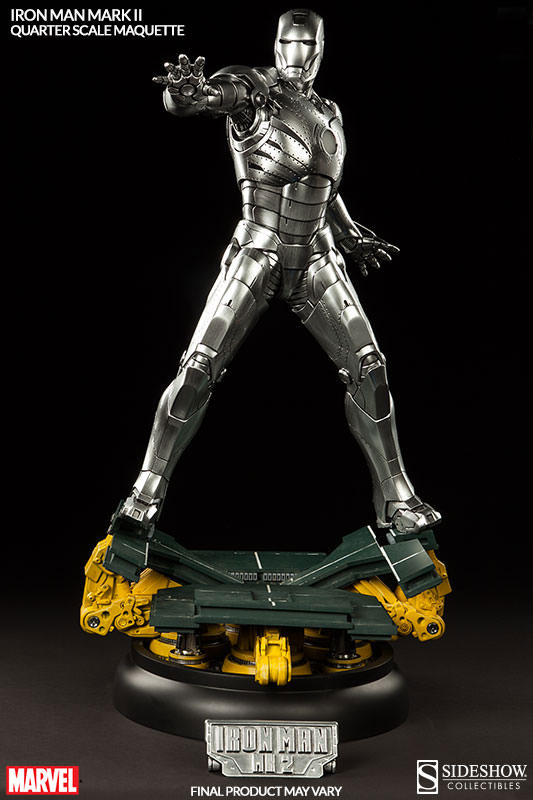 As far as features go, the Sideshow Collectibles Iron Man Mark II maquette statue will feature the obligatory light-up eyes, chest and repulsor palms; as well as a little decorative nameplate that says "Iron Man Mark II" on it. The nameplate is a little silly, but hey, Sideshow needed to include every extra they could think of to justify the price of this statue. And speaking of the price…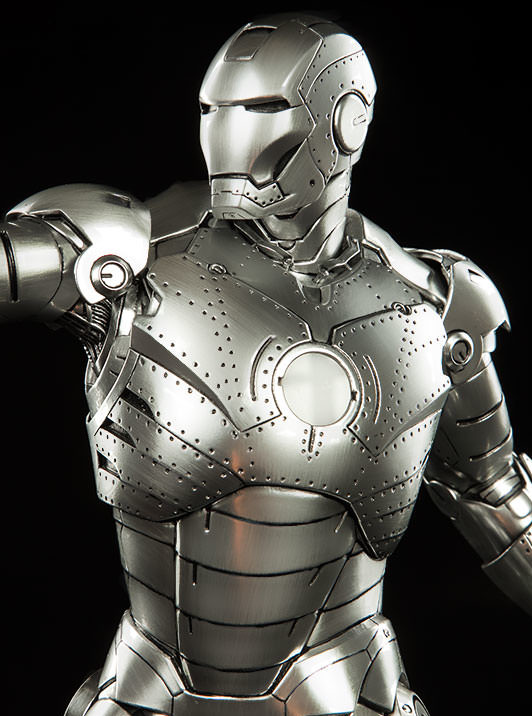 Of course, every silver Iron Man has a cloudy lining, and the downside to this particular Iron Man Mark II Sideshow statue is the price-tag. Whereas Sideshow Collectibles priced the Iron Patriot maquette at $400 and the Iron Man Mark 42 maquette at $430, the Iron Man Mark II maquette statue is stuck with a
hefty
price-point of $480.
With no Sideshow exclusive edition and a price-tag that's drastically higher than the other recent Iron Man maquettes, I'm taking a wait-and-see approach with the Mark II Iron Man. If it's a limited run and explodes in price on the aftermarket, then so be it–but I'm going to try my luck and wait for a deal once this piece is released.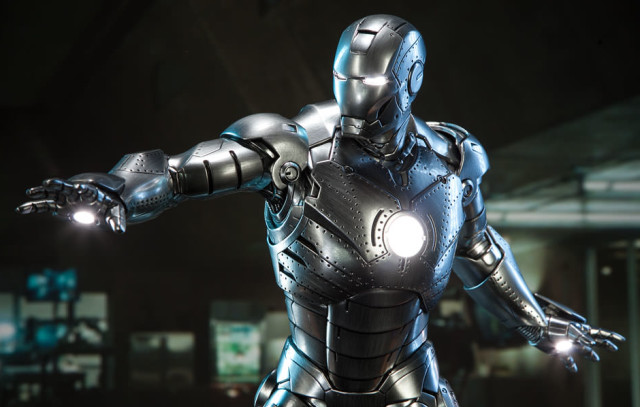 The Sideshow Collectibles Iron Man Mark II Maquette goes up for order on the Sideshow website on Thursday afternoon, November 6th 2014. Sideshow has long-term payment plans available–and a good thing, too, with a price-tag of nearly $500. As good as this statue is, I'm not on-board with it yet. If I was, I would definitely take advantage of FLEXPay on this piece, though.
What do you think of the Iron Man Mark 2 quarter-scale statue, Marvel collectors? Is this slick silver beauty destined for your collection, or is the surprisingly-high price-point too rich for your blood?