It's been an abnormally quiet news week, and that means it's the perfect time for Sideshow Collectibles to try to claim Marvel collectors' attention (and future dollars) with another pre-order! This time, Sideshow is finally ready to fully reveal a statue that it's been teasing us with for several weeks now. When the Sideshow Iron Patriot Maquette arrives at the end of 2014 he won't have to be lonely for long–the quarter-scale Sideshow Iron Man Mark 42 Maquette is now up for order!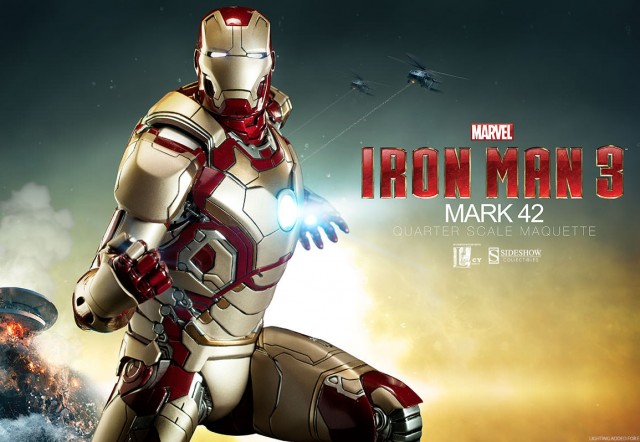 We've known for literally ages that a Mark 42 Iron Man Maquette statue was in the works to join the Sideshow Iron Man 3 Iron Patriot 1/4 Maquette, but it's been quite a wait to see the fabled Mark XLII Iron Man statue in all its glory.
Finally, almost a full half-year after pre-orders opened for the Iron Patriot statue, Sideshow Collectibles has now fully revealed the Iron Man Mark 42 quarter-scale maquette!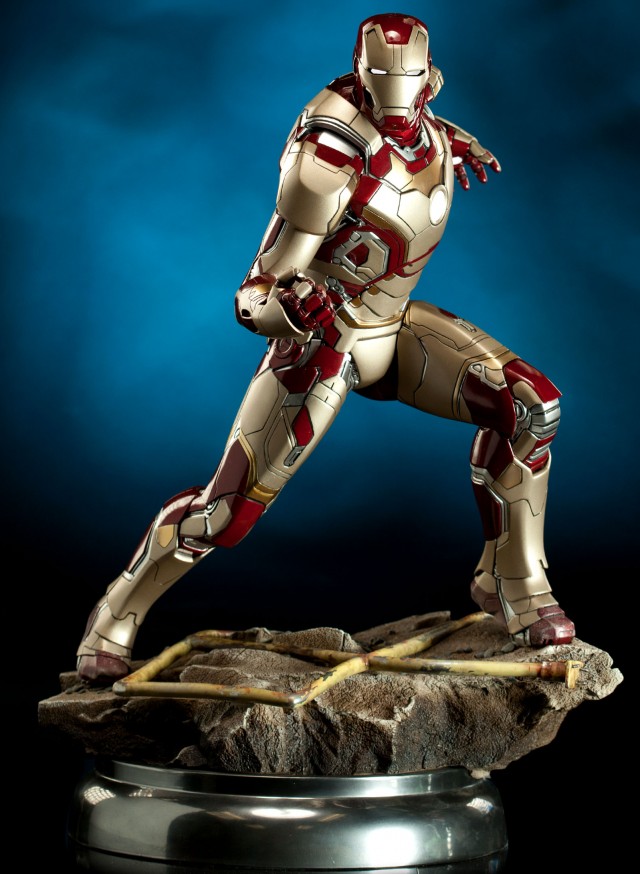 Regular readers know that I absolutely adore the unexpectedly doofy nature of the Iron Man Mark 42 armor, making it my absolute favorite Iron Man movie armor. So as you might imagine, I'm pretty dang stoked that we're finally getting to see–and pre-order–the most iconic of the Iron Man 3 armors in massive quarter-scale form.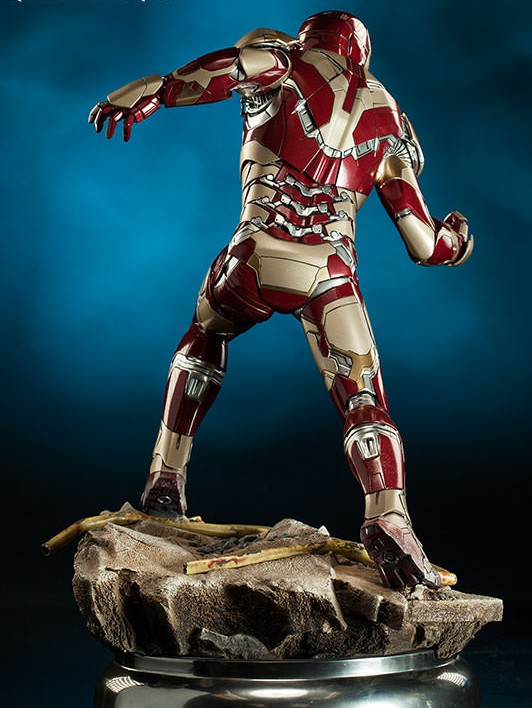 I know that the Mark XLII Iron Man armor takes a lot of criticism from fans (along with the Iron Man 3 movie in general), but I think the armor is one of the best-looking and most distinct of the armors created for Iron Man 3 (without being over-the-top like the way-cool Hot Rod Iron Man armor).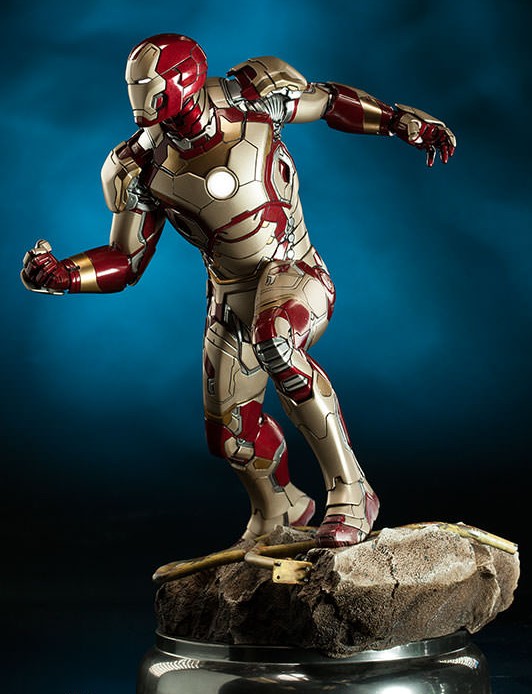 As usual, Sideshow will be treating us to a variety of light-up features built into this Iron Man Mark 42 1/4 maquette. Iron Man's chest, repulsors on his hands, and eyes (Iron Man's–not Tony Stark's) will all light-up. I rarely ever turn on electronic features like these on my statues for my own benefit, but for whatever reason the light-up functions always amaze any guests we have over. Go figure!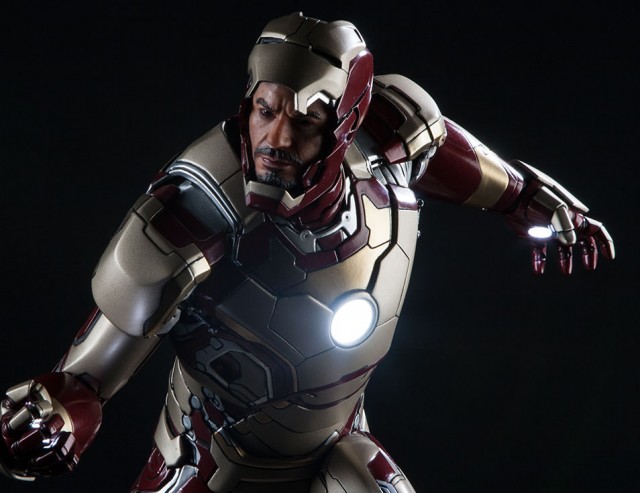 The Sideshow Iron Patriot maquette came with a Don Cheadle portrait head, so I've been anticipating a Robert Downey Jr. head for this Mark 42 Iron Man Maquette–and Sideshow has come through!
There's only a couple photos of the Sideshow Robert Downey Jr. portrait available thus far, but from our first peeks I think the likeness to Robert Downey Jr. is pretty exceptional (as it better be for the price that this statue costs).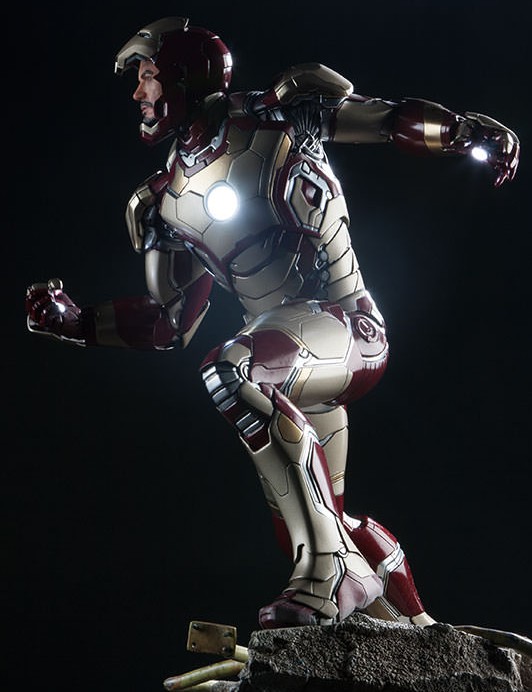 And speaking of the price… The one big bummer about this statue is that the price is $30 more–about 7.5%–than the already expensive cost of the Iron Patriot Quarter Scale Maquette. Considering that the Sideshow Iron Patriot Maquette has been selling for 30 bucks cheaper and with double rewards points since last year, I'm rather disappointed that the 1/4 Iron Man Mark 42 Statue is going to cost a fair bit more.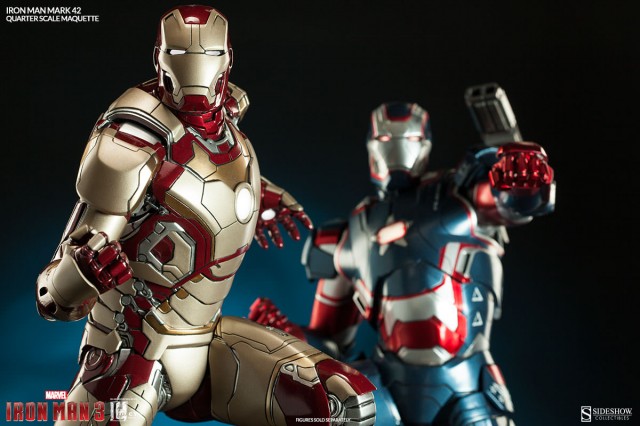 The Iron Man 3 Iron Man Mark 42 Quarter Scale Maquette is now up for order on the Sideshow Collectibles website. I'd assume that this piece is going to take a few months to sell out, so don't feel the need to rush in unless you really want this one (like I do).
What do you think of the Iron Man Mark XLII Maquette, Marvel collectors? Is this the finest representation of the Mark 42 Iron Man armor yet? Is it worth your $430+?